Treat your taste buds: Explore Cape Girardeau restaurants.
Cape Girardeau Restaurants
I loved trying for the first time, Ciao! The food was excellent and the wine was good! We definitely will eat here again and bring guests!! More

OpenTable Diner -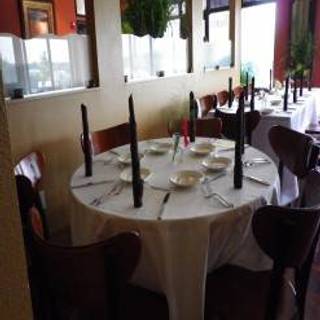 Bistro Saffron
Booked 1 time today
We were in the mood for great sushi and Bistro Saffron has it under the capable design of Paula. Paula creates amazing sushi rolls not on the menu that will leave you wondering why you ever settled for California rolls. She asked us if we liked shrimp (we do) and how many rolls we wanted. We then allowed her to surprise us. The sushi most definitely did not disappoint! More

OpenTable Diner -
Discover Cape Girardeau
Are you looking for a great Cape Girardeau restaurant? The Cape is known for high-quality bistros with innovative seafood dishes and extensive wine lists. Expansive hotel restaurants are among the most elegant dining experiences Cape Girardeau offers. The area is also home to several Italian restaurants featuring traditional Italian fare. On the other end of this spectrum, many pizzerias and more American-style Italian restaurants are among Cape Girardeau's popular eateries. You can enjoy a relaxed atmosphere and budget-friendly dinner at one of these Italian-American restaurants. Beyond these choices, Cape Girardeau has several restaurants with unique combinations of cuisine and atmosphere, like vegetarian-friendly Cajun restaurants and Indian buffets. With this variety, you are certain to find your choice of cuisines in Cape Girardeau.
More Neighborhoods Nearby Cape Girardeau
Explore the best restaurants near you