Treat your taste buds: Explore Lake Elmo restaurants.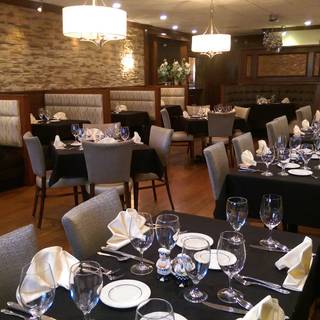 Lake Elmo Inn
Booked 40 times today
Our waitress made our dining experience fabulous! She was very professional but very fun as well. More

OpenTable Diner -
Discover Lake Elmo
Located a mere 23 miles from Minneapolis and surrounded by farmland, Lake Elmo exudes a small-town feel. The town's eateries boast menus that are quintessentially American: hearty breakfasts, pub chow and comfort food. This is the sort of town in which brunch is a lazy and casual affair and where folks linger over their mugs of coffee long enough to greet yet another neighbor. When the weather is sunny and warm, take a table outside and add the decadence of chocolate-covered strawberries to your Sunday breakfast. Lake Elmo is the sort of place where restaurants pride themselves on service and where birthday dinners are a generational rite of passage. That said, its restaurants reflect contemporary tastes: Thai, Greek, vegetarian and gluten-free options are widely available.
More Cities Nearby Lake Elmo
Explore the best restaurants near you