Des Moines Restaurants
Make a free reservation
Treat your taste buds: Explore Des Moines restaurants.
Diners' Choice Winners: Best Overall
Des Moines's best restaurants based upon thousands of OpenTable diner reviews
New to OpenTable
Des Moines restaurants that recently joined the OpenTable network
Joe's Crab Shack is an American chain of beach-themed seafood casual dining restaurants. Founded in Houston, Texas, the restaurant now operates locations all across the United States of America. It serves seafood and American cuisineMore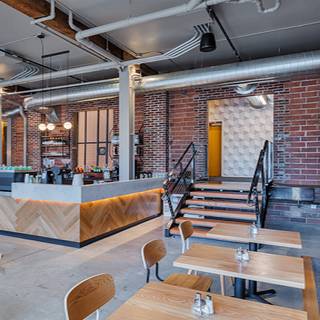 St. Kilda Cafe & Bakery
Booked 4 times today
St. Kilda is a full-service Australian-style café & bakery specializing in healthy modern dishes, fresh-baked pastries and breads, artisanal coffee beverages using Counter Culture Coffee, along with a full bar serving cocktails, beer, and wine.

Breakfast and lunch is served daily until 5PM, with baked goods, egg dishes, toasts, sandwiches, housemade soup, and salads, gluten free bread also available.

Dinner at St. Kilda offers snacks, starters, main courses, including vegetarian options, and housemade desserts. Full bar, craft cocktails, and a selection of wines by the glass and/or bottle. More
Discover Downtown Des Moines
Des Moines, nestled deep in the heartland of Iowa, is a surprisingly great place to find new American cuisine. Native-born Iowans and recent immigrants have combined their cultures to create fusion flavors like Polynesian pizza and Asian tacos from the highest quality ingredients. Downtown Des Moines has steakhouses that have high-quality Midwestern beef sitting right next to some of the heartland's best produce. Whether you prefer modern takes on pizza, seafood or pub food, head down East Court Avenue or Locust Street to try some incredible restaurants. Along the river, you can find bars and brewpubs for spending a casual night out.
More Des Moines Neighborhoods