Treat your taste buds: Explore Auburn restaurants.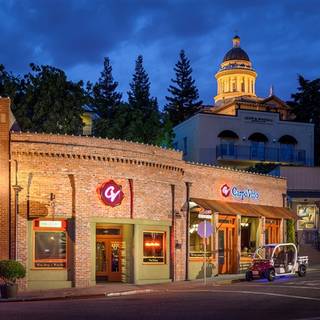 Carpe Vino (21+ Establishment)
Booked 8 times today
Friendly vibe, delicious food, terrific fairly priced wines and great service. The broth in the mussel appetizer was to die for. And the double cut pork chop was substantial and perfectly cooked. The best restaurant in Auburn! More

OpenTable Diner -
Monkey Cat
Booked 11 times today
The food was exceptional. We both had the special of sea bass. Happy hour margaritas were very good. Service was wonderful! More

OpenTable Diner -
Discover Auburn
As the gateway to the majestic Sierra Nevada Mountains, Auburn, California has a lot to offer in the way of restaurants. From tacos to pizzas, Thai noodles to barbecued meats, there are dozens of choices available. One particular cut of beef, the tri-tip, is especially popular in California and is a must if you try the local barbecue. Also popular is the local farm-to-fork movement. Although Auburn is at the base of the Sierra Nevadas, there are still plenty of options available for anyone looking to eat locally. California is also known for their craft beers. If that's your scene, the local brewpub may be the perfect place to grab a bite to eat.
More Cities Nearby Auburn
What's your craving? Search by cuisine
Explore the best restaurants near you