Treat your taste buds: Explore Alpine restaurants.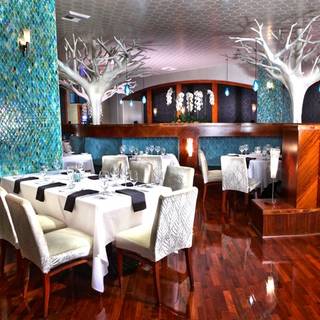 Grove Steakhouse at Viejas Casino
Booked 6 times today
Angelika was very knowledgeable. We all felt confident in her recommendations. Dinner was fabulous and the restaurant itself, lovely. Absolutely a must for steak, seafood and not s Dad drive from anywhere is San Diego just off the 8 More

OpenTable Diner -
Alpine Beer Company Pub
Booked 3 times today
I love the selection of beers - always hit the spot. Our waitress was kind enough to make us coffee even though it isn't normally requested. They have great desserts but I only wanted a scoop of vanilla ice cream with chocolate sauce and again she was kind enough to provide it. I had originally made the reservation for inside seating because it was a windy day but when we got to the restaurant the outside was quite pleasant and the staff found us great seats outside. More

OpenTable Diner -
Contemporary California Cuisine with focus on seasonal and regionally sourced ingredients, Chef Antonio Votta's menus are both serious and imaginative, with familiar dishes re-imagined. The modern restaurant design features 3 distinct areas: an open kitchen concept that overlooks the main dining room, a lounge space with comfortable seating and a lively bar area, as well as an enclosed patio area that provides a bit more privacy and mountain views. Guests can watch the action of the casino, have an intimate dinner, and everything in between. Dishes range from shared plates and small bites, to feasts prepared for the whole table. Open for Dinner, Weekday Lunch, Weekend Brunch, and Late Night. More
Discover Alpine
Alpine is a charming town in east San Diego County that is well known for its many restaurants, cafes and bars. The Chimera is a popular offering of which the locals can't seem to get enough. This unique dish can be found at any number of the area's local seafood restaurants. Panang curry is another food that is iconic to the area and is served at a variety of the delicious Thai restaurants in the neighborhood. Alpine is also home to an extensive selection of global cuisine with a great selection of French, Mexican, Japanese and Polynesian dining establishments. One of the cozy cafes in the town could make the perfect stop for a light lunch. You could check out the thrilling nightlife in the neighborhood and visit some of the many exciting breweries or bars.
More Cities Nearby Alpine
Explore the best restaurants near you