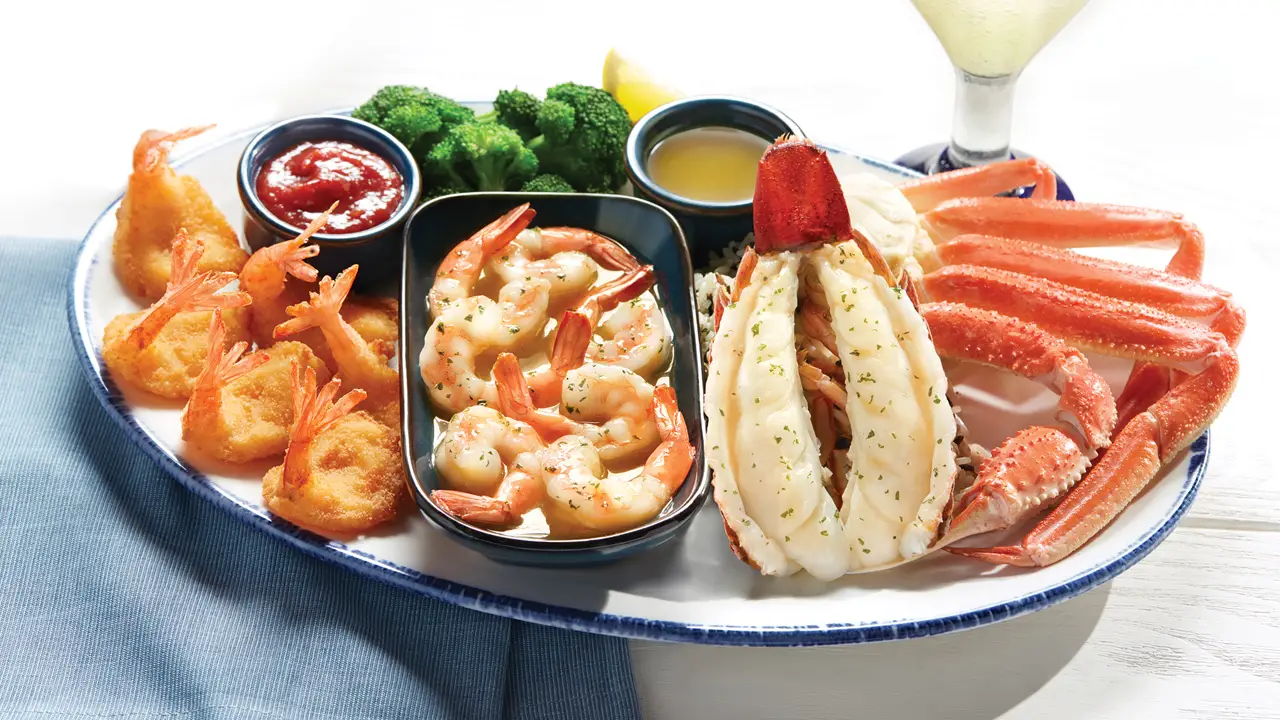 Red Lobster - Killeen
Red Lobster welcomes you by offering PRIORITY SEATING to reduce your wait time in the restaurant, so you can spend more time doing the things you love. Or, come enjoy a drink at our bar and a Tasting Plate while you wait. Red Lobster is the world's largest and most loved seafood restaurant company, offering high quality, freshly-prepared seafood, sourced in a way that is traceable, sustainable and responsible. We offer lunch and dinner daily, featuring classics like our Ultimate Feast®, Garlic Shrimp Scampi and Parrot Isle Jumbo Coconut Shrimp, and feature limited time flavors and preparations during events like Lobsterfest®, Crabfest® and Endless Shrimp®. And, who can resist our famous warm and cheesy Cheddar Bay Biscuits®? To learn more visit www.redlobster.com
Request Priority Seating
Order delivery or takeout
Additional information
Dining style

Casual Dining

Cuisines

Seafood, American, Shellfish

Hours of operation

Sunday - Thursday, open 11:00 AM and closes 10:00 PM Open Friday and Saturday 11:00 AM and closes 11:00 PM

Phone number

(254) 526-7335

Payment options

AMEX, Discover, JCB, Mastercard, Visa
Parking details

Public Lot

Additional

Bar/Lounge, Beer, Cocktails, Full Bar, Gluten-free Options, Non-Smoking, Takeout, Wheelchair Access, Wine
Starters
Crispy Dragon Shrimp®

$13.99

Crispy shrimp tossed in a sweet, mildly spicy chili sauce

Signature Seafood Mushrooms

$10.99

Signature seafood topping and Monterey Jack

Lobster Pizza

$14.29

Maine and langostino lobster with mozzarella, parmesan, fresh tomatoes and sweet basil

Hand-Breaded Calamari

$12.29

Served with jalapeño ranch and marinara

Parrot Isle Jumbo Coconut Shrimp

$11.79

Served with our piña colada sauce

Lobster Dip

$12.79

Maine and langostino lobster, spinach and artichoke in a three-cheese blend with tortilla chips and pico de gallo

Mozzarella Cheesesticks

$8.99

Served with marinara

Crab-Stuffed Shrimp Rangoon

$12.29

Served with sweet chili sauce

White Wine & Garlic Mussels

$12.79

Roasted with tomato and green onions. Served with toasted artisan bread
Soups
New England Clam Chowder

$5.49

Lobster Bisque

$6.99
Pastas & Bowls
Add a side salad to any pasta for $1.99
Garlic Linguini Alfredo

$15.99

Cajun Chicken

$15.99

Shrimp

$16.00

Crab

$22.49

Lobster Linguini

$29.99

Tender Maine lobster meat tossed with tomatoes and linguini in a creamy lobster sauce

Bar Harbor Lobster Bake

$34.49

Petite Maine lobster tails with shrimp, bay scallops, mussels and fresh tomatoes, over linguini in a garlic and white wine broth

Sesame-Soy Salmon* Bowl

$17.48

Soy-ginger-glazed Atlantic salmon, crispy brussels sprouts, orzo rice, edamame, spring mix and crispy onions with a sesame dressing

Classic Caesar Salad

$9.99

Crisp romaine lettuce, shaved parmesan, a creamy Caesar dressing and toasted brioche croutons. Salad Dressings: Citrus Vinaigrette (70 cal), Mango Pineapple Vinaigrette (100 cal), Ranch (150 cal), French (180 cal), Blue Cheese (230 cal), Thousand Island (210 cal), Honey Mustard (200 cal), Sesame (90 cal)
Fish
Served with choice of two sides (except for Fish & Chips)
Salmon* New Orleans

$22.49

Blackened salmon topped with shrimp in a Cajun butter sauce, with tomato-cilantro relish

Perfectly Grilled Fish

$20.29

Rainbow Trout

$20.29

Atlantic Salmon*

$23.79

Fish & Chips

$15.99

Hand-battered, wild-caught cod served with fries, coleslaw and tartar sauce

Wild-Caught Crunch-Fried Flounder

$15.99

Served with tartar sauce
Lobster
Served with choice of two sides. Add a lobster tail to any entrée: Maine $13.99 (420 cal), Caribbean Rock $16.99 (480 cal)
Lobster Lover's Duo™

$36.99

A tender Maine tail and a Caribbean rock tail, both roasted to perfection

Twin Maine Tails

$36.99

A pair of tender Maine lobster tails, both roasted to perfection

Live Maine Lobster

$0.00

Wild-caught, fresh from the Atlantic, available steamed or roasted with our signature stuffing. Ask your server for available sizes: 1¼ lb. steamed (440 cal), 1¼ lb. roasted with stuffing (610 cal)
Beef & Chicken
Served with choice of two sides
Steaks

$17.98

Grilled with our signature seasoning

Sirloin* (7 oz.)

$17.99

NY Strip* (10 oz.)

$25.99

Filet Mignon* (6 oz.)

$25.99

Maple-Bacon Chicken

$18.48

Maple-glazed grilled chicken breasts topped with bacon. Served with choice of two sides
Surf & Turf
Enjoy with a 6 oz. Filet Mignon* or a 10 oz. NY Strip* in place of sirloin for +$7.99. Served with choice of two sides
Walt's Favorite Shrimp & 7 oz. Sirloin*

$25.79

Maine Lobster Tail & 7 oz. Sirloin*

$32.99
Add to Any Entrée
Maine Tail

$13.99

Caribbean Rock Tail

$16.98

Grilled Shrimp Skewer

$6.49

Garlic Shrimp Scampi

$6.49

Grilled Sea Scallops

$9.99

Snow Crab Legs (½ Lb.)

$0.00

(380 cal)
Create Your Own - Ultimate Feast®
$39.99. Choose two Premium & two Classic Selections from below. Served with choice of two sides
Premium Selections

Grilled Sea Scallops (300 cal), Atlantic Salmon* (310 cal), Snow Crab Legs (380 cal), Maine Lobster Tail (420 cal), 7 oz. Sirloin* (260 cal)

Classic Selections

Grilled Shrimp Skewer (320 cal), Shrimp Linguini Alfredo (630 cal), Parrot Isle Jumbo Coconut Shrimp (570 cal), Walt's Favorite Shrimp (300 cal), Garlic Shrimp Scampi (220 cal)
Combinations
Served with choice of two sides
Grilled Lobster, Shrimp & Salmon*

$35.49

Tender Maine lobster tail, jumbo shrimp skewer and Atlantic salmon, finished with a brown butter sauce

Sea Scallop & Shrimp Skewers

$19.98

A grilled skewer of each, served over rice. Enjoy simply grilled or topped with your choice of flavor: Roasted Garlic Butter, Lemon Pepper or Honey Sriracha

Admiral's Feast

$23.99

Walt's Favorite Shrimp, wild-caught flounder, clam strips and bay scallops, all fried to a golden-brown
Create Your Own Combination
Choose two $22.99 (300-1920 cal) | Choose three $26.99 (450-2880 cal) | Served with choice of two sides
Wild-Caught Flounder

crispy (680 cal) | roasted (150 cal)

Popcorn Shrimp

(430 cal)

Walt's Favorite Shrimp

(300 cal)

Parrot Isle Jumbo Coconut Shrimp

(570 cal)

Garlic Shrimp Scampi

(220 cal)

Bay Scallops

crispy (710 cal) | oven-broiled (250 cal)

Crispy Clam Strips

(960 cal)
Premium Selections
Atlantic Salmon*

+$3.29. Grilled (310 cal) | Roasted (310 cal) | Blackened (320 cal)

7 oz. Sirloin*

+$3.79. (260 cal)

Grilled Sea Scallops

+$4.99. (300 cal)
Classic Sides
Baked Potato

$3.49

Mashed Potatoes

$3.49

Orzo Rice

$3.49

Sea-Salted Fries

$3.49

Coleslaw

$3.49

Seasoned Broccoli

$3.49
Top Your Potato
Lobster-Topped Potatoes

$5.49

Add Maine and langostino lobster in a creamy lobster beurre blanc sauce

Fully Loaded Potatoes

$1.49

Add bacon, Cheddar and green onions
Premium Sides
Bacon Mac & Cheese

$3.49

Crispy Brussels Sprouts

$2.49

House Side Salad

$1.99

Mixed greens with fresh tomatoes, a blend of cheeses, red onion and toasted brioche croutons. Salad Dressings: Citrus Vinaigrette (70 cal), Mango Pineapple Vinaigrette (100 cal), Ranch (150 cal), French (180 cal), Blue Cheese (230 cal), Thousand Island (210 cal), Honey Mustard (200 cal), Sesame (90 cal)

Caesar Side Salad

$1.99

Crisp romaine lettuce, shaved parmesan, a creamy Caesar dressing and toasted brioche croutons. Salad Dressings: Citrus Vinaigrette (70 cal), Mango Pineapple Vinaigrette (100 cal), Ranch (150 cal), French (180 cal), Blue Cheese (230 cal), Thousand Island (210 cal), Honey Mustard (200 cal), Sesame (90 cal)
Handhelds
Add a side salad for $1.99
Crunch-Fried Flounder Sandwich

$12.99

Served on toasted brioche bun with tartar sauce, coleslaw and choice of side

Dockside Cheddar Burger*

$13.99

Grilled patty, aged white cheddar, lettuce, tomato and pickles. Served on a toasted brioche bun with choice of side

Lobster & Shrimp Tacos

$17.98

Crispy Maine & langostino lobster and shrimp, with jalapeño slaw, pico de gallo, lime crema and cilantro. Served on three grilled tortillas
Desserts
Chocolate Wave

$7.99

Layers of decadent chocolate cake and creamy fudge frosting. Served with vanilla ice cream and rich chocolate sauce

Vanilla Bean Cheesecake

$7.49

On a vanilla cookie crust and topped with vanilla bean-whipped cream

Brownie Overboard®

$8.49

Warm brownie wedges served with a scoop of vanilla ice cream. Topped with caramel, fudge and whipped cream
Weekday Lunch Specials
Available monday thru friday until 3 p.m. Served with choice of side except Shrimp Linguini and Endless Chowder & Salad. Add a side salad for $1.99
Salmon* New Orleans

$20.49

Blackened salmon topped with shrimp in a Cajun butter sauce, with tomato-cilantro relish

Parrot Isle Jumbo Coconut Shrimp

$12.99

Served with our piña colada sauce

Shrimp Linguini Alfredo

$16.00

Tender shrimp in a creamy garlic Alfredo sauce on a bed of linguini

Grilled Atlantic Salmon*

$16.48

A half portion of our grilled salmon

Garlic Shrimp Scampi

$13.99

Popcorn Shrimp

$10.99

Endless Chowder, Salad & Cheddar Bay Biscuits®

$9.99

Cheddar Bay Biscuits® (160 cal each), Clam Chowder (240 cal), House Salad (140 cal), Caesar Salad (300 cal), Coleslaw (110 cal)

Sailor's Platter

$15.99

Shrimp scampi, popcorn shrimp and crispy flounder

Wild-Caught Flounder

$13.99

crispy (1140 cal) | roasted (300 cal)

Walt's Favorite Shrimp

$13.99

Hand-breaded, butterflied and lightly crisped
Daily Deals
Served with choice of side, except Friday Fish & Chips. Add a side salad for $1.99
Lobster & Shrimp - Monday

$20.00

A Maine lobster tail paired with our signature Garlic Shrimp Scampi

Snow Crab Legs - Tuesday

$20.00

A pound of snow crab legs, served over our crispy potatoes. Enjoy simply steamed or with roasted garlic butter

Steak & Lobster - Wednesday

$25.00

A Maine lobster tail paired with a 7 oz. sirloin*

Sea Scallops & Shrimp - Thursday

$15.00

A grilled skewer of each, served over rice

Fish & Chips - Friday

$14.00

Hand-battered, wild-caught cod served with fries and coleslaw
Shrimp Your Way
Choose from the selections below. Served with choice of two sides. Choose Two or Double Up on Your Favorite! $16 | Choose Three $18. Selections available while supplies last
Shrimp Linguini Alfredo

(630 cal)

Grilled Shrimp Skewer

(320 cal)

Garlic Shrimp Scampi

(220 cal)

Crispy Dragon Shrimp®

Limited-Time Flavor! (510 cal)

Shrimp Rangoon

Limited-Time Flavor! (380 cal)

Walt's Favorite Shrimp

(300 cal)

Parrot Isle Jumbo Coconut Shrimp

(570 cal)
Enjoy Ultimate Endless Shrimp℠
Shrimp Your Way or enjoy Ultimate Endless Shrimp℠. Selections available while supplies last. Ultimate Endless Shrimp can be enjoyed in-restaurant only
Enjoy Ultimate Endless Shrimp℠

$20.00

Mix and match. Choose three to start and when you're ready, we'll bring more!
Beverages
Enjoy complimentary refills on soft drinks, lemonades, coffee and teas. Want a straw? Just ask! We are providing straws only upon request to help reduce our use and impact on our oceans
Iced Tea

(0 cal)

Organic Hot Tea

(0 cal)

Coffee

(0 cal)

Perrier Sparkling Water

(0 cal)
Handcrafted Lemonades
Classic Lemonade

(140 cal)

Strawberry Lemonade

(240 cal)

Mango Lemonade

(210 cal)

Watermelon Lemonade

(260 cal)
Soft Drinks
Pepsi®

(150 cal)

Pepsi® Zero Sugar

(0 cal)

Diet Pepsi®

(0 cal)

Starry® Lemon Lime

(150 cal)

Dr. Pepper®

(140 cal)

Mtn Dew®

(160 cal)

Mug® Root Beer

(150 cal)

Tropicana® Fruit Punch

(170 cal)
Boston Iced Teas
Raspberry

(100 cal)

Mango

(100 cal)

Classic Cranberry

(80 cal)
Fruit Smoothies
Strawberry

(460 cal)

Raspberry

(460 cal)

Mango

(380 cal)
Cocktails
Margaritas

Sauza Gold tequila margarita. Classic - Rocks (120 cal) / Frozen (180 cal); Strawberry - Rocks (170 cal) / Frozen (280 cal); Raspberry - Rocks (170 cal) / Frozen (280 cal); Mango - Rocks (210 cal) / Frozen (330 cal); Watermelon - Rocks (210 cal) / Frozen (330 cal)

Grand Patrón Margarita

Patrón Silver tequila, Citrónge Orange and a sidecar of Grand Marnier. (200 cal)

Top-Shelf Long Island Iced Tea

Absolut, Tanqueray Gin, Bacardí and Citrónge Orange. (180 cal)

Sunset Passion Colada

Malibu rum piña colada with strawberry, raspberry or mango topper. (310 cal)

Bahama Mama

Captain Morgan Original Spiced Rum blended with tropical fruit flavors and Bacardí Black rum. (360 cal)

Lobster Punch

Captain Morgan Original Spiced Rum and Malibu coconut rum with pineapple and berry juices. (260 cal)

Tito's® Twisted Strawberry Lemonade

Tito's® Handmade Vodka with strawberry lemonade. (180 cal)

Ruby Mule

Deep Eddy Ruby Red Vodka and Q Ginger Beer, with raspberry and a hint of mint. (170 cal)

Mango Martini

Absolut Vodka, Grand Marnier, mango purée and a Tajin-dusted lime wedge. (170 cal)
Sangrias
Triple Berry

Beso Del Sol Red Sangria, berry juices, fresh fruit and Starry® lemon-lime soda. (200 cal)

Tropical White

Barefoot Moscato, pineapple and mango juices, and Starry® lemon-lime soda. (150 cal)
Wine & Beer
Wine
Available in 6 oz. (150 cal), 9 oz. (220 cal), bottle (640 cal)
White
Riesling
Chateau Ste. Michelle, Washington
Pinot Grigio
Sauvignon Blanc
Chardonnay
Kendall-Jackson Vintner's Reserve, California

Bottle: Dine in only. Bottles for parties of two or more
Blush
Rosé
Red
Sweet Red
Pinot Noir
Mark West, California

Meiomi, California
Cabernet Sauvignon
Josh Cellars, California

Bottle: Dine in only. Bottles for parties of two or more
Beer
Ask your server for local selections and availability
Draft
Available in 14 oz. Light (120 cal) / Regular (180 cal) or 20 oz. Light (170 cal) / Regular (260 cal)
Bud Light

Blue Moon Belgian White

Modelo Especial

Samuel Adams Boston Lager
Bottles / Cans
12 oz. Beer, Light (100 cal) / Regular (150 cal)
Budweiser

Coors Light

Miller Lite

Michelob ULTRA®

Heineken

Stella Artois

Voodoo Ranger Juicy Haze IPA

Corona Extra

Samuel Adams Seasonal

Samuel Adams Just the Haze (Non Alcoholic)
Overall ratings and reviews
Reviews can only be made by diners who have eaten at this restaurant
3.3 based on all time ratings
3.5

Food

3.5

Service

3.3

Ambience

3.1

Value
overall

2

food

2

service

3

ambience

3

Our waiter was great and the place was super quiet but the cook was just not doing well on cooking our steak right. I asked for a medium rare stake and he burnt my first one and then I sent it back. The second time he cooked it , it wasn't even cooked, it was just sent back and it was cold. We asked for a refund and couldn't even get the refund.




overall

1

food

3

service

1

ambience

1

Overall horrible experience. The hostess was very overwhelmed and was seating wrong parties and not checking everyone in. When the manager finally realized what was going on she came to the front to try to sort things out and proceeded to berate the hostess in front of everyone. When we were finally seated a waiter came to our table to take our drink order and while he was actively taking our order the same manager started yelling at him from across the room to not take our table, that it was going to someone else. Without any explanation he just turned around and walked off. Another waitress showed up some time later and the manager yelled at her from across the room demanding to know where she had been. She yelled back that her tables needed stuff and she was getting it. Then the waitress turned to us and said "Geez, it's not like I'm any good. This is only my 6th day here." She then said "what do you want." No greeting, not polite, just blunt and rude. No refills, forgot our salad, never polite. From the management down the entire staff was horrible. I will never return to this restaurant.




OT

OpenTable Diner

San Francisco

Dined on September 17, 2022

overall

1

food

1

service

1

ambience

1

Didn't even seat down, I left after getting to the door. because they didn't have enough staff to serve but there was plenty of tables to seat. Was told it'll be about a 45 min wait until a staff member was able.




Dined on September 4, 2021

overall

5

food

5

service

5

ambience

5

Excellent service by our wait staff. The food was delicious, temperature-perfect, and was served quickly and efficiently.




Dined on February 14, 2020

overall

3

food

3

service

3

ambience

3

We were celebrating Valentine's day a little early to avoid the crowd. Our food was served rather quickly much to our surprise. Everything was hot, fresh and delicious! Our server was also outstanding! We enjoyed our romantic dinner and would recommend Red Lobster for your next date night or special occasion.




Dined on January 13, 2020

overall

2

food

2

service

1

ambience

2

Nothing special about our experience. The restaurant did not seem busy but the service was quite slow. The biscuits brought out were cold and we had to flag down the server to get drink refills each time. The food quality was good and what you would expect from red lobster. We both ordered the seafarers feast. The shrimps cook perfect as well as the scallops. Overall the quality of the meal was good. We were disappointed at the level of service and the lack of attention to detail. When our food was brought out, portions of our orders were missing (lobster mashed potatoes and roasted veggies) and we had to ask twice for the server to bring the parts of our order that were missing. We chose not to speak to management about this because it seemed they were dealing with similar issues of similar nature at multiple tables. This possibly could be a one off or server was having a bad night or a new employee. We will visit this red lobster again most likely. As the food quality was what we expected we're banking on the fact that this was probably a one off night with the service.



FAQs
Red Lobster - Killeen does offer delivery in partnership with Postmates and Uber Eats. Red Lobster - Killeen also offers takeout which you can order by calling the restaurant at (254) 526-7335.
Red Lobster - Killeen is rated 3.3 stars by 6 OpenTable diners.
Yes, you can generally book this restaurant by choosing the date, time and party size on OpenTable.
Request Priority Seating
Order delivery or takeout
Additional information
Hours of operation

Sunday - Thursday, open 11:00 AM and closes 10:00 PM Open Friday and Saturday 11:00 AM and closes 11:00 PM

Cuisines

Seafood, American, Shellfish

Dining style

Casual Dining

Parking details

Public Lot

Payment options

AMEX, Discover, JCB, Mastercard, Visa

Additional

Bar/Lounge, Beer, Cocktails, Full Bar, Gluten-free Options, Non-Smoking, Takeout, Wheelchair Access, Wine
Phone number

(254) 526-7335