Palm Springs Restaurants
Make a free reservation
Treat your taste buds: Explore Palm Springs restaurants.
Earn Free Meals Faster with Bonus Points
Palm Springs's most booked Bonus Point Tables
Diners' Choice Winners: Best Overall
Palm Springs's best restaurants based upon thousands of OpenTable diner reviews
New to OpenTable
Palm Springs restaurants that recently joined the OpenTable network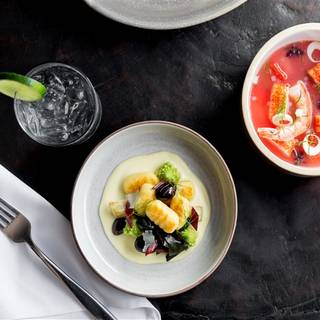 4 Saints at The Rowan
Booked 28 times today
Grand Opening on November 16th. With unparalleled views of picturesque mountains, 4 Saints provides a unique and modern space. Menu is driven by light, bright, clean flavors that are influenced by the seasons. The beverage program will provide a concise wine list, local brews, and masterful cocktails.More
This restaurant offers some of the best Caribbean food anywhere...Try the Jerk Chicken ... it will take your breath away. It's not too spicy but provides just enough to make your mouth water. More
Discover Palm Springs
Los Angeles natives drop everything and head to Palm Springs for a weekend, and for good reason. It is here that you will find an abundance of Mexican food that will have you celebrating every mealtime. Many restaurants specialize in Tex-Mex, often featuring burritos and chilaquiles to the menu. Vegan restaurants are popular around town as well, and are known for making people feel good with their healthy menu selections like veggie burgers and salads. Nowhere else will you find creamy milkshakes with donuts on the straws for dessert. Enjoy this creative concoction after dinner on the beach or under the sun as you stroll the picturesque neighborhood.
More Palm Springs Neighborhoods