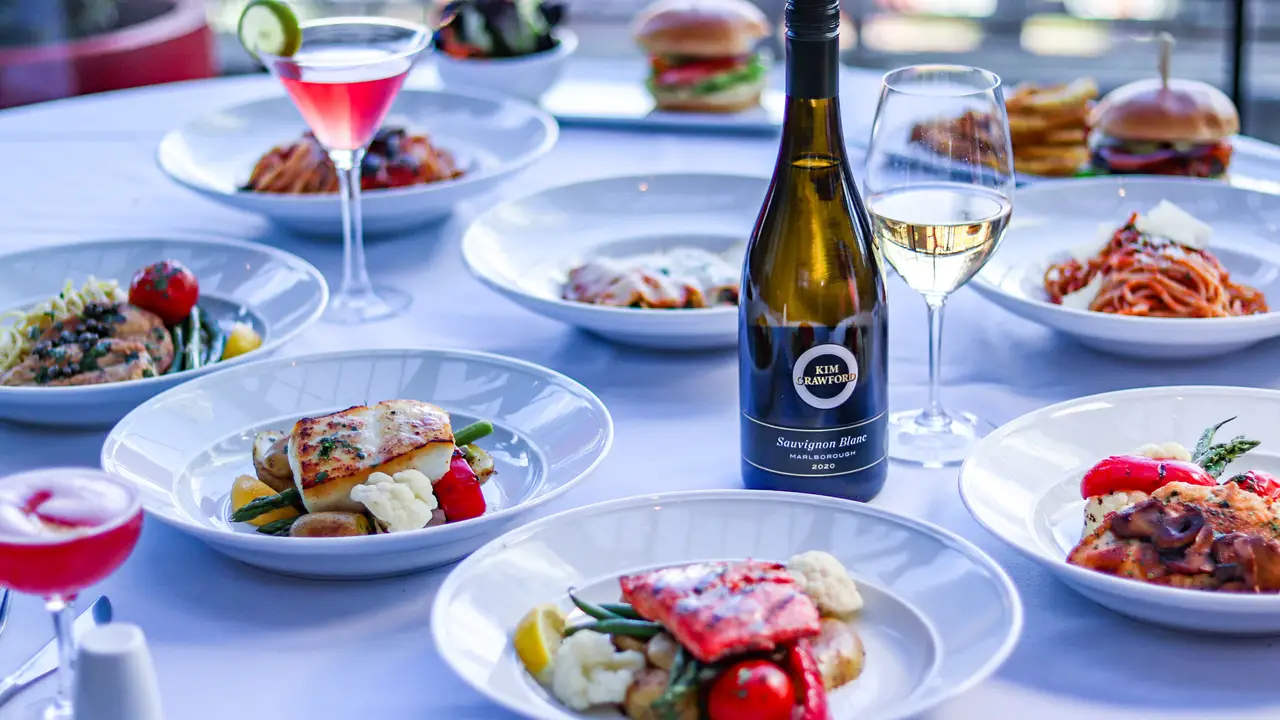 p2b bistro & bar
Make a reservation
Order delivery or takeout
Additional information
Dining style

Casual Dining

Cuisines

Continental, Northwest, Bar / Lounge / Bottle Service

Hours of operation

Daily 11:30 am–10:00 pm Breakfast Mon–Fri 6:30 am–11:30 am Sat, Sun 7:00 am–11:30 am

Phone number

(604) 691-2777 ext. 2777

Payment options

AMEX, Diners Club, Mastercard, Visa

Catering

Our menus feature several dining options as well as a complete wine list to choose from. Please consult our team to arrange for one of these exclusive menus for your next booking.

Private party facilities

Enjoy a delicious meal in a sophisticated and modern space reserved for you and your guests. Our private dining room is the perfect option for any occasion, from business meetings and corporate lunches to birthdays and anniversaries or just a casual meal with family and friends.

Private party contact

Shirin Talai : (888) 459-3546
Parking details

Underground hotel parking, valet and street parking available.

Public transit

Burrard Skytrain Station just blocks from the hotel.

Entertainment

Join us for live entertainment on Friday evenings.

Additional

Banquet, Bar/Lounge, Beer, Cocktails, Counter Seating, Entertainment, Full Bar, Gluten-free Options, Happy Hour, Non-Smoking, Patio/Outdoor Dining, Patio/Outdoor Dining, Private Room, Takeout, View, Wheelchair Access, Wine
What 349 people are saying
Overall ratings and reviews
Reviews can only be made by diners who have eaten at this restaurant
4.4 based on recent ratings
4.1

Food

4.2

Service

4

Ambience

4.1

Value
Dined on September 17, 2023

overall

4

food

4

service

4

ambience

3




overall

5

food

5

service

4

ambience

5




overall

5

food

4

service

5

ambience

4




overall

5

food

4

service

5

ambience

5




overall

5

food

5

service

5

ambience

4




overall

5

food

5

service

5

ambience

5




overall

5

food

4

service

5

ambience

4




overall

3

food

3

service

2

ambience

4




p2b bistro & barResponded on May 4, 2023




overall

5

food

5

service

5

ambience

5




T

Thanksgiving

Vancouver

vip

overall

5

food

5

service

5

ambience

5




overall

5

food

5

service

5

ambience

5




overall

3

food

3

service

3

ambience

2




p2b bistro & barResponded on March 26, 2023




overall

3

food

1

service

4

ambience

4




p2b bistro & barResponded on March 26, 2023




DR

DeniseR

Greater Boston

vip

overall

5

food

5

service

5

ambience

5




p2b bistro & barResponded on March 26, 2023




overall

1

food

1

service

3

ambience

4




p2b bistro & barResponded on March 26, 2023




OT

OpenTable Diner

Vancouver

Dined on February 4, 2023

overall

5

food

5

service

5

ambience

5




p2b bistro & barResponded on February 11, 2023




Dined on January 27, 2023

overall

3

food

3

service

3

ambience

3




p2b bistro & barResponded on February 11, 2023




M

Mackenzie23

Sunshine Coast

Dined on January 23, 2023

overall

5

food

5

service

5

ambience

5




p2b bistro & barResponded on February 11, 2023




Dined on January 22, 2023

overall

5

food

4

service

5

ambience

5




p2b bistro & barResponded on January 28, 2023




overall

5

food

4

service

5

ambience

4




p2b bistro & barResponded on January 15, 2023




overall

3

food

3

service

4

ambience

4




OT

OpenTable Diner

Guadalajara

Dined on December 28, 2022

overall

5

food

4

service

5

ambience

5




p2b bistro & barResponded on January 1, 2023




Dined on December 26, 2022

overall

5

food

4

service

5

ambience

5




p2b bistro & barResponded on December 27, 2022




Dined on December 26, 2022

overall

3

food

2

service

2

ambience

3




p2b bistro & barResponded on December 27, 2022




Dined on December 26, 2022

overall

3

food

2

service

3

ambience

3




p2b bistro & barResponded on December 27, 2022




Dined on December 25, 2022

overall

4

food

4

service

4

ambience

4




p2b bistro & barResponded on December 30, 2022




Dined on December 25, 2022

overall

4

food

4

service

2

ambience

4




p2b bistro & barResponded on December 30, 2022




OT

OpenTable Diner

San Diego

Dined on December 25, 2022

overall

3

food

3

service

3

ambience

2




Dined on December 25, 2022

overall

2

food

2

service

2

ambience

2




p2b bistro & barResponded on December 26, 2022




Dined on December 24, 2022

overall

1

food

1

service

1

ambience

1




p2b bistro & barResponded on December 27, 2022




Dined on December 3, 2022

overall

5

food

4

service

5

ambience

5




Dined on November 19, 2022

overall

3

food

3

service

4

ambience

3




Dined on November 16, 2022

overall

3

food

3

service

3

ambience

3




p2b bistro & barResponded on November 27, 2022




OT

OpenTable Diner

Vancouver

Dined on November 15, 2022

overall

3

food

3

service

4

ambience

2




Dined on October 30, 2022

overall

5

food

5

service

5

ambience

5




p2b bistro & barResponded on November 2, 2022




Dined on October 23, 2022

overall

4

food

3

service

5

ambience

5




p2b bistro & barResponded on October 24, 2022




Dined on October 14, 2022

overall

5

food

4

service

5

ambience

5




p2b bistro & barResponded on October 24, 2022




Dined on September 22, 2022

overall

5

food

4

service

5

ambience

5




p2b bistro & barResponded on November 27, 2022




Dined on September 16, 2022

overall

3

food

3

service

4

ambience

3




p2b bistro & barResponded on September 25, 2022




Dined on September 14, 2022

overall

5

food

5

service

5

ambience

5




p2b bistro & barResponded on September 25, 2022



FAQs
p2b bistro & bar does offer delivery in partnership with Skip The Dishes. p2b bistro & bar also offers takeout which you can order by calling the restaurant at (604) 691-2777 ext. 2777.
p2b bistro & bar is rated 4.4 stars by 349 OpenTable diners.
Yes, you can generally book this restaurant by choosing the date, time and party size on OpenTable.
Make a reservation
Order delivery or takeout
Additional information
Hours of operation

Daily 11:30 am–10:00 pm Breakfast Mon–Fri 6:30 am–11:30 am Sat, Sun 7:00 am–11:30 am

Cuisines

Continental, Northwest, Bar / Lounge / Bottle Service

Dining style

Casual Dining

Parking details

Underground hotel parking, valet and street parking available.

Public transit

Burrard Skytrain Station just blocks from the hotel.

Payment options

AMEX, Diners Club, Mastercard, Visa

Entertainment

Join us for live entertainment on Friday evenings.

Additional

Banquet, Bar/Lounge, Beer, Cocktails, Counter Seating, Entertainment, Full Bar, Gluten-free Options, Happy Hour, Non-Smoking, Patio/Outdoor Dining, Patio/Outdoor Dining, Private Room, Takeout, View, Wheelchair Access, Wine
Phone number

(604) 691-2777 ext. 2777

Catering

Our menus feature several dining options as well as a complete wine list to choose from. Please consult our team to arrange for one of these exclusive menus for your next booking.

Private party facilities

Enjoy a delicious meal in a sophisticated and modern space reserved for you and your guests. Our private dining room is the perfect option for any occasion, from business meetings and corporate lunches to birthdays and anniversaries or just a casual meal with family and friends.

Private party contact

Shirin Talai : (888) 459-3546