Popular Neighborhoods
Dine in the most popular neighborhoods
Treat your taste buds: Explore Alhambra restaurants.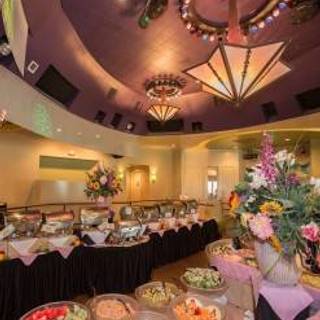 Almansor Court
Booked 18 times today
Great food, waitress was very nice, seemed like she was the only one running the side we were seated. There was a big party on the other side. More

OpenTable Diner -
Pros: -Their pork schnitzel is a MUST HAVE! Paired with the Isabella beer... SOOo GOOD! -They have GREAT menus for food and vast beverage options! -Comfortable setting. -Plenty of viewing options for sporting events. -Staff is friendly and knowledgeable of their menus Cons: -For a place with such creative food and beverage options. Their dessert menu is the only thing really lacking here. Their bread pudding is NOT good. It's way too dense and sadly not a traditional bread pudding. Just way too heavy of a dessert to pair with most of their very tasty comfort food options. *Luckily, there are plenty of bakeries, shaved iced and ice cream shops within walking distance for your dessert needs. More

OpenTable Diner -
Discover Alhambra
Alhambra blends rich California history from the days before statehood with a vibrant, diverse community, resulting in some of the most delicious dining in the west San Gabriel Valley. Soda fountains and diners with Hollywood-style leather booths and long soda counters serve up classic mid-century American foods from homemade ice cream sodas and floats to burgers topped only with pickles and onions - hold the cheese. Nearby are restaurants specializing in several types of Asian cuisine. Bring a crowd to share spicy seafood served family-style or Korean barbecue cooked at your table. Alhambra also boasts several classic Chinese, Taiwanese and Vietnamese restaurants ranging from simple storefront locations to large food palaces devoted to elaborate meals.
More Neighborhoods Nearby Alhambra
Explore the best restaurants near you