Popular Neighborhoods
Dine in the most popular neighborhoods
Treat your taste buds: Explore Big Bear Lake restaurants.
Big Bear Lake Restaurants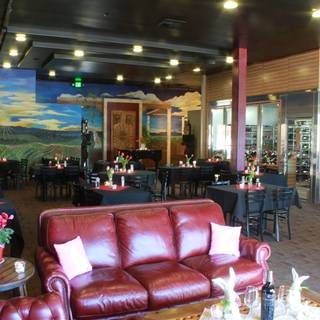 The Black Kat
Booked 1 time today
Excellent service. Ate outside great to people watch! Wine selection was excellent shared a bottle of Raymond and people watched!! Too fun🍷 More

OpenTable Diner -
Discover Big Bear Lake
After a long day of winter snowboarding and skiing, or summer hiking and boating, you'll find plenty of options to satisfy your hunger. Dining choices in Big Bear, Southern California's highest mountain community, provide many choices in addition to simple roadside burger stands or taco trucks. Eat a hearty American-style breakfast at one of several popular cafes or grab lunch in one of several diners specializing in pies, breakfast breads and other comfort food. Places serving Chinese, Indian, Thai and southern Italian food are located in the Village and farther along the lake. Hearty evening steak, prime rib and surf and turf round out Big Bear's dinner options, served at tables near rustic fireplaces. More informal meals include local brewpubs serving cheeseburgers and hot bowls of chili.
Neighborhoods Nearby Big Bear Lake
More Neighborhoods Nearby Big Bear Lake
Explore the best restaurants near you