Treat your taste buds: Explore Stoughton restaurants.
Amelia's
Booked 20 times today
Second time dining at Amelia's with friends. I love the large booths for ambiance and the noise level is minimal. All the starters and entrees were cooked to order and delicious. Cocktails were great as well although the server did not bring me a glass of wine with my dinner as I requested. This is not a deal breaker for me. The grilled octopus is outstanding although I will order it with a little less seasoning next time. Overall I love the convenient location and the atmosphere inside the restaurant and I will absolutely return. More

OpenTable Diner -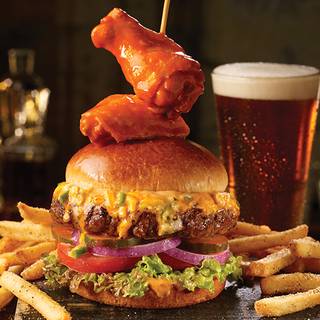 TGI FRIDAYS - Stoughton
Booked 1 time today
TJI Stoughton is one of the best in MA. Service is pretty good here too. More

OpenTable Diner -
Morrell's BBQ is a restaurant, bar, and lounge that features delicious meats that are seasoned with house made rubs and sauces and smoked until tender. Meats include, brisket, beef ribs, pork ribs, pulled pork, chicken, and salmon which are complimented with traditional southern sides like mac and cheese, collard greens, candied yams, sweet cornbread and more.

The atmosphere at Morrell's BQ makes for a great dining experience, the decor is warm and cozy, the staff is friendly and committed to service excellence. Also, if you are looking to be entertained while enjoying your dining experience look no further, we also feature live music every Friday and Saturday evening from 7pm - 11pm.

Morrell's BBQ also offers private dining for large parties and catering.More
Discover Stoughton
Home to the only train station in Massachusetts with a clock tower, Stoughton is a historic town about 17 miles from Boston. Given that the town is also not far from Cape Cod, it's no surprise that you'll find fresh seafood here. Yet the town's culinary scene is hardly one-note, with farm-to-table fare, authentic Asian and European flavors, classic burgers, steaks, pizzas, salads, and smokehouse BBQ creations in equal abundance. If there is a "dining hot spot" here, it's around Washington Street where familiar chains mix with local cafes, bars, pizzerias, family-friendly restaurants, casual establishments, and low-key kitchens with specialized global dishes. And yes, Stoughton also has baked beans, clam chowder, seasonal lobster, Samuel Adams ale, and other regional palate pleasers.
More Cities Nearby Stoughton
Explore the best restaurants near you