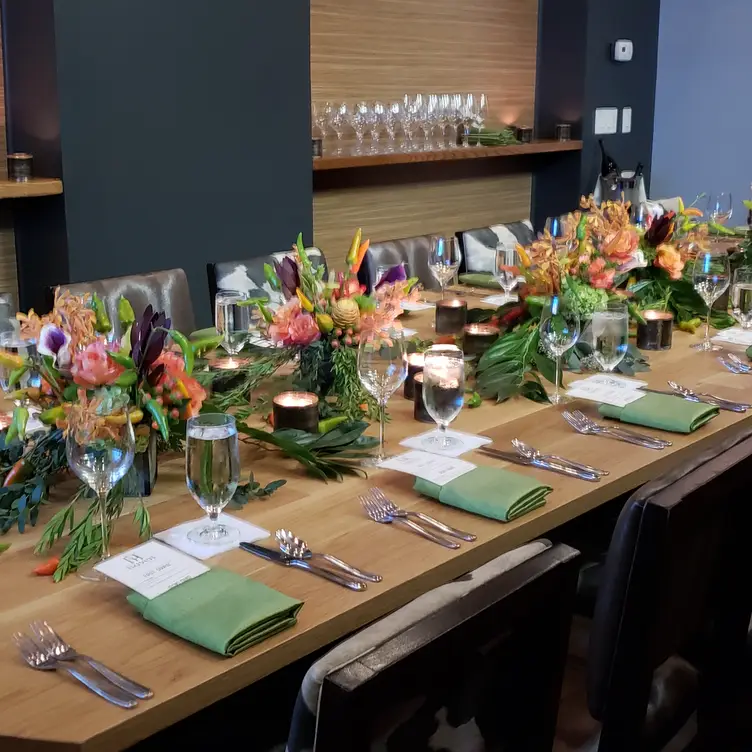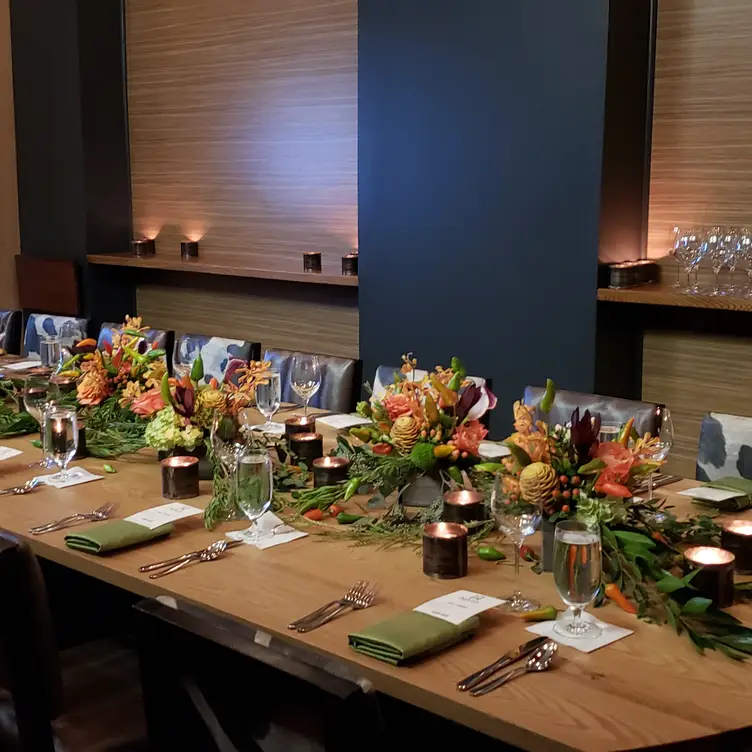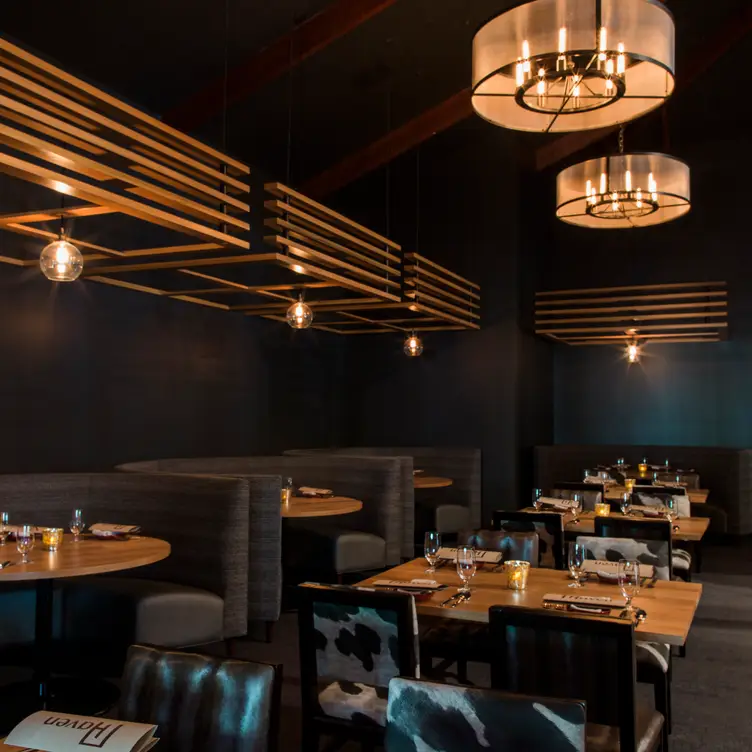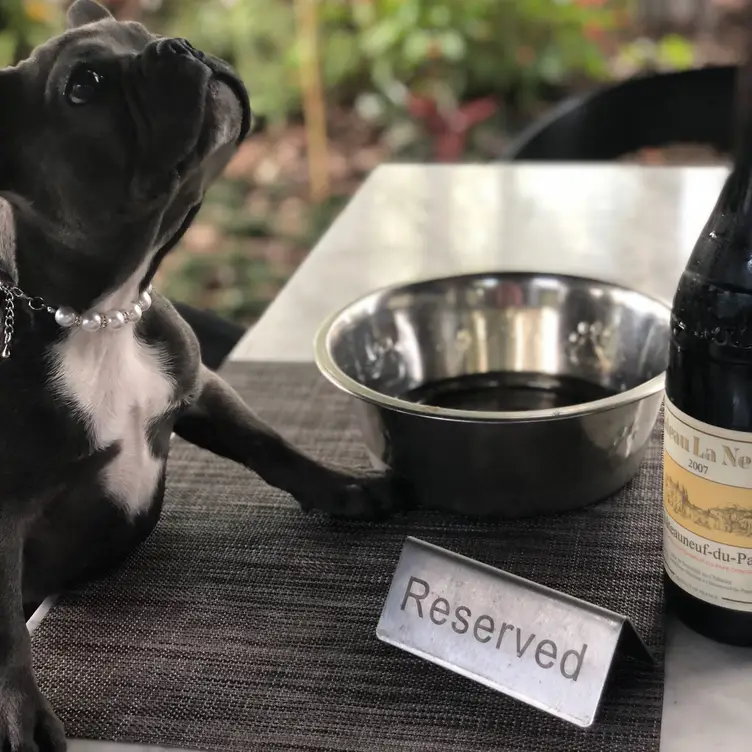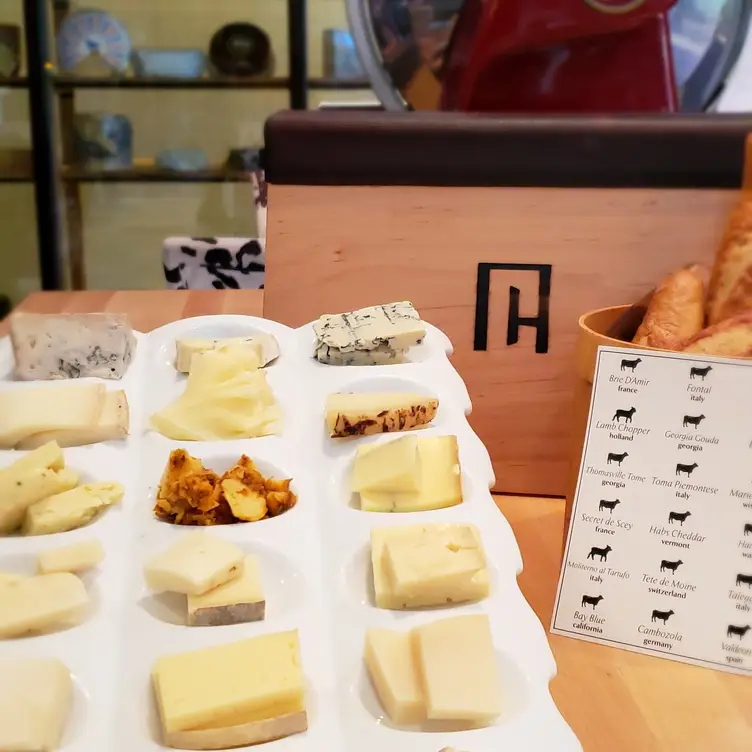 Make a reservation
Order delivery or takeout
Additional information
Dining style

Casual Dining

Cuisines

American, Contemporary American, Tapas / Small Plates

Hours of operation

Dinner Mon–Thu 5:00 pm–9:00 pm Fri, Sat 5:00 pm–10:00 pm

Phone number

(813) 258-2233

Payment options

AMEX, Discover, Mastercard, Visa

Executive chef

Chef Chad Johnson

Catering

For information, please contact Natalie Wilson at 813.258.2233 ext. 447

Private party facilities

Let Haven create your next crafted, cultured and cellared event. We offer sophisticated, seasonal dining with private and semi-private space to choose from for formal business events or private celebrations. Private outdoor space and entire restaurant rental are also available

Private party contact

Jeffrey Gould: (813) 258-2233 ext. 447
Cross street

2208 West Morrison Ave.

Parking details

Valet entrance is located on Morrison Avenue for $3.00.

Entertainment

House Music, occasional live music for special events

Additional

Banquet, Bar/Lounge, Beer, Chef's Table, Cocktails, Corkage Fee, Counter Seating, Delivery, Full Bar, Happy Hour, Non-Smoking, Outdoor Smoking Area, Patio/Outdoor Dining, Patio/Outdoor Dining, Private Room, Takeout, Wheelchair Access, Wine
What 2,171 people are saying
Overall ratings and reviews
Reviews can only be made by diners who have eaten at this restaurant
4.7 based on recent ratings
4.7

Food

4.7

Service

4.6

Ambience

4.3

Value
Overall

3

Food

2

Service

3

Ambience

4




Overall

5

Food

5

Service

5

Ambience

5




Overall

5

Food

5

Service

5

Ambience

5




Overall

5

Food

5

Service

5

Ambience

4




Overall

3

Food

2

Service

5

Ambience

5




OT

OpenTable Diner

Central Coast

Overall

4

Food

4

Service

5

Ambience

4




HavenResponded 2 days ago




Overall

5

Food

5

Service

5

Ambience

5




HavenResponded 3 days ago




Overall

5

Food

5

Service

5

Ambience

5




HavenResponded 5 days ago




Dined on December 3, 2023

Overall

5

Food

5

Service

5

Ambience

5




HavenResponded 6 days ago




Dined on December 2, 2023

Overall

5

Food

5

Service

5

Ambience

5




HavenResponded 2 days ago




Dined on December 2, 2023

Overall

3

Food

3

Service

3

Ambience

4




HavenResponded on December 3, 2023




Dined on December 2, 2023

Overall

5

Food

5

Service

5

Ambience

4




HavenResponded on December 3, 2023




OT

OpenTable Diner

New Orleans

Dined on December 2, 2023

Overall

3

Food

3

Service

3

Ambience

2




HavenResponded on December 3, 2023




Dined on December 1, 2023

Overall

4

Food

4

Service

4

Ambience

5




HavenResponded on December 3, 2023




Dined on November 30, 2023

Overall

5

Food

5

Service

5

Ambience

5




HavenResponded on December 2, 2023




Dined on November 30, 2023

Overall

5

Food

5

Service

5

Ambience

5




HavenResponded 6 days ago




Dined on November 29, 2023

Overall

5

Food

5

Service

5

Ambience

5




HavenResponded on December 1, 2023




Dined on November 25, 2023

Overall

3

Food

5

Service

1

Ambience

5




HavenResponded on November 28, 2023




Dined on November 25, 2023

Overall

5

Food

5

Service

5

Ambience

5




HavenResponded on November 26, 2023




Dined on November 24, 2023

Overall

5

Food

5

Service

5

Ambience

4




HavenResponded on November 26, 2023




Dined on November 22, 2023

Overall

5

Food

5

Service

5

Ambience

5




HavenResponded on November 25, 2023




Dined on November 22, 2023

Overall

5

Food

5

Service

5

Ambience

4




HavenResponded on November 24, 2023




Dined on November 19, 2023

Overall

5

Food

5

Service

5

Ambience

5




HavenResponded on November 20, 2023




Dined on November 18, 2023

Overall

4

Food

4

Service

5

Ambience

5




HavenResponded on November 20, 2023




Dined on November 18, 2023

Overall

4

Food

4

Service

4

Ambience

4




HavenResponded on November 21, 2023




Dined on November 18, 2023

Overall

5

Food

5

Service

5

Ambience

5




HavenResponded on November 19, 2023




Dined on November 18, 2023

Overall

3

Food

3

Service

3

Ambience

5




HavenResponded on November 20, 2023




Dined on November 17, 2023

Overall

1

Food

1

Service

1

Ambience

3




HavenResponded on November 20, 2023




Dined on November 16, 2023

Overall

5

Food

4

Service

5

Ambience

5




HavenResponded on November 17, 2023




OT

OpenTable Diner

San Francisco

vip

Dined on November 15, 2023

Overall

5

Food

5

Service

5

Ambience

5




HavenResponded on November 28, 2023




Dined on November 12, 2023

Overall

4

Food

3

Service

4

Ambience

4




HavenResponded on November 14, 2023




Dined on November 11, 2023

Overall

5

Food

5

Service

2

Ambience

5




HavenResponded on November 14, 2023




Dined on November 11, 2023

Overall

5

Food

5

Service

5

Ambience

5




HavenResponded on November 14, 2023




Dined on November 11, 2023

Overall

4

Food

4

Service

4

Ambience

5




HavenResponded 5 days ago




OT

OpenTable Diner

Atlanta Metro

Dined on November 11, 2023

Overall

5

Food

5

Service

5

Ambience

5




HavenResponded on November 14, 2023




Dined on November 11, 2023

Overall

5

Food

5

Service

5

Ambience

5




HavenResponded on November 14, 2023




Dined on November 10, 2023

Overall

5

Food

5

Service

5

Ambience

3




HavenResponded on November 11, 2023




Dined on November 9, 2023

Overall

4

Food

4

Service

5

Ambience

4




HavenResponded on November 11, 2023




SM

SuchinM

Washington DC

vip

Dined on November 9, 2023

Overall

3

Food

3

Service

4

Ambience

4




HavenResponded on November 15, 2023




Dined on November 9, 2023

Overall

5

Food

5

Service

5

Ambience

5




HavenResponded on November 11, 2023



FAQs
Haven does offer delivery in partnership with Uber Eats. Haven also offers takeout which you can order by calling the restaurant at (813) 258-2233.
Haven is rated 4.7 stars by 2171 OpenTable diners.
Yes, you can generally book this restaurant by choosing the date, time and party size on OpenTable.
Make a reservation
Order delivery or takeout
Additional information
Cross street

2208 West Morrison Ave.

Hours of operation

Dinner Mon–Thu 5:00 pm–9:00 pm Fri, Sat 5:00 pm–10:00 pm

Cuisines

American, Contemporary American, Tapas / Small Plates

Dining style

Casual Dining

Parking details

Valet entrance is located on Morrison Avenue for $3.00.

Payment options

AMEX, Discover, Mastercard, Visa

Executive chef

Chef Chad Johnson

Entertainment

House Music, occasional live music for special events

Additional

Banquet, Bar/Lounge, Beer, Chef's Table, Cocktails, Corkage Fee, Counter Seating, Delivery, Full Bar, Happy Hour, Non-Smoking, Outdoor Smoking Area, Patio/Outdoor Dining, Patio/Outdoor Dining, Private Room, Takeout, Wheelchair Access, Wine
Phone number

(813) 258-2233

Catering

For information, please contact Natalie Wilson at 813.258.2233 ext. 447

Private party facilities

Let Haven create your next crafted, cultured and cellared event. We offer sophisticated, seasonal dining with private and semi-private space to choose from for formal business events or private celebrations. Private outdoor space and entire restaurant rental are also available

Private party contact

Jeffrey Gould: (813) 258-2233 ext. 447