Treat your taste buds: Explore Columbus restaurants.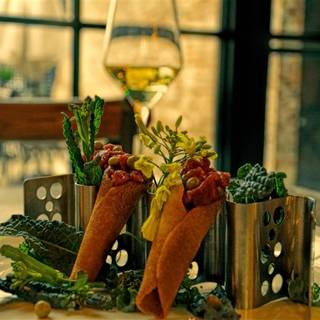 River & Rail
Booked 1 time today
Have been twice and have nothing but good things to say about food and service More

OpenTable Diner -
We were dining before a show at the Springer. Scheduled an early reservation because reviews said service could be slow. We found that this was not true at all. The bartender created an espresso martini for two of my friends and they loved it. My daughter and I enjoyed the red snapper special very much and the pork belly lollipop appetizer was also good. My friends both ordered steak dishes and ate well but because they like their meat over cooked didn't enjoy their dinners as much as they did the martinis. We were done well before show time. More

OpenTable Diner -
TGI Fridays has been living the weekend since its doors opened in 1965. Today, there are over 900 restaurants in 60 countries offering delicious food and legendary drinks, all served in the spirit of Friday. We are proud to bring people together for brunch, lunch, dinner, late night, and everything in between. So when we say ÒIn Here, ItÕs Always Friday,Ó we mean it.More
Discover Columbus
You can always count on a traditional meat-and-three to blow your mind, and nobody does it better than Columbus' native cooks. Platters groan under the weight of fried catfish, meatloaf or pork ribs with sweet-and-sticky sauce. You haven't lived until you've tried eggs benedict with fried green tomatoes. However, the city has some diverse newcomers, including internationally known competitive chefs and Level II sommeliers. Who knew that Southerners would be clamoring to try daeji bulgogi or curried goat with makhani sauce? Whether you order an old standby or something less conventional, your food is bound to be fresh. Farm-to-table food isn't a movement here; it has long been a way of life. Even Prince Charles has enjoyed Columbus' iconic scrambled dog, but he's probably the only visitor who's ever had it served on a silver platter.
More Cities Nearby Columbus
What's your craving? Search by cuisine
Explore the best restaurants near you