North of Seattle Restaurants
Make a free reservation
Treat your taste buds: Explore North of Seattle restaurants.
Diners' Choice Winners: Best Overall
North of Seattle's best restaurants based upon thousands of OpenTable diner reviews
New to OpenTable
North of Seattle restaurants that recently joined the OpenTable network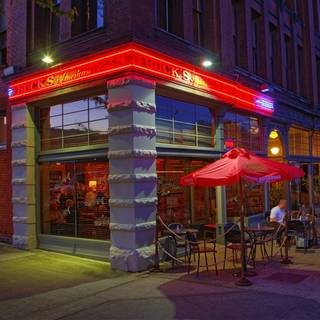 Buck's American Cafe
Booked 1 time today
Buck's American Cafe strives to serve good food in a comfortable setting. Established in 1986 in the Swalwell historic building in Riverside Square, the decor combines the building's 19th-century bank and later rumored speakeasy past, renovated with a touch of the future. Diners at Buck's American Cafe can enjoy appetizers like the baked brie of steamed Manila clams, or jump right to their meals for roast duck or pork osso bucco.

Buck's American Cafe also offers a small plates menu with choices such as baked eggplant and fish tacos. There is also a Friday and Saturday night menu that includes prime rib and the crab cakes appetizer. Vegans can even join in the fun with a black bean burger, making sure there is an option for everyone in the group.

More
A truly local and seasonal dining experience, our menu will change weekly to reflect the local harvest. Tremendous amount of thought has gone into the sourcing of each ingredient, to benefit the local community, economy, and environment. We aim to source 90% of our ingredients from within 100 miles, with preference to small, family farms in Snohomish and Woodinville. All pasta and gnocchi dishes will be hand-made in house using local flour and eggs. Plenty of vegetarian and GF options available, and all menu items are under $25. Desserts will be a collaboration with Elizabeth of I'll Have What She's Having at The Hungry Pelican Stay tuned to our Facebook page for weekly menu updates!More
Discover North of Seattle
Next time you find yourself North of Seattle, know that you are in a city that is known for simple yet delicious snacks. Apples, artisanal chocolate, and a traditional cup of coffee are a few of the things that the residents of this city enjoy every day. You'll find that this city even has a specially created cherry. The Rainier cherry is named for Mount Rainier. Looking for a sweeter dessert? North of Seattle is the best place to find bittersweet chocolate chip cookies. If you're hungry for saltier flavors, the seafood is a must-try. Start with the fish and chips or the cedar-planked salmon with honey-balsamic glaze.
North of Seattle Neighborhoods
More North of Seattle Neighborhoods