Mobile Restaurants
Make a free reservation
Best American Restaurants in Mobile
Treat your taste buds: Explore Mobile restaurants.
Diners' Choice Winners: Best Overall
Mobile's best restaurants based upon thousands of OpenTable diner reviews
New to OpenTable
Mobile restaurants that recently joined the OpenTable network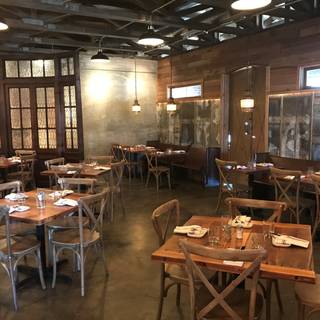 Gather Restaurant
Booked 1 time today
Please gather around our table to enjoy comfortable unpretentious dining in a small town setting. More
Discover Mobile
Mobile is situated on the western and northern edges of Mobile Bay, separated from the Gulf of Mexico by Dauphin Island. Fresh seafood abounds, including oysters, shrimp, and tuna tartare. If barbecue is a favorite, you can find menus that offer high-quality brisket, pulled pork, tri-tip and more. The architectural heritage of Mobile is on display in restaurants that offer an intimate dining experience in a repurposed Southern mansion. Of course, you'll want a great view of the bay while you enjoy your dinner, and many Mobile seafood restaurants offer a world class view of the water while serving eclectic dishes that combine Asian and Mediterranean cuisines.
More Mobile Neighborhoods