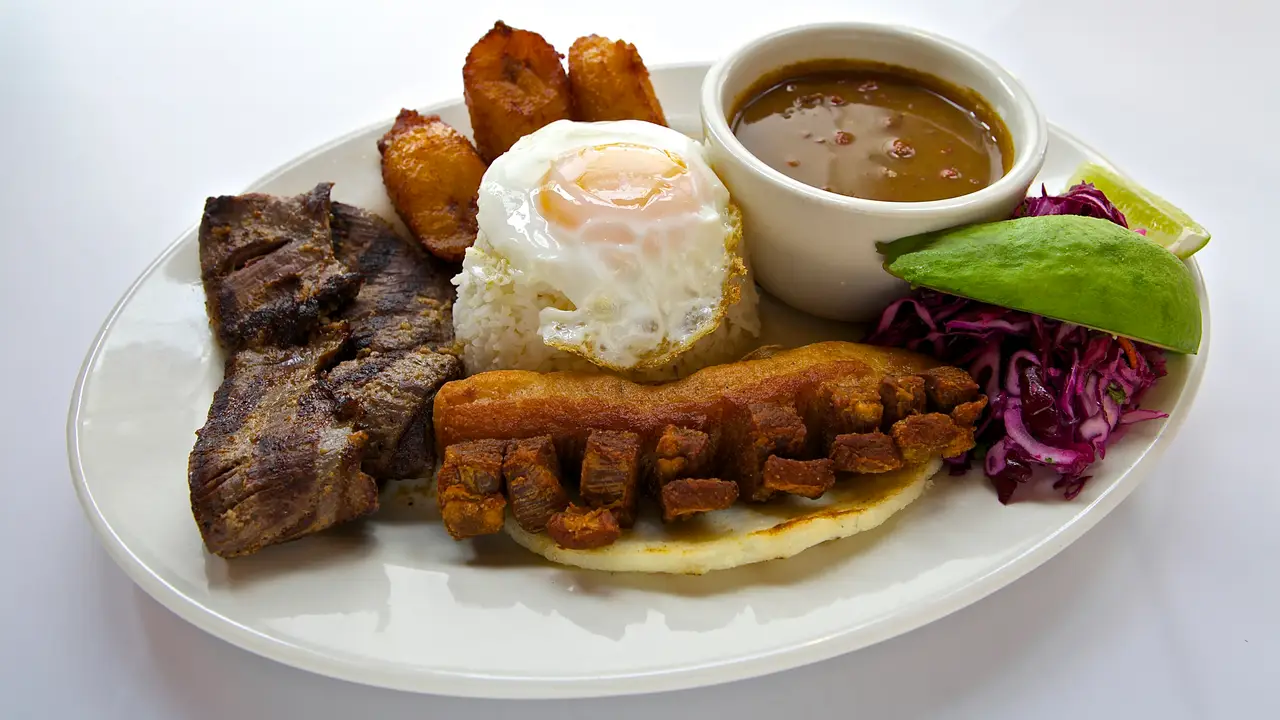 Make a reservation
Order delivery or takeout
Additional information
Cuisines

Latin American, Comfort Food

Hours of operation

Lunch Mon–Fri 11:00 am–4:00 pm Brunch Sat, Sun 11:00 am–4:00 pm Dinner Mon, Tue, Sun 4:00 pm–12:00 am Wed–Sat 4:00 pm–2:00 am

Phone number

(718) 230-3805

Payment options

AMEX, Discover, Mastercard, Visa

Catering

Bogota Latin Bistro offers off-site catering to nearby homes and offices. We also do in-house catering and can accommodate parties of 65-100. <br />Our flexible catering and party menus can accommodate casual events, sit down dinners, buffets and cocktail parties. Bogota Latin Bistro brings a warm Latin flavor to any event, whether in the tropical setting of our restaurant or in the comfort of your own setting. Our catering menu is available on our website: BogotaBistro.com. Call for more details: 718-230-3805.

Private party facilities

Whatever the occasion, we can help you put your guests in a festive mood by providing them with the space, food and service they won't soon forget. In fact, we were designed with parties and large groups in mind! Our flexible catering and party menus can accommodate casual events, sit down dinners, buffets and cocktail parties. Bogota Latin Bistro brings a warm Latin flavor to any event, whether in the tropical setting of our restaurant or in the comfort of your own setting.Bogota Latin Bistro can also be rented out in its entirety for large functions and private events. We offer a variety of dining options (sit-down dinners / buffet-style cocktail parties) with great pricing options. Contact our event manager for more information.From birthday parties, bridal showers and even bar mitzvahs and beyond, Bogota Latin Bistro is a great choice for hosting the special occasions in your life.

Private party contact

George Constantinou: (718) 230-3805
Cross street

St. Johns Place/Lincoln Place

Parking details

Street parking is available and the nearest parking garage is: Central Parking Garage, 800 Union St<br />New York, NY 11215, (718) 622-2351.

Public transit

R train to Union Street, 2, 3, 4, 5, B, D, N, Q & R trains to Atlantic Avenue/Pacific Street, 2 & 3 trains to Bergen Street, and B & Q trains to 7th Avenue. The B63 bus to 5th Avenue & Douglass Street.

Additional

Banquet, Bar Dining, Bar/Lounge, Beer, Cafe, Cocktails, Corkage Fee, Counter Seating, Delivery, Full Bar, Gender Neutral Restroom, Gluten-free Options, Happy Hour, Late Night, Non-Smoking, Patio/Outdoor Dining, Patio/Outdoor Dining, Private Room, Takeout, Weekend Brunch, Wheelchair Access, Wine
What 1,616 people are saying
Overall ratings and reviews
Reviews can only be made by diners who have eaten at this restaurant
4.6 based on recent ratings
4.6

Food

4.4

Service

4.5

Ambience

4.5

Value
OT

OpenTable Diner

Salt Lake City

Overall

3

Food

4

Service

2

Ambience

4




OT

OpenTable Diner

New York Area

Overall

4

Food

5

Service

4

Ambience

5




Dined on November 26, 2023

Overall

3

Food

2

Service

4

Ambience

4




Dined on November 24, 2023

Overall

5

Food

5

Service

5

Ambience

5




Dined on November 24, 2023

Overall

3

Food

3

Service

2

Ambience

4




Dined on November 22, 2023

Overall

3

Food

3

Service

3

Ambience

4




Dined on November 19, 2023

Overall

5

Food

5

Service

5

Ambience

5




OT

OpenTable Diner

New York Area

Dined on November 18, 2023

Overall

5

Food

5

Service

3

Ambience

3




Dined on November 11, 2023

Overall

5

Food

5

Service

5

Ambience

5




OT

OpenTable Diner

New York Area

Dined on November 5, 2023

Overall

4

Food

5

Service

3

Ambience

4




Dined on November 4, 2023

Overall

5

Food

5

Service

5

Ambience

4




OT

OpenTable Diner

New York Area

Dined on October 29, 2023

Overall

2

Food

5

Service

2

Ambience

4




Overall

5

Food

5

Service

5

Ambience

5




Dined on September 23, 2023

Overall

3

Food

2

Service

2

Ambience

3




Dined on September 17, 2023

Overall

5

Food

5

Service

5

Ambience

5




Dined on September 16, 2023

Overall

1

Food

1

Service

1

Ambience

3




S

Southslope

New York Area

vip

Overall

5

Food

5

Service

5

Ambience

5




Overall

5

Food

5

Service

5

Ambience

5




Overall

5

Food

5

Service

5

Ambience

5




Overall

5

Food

5

Service

5

Ambience

5




Overall

5

Food

5

Service

5

Ambience

5




Overall

3

Food

3

Service

4

Ambience

2




Overall

4

Food

4

Service

3

Ambience

3




Overall

4

Food

5

Service

5

Ambience

3




Overall

5

Food

4

Service

4

Ambience

5




Overall

5

Food

5

Service

4

Ambience

2




Overall

5

Food

5

Service

5

Ambience

5




Overall

1

Food

1

Service

1

Ambience

1




Overall

5

Food

5

Service

5

Ambience

5




NY

NYCFoodie11201

New York Area

Overall

5

Food

5

Service

5

Ambience

5




Overall

1

Food

1

Service

1

Ambience

1




Overall

2

Food

2

Service

4

Ambience

2




Overall

5

Food

5

Service

5

Ambience

5




OT

OpenTable Diner

New York Area

Overall

5

Food

5

Service

5

Ambience

5




Overall

5

Food

5

Service

4

Ambience

5




OT

OpenTable Diner

Louisville

Overall

5

Food

5

Service

5

Ambience

5




OT

OpenTable Diner

New York Area

Overall

5

Food

5

Service

5

Ambience

5




Overall

5

Food

5

Service

5

Ambience

5




OT

OpenTable Diner

New York Area

Overall

5

Food

5

Service

4

Ambience

5




Overall

5

Food

5

Service

5

Ambience

4



FAQs
Bogota Latin Bistro does offer delivery in partnership with Chow Now and Uber Eats. Bogota Latin Bistro also offers takeout which you can order by calling the restaurant at (718) 230-3805.
Bogota Latin Bistro is rated 4.6 stars by 1616 OpenTable diners.
Yes, you can generally book this restaurant by choosing the date, time and party size on OpenTable.
Make a reservation
Order delivery or takeout
Additional information
Cross street

St. Johns Place/Lincoln Place

Hours of operation

Lunch Mon–Fri 11:00 am–4:00 pm Brunch Sat, Sun 11:00 am–4:00 pm Dinner Mon, Tue, Sun 4:00 pm–12:00 am Wed–Sat 4:00 pm–2:00 am

Cuisines

Latin American, Comfort Food

Parking details

Street parking is available and the nearest parking garage is: Central Parking Garage, 800 Union St<br />New York, NY 11215, (718) 622-2351.

Public transit

R train to Union Street, 2, 3, 4, 5, B, D, N, Q & R trains to Atlantic Avenue/Pacific Street, 2 & 3 trains to Bergen Street, and B & Q trains to 7th Avenue. The B63 bus to 5th Avenue & Douglass Street.

Payment options

AMEX, Discover, Mastercard, Visa

Additional

Banquet, Bar Dining, Bar/Lounge, Beer, Cafe, Cocktails, Corkage Fee, Counter Seating, Delivery, Full Bar, Gender Neutral Restroom, Gluten-free Options, Happy Hour, Late Night, Non-Smoking, Patio/Outdoor Dining, Patio/Outdoor Dining, Private Room, Takeout, Weekend Brunch, Wheelchair Access, Wine
Phone number

(718) 230-3805

Catering

Bogota Latin Bistro offers off-site catering to nearby homes and offices. We also do in-house catering and can accommodate parties of 65-100. <br />Our flexible catering and party menus can accommodate casual events, sit down dinners, buffets and cocktail parties. Bogota Latin Bistro brings a warm Latin flavor to any event, whether in the tropical setting of our restaurant or in the comfort of your own setting. Our catering menu is available on our website: BogotaBistro.com. Call for more details: 718-230-3805.

Private party facilities

Whatever the occasion, we can help you put your guests in a festive mood by providing them with the space, food and service they won't soon forget. In fact, we were designed with parties and large groups in mind! Our flexible catering and party menus can accommodate casual events, sit down dinners, buffets and cocktail parties. Bogota Latin Bistro brings a warm Latin flavor to any event, whether in the tropical setting of our restaurant or in the comfort of your own setting.Bogota Latin Bistro can also be rented out in its entirety for large functions and private events. We offer a variety of dining options (sit-down dinners / buffet-style cocktail parties) with great pricing options. Contact our event manager for more information.From birthday parties, bridal showers and even bar mitzvahs and beyond, Bogota Latin Bistro is a great choice for hosting the special occasions in your life.

Private party contact

George Constantinou: (718) 230-3805