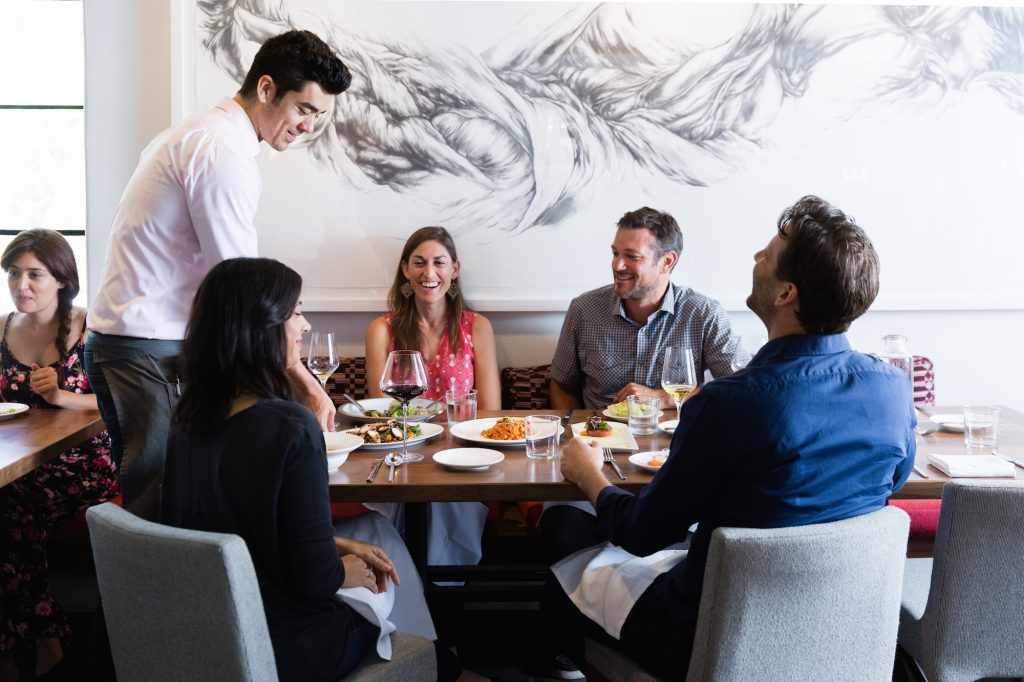 This week we joined Eater and the Golden Gate Restaurant Association for a lively panel discussion about the future of dining, featuring some of the best in the Bay Area restaurant business: David Barzelay of Lazy Bear, Nancy Oakes of Boulevard and Prospect, Craig Stoll of the Delfina Group and Jen Pelka of restaurant meal kit startup Din.
Moderating the discussion was Eater Cities Editor Carolyn Alburger, who led the panel through a series of issues that are top of mind for restaurants in San Francisco and beyond. With so many changes rapidly occurring — from wages and rising cost of living to new technologies — what does the future of dining look like?
Rising Costs
Real estate, minimum wages, food prices — the cost of running a restaurant is higher than it's ever been before. What are some ways restaurants are finding to cut costs in their operations?
At his restaurant Delfina, Craig has raised prices 12 to 15 percent across the board and is charging for bread for the first time. He cautioned, though, that there's no direct correlation between higher prices and a higher check average. Check averages are only up two or three percent because guests get used to ordering less.
Nancy said she's reluctant to raise prices, and is instead looking at everything that doesn't touch the customer (including toilet paper).
At Din, Jen's team has embraced ugly fruits and vegetables. After learning that most produce farmers toss 30 percent of what they grow because of blemishes that make it impossible to sell to restaurants, they started buying those ingredients in bulk at lower prices. They identified a whole secondary market for vegetables they can turn into sauces and broths, so they are able to offer customers ingredients that would otherwise be too expensive.
David admitted Lazy Bear would only survive about a week if they weren't completely sold out every night (and happily, they are). He's considering raising prices even higher for the exclusive dinner experience, which would allow his team to focus on a single seating per night.
Cook Shortage
Most cooks in restaurant kitchens are not paid salaries that would allow them to afford San Francisco's expensive and ever-increasing housing prices. Nancy estimates that most cooks are spending 60 percent of their income on rent, which just isn't sustainable. She's looking into a reciprocal movement with Europe and other countries, where cooks could come work and learn for a set period of time.
David has actually considered providing housing for his cooks. Craig admitted he competes with other restaurants for staff more than anything else, and he's been known to post Craigslist ads featuring whole pigs and "hot waitresses" to draw people in.
Jen made an interesting suggestion: institute a second tip line for the kitchen under the tip line for service. Craig said he's already considering it. Right now laws make it impossible to force the front of house to share tips with the back of house because the kitchen is not part of the "chain of service." His cooks are making $17-18 an hour, while servers are bringing in around $35.
Tipping
On the heels of Danny Meyer's announcement that he'll be eliminating tipping from all Union Square Hospitality Group restaurants, the conversation directed to the big tipping debate. In fact, it wasn't a debate at all: everyone seems to be on board with the idea, but they want buy-in from their peers in the industry before taking the leap.
Carolyn's response: "Can't you all just have a secret meeting and agree?"
At Lazy Bear, David uses a mandatory service charge, which works because his cooks are part of the chain of service — they introduce menu items to the room and also serve guests. Nancy suggested amending the language around that law so that the back of house can take part. Circling back to the idea of a second tip line, David asked: how far do we go? Do we tip the dishwasher? Doesn't it make more sense to go the opposite direction, tip free? The room applauded.
It's ingrained in our culture to reward and punish service via tips, said Craig, and it doesn't make sense for diners to be subsidizing staff wages. "Why don't we just pay them?" he asked.
Simplified Menus
Carolyn identified another trend that's emerged in the face of rising costs: simpler dishes that are easily scalable, so anyone can come into a kitchen and execute them. Are we all going to be eating pizza and burgers because those are financially viable business models for restaurants?
Nancy predicted a future in which 3 percent of the public eats at the top of the ladder, and everyone else eats pizza and burgers. Craig agreed, saying that in the future people will pay dearly for service and hospitality, and it will come at a premium.
David said casual concepts are looking more and more attractive, but more in deciding what restaurant he wants to do next instead of influencing what he does at Lazy Bear. And diners' expectations are changing, too — they care about the food, not the tablecloths. He's a fan of casual concepts that are able to serve high-end food and save on all the other stuff.
Sustainability
We're losing species, which means as a society — and as chefs and restaurant owners — we need to be more careful with the ingredients we source.
Beef took a hit among panelists, with Craig predicting that it will be much more of a luxury item in the future. Jen said they serve almost no beef at Din because of the drought in California.
Nancy said her diners are more interested in vegetable dishes now, but she emphasized that coming up with inventive, delicious vegetable courses is a lot of work. David agreed; anyone can buy foie gras, he said, but there's more artistry to vegetable dishes. However, he finds that there are more ingredients available to chefs now, not fewer; people are just more aware of the issues around certain foods. The laws of economics dictate that the industry will continue to find more esoteric varietals.
Technology
From reservations to food delivery, restaurant apps abound. Which ones will win the race?
Jen — who also heads up marketing and PR at San Francisco restaurant Souvla — said tech companies need to be true partners to restaurants in order to succeed. For delivery services, that means integrating easily with the POS system, not disrupting service, and never adjusting menu prices.
As for what the future holds, it all comes back to service. Quick delivery and meal kit startups (Blue Apron, Sprig) differentiate the restaurant experience from other dining options. People may dine out less, but they will still want to do it — and they'll pay a premium for true hospitality.
Photo Credit: Erin Kunkel