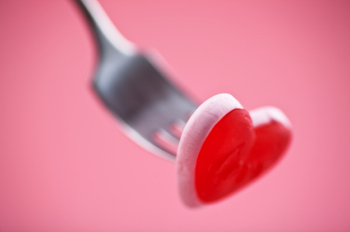 Valentine's Day 2010 is just a fond (I hope!) memory by now. I hope yours was as fun as mine (I dined at SHO Shaun Hergatt and had a delightful Valentine's Day dinner!). I didn't get there in a limo, but some lucky Tweeps had that option, thanks to winning the OpenTable Valentine's Day Limo Twitter Giveaway, sponsored by Limos.com. Congratulations to all our winners!
One of the most popular eateries for Valentine's Day, according to your tweets in response to Monday's query, was — surprise! — The Melting Pot. On Tuesday, when we asked who your celebrity dream date is, the most popular celebs were actors Halle Berry and Tyrese. Sandra Bullock and Ryan Reynolds took second place. Angelina Jolie may have Brad Pitt, but more of you want to dine with his first wife, Jennifer Aniston. The "Jersey Shore" cast proved popular, with JWoww, The Situation, and DJ Pauly D getting some love from OpenTable diners (but not, alas, Snookie. Poor Snickers!) Your most random dream dates? "Golden Girl" Bea Arthur and hockey great Gordie Howe. Someone chose reality-TV-star-turned-punchline Jon Gosselin. Let's hope it was in jest.
In terms of your favorite food to eat on Valentine's Day, your tweets told us that it was a bad day to be a cow or a lobster, as surf and turf was one of top most romantic dishes. OpenTable diners are clearly chocoholics as chocolate, though, took first place. Strawberries dipped in chocolate were also wildly popular. Back on the savory side, a stand-alone steak, pasta, oysters, and fondue were also all the rage. The sweetest most romantic food-related tweet I saw? A diner tweeted, "Anything healthy so we can live a long life together."
When we asked you to tweet your favorite romantic movie on Thursday, Love Actually was the winner — but just by one vote. The Notebook came in second. Other picks included Casablanca, Ghost, Sleepless in Seattle, When Harry Met Sally, and The Princess Bride. Offbeat tweets highlighted Better Off Dead, The Empire Strikes Back, and Shaun of the Dead (Nothing says romance like zombies, really.). Cutest tweets: Lady and the Tramp got two votes. That pasta-sharing scene gets me every time I see it, and, clearly, I'm not alone. It also makes me want to eat spaghetti every time I see it.
Finally, the most romantic city, according to your tweets, is — shocker! — Paris. New York bumped San Francisco to third place, by just a single tweet. Florence and Venice, Italy, each got a lot of love as did Charleston. Unique suggestions included Bruges, Pittsburgh, and Warsaw.
Congratulations again to our winners, and thanks to Limos.com and for all your terrific tweets. If you're still seeking more romance until next Valentine's Day, check out the Top 50 Most Romantic Restaurants, according to the 2010 OpenTable Diners' Choice Awards.