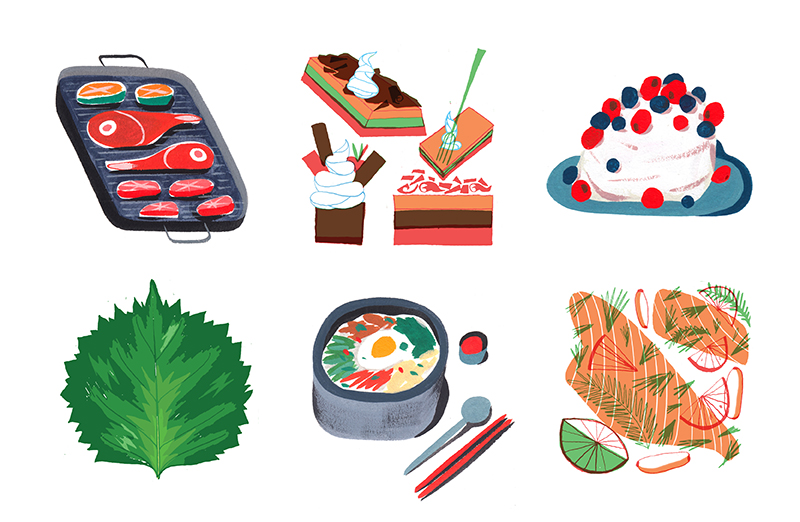 Can't tell shiso from yuzu? Don't know a gougère from gochujang? You're not alone. As culinary trends evolve (or stage a comeback), the terms diners are finding on menus can be confusing and impact how they order at a restaurant. A recent online survey conducted by Harris Poll revealed many diners believe some restaurant menus are more confusing than they need to be (29%), are concerned that ordering a menu item made with an unfamiliar ingredient will ruin their dining experience (56%), or feel they will be wasting their money if they don't enjoy their meal (74%).
The survey findings also revealed several menu terms that more than half of diners do not know the meaning of, and inspired the OpenTable design team to work with illustrators to create a visual Menu Jargon Decoder to demystify the visualization, meaning, and pronunciation of confusing menu terms, including okonomiyaki, bibimbap, piri piri.
The survey, which was conducted online by Harris Poll in March 2016 on behalf of OpenTable, found that an overwhelming majority of diners (91%) say they are more likely to order a dish they are not familiar with if it has additional menu features. Diners also indicated that the future for digital menus may be bright with more than half saying photos of the menu items (53%) or a glossary of menu terminology (30%) would make them more likely to order a dish they are not familiar with.
Additional findings include that nearly 2 in 5 (37%) of diners choose a restaurant based on how familiar they are with the items listed on a menu. When diners encounter a term they didn't understand on a menu, most (67%) have asked the waiter to explain what it is, but some (42%) have asked fellow diners at their table if they are familiar with the term. Nearly 1 in 5 (18%) ordered a dish with an unfamiliar ingredient or term as a challenge to experience something new. Men were more likely than women to do so (21% vs. 14%, respectively).
According to the survey, at least half of diners say they do not understand the following menu terms in ranking order:
Okonomiyaki (o-konomi-yaki) — 69%
Gochujang (go-choo-jang) — 67%
Piri piri (pir-ree-pir-ree) — 64%
Yuzu (yoo-zoo) — 64%
Bibimbap (bi-bim-bop) — 64%
Gougère (ɡo͞oˈZHer) — 63%
Guanciale (gwan-cha-lay) — 62%
Shiso (SHēsō) — 62%
En brodo (en BROH/doh) — 61%
Ballotine (bal- -teen) — 61%
Harissa (hah-ree-suh) — 60%
Patatas bravas (pəˌtɑːtəs ˈbrɑːvəs) –58%
Meuniere (muh n-yair) — 58%
En papillote (ahn pa-pee-yawt) — 57%
A la plancha (ä lə ˈplän(t)SHə) — 55%
Lardo (lar-do) — 55%
Romesco (ruˈmesku) — 55%
Amuse bouche (ah-mooz-boosh) — 55%
Primi (pri-mi) — 54%
Pavlova (pav-luh-vuh) — 54%
Crudo (kruːdo) — 54%
Croustade (kroo-stahd) — 52%
Semifreddo (semi – freddo) — 51%
Terrine (tuh-reen) — 51%
Cremeux (kʀemø, øz) — 50%
Visit Menu Jargon Decoder for a full visual experience featuring illustrations from artists Ping Zhu, Keith Shore, Harrison Freeman, Brianna Harden, and Eddie Perrote.
Let us know which of these terms you understand—and how you behave when you encounter one you don't here or over on Facebook, Instagram, or Twitter.