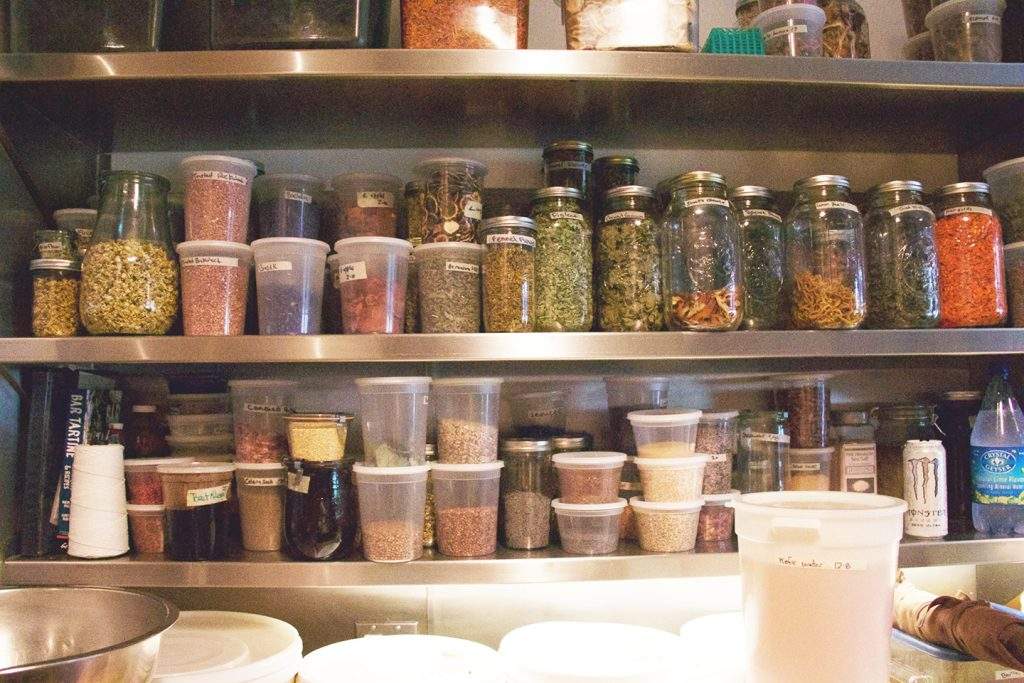 On a typical night at San Francisco's Bar Tartine, you won't see the phrase "house-made" on the menu. None of the dishes make a big deal about themselves (green chili cheese dip with rye bread, roasted carrots with yoghurt and sunflower tahini) aside from listing some ingredients you don't see every day, like kefir.
That's because the flavors speak for themselves. Those flavors — acidic, funky, fatty, bright — are the result of the project kitchen, the subject of the first half of the restaurant's self-titled cookbook. It's where Chefs Nick Balla and Cortney Burns process everything they can, dehydrating peppers to make paprika and fermenting beets for their famous pickles. Just about every spice in the restaurant is homemade.
The implications of working this way are massive for a restaurant's operations, requiring time, labor and an organized system that ensures every ingredient and product is used efficiently. We asked Nick all about how it works, from farm to larder to table.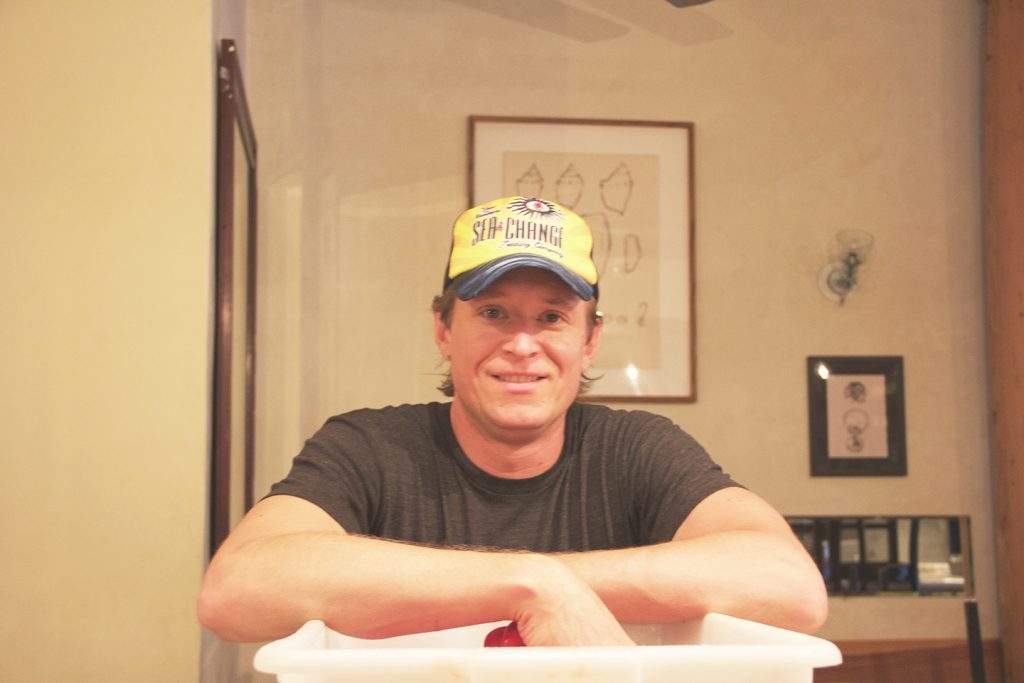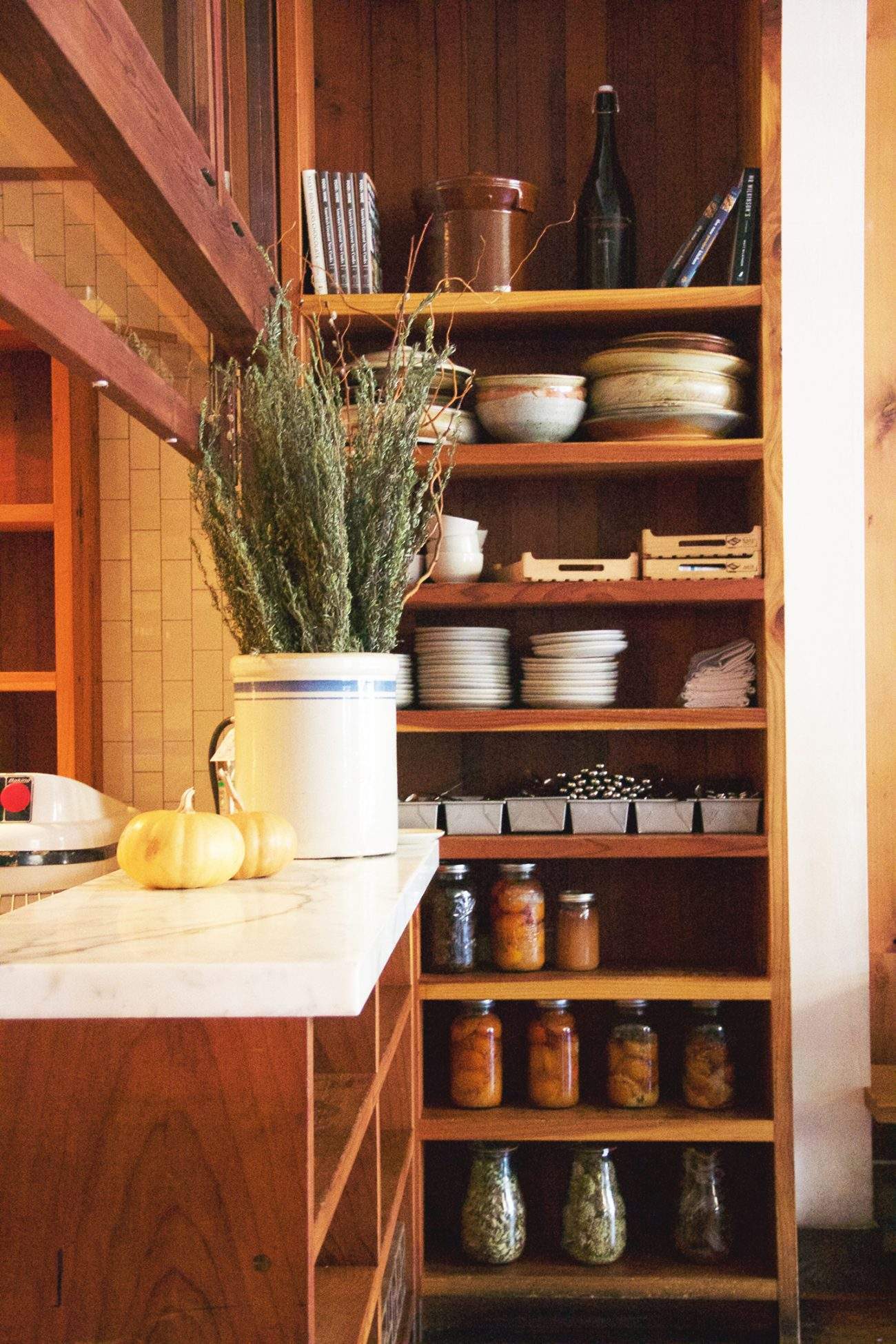 Food as a Story
Though nothing about the Bar Tartine experience is preachy, Nick and Cortney approach the food program with a clear vision and philosophy: everything should have a story.
"For us it's just really important having a connection to everything we serve our guests," says Nick. "We try to eliminate everything from our food and beverage program that does not serve a purpose or have a story."
Both chefs have been making products from scratch for most of their careers: Nick in the Japanese restaurants he formerly worked at, and Cortney in her Sonoma catering business. At Bar Tartine, the system of the project kitchen evolved organically. They make a few things every day, and the result is a comprehensive larder of homemade vinegars, misos, krauts and spices — and an true farm-to-table system that operates efficiently.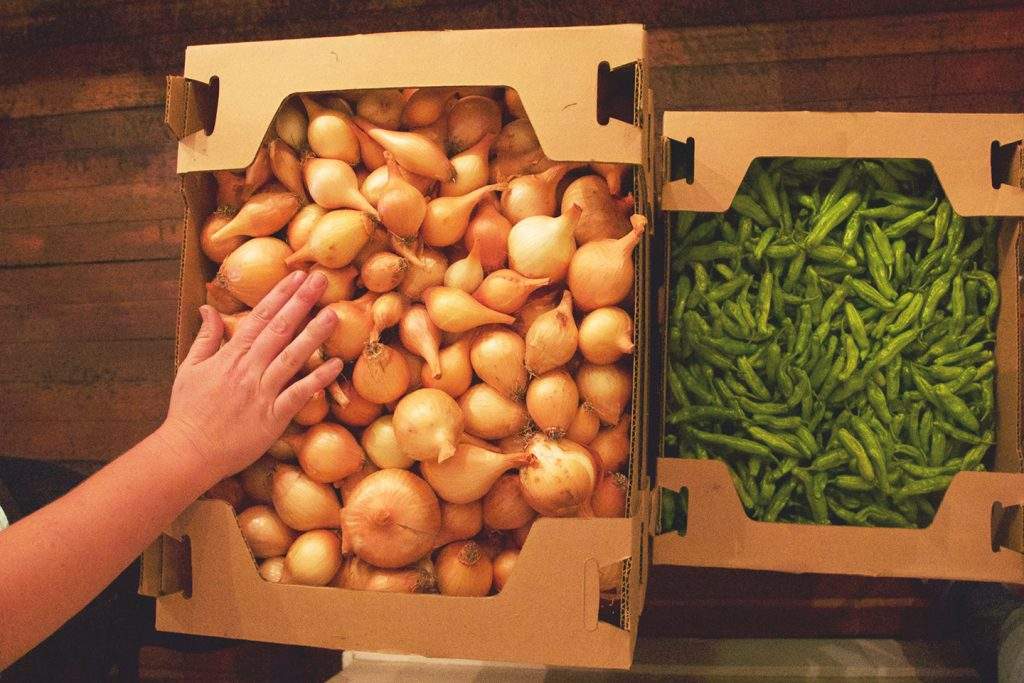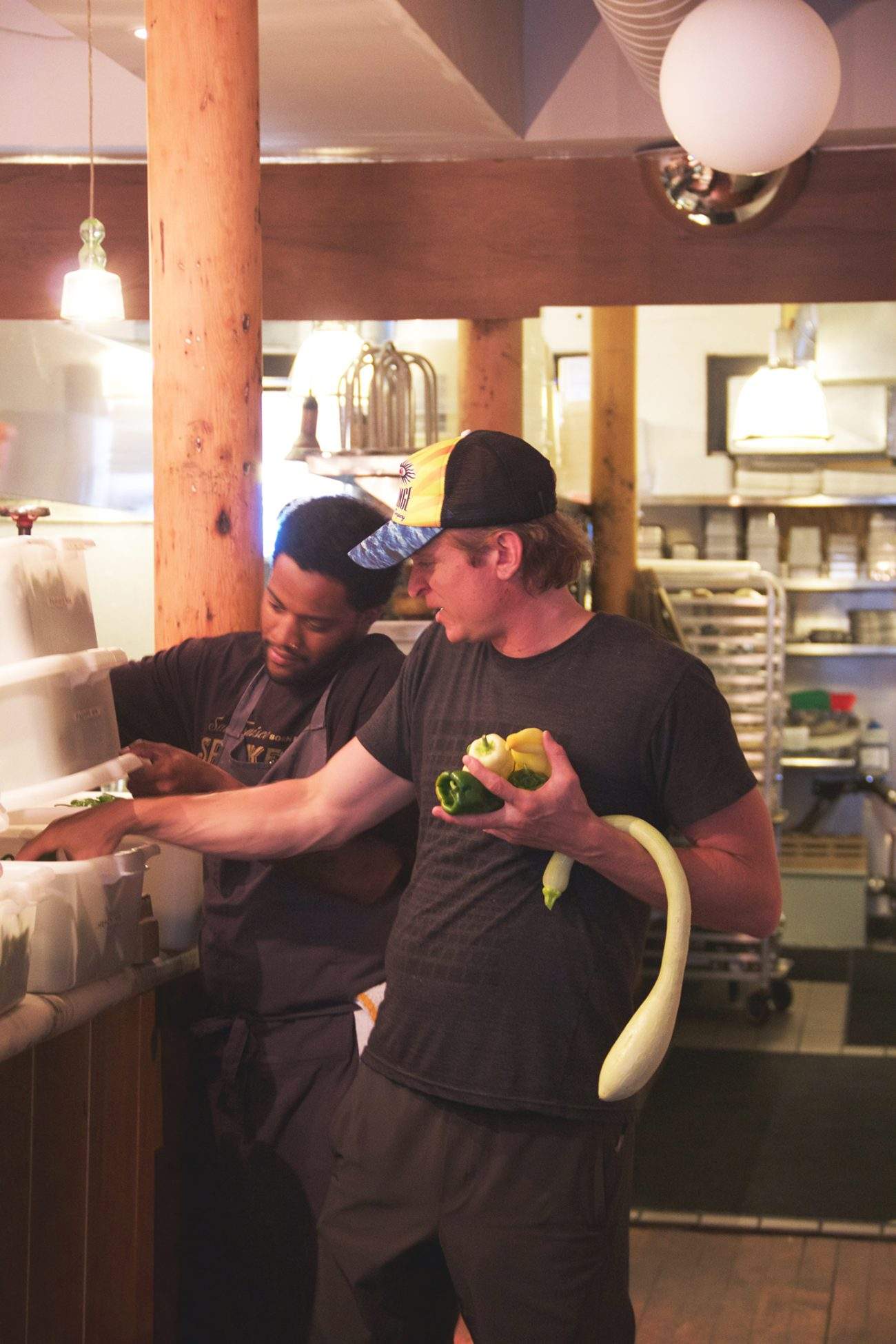 Ugly, Delicious Produce
Part of what makes Bar Tartine's culinary approach unique is their sourcing. Yountville farmers Juston and Mindy Enos grow produce exclusively for the restaurant, and the teams sit down together a few times a year to flip through a seed catalog and decide what they're going to plant. Everything from the farm comes to Bar Tartine, so Nick and Cortney are diligent about using every last bit. That's another way the project kitchen comes into play.
"Most farms we know throw half of their stuff away or more because people don't order it," Nick says. "So more than half of what's grown goes back into the compost pile or sits on the vines until it bolts. We use everything that they can bring us. There's no, 'I'm sorry we can't use that,' there's, 'We need to change the menu to figure out how we're going to get 400 pounds of peaches on there.'"
Juston and Mindy deliver twice a week, sometimes literally hundreds of pounds of a single ingredient. Although their produce is beautiful and pristine, that's not necessarily what Nick looks for when he wants to process ingredients. Instead, he looks for blemished fruits and vegetables at their peak, in quantity — that's the most cost-effective way to get started.
Farmers love selling their big boxes of B-grade tomatoes or their kale with bug holes in it, and they're usually willing to sell at a great price. Those are the items you can use to make spices, kimchi, and anything else that's not beautiful enough to serve fresh and whole.
"If you don't start with something that's delicious, you don't end up with something that's delicious," says Nick. "It can be ugly to start with, but it has to be ugly and delicious."
Cost savings aren't the primary motivation, which is why there are plenty of items in the Bar Tartine larder that are actually quite expensive to make in house. Their onion powder costs them much more than they would pay for it at the supermarket, because they use top-quality onions from Juston and Mindy that are processed in several stages. But other products, such as dried beef and bottarga (which can cost $150-200 per pound) are cheaper to make in mass quantities than to buy.
"Our system is more efficient, we think, than buying things," Nick says. "But for the sake of overall carbon footprint and if you're talking about efficiency from start to finish, it's much more efficient."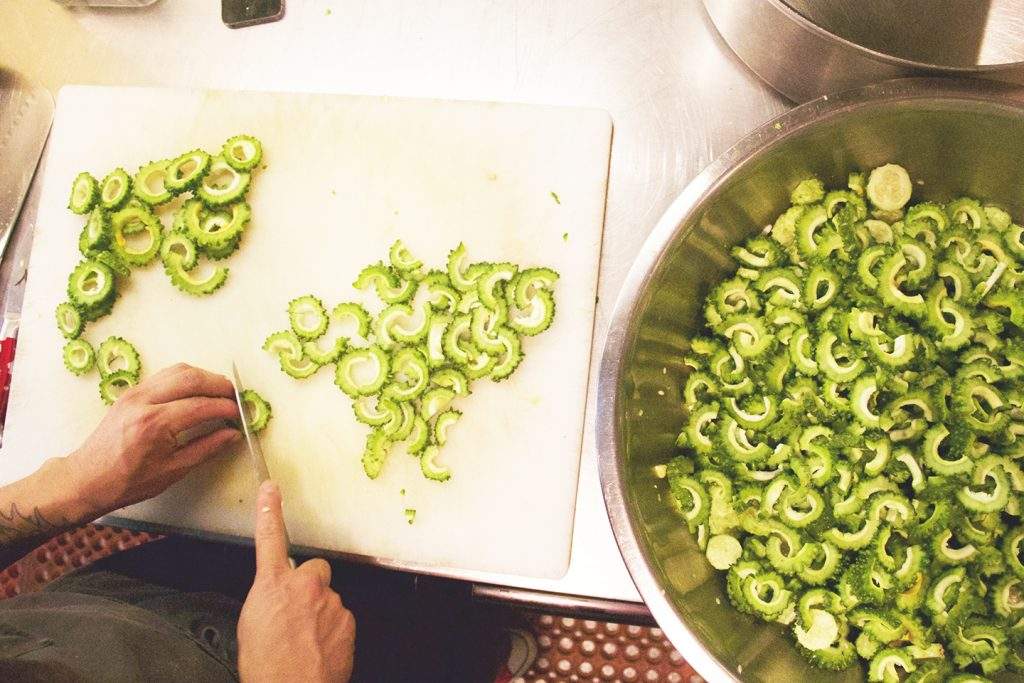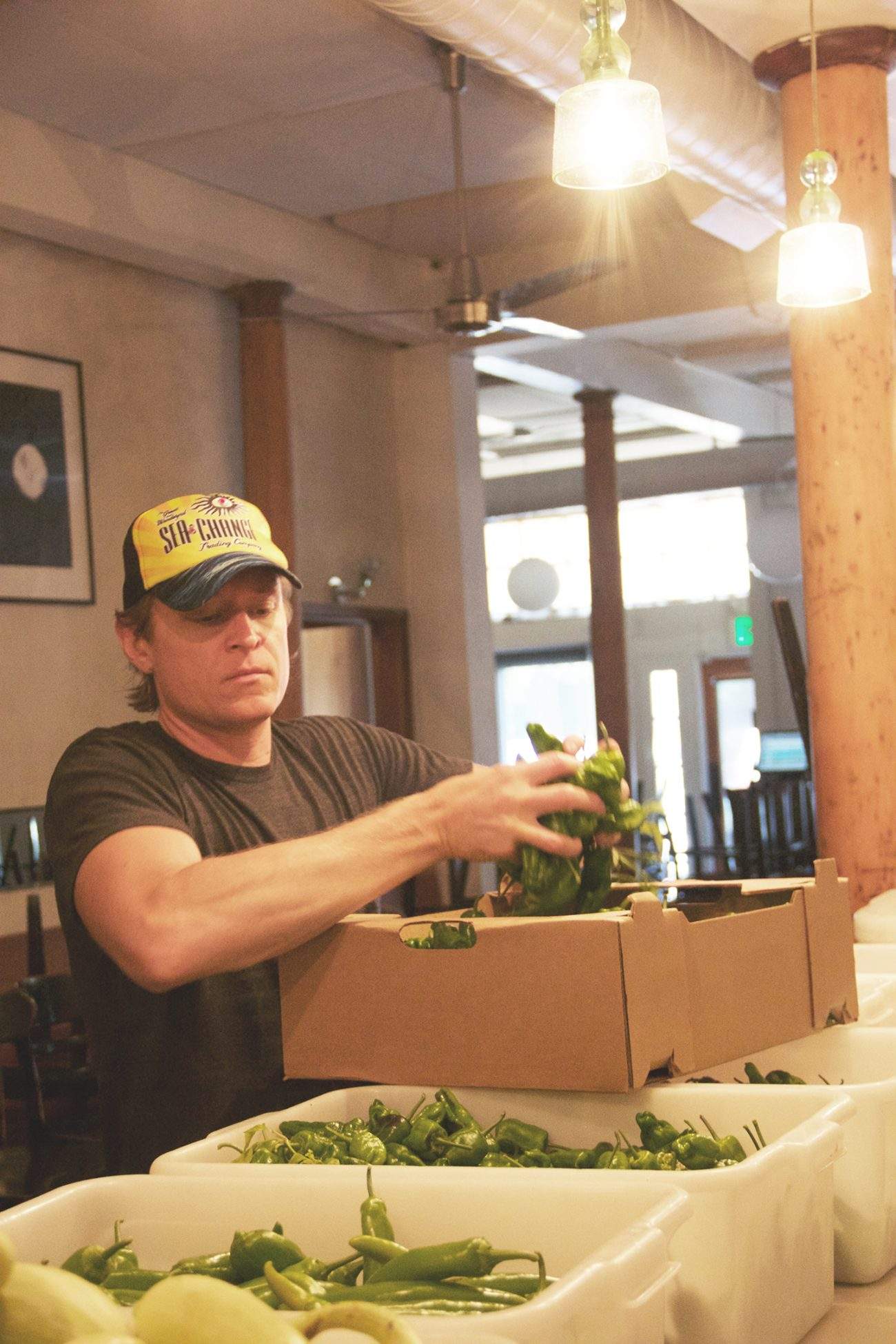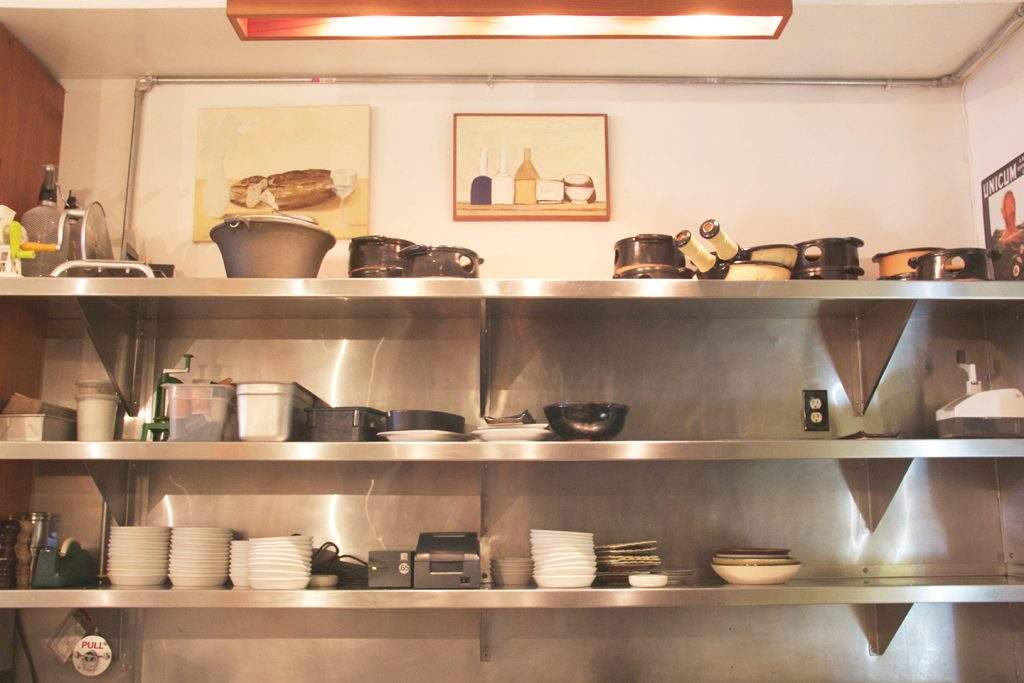 All Hands on Deck
By processing a few things every day, Nick and Cortney keep their labor costs relatively low. In a typical evening shift, there are seven or eight people working in the back of house at Bar Tartine (including stages), and everyone does a little bit of everything.
Cooks rotate through from the main kitchen to the project kitchen, and often dishwashers help with processing. They schedule more people on days that Juston and Mindy deliver. Nick and Cortney are processing constantly, too. "It's the only thing that calms our nerves," he says.
At the end of the day, there's no secret to going all-in DIY. "We just make it happen," says Nick.
When hundreds of pounds of plums come in, they figure out the most efficient ways of processing them. If time is tight, they may smash them whole, with skins, pack them into buckets and let them ferment before making them into vinegar. If they have more time to spend, they may choose a different project.
While the walls of the project kitchen are lined with dried herbs, spices, and jars of pickles and krauts, there's surprisingly little special equipment involved. The team uses a food dehydrator ("you can always rig up an oven," says Nick) but almost everything can be processed with salt in buckets. The key is to be creative.
And when it's time to use the larder to build the menu, all of the cooks put their creativity to the test to come up with new, delicious dishes.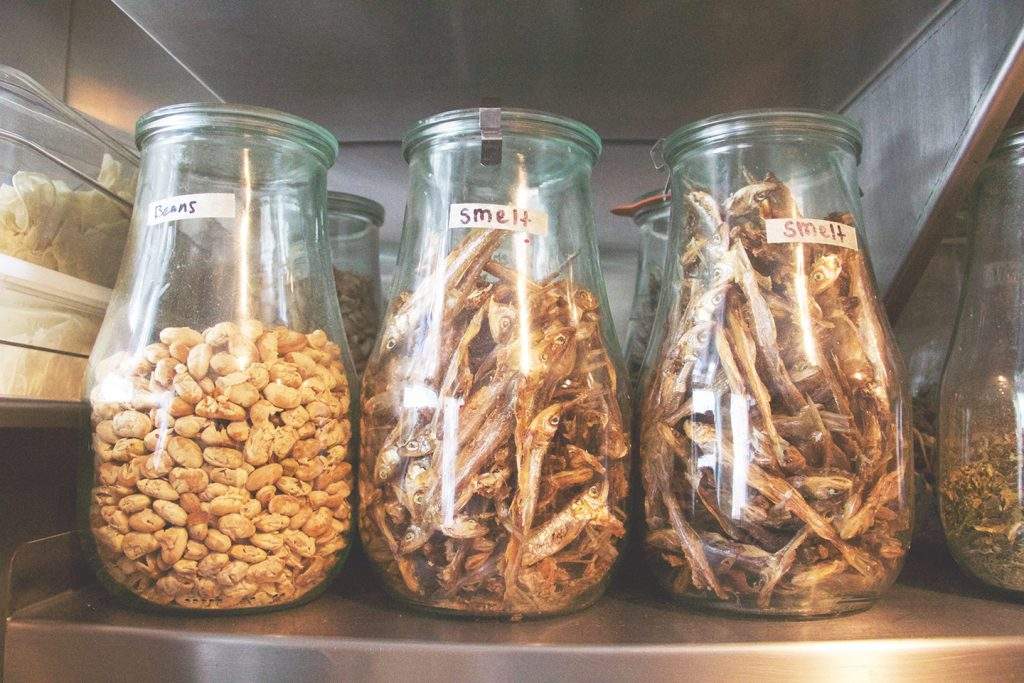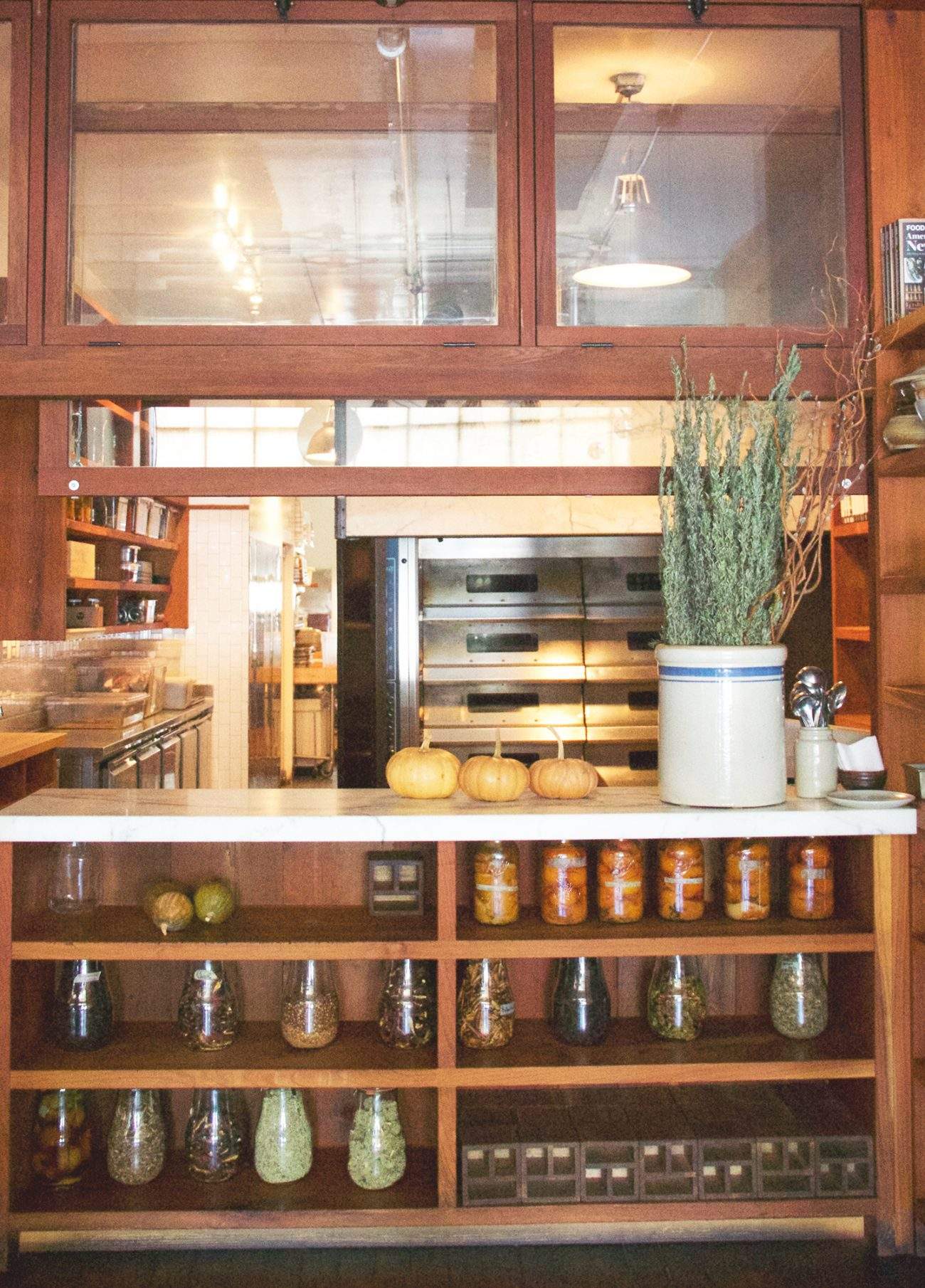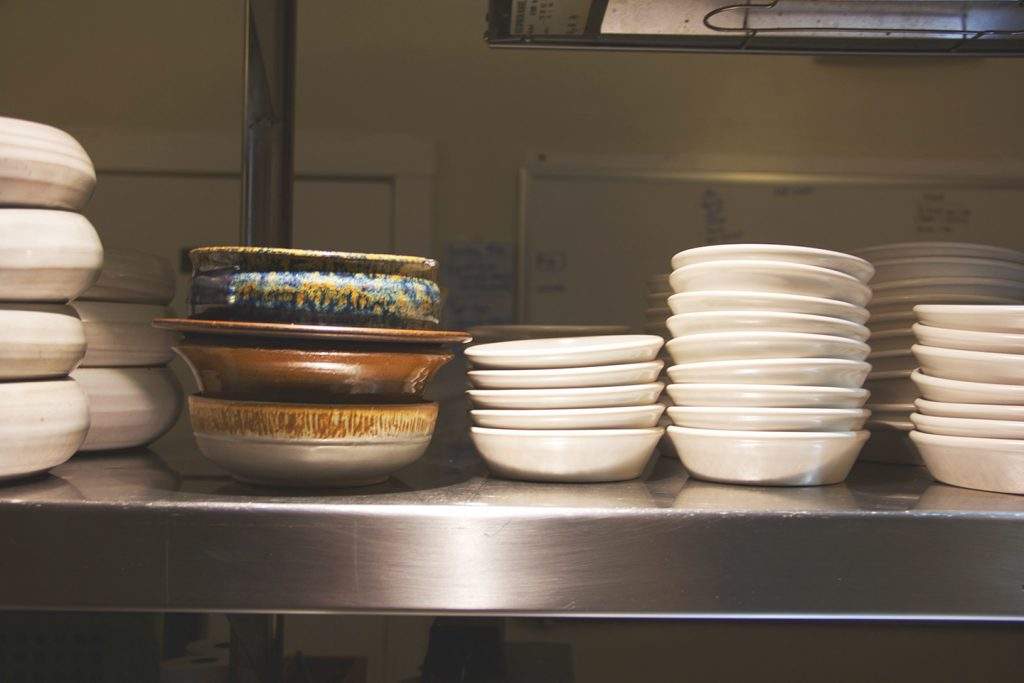 Larder to Table
Items that are brined and salt-preserved will last for years, while other products in the larder need to be used quickly, such as spices left slightly wet and fresh. That means Nick and Cortney are always thinking through what needs to go on the menu now, what can wait until later, and how to work those items into delicious dishes that will delight guests. It's a cycle that's constantly in flux.
"Today, we're processing all these gourds and bitter melons and different funny green vegetables that we need to get on the menu because they've been sitting here since last Thursday, so we're going to put them on a chicken dish tonight," says Nick. "It's going to be awesome. We've never made the dish before and we're going to figure it out. That's just every day."
The R&D process for new dishes is very much trial and error. Having to use up ingredients pushes the limits of the team's creativity. They start by making things from the raw ingredients delivered, processing with different techniques such as dehydrating or pickling. Then they taste the finished product and think about which proteins they might pair it with, such as a chili paste rub for chicken.
The dishes evolve naturally from there; the kitchen, like the ingredients fermenting in the project kitchen, is a living entity.
"We want to be able to tell people we made this spice, we got it from this farmer," says Nick. "It's the flavor, it's the story we want to have. And at the end of the day we'd still be doing it even if none of that stuff existed because it's fun. That's when we enjoy life the most."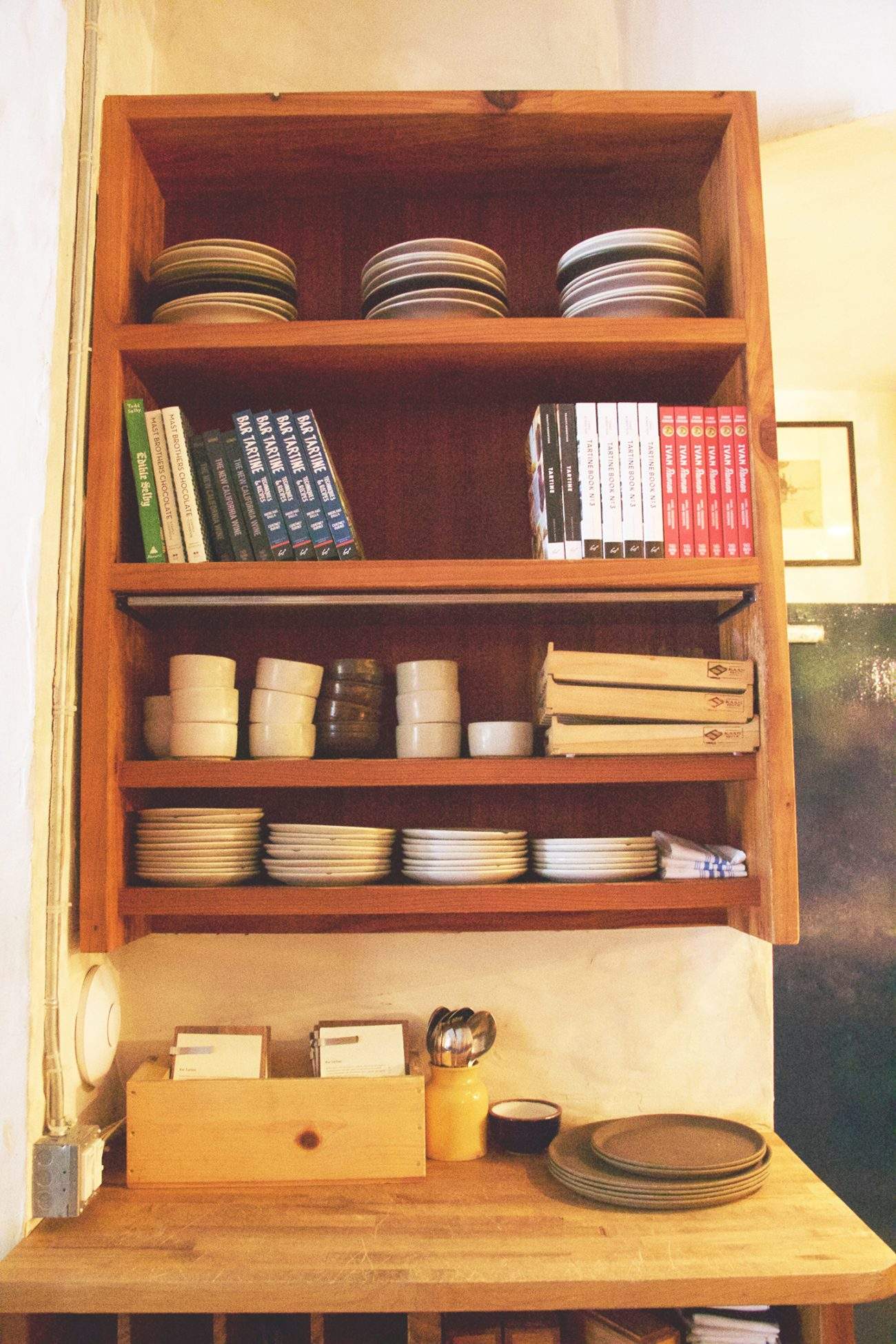 Photo Credit: Alex Loscher