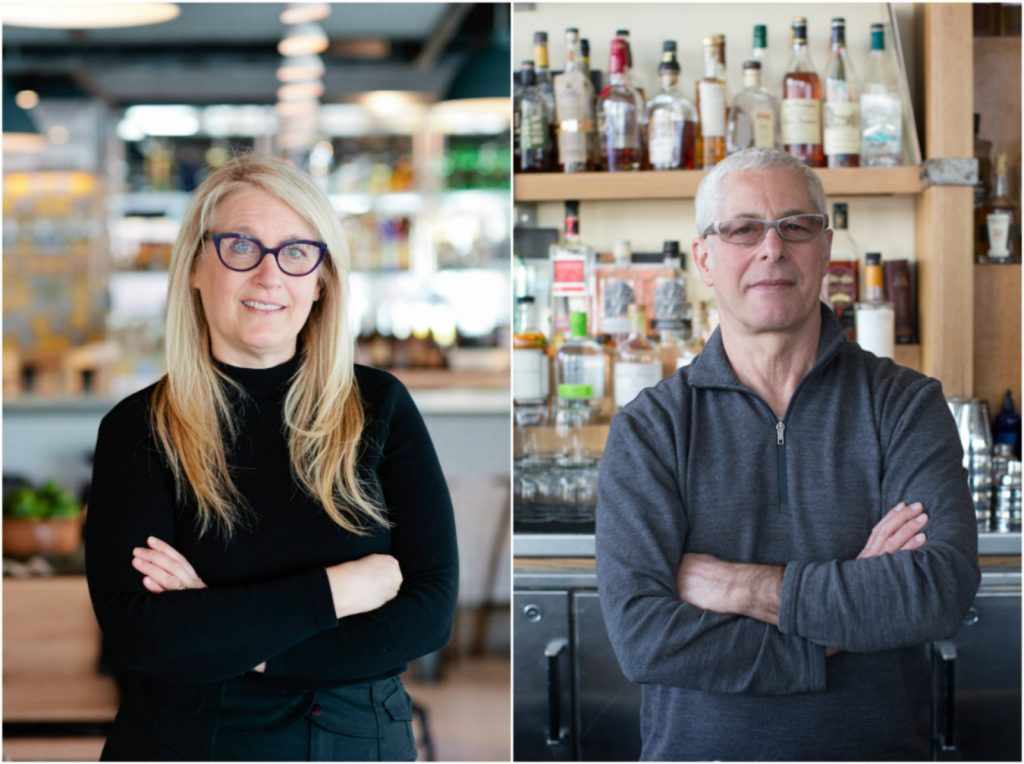 Vicki Freeman and Marc Meyer have been married almost as long as they've been in business together. Freeman, who was the general manager of Vix in Soho in 1993, hired Meyer as her chef, and from there the relationship grew into a lifelong partnership. The couple, who married in 1997, owns four of the city's most popular farm-to-table restaurants: Cookshop, Hundred Acres, Vic's, and Rosie's.
While they are known for their steadfast dedication to responsibly sourced ingredients, they also have a reputation for creating restaurants with a devoted following. Customers (this writer included) quickly become regulars who never stray very far, marking the passing of life's milestones at the same tables year after year.
Andrea Strong chatted with Marc and Vicki about the evolution of the industry, lessons learned from failure, and why it's important to be reviewed.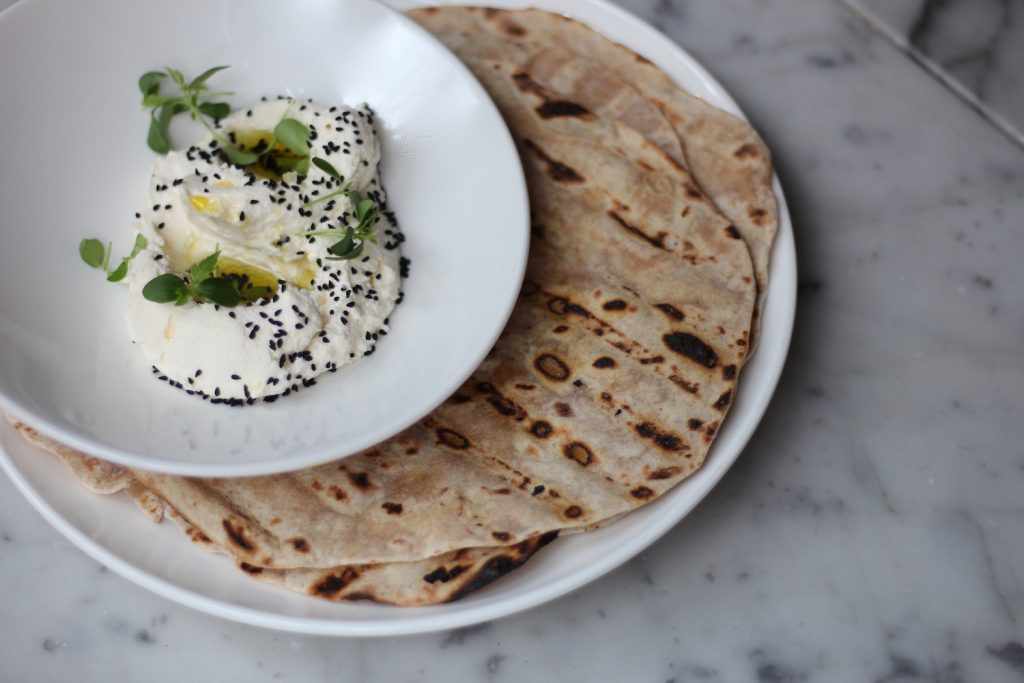 Marc, you started out with one restaurant, being a hands-on chef, and now you oversee four restaurants—two American, one Italian, and one Mexican. How is that going?
Marc: I still have a hard time with it. The relationships I have with my chefs are great, so it is very fulfilling, but it has all the potential for me to feel very inadequate as well because I am not "doing" anymore. But I have such capable, talented chefs that my observations are just little things like there is a redundancy on the menu, or your price points can be adjusted. I taste things, but I really don't mess with things. Rarely will I say I don't like things. I also don't tell them what to cook.
Now that you have four restaurants, are you still buying most of your product at the Union Square Greenmarket?
Marc: Yes. It used to be me at the market at 7 a.m. and then I would come back and take the boys to school. But my boys are grown now. And with all the restaurants, I rent a Zipvan and we shop and then we drop off at all our restaurants. Whole animals are delivered to Cookshop, where we break them down, and then our other restaurants place their orders for a delivery of meat.
You recently closed your first restaurant, Five Points, and reopened it as an Italian restaurant called Vic's under chef Hillary Sterling. How did that come about?
Vicki: The restaurant was 16 years old, and the place was looking shabby, even though we pride ourselves in upkeep. And it just was making very little money. We could see the direction it was going in, and it was not good. I had lost my oomph for the place. It became a struggle. Marc felt the same. We knew we had to do something.
Marc: I was not happy with what we were doing there, and I knew we knew we could not piecemeal this thing and just paint a wall and fix things. I wanted to go in a different direction. I wanted to renovate the kitchen and add a pizza oven, and I wanted to do fresh pasta—that kind of approach. We felt if we were going to take that kind of approach and put that kind of expense into the kitchen we needed to shut it down and redo it.
Vicki: We met Hillary Sterling through a mutual friend, Chef Missy Robins, and Marc met with her and they talked for hours. We did a tasting and menu draft and we felt she really was so talented that she deserved to have a new restaurant.
Was it hard that last night of service at Five Points?
Vicki: Not at all. Everyone thought I would sit in the empty restaurant and cry. I didn't. It was one of the best things we have ever done. It was almost cathartic for us to close. It didn't feel like us anymore, not like who we are now. Five Points was at its finest when we were all there all the time. I knew 75% of our regulars, and our staff was pretty much the same throughout our run. That restaurant needed us there in a way that our other restaurants do not.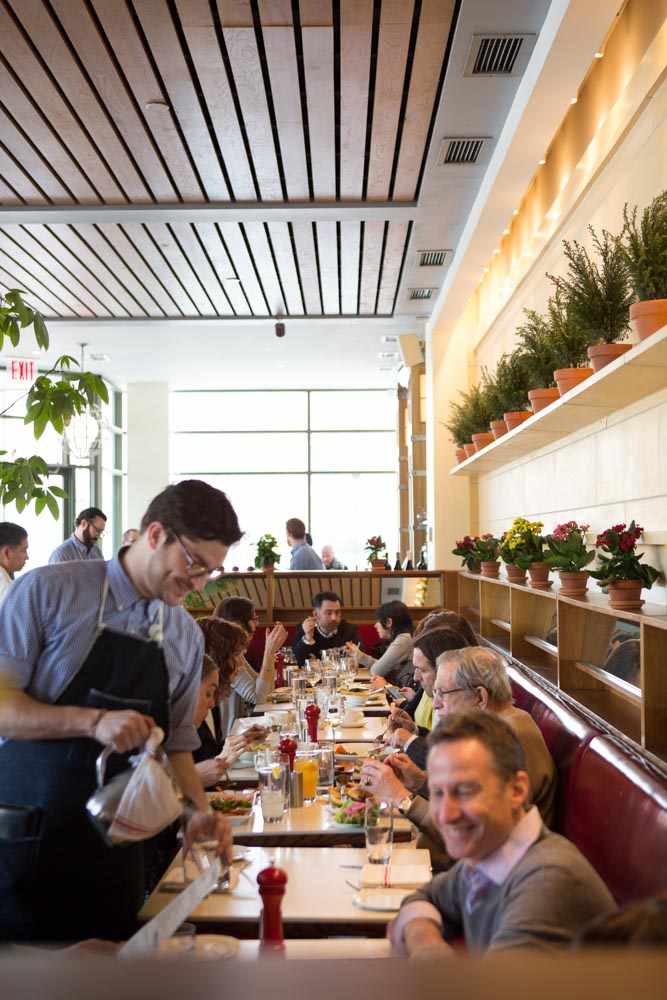 Your restaurants have lots of regulars. Given how much competition there is in the city, with so many new places opening and the relatively short attention span of diners, why do you think that is?
Vicki: I think it's a couple of things. First, I really do think it's our managers. They stay with us a long time and get to know the regulars. Richard Luftig, our wine director at Cookshop, has been there for 11 years, so he knows everyone who walks in the door. He really is the face of that restaurant.
Also, I spend a lot of time at work, so I try to surround myself with people I want to be friends with and that I like, so that my hope is that the customer will feel that same thing. I think the kitchen being consistent also helps. People can come in and know we are not perfect but we do everything we can to make their entire experience as great as it can be. There is a warmth, and that comes from the people who work there.
The servers, too. Many of our servers have become friends with regulars outside of the restaurant. There are times when I will see a waiter with one of our regulars having dinner together at one of our other restaurants. One of our waiters is giving one of our regulars singing lessons. It's amazing.
In 2007, you took over the lease on the beloved Soho restaurant, Provence. Two years later it was done. What happened there?
Marc: It was apparent from the start that we had stumbled. For me, it was one miscalculation after another.
Vicki: We loved Provence, we had been going for years, we got engaged there, and there was a lot of sentimentality attached to the restaurant. What we wanted was to recreate the old Provence and open a down-and-dirty place with mussels and good cheap wine. When you came to the old Provence, if you had a bad day, it all fell away. It was such a special place.
But I learned that you can't recreate something. It had a moment and it was gone. Just like no one can ever reopen Elaine's. Then the other problem was that we hired amazing designers who created this jewel box and we were so enthralled with the place that we had to change the food. It went up a bit and we lost the vision.
Marc: A couple of years later, we closed it and reopened as Hundred Acres and that worked. I think that we learned from that experience. We realized that we needed to have things more clearly laid out conceptually. We knew that we were going to continue to make mistakes, but we hoped after that experience, that they would be less dramatic.
What is your take on the new bill passed by Governor Andrew Cuomo that will bring the minimum wage up to $15/hour by 2018?
Marc: It had to happen. People cannot survive on the current minimum wage and live in this city. We have to take responsibility, and I have to raise what people are paid. We are offering higher salaries, and I think it can be done callously or with sensitivity. We are going for sensitivity.
Vicki: For the front of the house, that's slightly different issue. I am a huge believer in tipping. I am not on the fence on that. But with minimum wage going to $15, we have to stop tipping. I hate when people tell me how I have to run my business. I have some visceral reaction to that. I was so upset when the smoking ban for restaurants was passed. I was sure it was going to be a disaster, but now I think it saved my life! I would have had so much secondhand smoke.
Marc: She smelled like an ashtray every night when we got home.
Vicki: I know I did, and in hindsight it was a great decision, but it was that someone was forcing this one me. I don't like those rules. I think there should be some choice.
Shortly after you opened Vic's, you opened your first Mexican restaurant, Rosie's. Was that an idea that was percolating for a while?
Marc: I have always loved Mexican food, but I am not Mexican. I am a Jew from Hempstead, Long Island. I am the most unlikely person to do a Mexican restaurant. But I love the food. All of the people I was working with were Mexican and they would bring in a little morsel from home and offer to share, and then we had it with staff meal and then we did some dishes on the brunch menu. I always wanted to do more.
Vicki: Marc's true passion is for Mexican food and culture. When the cooks we worked with would go home to Mexico, they would invite him to go and stay with their family and watch them cook. And that passion grew every year. I told him he had to open a Mexican restaurant.
Marc: I would go home with these guys and I'd sleep on the floor. We'd go down a bumpy road and grab some goats, and put them in the back of the truck with me and then it was off to the house of a cousin where everything was put in the pit. Those were incredible trips. Then I took a cooking bootcamp with Diana Kennedy. But I could not do it without my chef at Rosie's, Angel Andrade.
Vicki: I don't think people realize how seriously he wants to represent a cuisine that has not been represented well enough in New York. City. We never sit in a room and have a meeting and say, we should add a Mexican restaurant, I hear they make a lot of money. For better or worse, our projects are passion projects that happen organically. Rosie's came form something inside of Marc.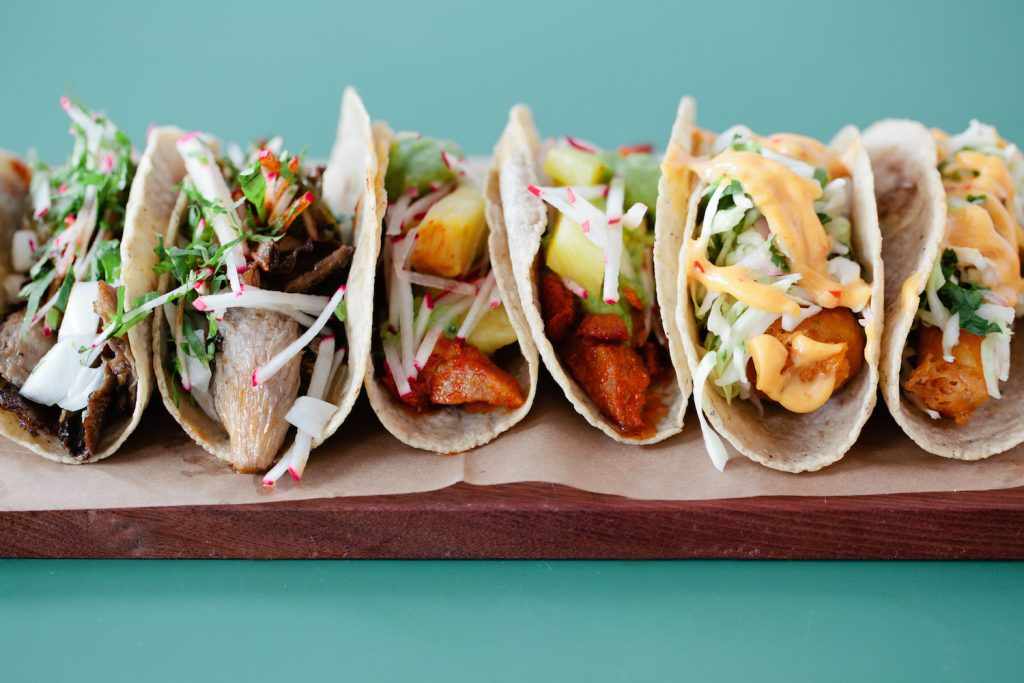 Would you consider replicating any of your projects?
Marc: No.
Vicki: Well, Yes. I would replicate Rosie's. It is in the land of where things are fun. It's a casual place without all the trappings of finer dining like a big, important wine list. I don't have to worry about serving from the right and clearing from the left. People are there to have a good time, to eat some really good food; it has a different energy and vibe.
How important is it to you to be reviewed?
Vicki: It's important to the team. The New York Times has not reviewed Vic's, though we got such a glowing review from New York Magazine and that was amazing and gave us a great bump in business. Rosie's has not been reviewed by the Times either.
Marc: It has semi-broken my heart that Vic's never got reviewed in the Times. I think Hillary so deserves it. We don't need a review for us, for our ego. But I want the review for the chef and the staff. They want the validation. We have young chefs that are really talented and deserve that. For these people doing the work day in and day out, it's a big deal to get a review. These are stepping stones for them in the their career.
Your two sons work with you at the restaurant. How is that going?
Vicki: I will say it's less complicated than you would think it is. We have had a couple moments that were tricky, but the idea is that they don't work for us. Roland reports to the GM, and Marlon works for Hillary in the kitchen. We try to stay out of it.
Marc: We do a good job of staying out of their lives, but we are their parents and we do say, as parents, you didn't do this right, or stay out of it. We give advice.
Are you happy that they chose to be in the business?
Vicki: I think we did dream that they would go to college and be something else. We don't care what they do but we want it to be something they are passionate about. We don't want them to do this just as a default.
How has technology helped you?
Marc: OpenTable helps us so much. So does our Aloha POS system. That is where we get a lot of our data. We have an internal system for working out purchasing and looking at things by category to help with costs, but that's very low-tech.
Given how long you have been in the business, can you say how it has changed for better or worse?
Marc: I don't know if it's an observation on the business, but the most challenging thing day in and day out is staffing—finding people, keeping people, and getting people who are willing to learn.
Vicki: Absolutely. Staffing has become so difficult. I defy you to find one restaurant owner who would say differently. Maybe people are not interested in the hard work of restaurant work, I don't know.
It used to be that you could make a call and get a cook right away. Now it's so hard that it's almost like when you hear a restaurant close you think, what is happening to their staff?
But on the "better" side of things, diners are much better educated about what we have been doing since day one.
Marc: I agree. People used to get mad that we didn't have lamb chops when we did lamb tastings, but we did that because we were doing whole animals. And now no one questions it. People come to our restaurants because of the way we source. They want the transparency. I have people who come to my restaurant because they know we don't buy any commodity meat, and they in and say, I will only eat meat here. I love that about diners today.