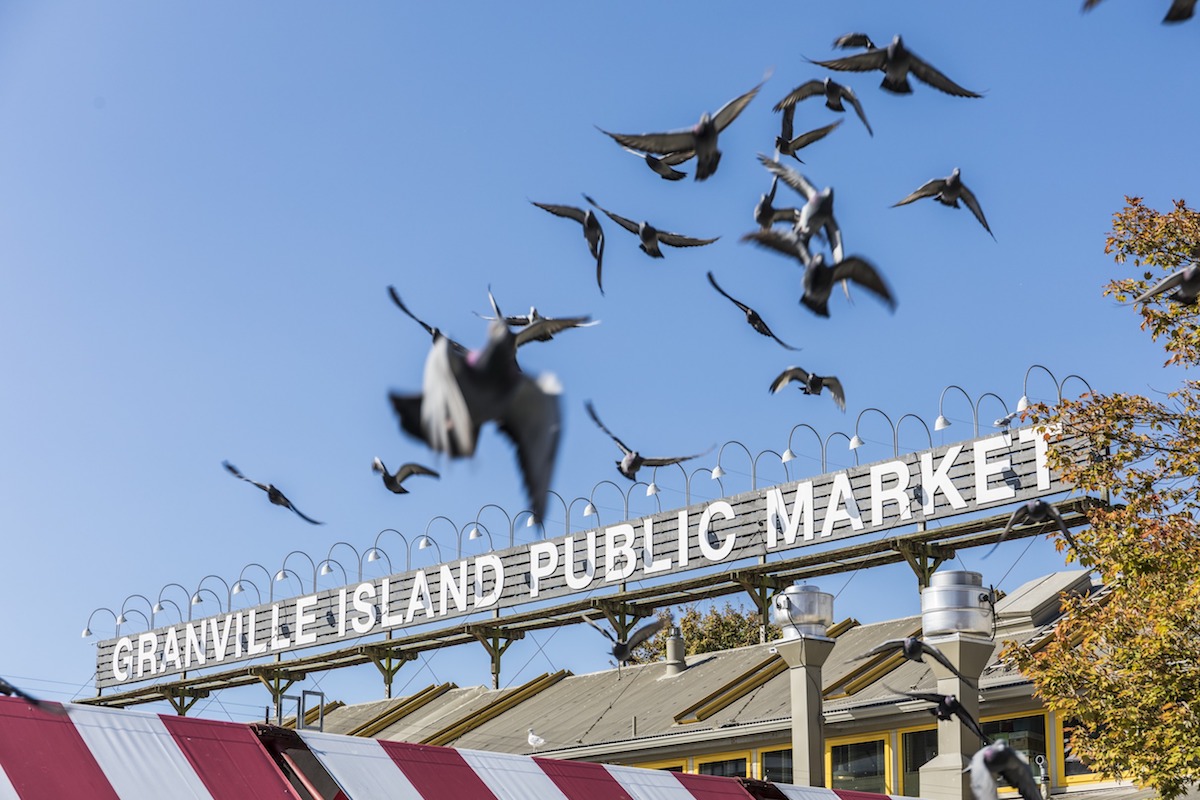 Whether you're a VanCity local or a visitor to the city, learn how to shop like a chef at the crown jewel of beautiful Granville Island with contributor Nevin Martell and chef Alessandro Vianello of the acclaimed restaurant Wildebeest.
It's a sunny morning in Vancouver. I'm out on Granville Island, which is actually a peninsula jutting out into False Creek. The 38-acre plot is bisected overhead by the Granville Street Bridge. The area used to be a base for manufacturing but is now home to a sprawling indoor-outdoor market where you can buy a rainbow of produce, the day's catch, every butchered cut imaginable, a world of cheeses, a globe-hopping variety of prepared foods, and spirits, wines, and beers galore. Stores are just starting to open, so shoppers are slowly beginning to stroll through the complex. No one seems to be trying to get anywhere fast. Life here in the Pacific Northwest seems to move at a pretty sedate pace. A perfect speed to get an insider's look at the Granville Island Public Market.
I meet my guide outside Edible Canada at the Market, which sells an enthralling array of Canadian sourced and produced foodstuffs. Alessandro Vianello is the executive chef of Wildebeest and corporate chef for Gooseneck Hospitality, which operates the pizzeria Bufala, Lucky Taco, and beer-centric Bells and Whistles. His resume includes stints at Fairmont Waterfront's ARC Restaurant and Preston's Restaurant + Lounge, and he founded the much-buzzed Street Meet food truck.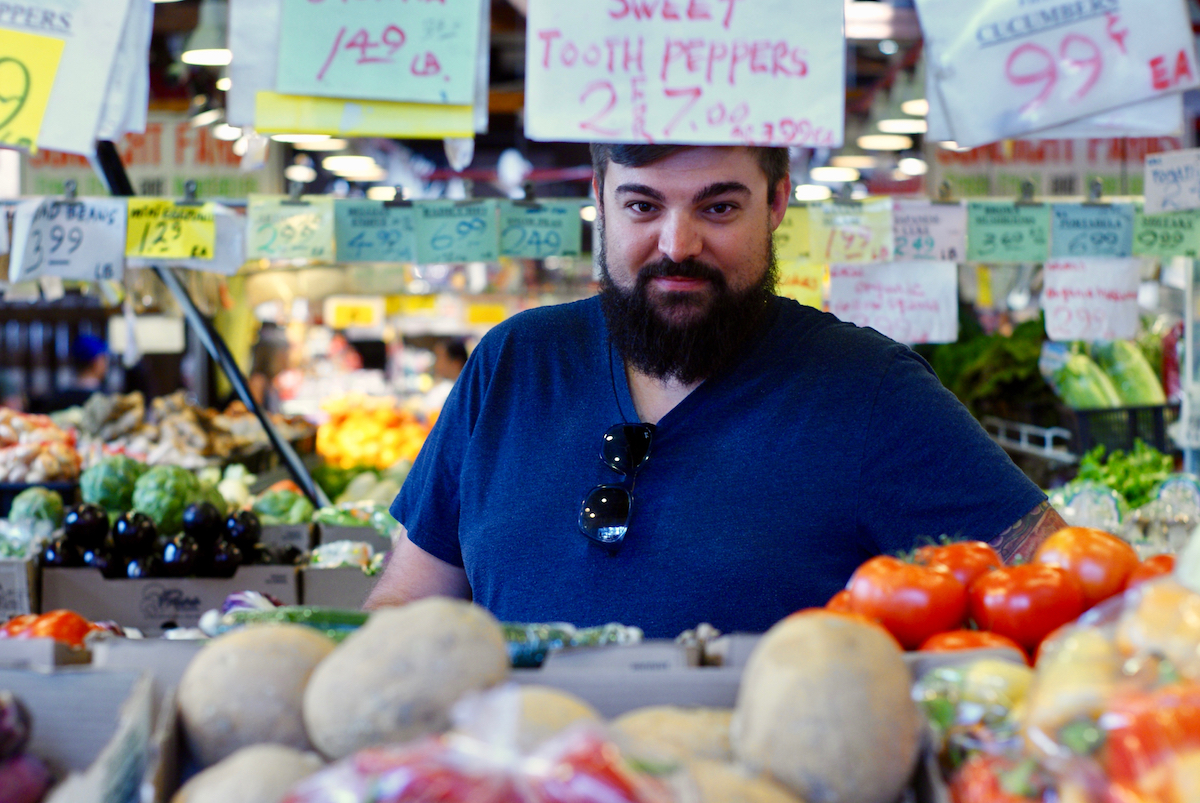 It's early by chef standards, but he's nonetheless cheery and hospitable. To help put some pep in our steps, our first stop is at JJ Bean Coffee Roasters. "They pull a good espresso," says Vianello, although hair-raising would be a better descriptor.
Dopios in hand, we wander over to Siegel's Bagels for a bite. The small stall features a massive wood-fired oven, where the crew is pulling out paddles full of Montreal-style rounds, which are split open and stuffed with smoked meat. Decadent and delicious, it's honestly one of the best breakfast sandwiches I've ever enjoyed.
Appropriately fortified, we head to Seafood City, which the chef prefers because "they always have the best product and they're always really nice."
Pointing to the rich orangey-pink hued salmon filets on ice, he gives a couple of pro tips. "You want nice fat marbling and no cracks, which means it got beat up somewhere along the process," he says.
Elsewhere in the display, there are gleaming scallop rounds, halibut steaks, and monstrous king crab legs, all locally caught. Alongside the seafood are green sheaves of sea asparagus, which look like slender bamboo shoots. The chef recommends pickling and then tempura frying them.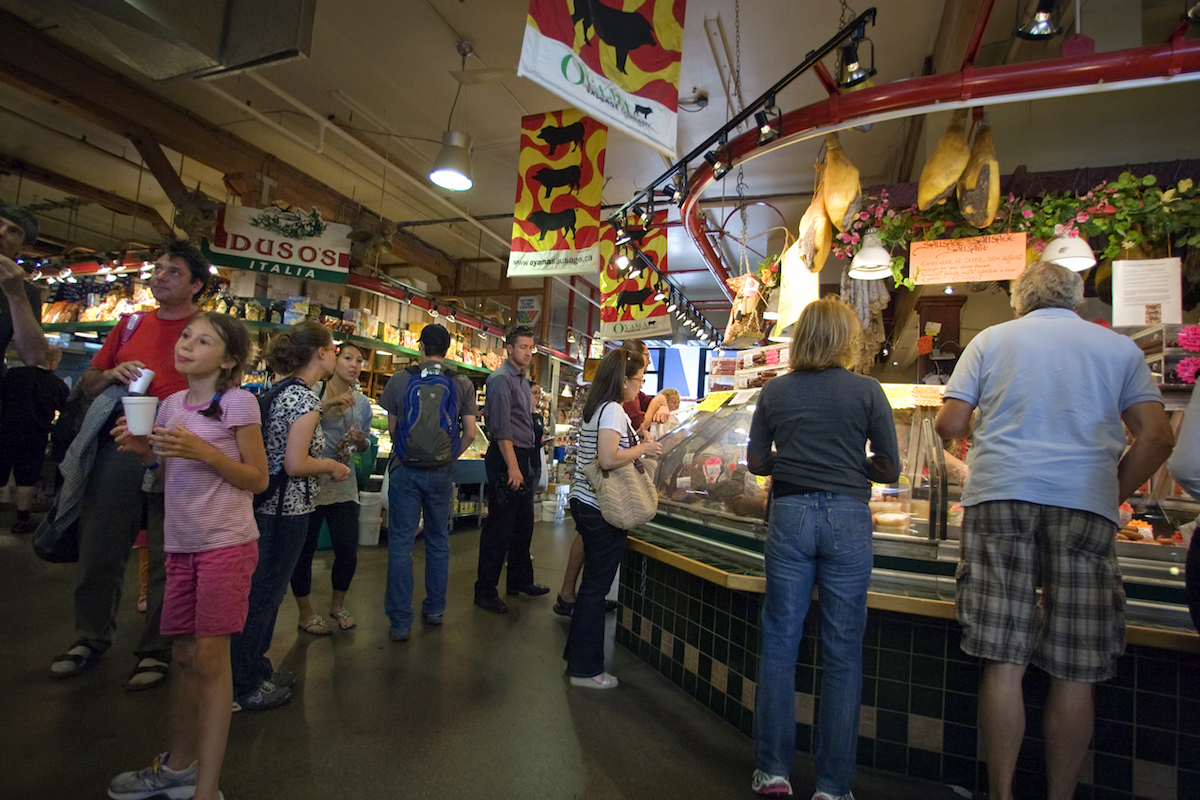 A few aisles over is Oyama Sausage Co., a veritable meatopia. The cases are piled high with pâtés, salamis, guanciale, hams, links of duck-orange sausage, Scottish black pudding, and a tumble of fat-ribboned bacon ready to be sliced to your desired thickness. The choices seem overwhelming. "You can't go wrong," Vianello says reassuringly. "It's all great stuff."
Benton Brothers Fine Cheese offers an equally dizzying variety of choices, which makes it the best fromagerie in the city by Vianello's standards. Perhaps most impressive is their selection of Canadian cheeses, which the counter clerks can talk about with the kind of depth and nuance of a sommelier. We try slivers of two-year-aged Avonlea Clothbound Cheddar, which is nutty, sharp, and earthy all at once.
There is a bounty of fruit and vegetable sellers in the market, each one with their wares carefully piled to photo-worthy perfection. You can try anything you want; just ask for a taste. We nibble on tubular Witch Finger grapes, plump blueberries, and blackberries that leave a deep purple stain on your skin.
We head outside and down a few side streets to reach Artisan SakeMaker, which has been producing several varieties of their Osake with British Columbian rice since 2007. They even bottle the lees to sell to chefs as an umami-rich liquid seasoning. It's still before noon, so no one is in the shop drinking just yet. That doesn't stop us from enjoying a sampling of the sparkling sake, which starts off sweet before rounding out on a funky finale.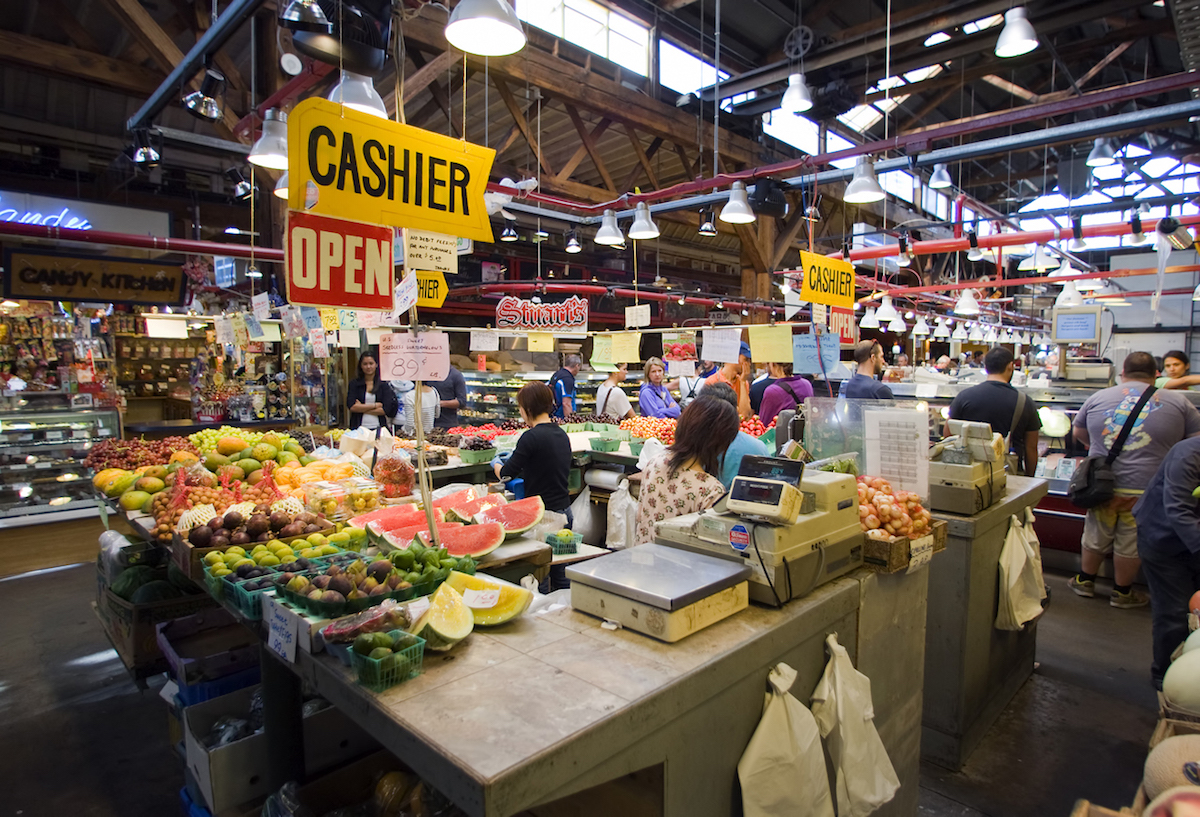 After a few more twists and turns, we land at Liberty Wine Merchants, where Vianello goes when he's looking for "something special or hard to find." The well-lit shop showcases lots of regional varietals from B.C., including two favorites of the chef: La Stella's Fortissimo, a Bordeaux-style blend, and Le Vieux Pin's big and bold Syrah Cuvee Classique.
Our last stop is at the Market Kitchen Store, a chockablock full store bursting with cooking gear and kitchen gadgetry. It's the kind of place where you could easily spend an hour or more browsing – and you can't leave without making at least a few purchases. Sure enough, I walk out with a bag of gifts for my family and myself, reminders of a tasty tour of Granville Island Public Market.
Make a reservation at Wildebeest.
Have you dined at Wildebeest or visit Granvill Island Public Market? Let us know in the comments or over on Facebook, G+, Instagram, Pinterest, or Twitter. And, remember to snap + share your #dishpics with us on Instagram for a chance to win in our weekly giveaway.
Nevin Martell is a Washington, D.C.-based food and travel writer and the author of several books, including Freak Show Without A Tent: Swimming with Piranhas, Getting Stoned in Fiji and Other Family Vacations. Find him on Twitter @nevinmartell and Instagram @nevinmartell.