Cold leftover pizza is a perennial favorite hangover breakfast, but chefs are doing one better by serving breakfast pizza topped with brunch classics, such as farm-fresh eggs, house-smoked bacon, and even maple syrup. Here are spots around the country offering our new official breakfast obsession.
Eggs Florentine Pizza at 1901 Restaurant at AceBounce, Chicago, Illinois
Served during AceBounce's bottomless brunch every Saturday and Sunday from 12-2PM, the Eggs Florentine Pizza puts a delicious twist on a brunch staple with spinach, white sauce, quail eggs, and hollandaise sauce. Make a reservation at 1901 Restaurant.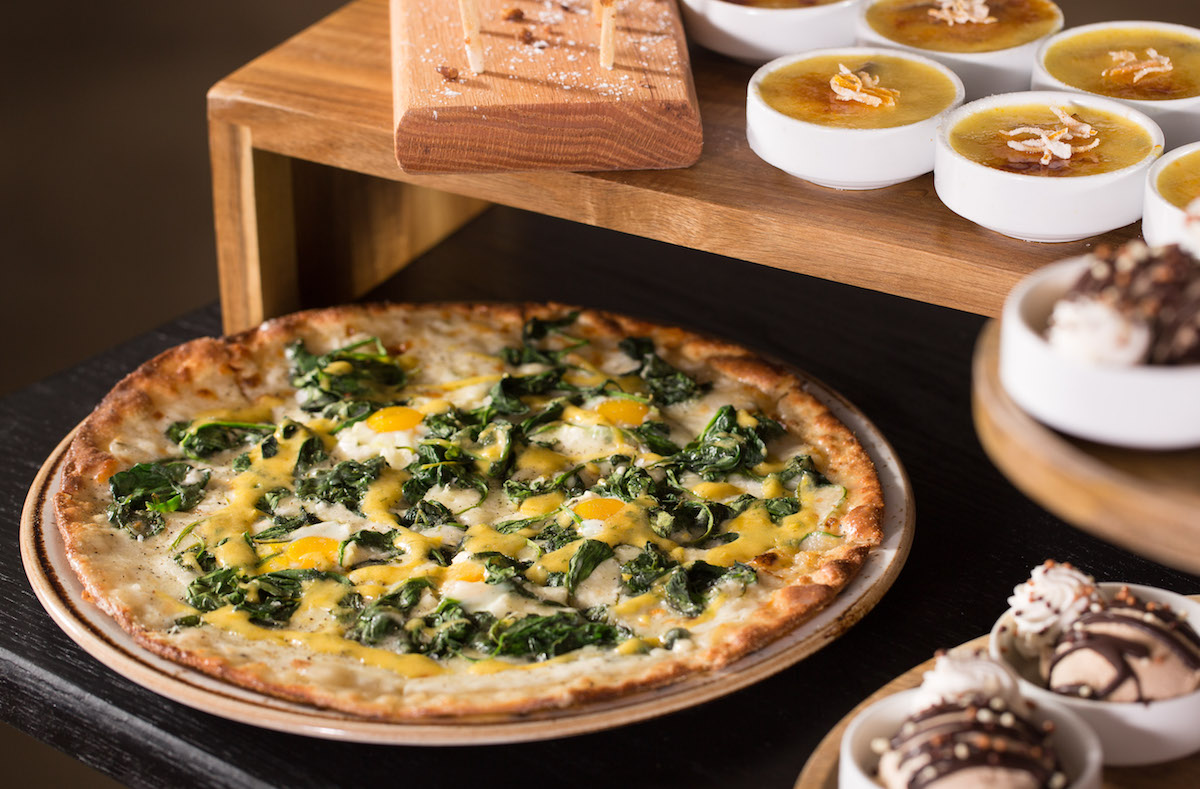 Pizza French Toast at Flour & Barley, Las Vegas, Nevada
Torn between breakfast pizza or French toast? This newcomer to the menu at Flour & Barley offers the best of both worlds with honey ricotta, cream cheese, and maple syrup topped with berries and powdered sugar. Make a reservation at Flour & Barley.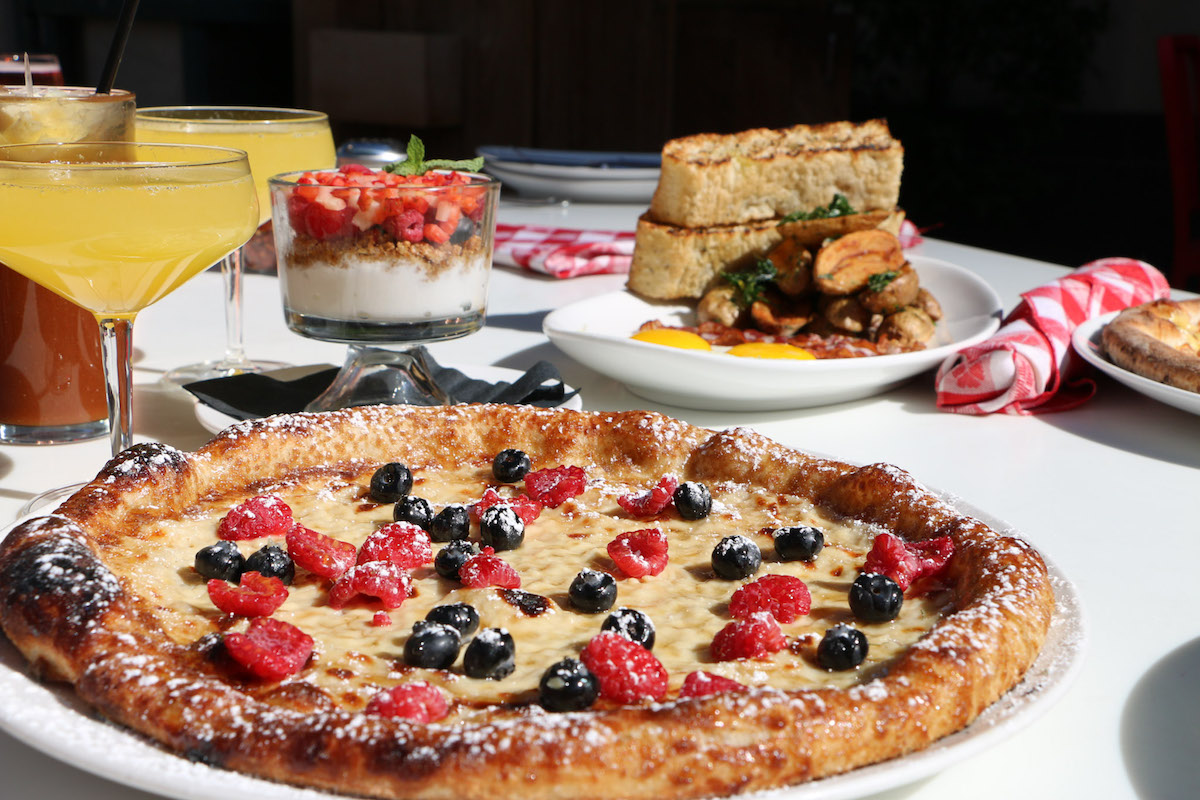 Smoked Salmon Pizza at Industry Kitchen, New York, New York
Chef Braulio Bunay reinvents the classic Sunday morning bagel and lox with this wood-fired pizza, complete with Nova Scotia smoked salmon, crème fraîche, red onion, fresh dill, and crispy capers. Soak up Industry Kitchen's views of the Brooklyn skyline and the Williamsburg bridge as you nosh this very New York pie. Make a reservation at Industry Kitchen.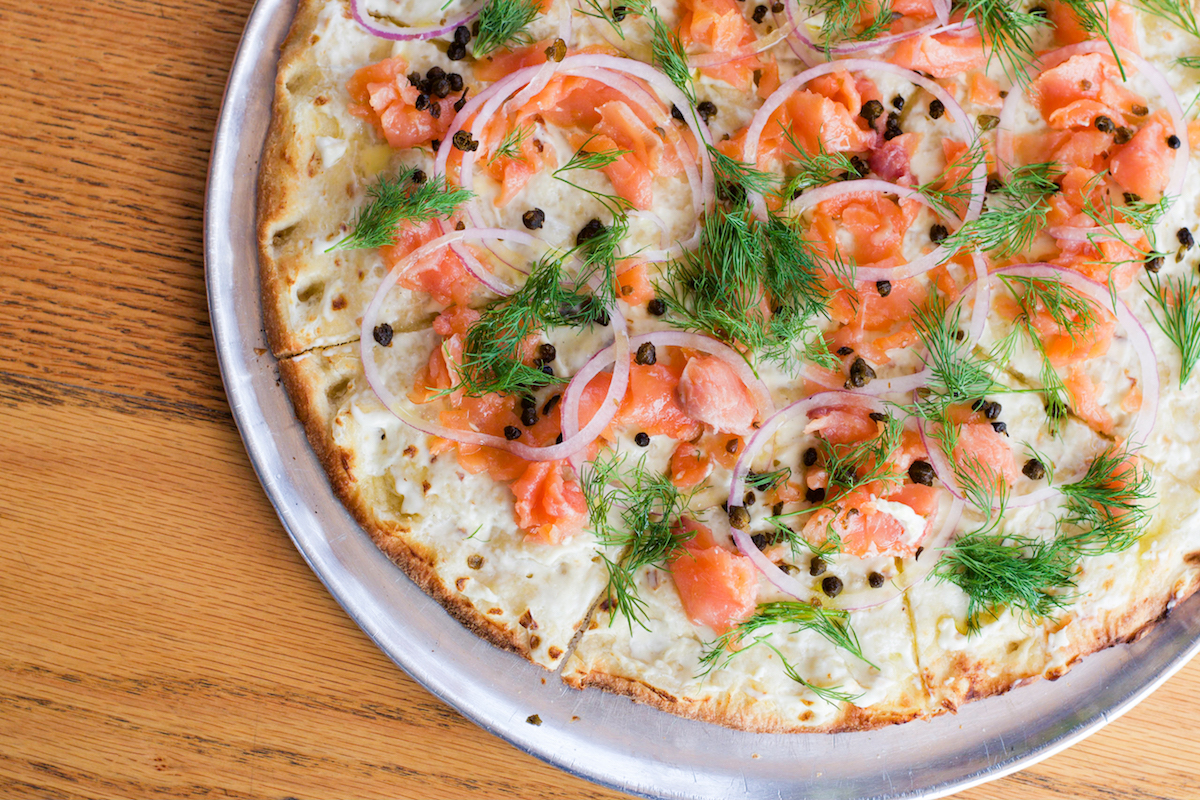 Breakfast Pizza at Americano, Dallas, Texas
Executive chef Matt Ford piles sausage and gravy, farm eggs, and potatoes atop Americano's proprietary pizza dough to create this hearty dish. During weekend brunch, enjoy a special offering that includes a $10 Breakfast Pizza (on the menu for $15) served with a $10 carafe of mimosas — a refreshing combination for dining al fresco in Americano's downtown Dallas patio. Make a reservation at Americano.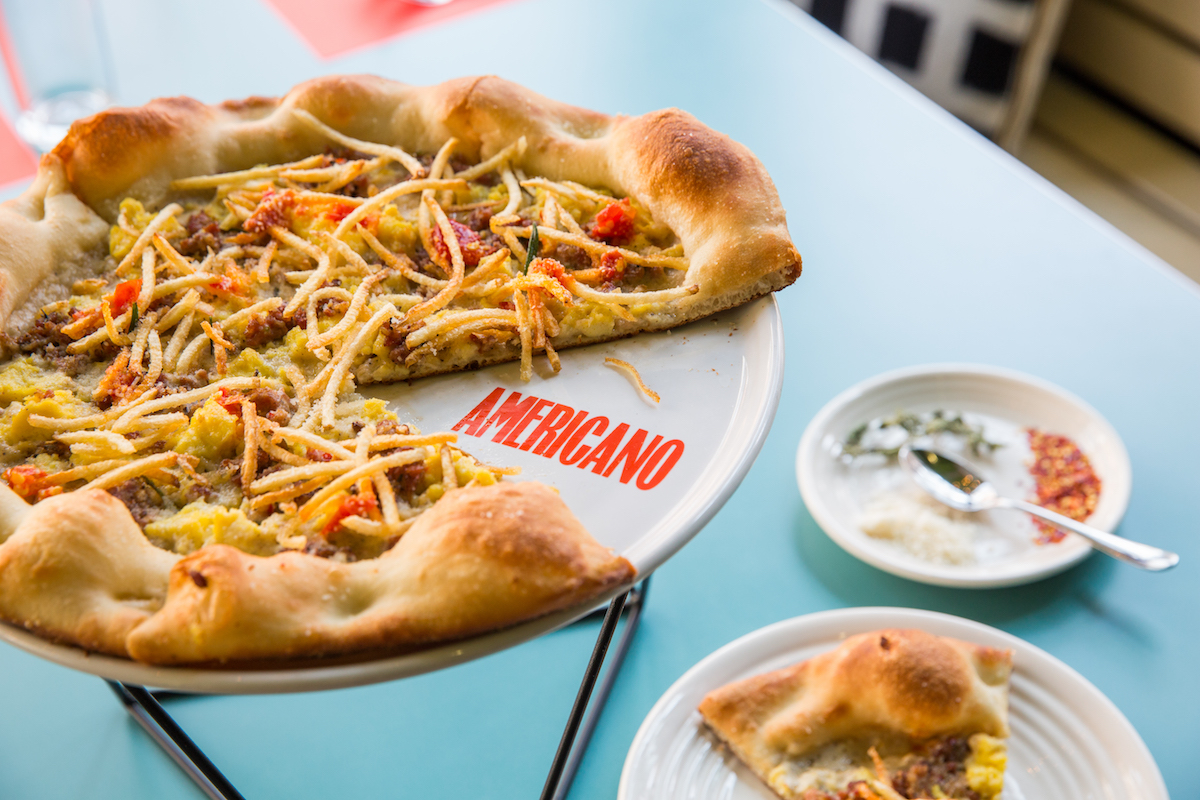 Italian Sausage Pizza at Urbana Dining & Drinks, Washington, D.C.
Brunch lovers at Urbana have their choice of four pizzas: Margherita, Tuscan Kale, Smoked Prosciutto, and Italian Sausage (pictured), any of which can be topped with two sunny-side up eggs. Executive chef Ethan McKee can also make any of pizzas with a gluten-free crust. Make a reservation at Urbana Dining & Drinks.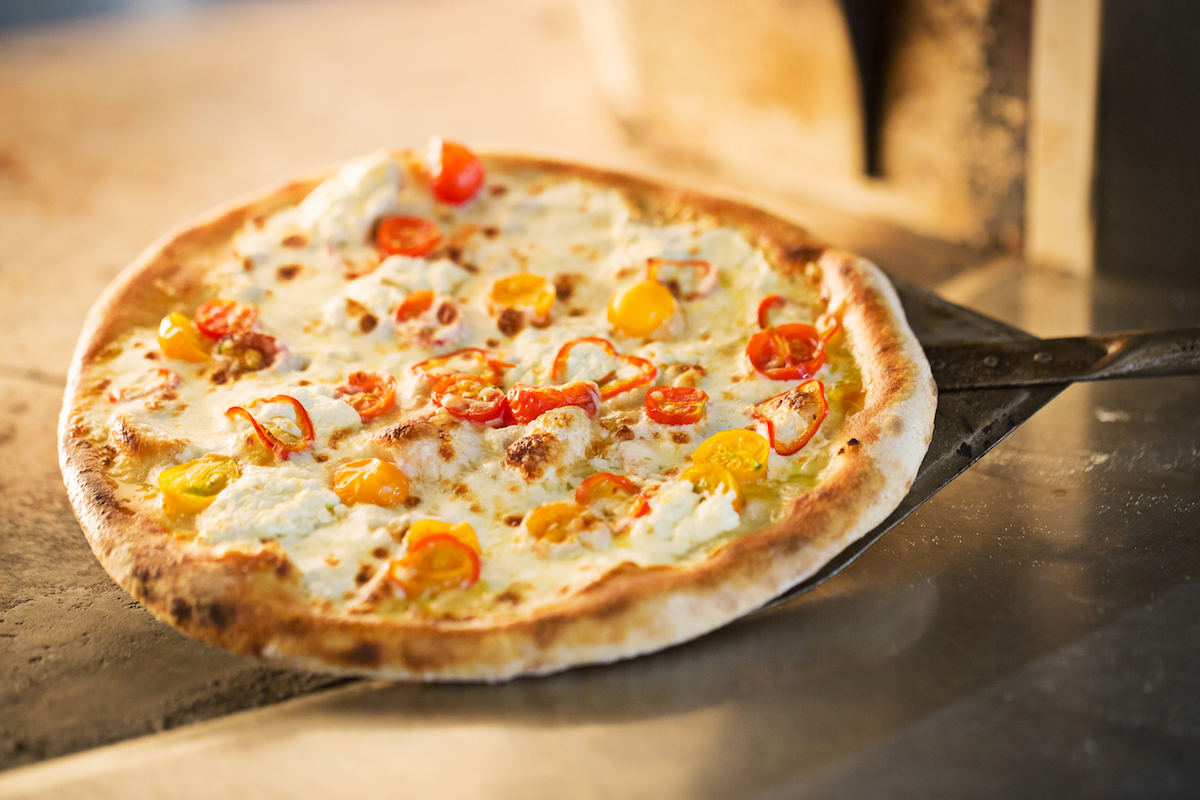 Breakfast Pizza at Aspen Kitchen, Aspen, Colorado
Aspen Kitchen's newly introduced breakfast pizza features housemade ricotta, crispy prosciutto, pea tendrils, and a fried egg for an inventive take on a classic. Get your fix in the restaurant's warm, welcoming dining room or on its rooftop patio, complete with mountain views. Make a reservation at Aspen Kitchen.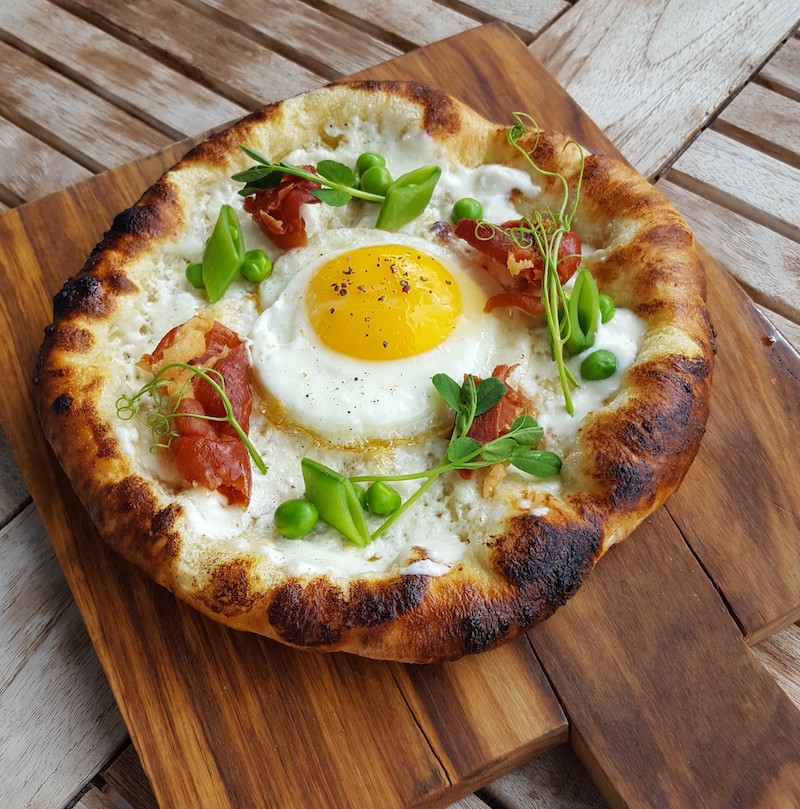 Avocado Pizza at Speedy Romeo in Brooklyn or Lower East Side, New York
Riffing on the popularity of avocado toast and elevating the concept to new heights, chef/owner Justin Bazdarich brushes wood-grilled pizza dough with herb oil and tops the crispy, slightly charred result with a lemon-spiked avocado mash, hard boiled eggs, pickled red onions and cilantro, radish, and BBQ pepitas. Speedy Romeo's offers several other breakfast pizzas, among them The Ritz (grilled ham, Provel cheese, farm egg, and Tabasco) and The Gravlax (mezcal-fennel cured salmon, ricotta, red onion, capers, and lemon). Make a reservation at Speedy Romeo – Brooklyn or Lower East Side.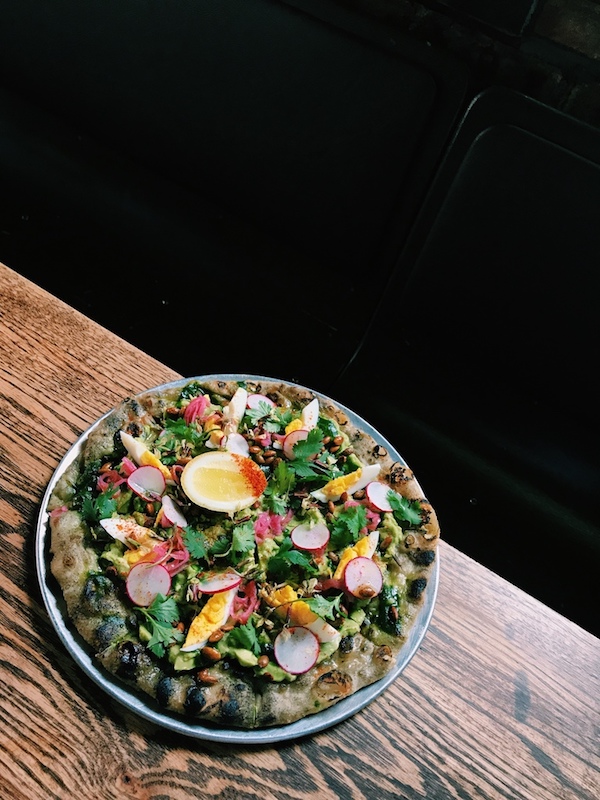 Breakfast Pizza at Forno Restaurant & Wine Bar, Baltimore, Maryland
Forno's breakfast pizza features Mornay sauce with roasted potatoes, house-smoked bacon, cheddar, green onion, and two sunny side eggs. Pizza purists can also order one of a more than a dozen traditional pizzas during brunch; all are cooked at 750 degrees in Forno's custom stone-fired oven. Make a reservation at Forno Restaurant & Wine Bar.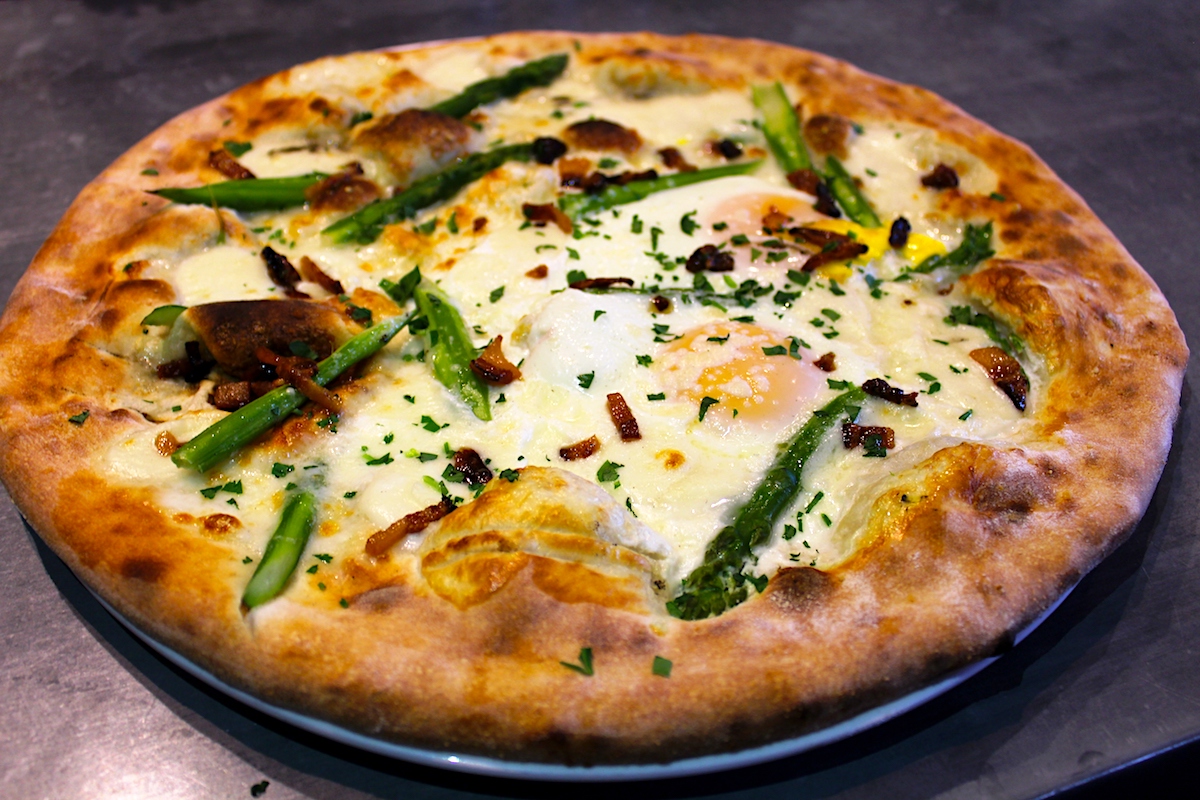 Ultimate Nutella Pizza at Sugar Factory American Brasserie, Miami, Florida
Move over, Nutella crepes! This sweet indulgence combines homemade rustic Italian pizza dough with the iconic chocolate hazelnut spread, semi-sweet dark chocolate shavings and optional fresh strawberries and bananas. Make a reservation at Sugar Factory.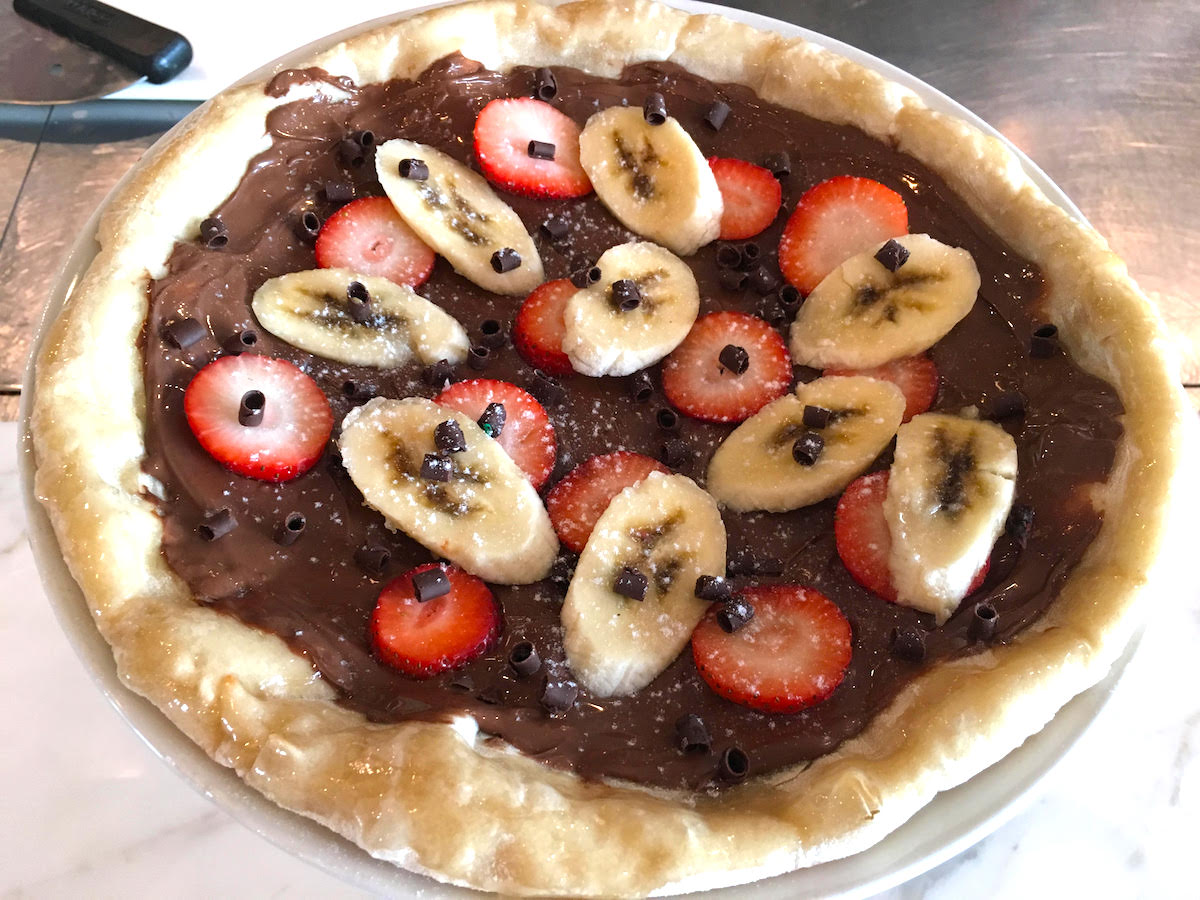 Have you eaten an eye-opening breakfast pizza lately? Share where you've been chowing down here or over on Facebook, G+, Instagram, Pinterest, or Twitter. And, remember to snap + share your #dishpics with us on Instagram for a chance to win in our weekly giveaway.
Susan Johnston Taylor is an Austin-based freelance writer who's covered food and business for publications including The Boston Globe, Civil Eats, Entrepreneur, Fast Company, Fresh Cup, and Pizza Today. Follow her @UrbanMuseWriter.
Photo credits: Mei-Chun Jau (Americano).