Takeout. Curbside pickup. Contactless payment. Meal kits. Community meals. It's undeniable that in 2021, restaurants have fundamentally changed in the year since the pandemic turned the industry's world upside down. Now, diners have new expectations of what restaurants do and are, and restaurants are loudly speaking out about what they need to provide all that. The events of 2020 may have spurred a reckoning: Diners know running a restaurant is hard work, and they have a new respect for what it takes.
To capture the moment and analyze what the industry will look like coming out of the pandemic, OpenTable partnered with the James Beard Foundation to survey over 21,000 diners and nearly 300 restaurant industry professionals in the U.S. and Canada about the future of dining.* The survey results made it clear that diners want restaurants to do and be many things, from on-demand delivery and outdoor seating to industry advocacy. Restaurants also want to do and be those things, but they need resources and support to make them realities.
"As much as people struggle to understand the metrics of the business, I think the pandemic has helped people understand that creating restaurant quality food is really hard — and the service and experience are equal in importance to the quality of food," says Austin chef and restaurateur Michael Fojtasek, who converted his fine dining restaurant Olamaie into the curbside concept Little Ola's Biscuits last year.
Restaurants want diners back, too: "Everybody wants to serve food, to do a good job, to make money," says Fojtasek. "That's what I signed up for all along."
While COVID has further complicated an already complex industry, right now restaurants and diners are aligned. Right from the mouths of diners and restaurants, here's how diner expectations and restaurant innovations are shaping the future of hospitality and what to expect from the next era of dining.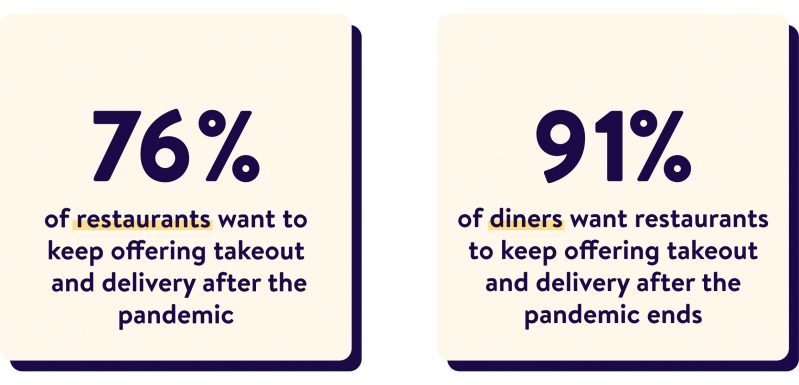 If "unprecedented" was 2020's top buzzword, the restaurant industry equivalent might be "pivot." From delivery services and pickup windows to meal and cocktail kits to-go, restaurants have flexed their business models to do more than ever before — and diners are loving the extra access.
Diners have also said they are willing to put their dollars to work to support restaurants' new revenue streams. In addition to wanting restaurants to continue takeout and delivery options, 86 percent of diners say they are willing or somewhat willing to order more takeout to continue to support restaurants in 2021. Tangible support is meaningful, restaurateurs say: Restaurants can't keep these programs alive without it, because they're expensive and time-consuming to implement and maintain.
Take Martha Hoover, acclaimed founder of Patachou Inc., a group that operates 14 restaurants out of Indianapolis. Over the past year alone, her team closed their dining rooms, pivoted service to carryout, installed pop-up tents for outdoor dining, and opened a takeout- and delivery-only concept, Apocalypse Burger (now open for limited capacity dine-in).
"Our world no longer can believe that restaurants are [only] brick-and-mortar places where people go to have meals," Hoover says. "Customers have said, 'We want your product, but we want to access it from all these different channels.' Let's give customers what they want."
For Patachou, that meant making sure that all new experiences — online purchases, provisions, carryout, outdoor seating — meet the expectations that diners have of their brands. Those pivots require a heavy lift from restaurants, one made heavier by diners' speedy adjustment to new processes. For example, Patachou initially developed its own internal delivery system from the ground up, with the team working tirelessly to create tools and processes that would meet their high expectations for quality, but Indianapolis diners were already trained to use third-party services. After a few months, they abandoned the effort.
The Columbus, Ohio-based Cameron Mitchell Restaurants (CMR) — which runs 36 restaurants, including concepts such as Ocean Prime and Marcella's — developed a COVID-19 Task Force to help navigate new protocols. In addition to comprehensive safety measures, they added touchless menus and payments, plus the technology and infrastructure to allow delivery from every restaurant.
"Many of the initiatives we started during the pandemic will stay because consumers have grown accustomed to them," says Brian Hinshaw, Senior Vice President of Food & Beverage and CMR's COVID Task Force Czar. He sees these new capabilities as silver linings of the crisis: "I think carryout is here to stay." 
After being forced to adapt to takeout and delivery — and thanks to diners' continued support of new programs — restaurants across the country are seeing the possibilities. This year, for example, Fojtasek will open a brick-and-mortar location for Little Ola's Biscuits. (Another silver lining for him: "We got a business.") 
Still, the ubiquity of carryout options doesn't mean that upscale dining is dead. In fact, says Fojtasek, "The pandemic probably solidified fine dining for another stretch. What we think will happen [when we reopen Olamaie in May] is a roaring '20s of sorts — there's a tremendous amount of pent-up demand, and we can capture it."
Hinshaw agrees. "We know people are suffering from quarantine fatigue, and want to have some sense of normalcy. Our guest counts continue to climb. [Restaurants are] woven into the fabric of our society." 
In short, diners are saying yes to more of everything: creative takeout and delivery options, outdoor seating, contactless conveniences, and intimate dine-in experiences. How restaurants pull it all off is more complicated.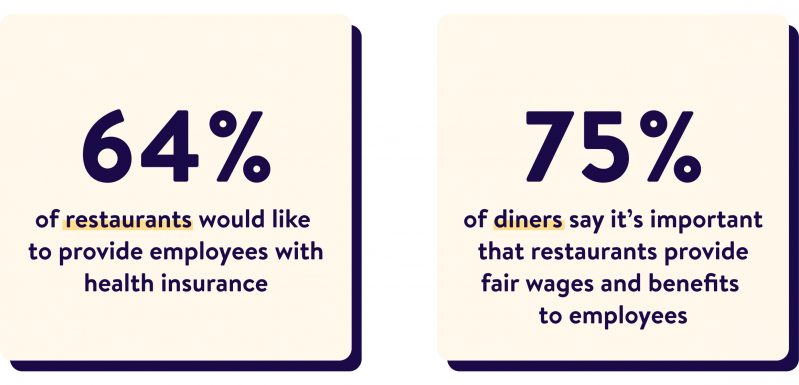 Most restaurants and diners are on board with giving hospitality workers benefits and making restaurants safer, healthier places to work. In reality, however, only about a third of restaurants offer health insurance. That's because doing so requires a reimagining of the whole restaurant business model.
"Restaurants are a business built on the premise of cheap and disposable labor," says Hoover. "The model is: the bulk of people who work in the restaurant world are interchangeable, replaceable, and you are OK not paying them what they should be paid. It's a mindset that has been systematized in an entire industry."
Hoover knows something about turning that model upside down. She opened her first restaurant 31 years ago, fresh out of the legal world with no hospitality experience. That lack of knowledge became a boon: She rejected a top-down approach in favor of a collaborative one that gave employees a voice, impact, and opportunities for growth at every rung of the ladder. "Patachou saw restaurant workers as professionals, as opposed to gig workers waiting for the better opportunity to come along," she says.
With that philosophy, Hoover made benefits a priority, including health insurance, free mental health counseling around the clock, and fair pay — all made possible by higher menu prices. A blurb on the menu reads: 
Our prices reflect our commitment to quality, community and our staff who are paid livable wages, offered health insurance, have opportunities to save for their future and earn paid personal time off. COVID-19 showed the world just how vulnerable restaurants and their workers are, and we hope our customers can understand that there are inherent hidden costs to cheap food. Thank you.
Like Fojtasek, Hoover calls this a time of reckoning. "No one wants to hear from restaurants that they're not doing well, but you cannot deliver a quality product and treat your staff and community the way you should financially if you don't charge properly for a menu item," she says. "The messaging to the general public has to be: existing menu prices are probably too low to make meaningful change in a restaurant structure. That is the real reckoning." 
Pricing is one area where restaurant and diner desires show a disconnect. While diners support health insurance and fair wages for restaurant employees, only 18 percent of diners say they are willing to pay more for food and beverage items. Until Congress passes legislation that guarantees paid sick leave and eliminates the tipped minimum wage, restaurants need diners to understand the true cost of their meals out.
At Olamaie/Little Ola's Biscuits, the pandemic created an opportunity for business changes that Fojtasek had long wanted to make. Like many restaurateurs, he struggled to manage the pay gap between the dining room and culinary teams. Since servers are tipped based on a percentage of sales, raising menu prices only created higher check averages and proportionally more income for front-of-house employees. Meanwhile, kitchen workers' pay barely budged, widening the disparity overall. In response, Fojtasek introduced a 20 percent service fee at Olamaie, Little Ola's Biscuits, and the neighborhood restaurant his team plans to open later this year that's distributed to all hourly employees (not management) in the form of wages and fully covered health insurance.
"If people are uncomfortable paying a service charge, then we will remove the value and items from their receipt," he says. "We feel strongly that this is a way for us to level the playing field."
Restaurateurs have introduced similar charges in the past, with varying levels of success, but Fojtasek believes this moment is different.
"I think people are much more receptive to it," he says. "The definition of hospitality is due for a re-understanding. Historically, restaurants have been about overextending and overworking ourselves for our employees, customers, and communities. What I sense from my community of restaurant operators is that we are going to be better about protecting ourselves."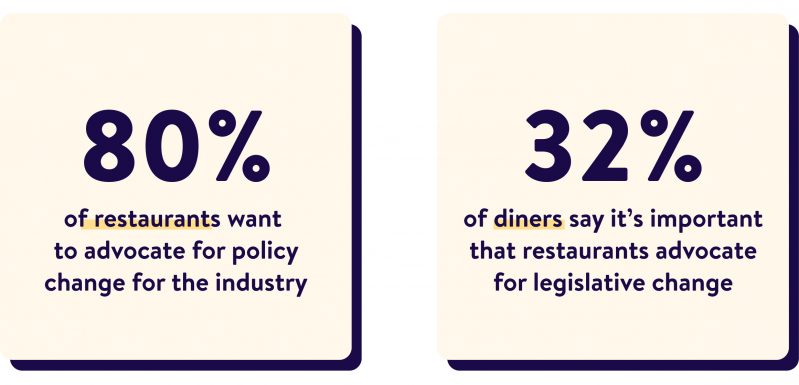 From a broken business model to an overextended workforce, the COVID pandemic has illuminated the frailties of the restaurant industry. Now leaders are calling for change, but there's a disconnect: Diners don't always see the cracks. While restaurants see policy change as a top priority to achieving a stable, thriving industry, only about a third of diners do. 
"Restaurant owners, no matter how big or how small, suffered immeasurable loss," Hinshaw says. At the same time, they have risen to the challenge. "The restaurant industry is a resilient industry that fought hard through the pandemic [and] learned how to maneuver." 
In other words, restaurants have proven they can do and be all of the things diners want. Now, more diners need to understand the importance of policy change for restaurants –– namely, that enacting policy changes will actually save them from having to foot the whole bill for the changes needed to restaurants' business models. If Congress guarantees and subsidizes paid leave for hospitality workers or ends the tip credit, for example, those are two less things diners have to pay for.
"What we will ask for in return is patience and understanding," says Fojtasek, "and to be treated like other industries and business endeavors." 
Leaders have spoken out in different ways to support the industry over the past year. CMR founder Cameron Mitchell publicly urged government officials to create a strong relief package with loans to help cover the losses of revenue and jobs. Hoover established the Patachou Employee Emergency Relief (PEER) Fund to help staff and their families during times of economic hardship and launched a virtual conversation series to navigate issues raised by the pandemic. Fojtasek has advocated on behalf of workers' safety and access to vaccines, becoming a vocal critic of Governor Abbott's leadership.
On a national level, the Independent Restaurant Coalition (IRC) formed in 2020 to affect legislative change and save independent restaurants impacted by COVID-19. Now, it's clear that their efforts will endure beyond the pandemic as the organization acts as a voice for the independent restaurant and bar community across the country.
Ultimately, restaurant operators want people to treat dining with the same respect and integrity with which restaurants approach their businesses. They need diners to pay for what a restaurant meal really costs, to recognize restaurant employees and the work they do, and to see the industry as it is: an influential leader built on hundreds of thousands of mom and pops. 
"Stop telling me I'm a small business — the restaurant industry is an economic force in this country," Hoover says. "We bring in a tremendous amount of revenue. We employ a remarkable number of people. We influence culture; we influence cities. We are strong anchors in communities. I think we have to own that even more post-COVID. This is our moment for real change."
Head here for a deeper dive into the full restaurant survey results.
*OpenTable surveyed over 21,000 diners in the U.S. and Canada on the OpenTable network between February 7, 2021 and February 15, 2021. The James Beard Foundation surveyed nearly 300 of its restaurant partners in the U.S. between February 8, 2021 and February 23, 2021.