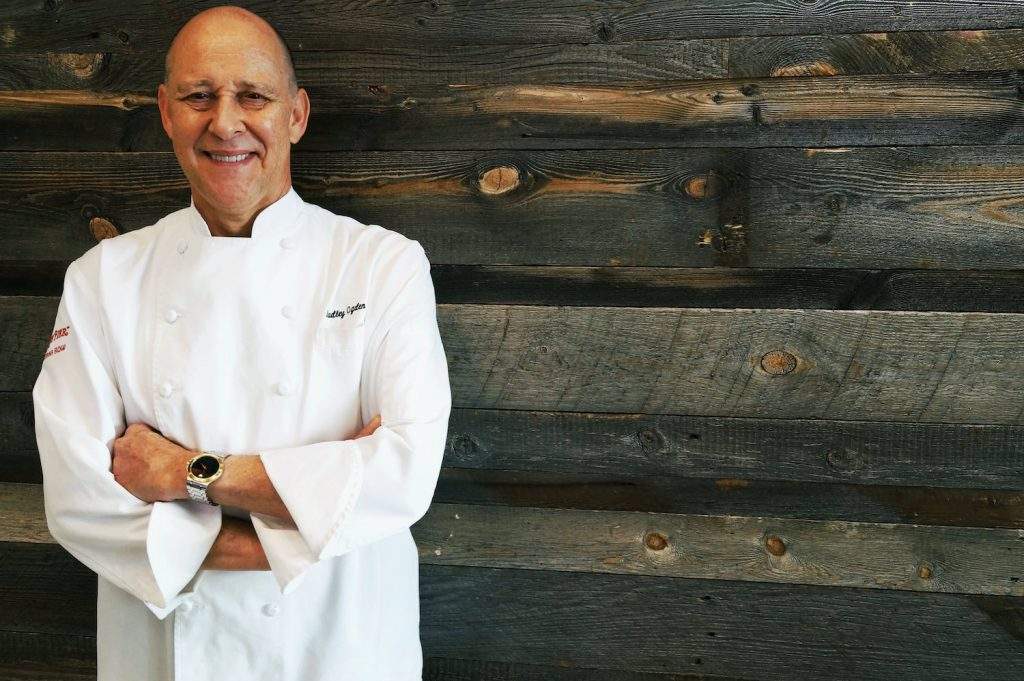 James Beard award-winning chef Bradley Ogden is one of the nation's most prolific and successful restaurateurs with iconic farm-to-table restaurants such as Lark Creek Grill (San Francisco), One Market (San Francisco), Yankee Pier (Larkspur and San Jose), Parcel 104 (Santa Clara), and Arterra (San Diego). The apple did not fall far from the tree. Ogden has three sons—Chad and Bryan are also chefs and Cory, a physician, loves food.
In 2011, Ogden and his son Chef Bryan Ogden founded Ogden Hospitality, a group focusing on media, restaurant development, and new products. Together they own Bradley's Fine Diner, a farm-to-fork take on the classic roadside restaurant located in Menlo Park. The company is not just about fine food; it is committed to how the right food choices can change lives—assisting schools, improving overall access to fresh, local food in neighborhoods, working with neighborhood gardens, and lobbying to improve public policies in food and nutrition for communities, schools, and families.
With Father's Day coming up on Sunday, we spoke to Ogden and his son Bryan about childhood memories, lessons learned working side by side, and how to mix family and business without driving each other crazy.
Andrea Strong: Bradley, when your son was growing up, did you cook with him or take him to your restaurants or other restaurants?
Bradley: In 1989, when Bryan was about 12, I first opened Lark Creek Inn. Bryan would come in and work with me. He would peel corn or work with our pastry chef, Rochelle Huppin, and make money to buy baseball cards.
How were you able to get time with your kids?
Bradley: I was in the kitchen 14-15 hours a day so Sunday was day at home, and that was my day to cook at home. The whole gang would play basketball and then I would barbecue for them.
Also, even if I didn't get home until 1 a.m., I would get up at 6 a.m. and cook breakfast every day. I would make healthy shakes and fresh-squeezed OJ and then they would put a note on the fridge as to what they wanted for breakfast. I made whatever they asked for.
Bryan: My dad would always get up with us in the morning. There was always fresh-squeezed OJ and elaborate breakfast for us kids. Soufflés and restaurant-quality food at home.
Growing up, what was it like to have a dad who was a famous chef? Did you see him at all?
Bryan: He worked six to seven days a week. We would spend Sundays together and go to the farmers' market in the mornings. I learned what good produce was. Growing up, I would open the fridge and we would have a box of lobsters or something fun that my dad brought home or had sent to him. It was a huge advantage later on, to have quality ingredients at a young age and develop a palate early.
Were you a picky eater, Bryan?
Bradley: Bryan was the pickiest eater. He was more of a meat-and-potatoes kid. My other two boys were much more adventurous. But we didn't give up. We would expose them to fine dining as well, and they all developed a palate. Also, taking them to the farmers' market to pick up fresh, organic foods was very important.
Bryan: I was really picky until I was about 16 and then full throttle after that. I was thinking about being a chef and reading more about it and decided to try things and become more open-minded.
What were your traditions around the table growing up?
Bryan: We spent a lot of time at the restaurants and would go to Lark Creek Inn for Thanksgiving, but always Christmas dinner at the house. We ate out a lot.
What was your favorite thing your dad cooked for you?
Bryan: He did a tasting menu for on my 18th birthday with wood-roasted halibut and a grilled corn and heirloom tomato salad.
How did you feel when your son decided to become a chef in the business?
Bradley: I was elated and surprised and proud. Bryan was actually going off to college at Cal State Fullerton to play baseball. He did that, and then Michel Richard gave him a job in Santa Barbara and put him to work as a sous chef. Bryan learned the hard way in the kitchen. He went off to the Culinary Institute of America after working in the restaurant. Chad graduated from there as well, so the three of us all went to CIA.
Bryan, did you always want to be in the business? Or did you come to it after other career choices?
Bryan: I worked in the kitchen to make enough money to buy baseball cards. I called my dad and told him I wanted to get in the wine business, and he called Michel Richard and all the sudden I was the sous chef. I didn't want to say no and just got thrown into it and never looked back.
Did you know you would work together from the get go?
Bradley: No, I had no idea. It wasn't a goal but a welcome opportunity.
What was the vision for your joint venture, Bradley Ogden Hospitality?
Bradley: It was meant to be more of a father/son business. We worked together for five years in Las Vegas [at Bradley Ogden at Caesars Palace Las Vegas, which won the James Beard Best Restaurant Award in 2014] and the vision was to do what we always do— sustainable, farm to table, attention to details. 
What are the concepts you currently run?
The company has Bradley's Fine Diner, and we are working on more fast-casual concepts, and we are working on developing a product line, social media, kids and education, and working with James Beard Foundation, and Chef Action Network for sustainable farming and food waste.
Is it challenging to work together?
Bradley: At times, but it drives us both — father and son — to be better every day.
What do you love about working together?
Bradley: We have the same goals, the same work ethic, and the same mindset. We are more creative together, because he has different knowledge to draw from. The combination of two generations makes us better.
Are there lessons you have learned from him?
Bradley: Yes: to be more patient.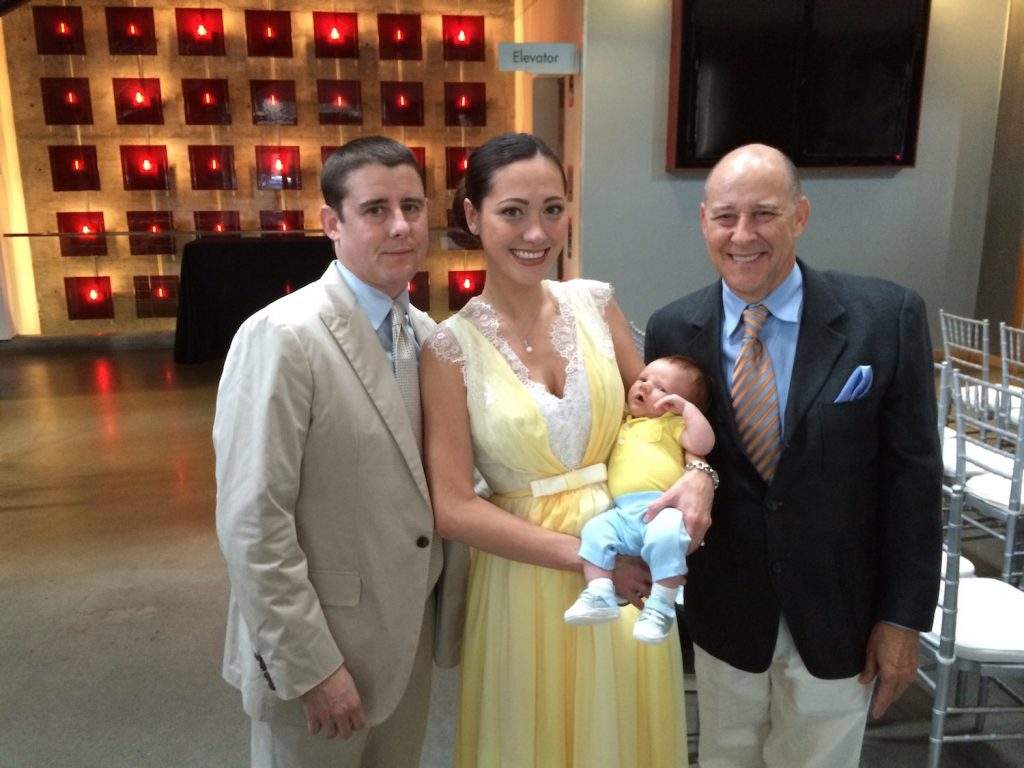 What have you hoped to teach him?
Bradley: The mindset to build character and skills with your staff. Be in the moment. Enjoy while you go and enjoy a life — have a good work/life balance.
Bryan, what are the lessons you have learned from your dad and what do you think he has learned from you?
Bryan: I learned about the soul of ingredients. Also, farm to table is so loosely used now, but it's really about the product — knowing the people who produce it and building relationships with your famers, fishers, and purveyors. I've learned to always be pushing to reinvent yourself. I'm always trying to reach to be the best.
Bryan, what concepts are you working on now?
Bryan: I am starting a new venture in Vegas and it's opening June 16th. It's called The Mixx Grill & Lounge.
Do you prefer fast casual or fine dining and why?
Bryan: I prefer quality and execution with a friendly hospitable environment.
What is your five-year plan?
Bryan: To spend more time with my wife and son.
Do you have any advice for someone starting out in the business?
Bryan: Keep an open mind; question anything; don't pass up on any experiences that come your way; always say yes.
Do you have any Father's Day rituals?
Bryan: Being in restaurants and making sure everyone else has a great Father's Day. And I like to get some time with my son. My son is two in July. This year, I'll get to see my dad as well and he can spend time with my son, too.
What's your favorite thing to cook with your dad or to cook for him?
Bryan: The most joy we have is letting the market dictate what we cook. So whatever the famers' market has, we go with that. Food that's available in the market thrives.