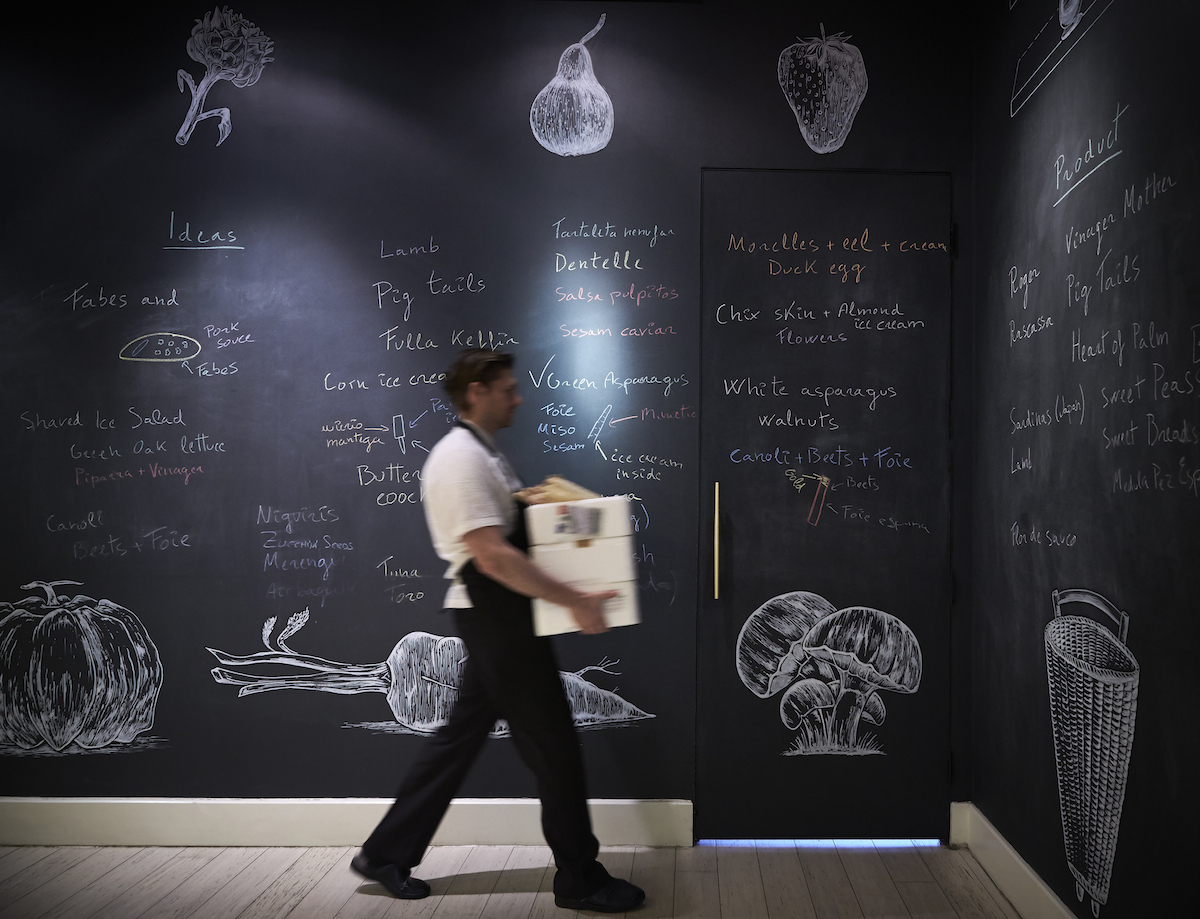 "This is the part of the day most people don't ever get to see," says head chef Josh Hermias, as he ushers me into Minibar by José Andrés, the what-you-see-isn't-always-what-you-get wonderland of molecular gastronomy and avant-garde cooking. It's the shining crown jewel of the Spanish-born, James Beard Award-winning chef's restaurant empire, which includes D.C. standard setters Jaleo, Zaytinya, and Oyamel, China Poblano in Las Vegas, Miami's Bazaar Mar, and others.
On this late August afternoon, Minibar's open kitchen, the counter surrounding it where will guests will sit that evening, and the semi-private dining area off to the side – dubbed José's Table – are all ablaze with activity. (Not much can happen in the incredibly compact, unexposed back area of the restaurant, as there's only room enough for a small counter, two ovens, an impressively tiny walk-in freezer, and the washing station). Approximately a dozen staffers are getting ready for tonight's epic epicurean experience when 24 diners will enjoy a 26 to 28-course tasting menu. Hermias estimates it takes in excess of 140 man-hours just to make the six-hour dinner service happen. A crew of half a dozen begins working at 7AM; the last team member doesn't go home until 3AM the following morning.
Clad in black aprons over white shirts, the cooks are currently prepping an array of components. Wending our way through the kitchen, we see chicken skins frying, chocolate eggshells being poured, and the legs of langoustines being snipped off with a small pair of scissors. One staffer shaves mounds of black truffles. Meanwhile, the orchids that decorate the space during dinner service rest in the window to get some light.
As we're walking around, a cook presents Hermias and me with slices of super juicy watermelon to approve for use. The rosy wedges will be infused with tequila and Grand Marnier, and then served on a salt block. "It's like a margarita," says Hermias, who gives them the thumbs up, "but instead of a salted rim, your plate is the salt."
A dry erase board catalogs all the work that needs to be done today: 30 marinated rabbits, 26 blowfish, 105 cauliflower leaves; the list goes on. A nearby chalkboard bears a quote from recently departed chef Michel Richard, "People love to get something that looks like one thing and tastes like something totally different. That's truly magical."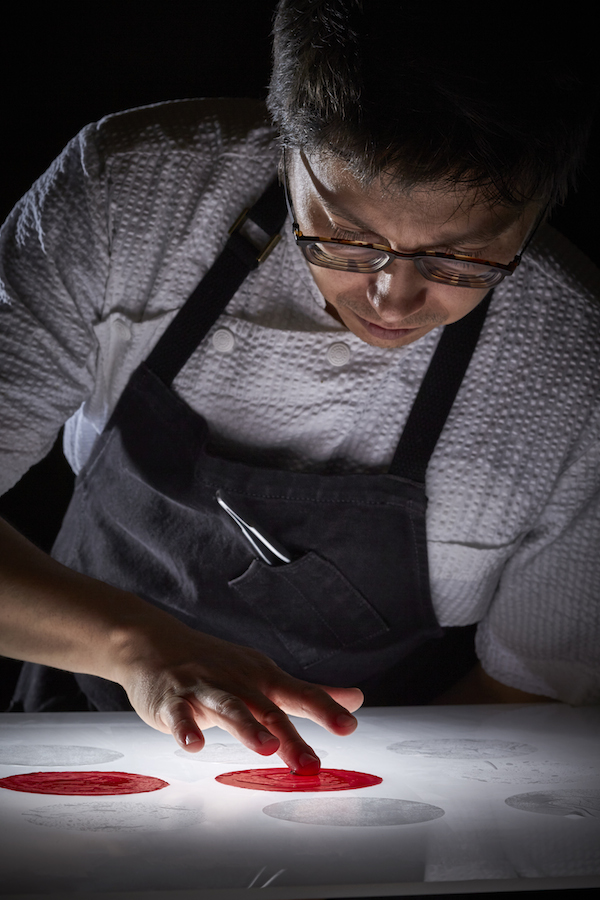 It's the perfect encapsulation of Andrés's restaurant, which has been wowing diners since it debuted in 2003 as a six-seat counter inside his now-departed Café Atlantico, just two blocks away from where Minibar now makes its home in Washington, D.C.'s Penn Quarter. That evening, guests will enjoy a paper-thin half purple, half white disc sporting two "eyes," which resembles a Pokémon Go character. It's actually edible potato starch paper brushed with beet juice, dusted with yogurt powder, and dotted with freshly ground wasabi. During the dessert course, diners will bite into a peanut to discover it is a white chocolate shell filled with bourbon.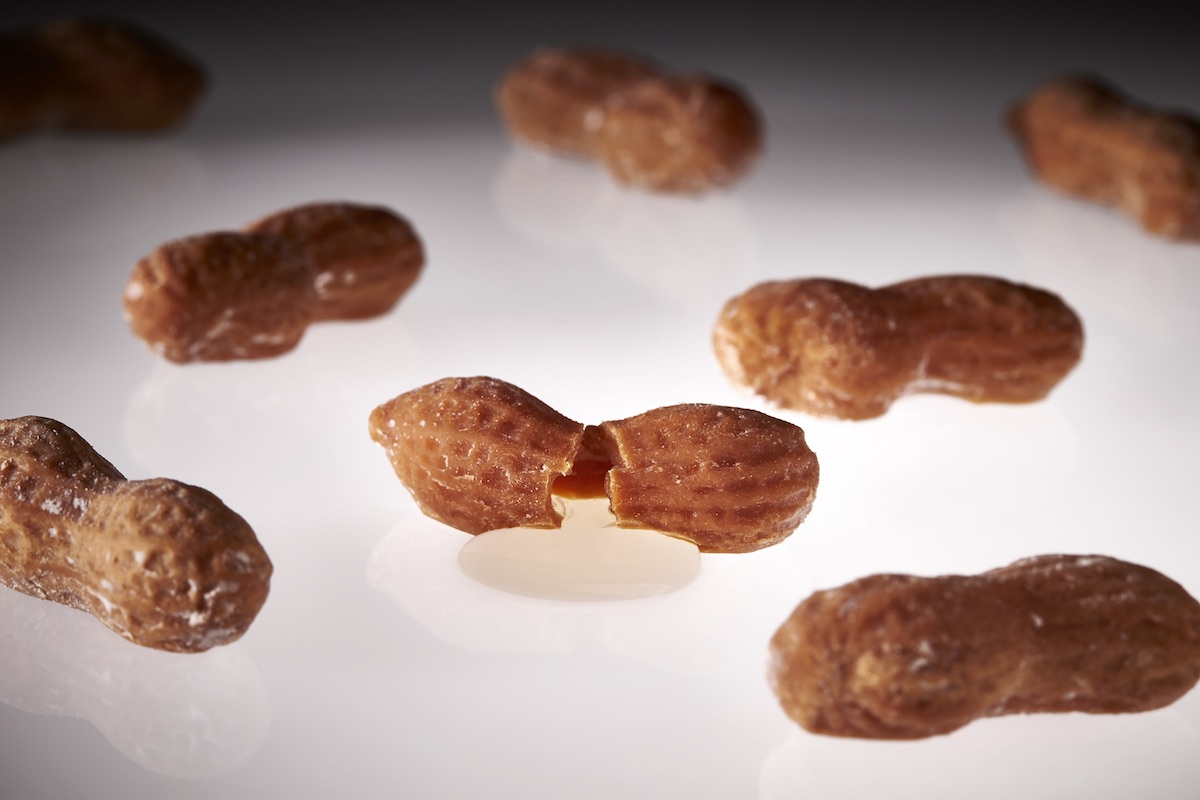 Despite the illusion-weaving and technical wizardry that goes into these meals, that's not where the creative process begins. "We always start with product, never the dish," says Hermias. "'I'll say, I want to work with Wagyu beef,' and then we'll go from there."
The chef will sit down with two colleagues – research and development chef Ferran Tadeo Domènech and sous chef Riccardo Rinaldi – to taste new products and see what flavor combinations they spark. Once they decide on a dish's potential components, Rinaldi will then source a variety of options for a taste test to determine which one will be used. "There will be a day where five lambs come in," says Hermias, "so we will sit here for thirty minutes tasting lamb."
Today, the trio is seated in the next room at Minibar's sister operation, Barmini, to sample something a little more offbeat: okra flowers. Two clear plastic takeout boxes are filled with small blossoms; one set yellow and the other purple. We all take one and pop it into our mouths. "It has that gelatinous, okra quality that you wouldn't expect," notes Hermias.
None of the chefs are sure how they might utilize them. Unfortunately, there's a short, late summer window of availability for the flowers. So it may take the team two or three years of playing around with them and keeping copious notes of each test session to come up with a dish. Just a few dishes are generated from the host of products sampled annually. Those that make the cut, along with those dishes still in development, are methodically cataloged in a massive digital database that includes hundreds of recipes that date back to the restaurant's inception. The menu at Minibar changes three times a year – spring, summer, and autumn-winter – and features a mixture of new creations and returning favorites.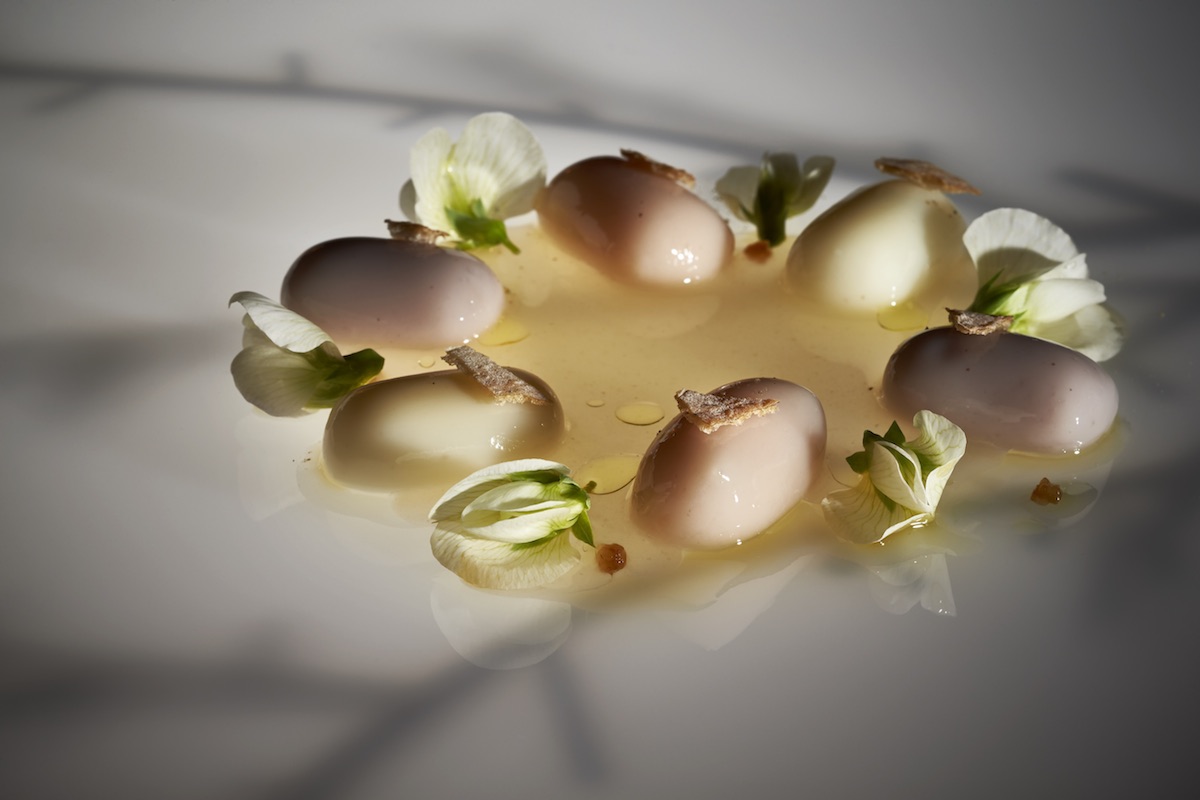 To ensure their guests enjoy rare flavors they might never have a chance to otherwise experience, the Minibar team is constantly trying odd edibles. "People bring us weird stuff," says Hermias. "We have snail caviar coming from a producer in Poland. They're very grassy and vegetal."
"It's more textural," adds Domènech, who working on a dish featuring the eggs with sweet peas and tapioca.
Sometimes Andrés himself will give the kitchen crew an assignment. After becoming bewitched by the scent of the magnolias growing near his Bethesda, Maryland, home, he requested a dish be created with them. Ultimately, Hermias and his compatriots made a sphere of magnolia essence and vermouth, which was served on a served on the flower's petal. "It looked like a dew drop," says Hermias.
The chefs continue to seek inspiration in more traditional ways. Every Thursday afternoon, Hermias heads over to the farmers market set up two blocks away from the restaurant, outside the building that held the original location of Minibar. He and Domènech start at the far end of the line of stalls and work their way back to see if anything catches their eye. "Sometimes it's something small," says Hermias. "We'll buy a bunch of flowers that are really beautiful to use as a garnish. Last year, we were here during the fall and found these amazing blue Hubbard squash. We didn't get a dish out of them, but maybe this year."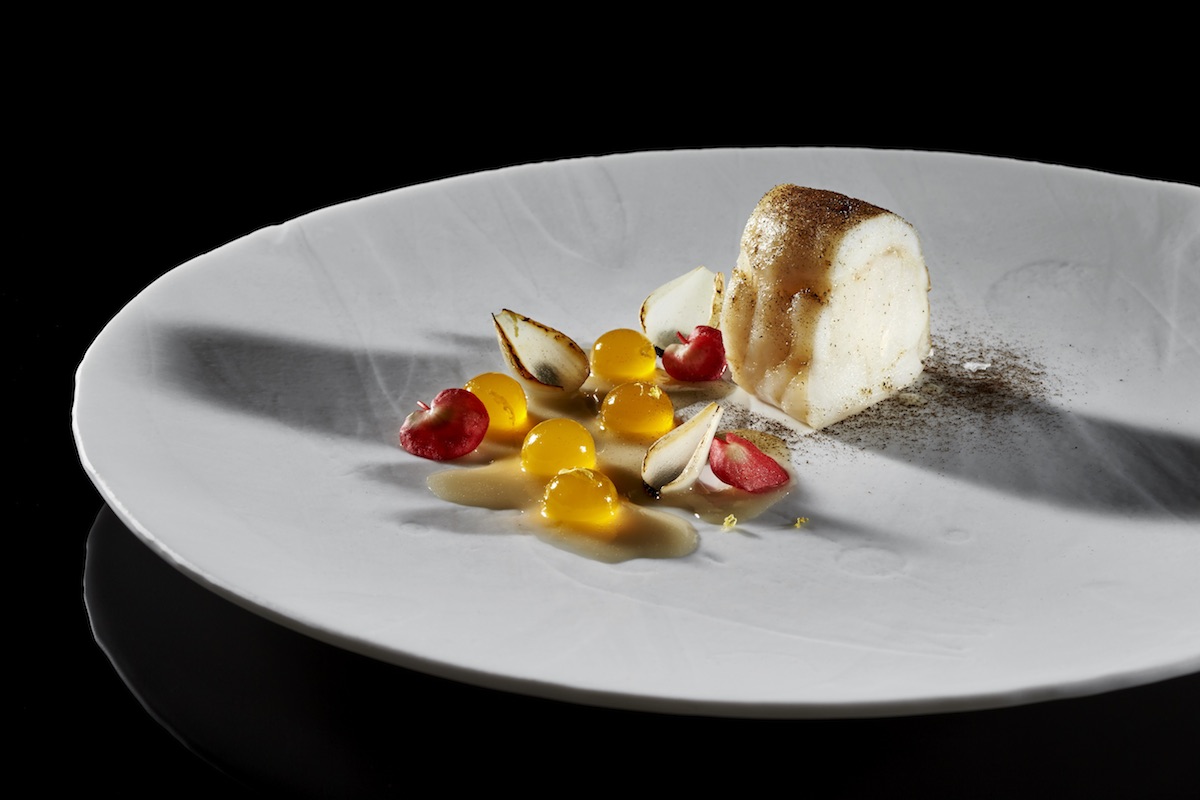 Today, he is looking for some tomatoes to use in a dish spotlighting a variety of vegetable seeds arranged artistically on a dashi gelée. "You eat around all these different tastes," says Hermias. "Each one is so different."
Though they've have been told there are great tomatoes to choose from, they are disappointed. They keep picking up the red rounds at different stands and sniffing them, but none seem to have the personality required.
At the last stall, the chefs buy boxes of ripe peaches, which will be used to create syrup for a shrub cocktail. Then it's back to the restaurant for a quick family meal. Dinner service starts at 5:45, and there's still a lot of work to be done.
Which José Andrés restaurants have you dined at? Let us know here or over on Facebook, Instagram, or Twitter.
Nevin Martell is a Washington, D.C.-based food and travel writer and the author of several books, including Freak Show Without A Tent: Swimming with Piranhas, Getting Stoned in Fiji and Other Family Vacations. Find him on Twitter @nevinmartell and Instagram @nevinmartell. 
Photo credits: Greg Powers.