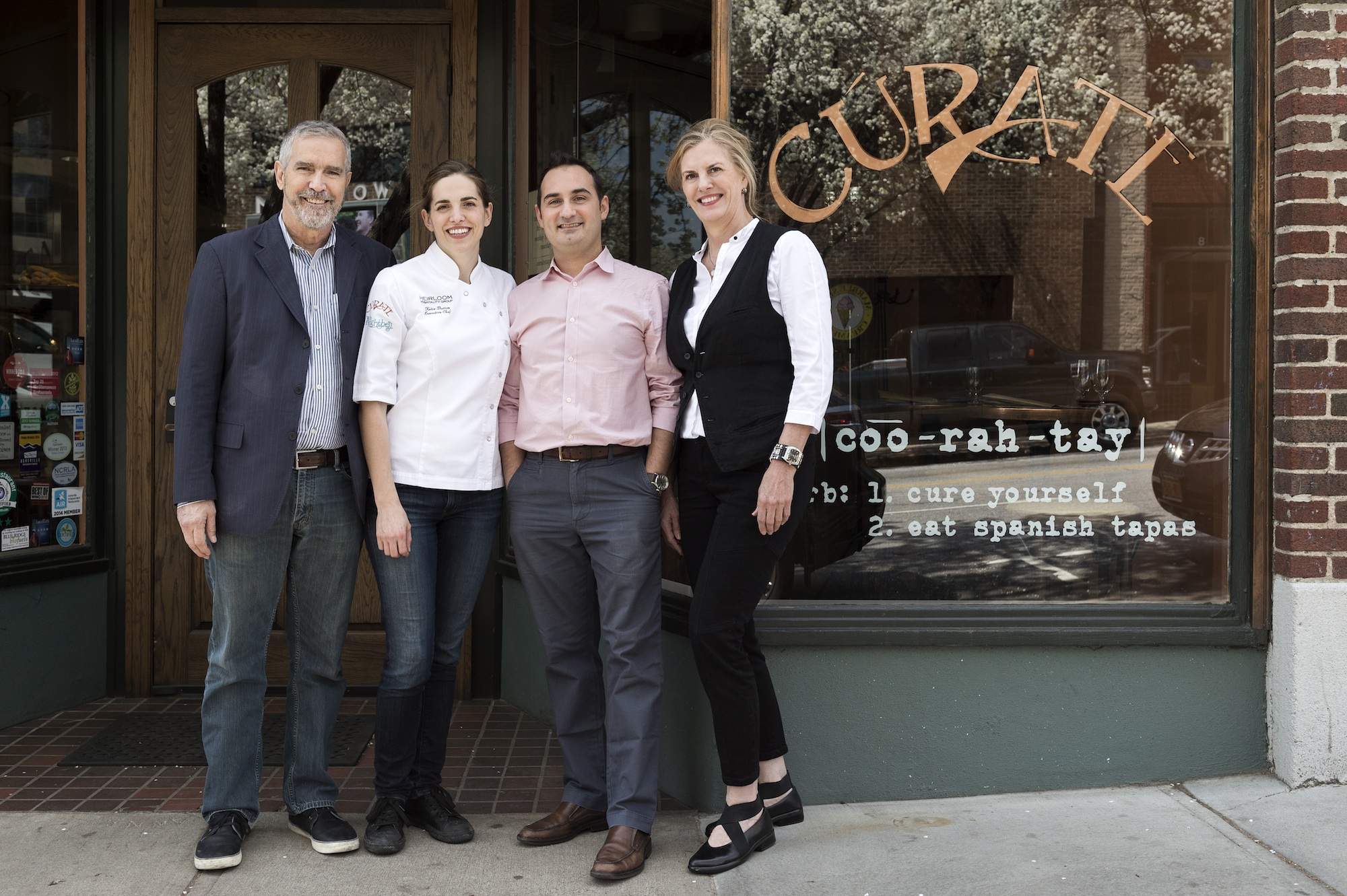 Asheville restaurants Cúrate and The Nightbell are owned by not one but two married couples: Liz and Ted Button; their daughter, Chef Katie Button; and her husband, Felix Meana. Each partner has expertise that complements the others' and contributes to the success of the restaurants—but that doesn't mean working with family is always easy. Here, Liz and Ted tell us how they met, the story behind their restaurants, and what it's like to run a business with your spouse and daughter.
Tell me how you got started in the restaurant business.
Liz: I had a catering business for a number of years and decided I really wanted to open a restaurant. I went back to school at what was then the French Culinary Institute in New York and took the restaurant management program and the professional culinary program. At the same time, Ted was wrapping up his business. He had been running a corporate flight department for about 25 years and the chairman was getting ready to step down. It was good timing.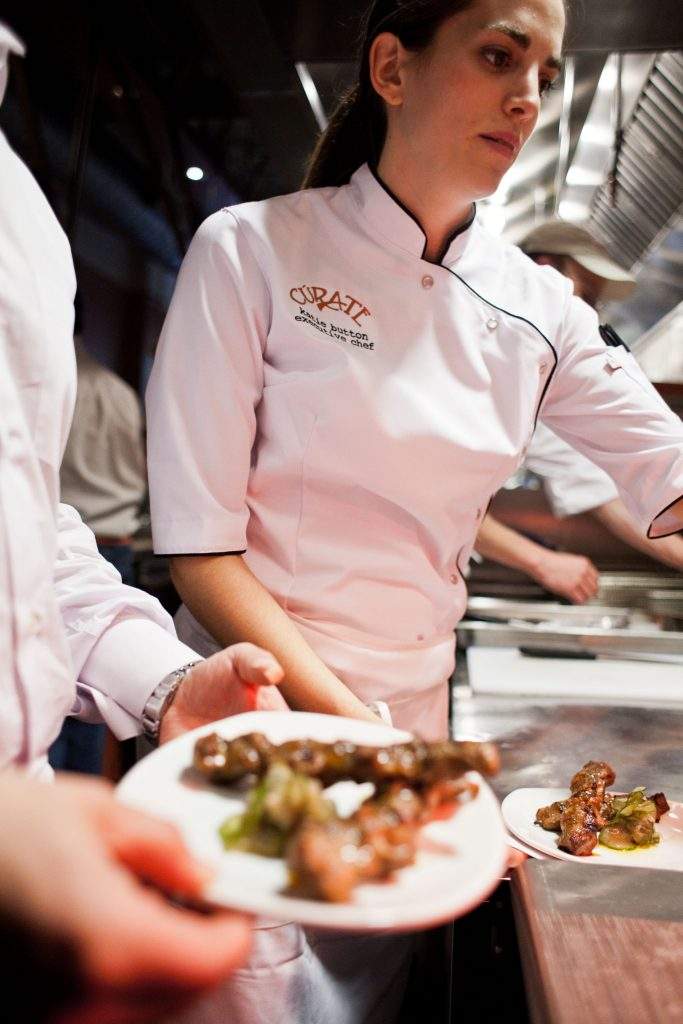 It was a little bit of serendipity, because our daughter Katie had finished up her biomedical engineering program in Paris and was heading off to Sweden for her Ph.D. in neuroscience. A couple of weeks before the program was going to begin she decided she decided she really didn't want to go down that path after working in labs. She was really passionate about getting into the food industry. In the meantime, she had rent to pay on her apartment in D.C., so she went through Zagat's guide and went over to Cafe Atlantico, Jose Andres' restaurant, and applied as a server. They were so impressed with her knowledge of mushrooms and wine that they hired her on the spot. She started working there as a server and was really starting to get back into the whole food thing.
She and I had a conversation and I was like, let's do this together. It was kind of a dream team. And the dream team developed one step further because Felix Meana, Katie's husband, was a front of house manager at elBulli restaurant in Roses, Spain—Ferran Adria's restaurant. In his six months that the restaurant in Spain was closed every year, Felix would come and work for Jose Andres as a consultant and help with his front of house training. Felix was at Cafe Atlantico at the time Katie was there, and he fell head over heels over Katie. He managed to get her a position as the first American server at elBulli, so she did that first and then came back to the United States and worked with Johnny Iuzzini at Jean-Georges in New York, interning with everybody, trying to learn as much as she could in the food business. Then she was invited to go back to Spain and work in the kitchen with Alberto Adria, Ferran's brother, in the pastry department. Then she came to Los Angeles and worked with Michael Voltaggio at Jose Andres' restaurant The Bazaar.
At that time we were wrapping things up in New York City and getting ready relocate and figure out where we were going to open a restaurant. Katie and I traveled around North Carolina — we honed in on North Carolina and looked a little bit in Virginia. Ted and I had lived in Greenville, South Carolina years ago and we used to come up to Asheville to go to dinner. I kept saying, "I really think we're going to like Asheville." Sure enough, we got into Asheville and it's gorgeous here, and the people are friendly —it's a hip, counter-culture, artsy community with lots of farmers, and the food scene has blown wide open. So that was it!
How did you and Ted meet in the first place?
Liz: The two of us met in Evansville, Indiana. I was working at a little airport there and Ted had just completed his flight instructing certification. He found a job listing for Evansville, Indiana and thought, what the heck. He came, and Ted and I met and married within 30 days.
That's romantic!
Liz: It was. One look at Ted — he's tall, dark, and handsome so it was easy.
…And blushing.
Liz: He's tall, pale, and gray now, but he's still handsome!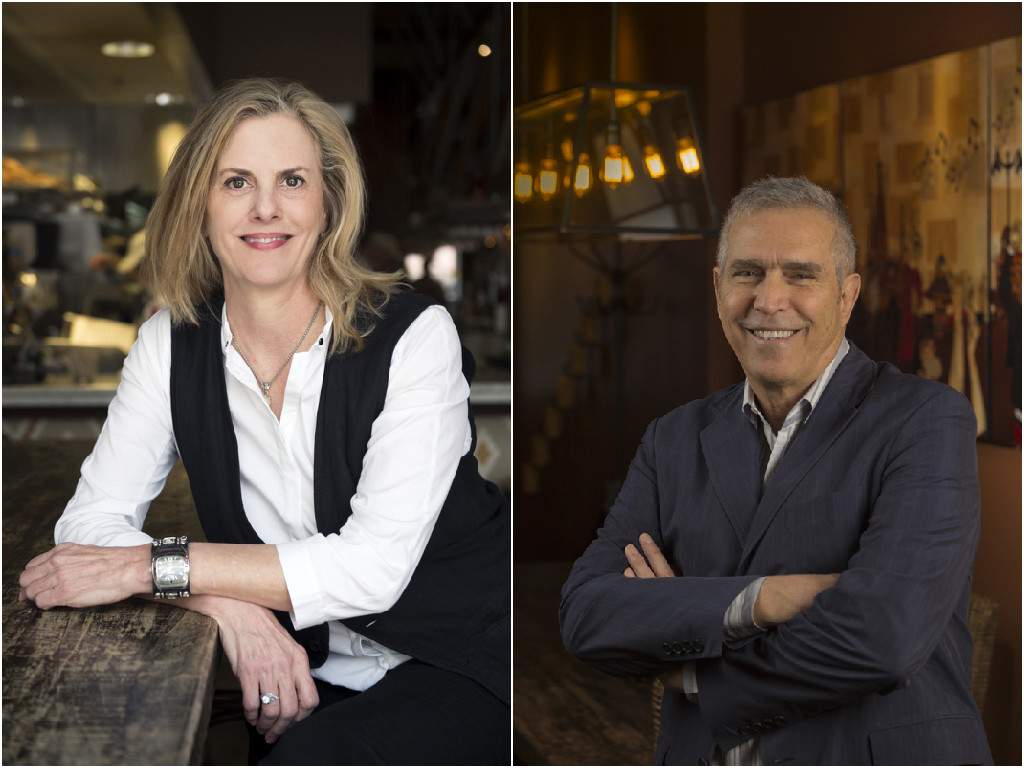 So was the restaurant the first time you ever worked together? And did you have any hesitations about doing this as a family?
Liz: At the airport we worked briefly together, but we were working for somebody else. Over the years, between my catering there were a couple of periods where I would work with Ted keeping the books and answering phones and doing things in his flight department. We had worked together considerably over 35 years.
Ted: Working with the family — we saw it as an opportunity to be able to get together with Katie and Felix, who we were just getting to know at the time. I saw it was a real advantage, and Liz did too, to be able to stay close and have a family-run small business. My parents had done that in their careers, and you get to do a lot of things that you don't in larger corporations. It's a friendlier atmosphere.
The other thing that's really important is that when started looking at everybody's experience and qualifications, the four of us fit very nicely together. We could break the areas of the business up into our own expertise and be able to manage it very effectively. Katie had a ton of experience in the kitchen—watching Liz cook as a child in the catering business, and then the chef experience at elBulli and Jose Andres. I had done a lot of financial work in my previous job in aviation. Felix had this great front of house experience at the highest level, and Liz had this great experience in putting thing together and organizing, with her previous catering business and general overseeing of things. She's very good at keeping everybody on the right track. We had a great team, and we recognized that.
Do you generally keep your job descriptions distinct and have your own areas of expertise, or is there a lot of collaboration?
Ted: We collaborate on everything, almost. But the four of us are the final decision makers in the four different areas that we feel we have the most expertise in. We established early on that we would operate this way so we could hold out conflict but be able to contribute. Anybody can talk to anybody about anything, make any suggestions whatsoever, but in the end it's the one person that makes the final decision in that area.
What are the areas for you and Liz?
Liz: Ted's doing all the financials, which is huge. Not just the day-to-day accounting, but also when we're looking for financial for new projects we're starting.
Ted: I do the banks and the real estate and working with the financial people, and trying to stay up with codes and insurance. All the day-to-day on the financial side operational.
Liz: And all the maintenance at both restaurants, which is huge. I wear a lot of different hats. I handle Human Resources, Public Relations. I'm the designer for both restaurants. I'm also the community activist and work with all of the charities and other organizations.
Ted: We've got a lot of talent in the group, so we have a lot of resources to be able to draw from. I bounce things from the financial side off everybody to get new ideas, but I'll make the final decisions there. I have a lot of resources in our little group to bounce things off of. That's the way it is for everybody else, too.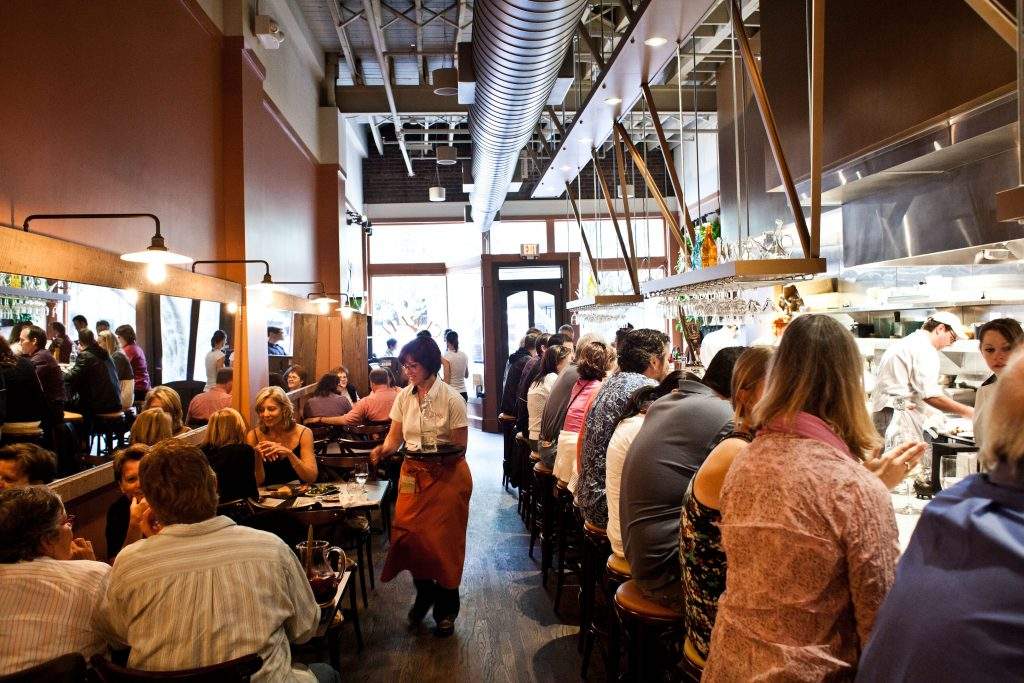 Have there been any challenges along the way of working together as a couple, and as a family?
Liz: Oh, yeah. We have owners' meetings every week, and obviously the fact that you're family means we also have our personal lives intertwined. At times we have to pull back and say, we need to reconvene over this issue, it's too hot of a topic right now. We've also learned a lot over the last five years of working together: when to stop, when you've crossed a boundary, and realizing that we're all on the same page. We're really trying to make sure that the restaurants are excelling.
Ted: It's not easy. It's not easy if you're working in a group of strangers—each has its own individual challenges. The rewards from what we have going on with our family are tremendous. It makes it special.
Do you do anything to separate work and family life?
Liz: There's very little talk about work outside of work.
Ted: That's it. And because we spend so much time together during work, we have special family occasions we get together for—birthdays, special holidays—but it's not like we hang out together all the time when we're not at work.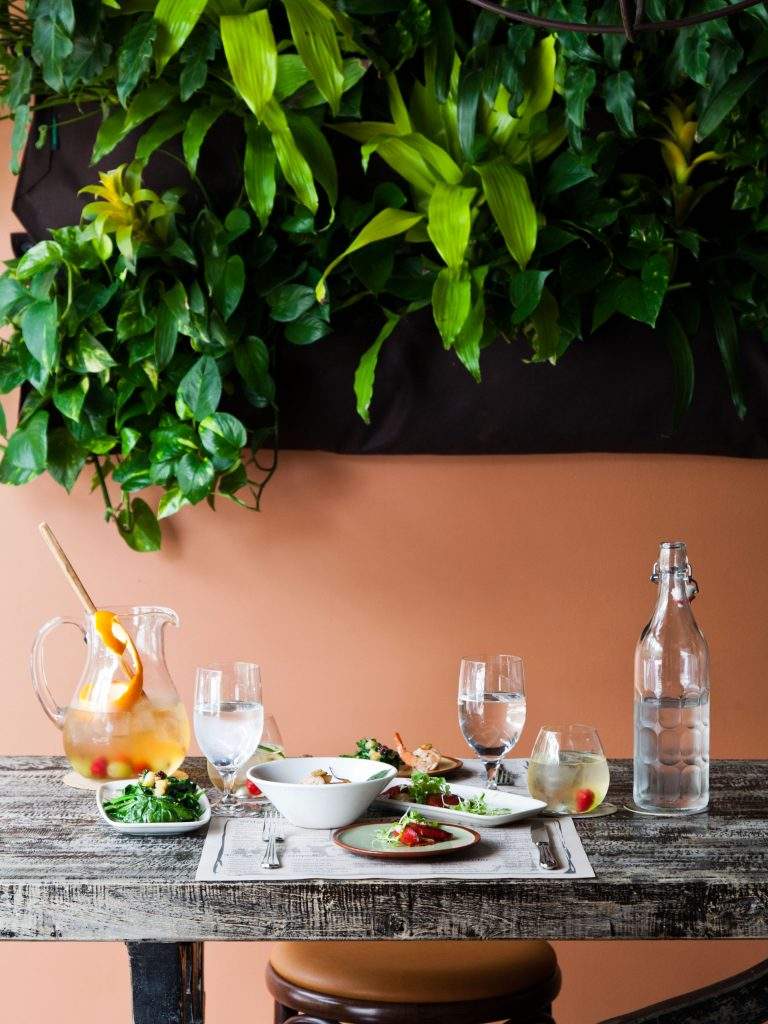 Will you be in the restaurant on Valentine's Day?
Liz: I will. I work with our hosts and work the floor a lot of times, especially on weekends like Valentine's Day. Both restaurants are just slammed with reservations, so we'll be full force. And Katie's pregnant with her first child. Her due date is today.
That's a good Valentine's Day present!
Liz: I know! She won't be in the restaurant but if she's not in labor by Saturday I can guarantee you Felix will be in the restaurant, and so will I.
Do you and Ted do anything to celebrate Valentine's Day outside the restaurant?
Liz: With this industry, we're pretty accustomed to our schedules in life. As a pilot, he was gone on weekends and holidays a lot of times flying, and my industry—restaurants and catering—that's when I was always working. Those become less important when you're in service industries such as ours.
This year, with Katie —we have no idea. She could be in the hospital at any moment. Everybody's kind of on hold for a couple of weeks. On Sunday it's our grandson's birthday —our son is in Asheville, too—and he's turning 12. The plan is for all of us to get together on Sunday when we know that everybody's already celebrated Valentine's Day. We're all going to celebrate late Sunday afternoon.
Ted: We'll probably have some chocolate or something.
Since you tend to work late hours, do you have special time you set aside for each other throughout the week?
Liz: Anything goes.
Ted: Absolutely. You grab it when you can. You're flying around, so busy in this business—you take your moments when you can.