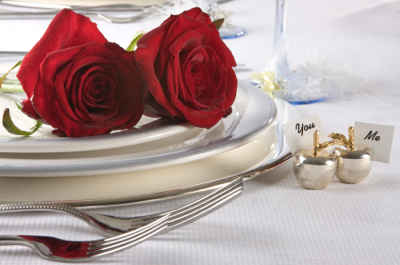 Valentine's Day is tomorrow. That's right, procrastinators — it's just a day away! There's no need to panic, though. OpenTable can help you be a hero and save the day, even at the very last minute. To wit, there is availability on OpenTable.com for two people at 7PM on Valentine's Day at more than 50% of restaurants in most major cities, including Atlanta, Chicago, Los Angeles, New York, Philadelphia, San Francisco, and Washington, D.C. Tables, however, are getting snapped up at a rate of two reservations per second, so book soon!
When booking last minute or day of for Valentine's Day, use these tips to find a table that's right for you.
* Be adventurous. Try a new restaurant or a new cuisine. Dine out in a different neighborhood. This is a great time to stretch your culinary wings and bond with your date over daring dishes.
* Use OpenTable's rating and reviews to help you feel a bit more brave. You may not be familiar with every restaurant that has availability, so utilize OpenTable's restaurant ratings and reviews to make an informed decision. Unlike other review sites, OpenTable only allows diners to review a restaurant after we've confirmed that they've actually dined there.
* Dine out at a different time. Snag a 5:30PM reservation and then go see a romantic movie. Or, meet friends first for drinks and have a late supper at a hot spot.
* Book a Valentine's Day brunch. So many restaurants are offering amazing brunch menus at very affordable prices. Also, brunch is a fantastic excuse to start the day with a Champagne toast.
* Mingle over mixology. If you're feeling anti-Valentine's Day, look for a restaurant that is serving their regular menu. Odds are that you won't be confronted with pink hearts and red roses. Better yet, hit up a restaurant that has a vibrant bar scene. You could end up meeting a Valentine. If drinks turn into dinner, whip out your smartphone and use one of our mobile apps to find a table on the fly.