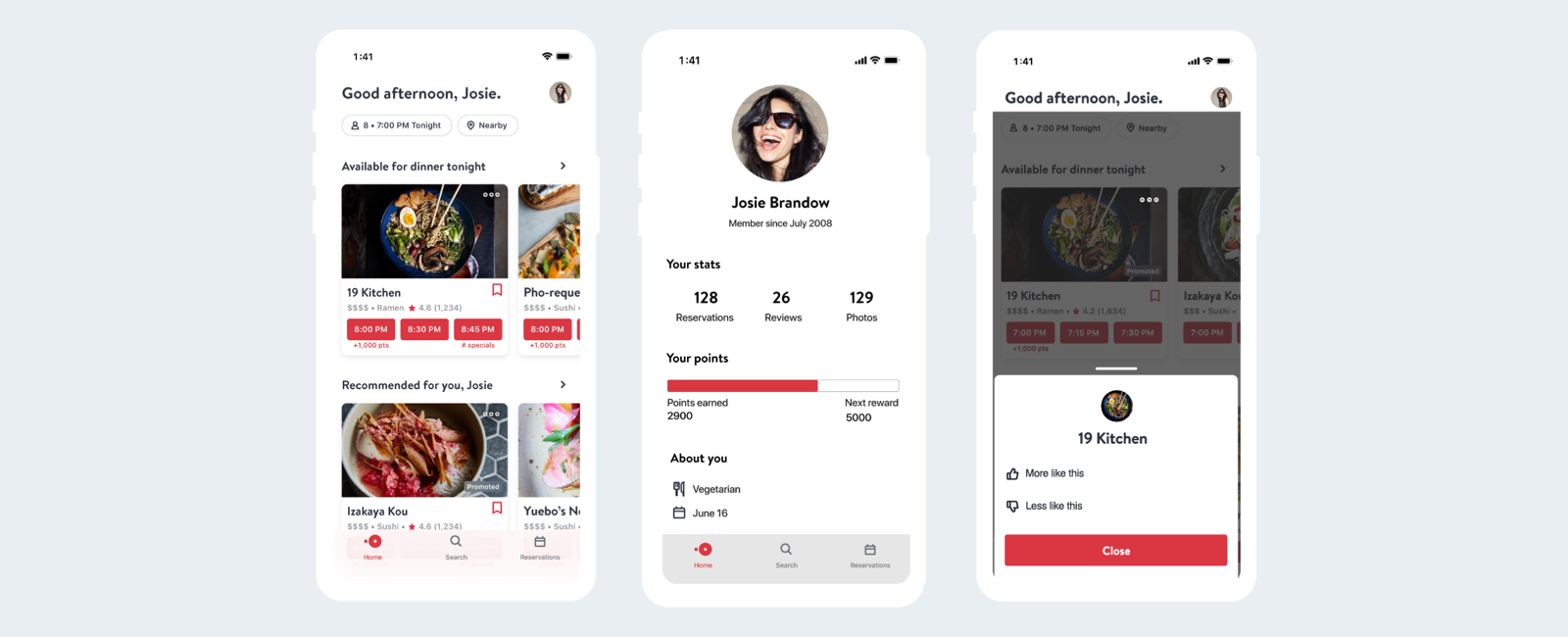 OpenTable is more than just your go-to source for booking restaurant reservations; we're an amazing resource for discovering new dining experiences around the globe. With more than 51,000 restaurants in our network, deciding what to eat can get a little tricky. That's why we've created a new in-app experience just for you — a personalized homescreen designed to make it even easier for you to discover more relevant restaurant options so that you can make better dining decisions. Check it out:
The homescreen is simple to navigate and creates a better experience the more you use it. From the homescreen you can access your user profile, see lists of suggested restaurants, and you can leave feedback on recommendations you'd like to see more or less of. Let's explore these exciting new features in-depth.
Get more of what you want
We're all about connecting you with the right restaurants for any occasion, mood, or craving—and the restaurant recommendations carousels are designed to do just that. The carousels serve you a list of tailored recommendations that have similar menus, flavors, or ambiance as places where you've previously dined. These recommendations continuously change based on your booking history, favorites, searches, and more—so that you can enjoy more amazing meals and dining experiences.
Thumbs up, thumbs down
You can now give us feedback on the restaurant recommendations the app provides right from the homescreen. Select a restaurant from the carousel, tap in the right-hand corner, and tell us what you think. When you share your feedback, we get to work—learning more about your preferences, sourcing a selection of restaurants tailored to your needs, and building out your taste profile. Give restaurants a thumbs up when you like the recommendation, to see more places that have a similar menu or experience. For restaurants that don't quite meet your needs, give them a thumbs down and we'll remove that restaurant from your restaurant "queue". The more you share your opinions with us, the easier it is to pinpoint your preferred dining tastes and experiences.
Everything you need in one spot
Now, you can access all your diner stats on the go. Check out all of your past reservations, reviews, and photos in one place. Keep track of your dining points—the handy status bar lets you know how many points you have and when you'll reach your next milestone. You can even manage your dietary preferences to let restaurants know you've gone pescatarian or dairy-free. There's even a place for you to store important dates like your birthday or a special anniversary.
Get the latest version of the OpenTable iOS and Android app and start using your personalized homescreen today. Help the app get to know you better by keeping your information up to date, sharing your feedback, and continuing to book your favorite restaurants. Download the app in the App Store or Google Play and let us know what you think here in the comments or over on Facebook, Instagram, Pinterest, or Twitter. And, remember to snap + share your #dishpics with us on Instagram for a chance to win in our weekly giveaway.