At OpenTable, we are always looking for new and innovative ways to connect people with amazing dining experiences around the world. We're especially excited to help diners discover new restaurants and help them experience restaurants before they ever step in the door.
For years OpenTable diners have requested a way to get a taste of a restaurant's food before booking a table. Our research shows diners have a biological reaction when they see evocative food photography — food porn leads to higher levels of endorphins and oxytocin and, ultimately, pleasurable experiences.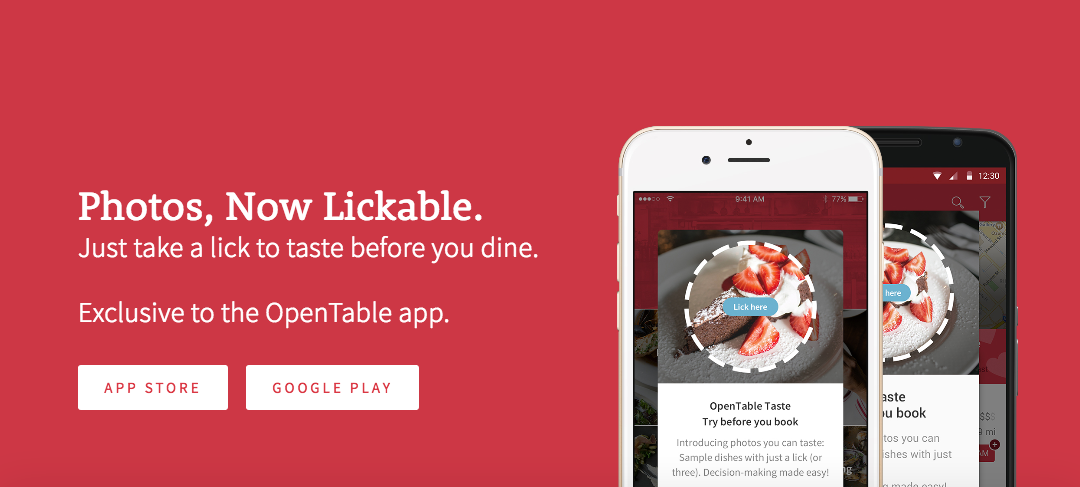 Today, OpenTable is thrilled to announce the release of OpenTable Taste, a groundbreaking new way for diners to experience the food photos they love. With the OpenTable iOS or Android app, you can now sample a restaurant's food directly from their phones — all you have to do is lick. Our engineers have developed an advanced algorithm to map out tongue taste buds, then engage with them to recreate the flavor profiles in your brain. This technology sends signals to your brain, meaning for the first time in history you can taste food photos through your phone.
How It Works
Diners can experience  OpenTable Taste technology in three easy steps. It's easy (and tasty) as pie!
First, install the latest version of the OpenTable

iOS

or

Android

free

app ;

 U.K. only download for

iOS

or

Android

here

Next, find a scrumptious photo and give it a little lick.

Finally, book at that restaurant or pick another to try.

(*Note: Multiple licks may be necessary)
Is It Safe?
OpenTable Taste has gone through extensive testing to ensure its safety to most users and all phones. Be aware that Taste may be highly addictive to some users. With excessive use,  OpenTable Taste may desensitize taste buds and make you feel full though still hungry. Exercise caution as over-licking is similar to overeating.
To ensure safety of you and your device, wipe down your phone after licking. Excessive tongue moisture may impact your phone's performance. Those with extra moist tongues (i.e. dogs and some humans) should exercise caution.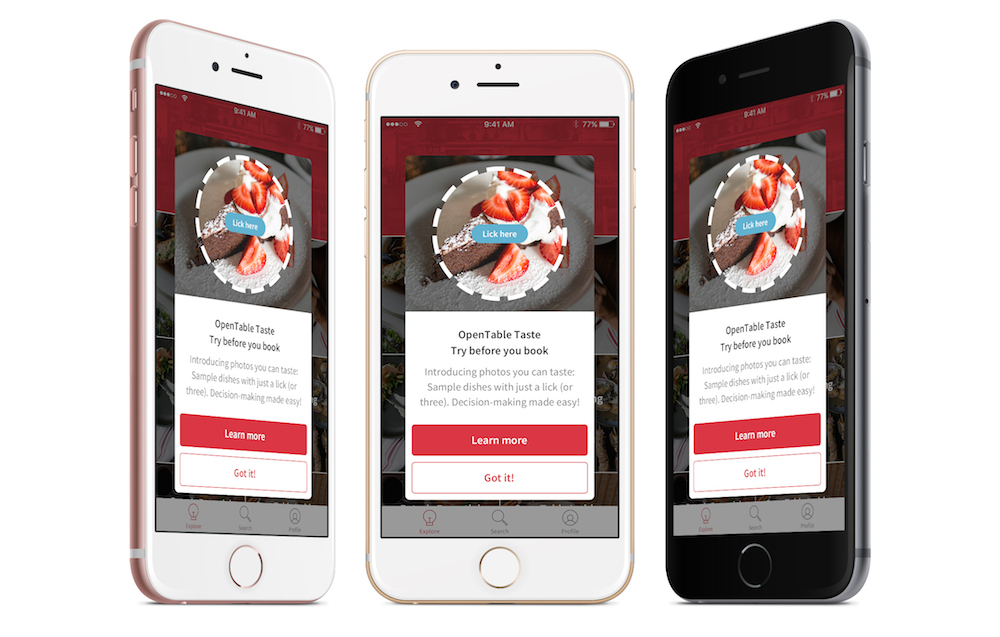 Join the Fun
We're asking restaurants and diners to share images or videos of teams and friends using OpenTable Taste by mentioning @OpenTable and the hashtag #lickablephotos across social platforms. Check out #lickablephotos to see how your fellow diners are experiencing OpenTable Taste!