Ask any chef or vegan eater and they will tell you that what you'll experience at today's #vegforward restaurants is not your grandmother's vegan diet. The plant-based food culture has evolved exponentially beyond bean sprouts and garden burgers. The cuisine at the 52 Best Restaurants for Vegetarians in America is thoughtful and progressive — and playful, too, as you'll see below. And while the chefs may have decided to skip the dairy, among other things, the fact that the dishes are vegan is, in a way, a happy (and sustainable) by-product of their creativity.
You see, these forward-thinking culinary pros are simply smitten with plants — the idea of plants, the texture of plants, the colors of plants, the flavors of plants. We could go on, but you probably get the picture. The possibilities and combinations are endless, and the results, whether rustically simple or elegantly elaborate, are delicious. Check out these 17 to-die-for vegan dishes from some of our 52 #vegforward restaurants.
Langos at V Street, Philadelphia, Pennsylvania
This Hungarian fried potato bread gets a vegan twist when topped with smoked beets and a lush sauerkraut remoulade from chefs Rich Landau and Kate Jacoby. Take our advice and order one for everyone at the table. You will not want to share this divine savory doughnut of a dish.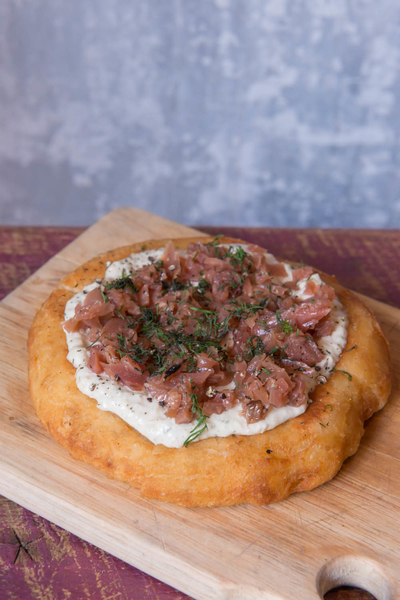 Artichoke Oysters at Crossroads, Los Angeles, California
The land trumps the sea in chef Tal Ronnen's presentation of this delicate jewel of a dish. It includes artichoke purée, crispy oyster mushroom, a yellow tomato béarnaise, and kelp caviar.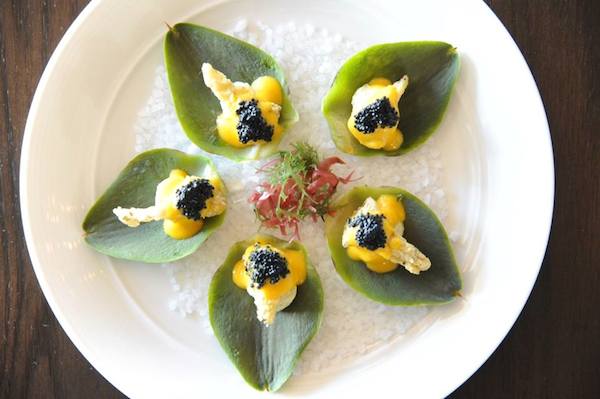 Kale, Corn, and Sweet Onion Pakora at The Herb Box-DC Ranch, Scottsdale, Arizona
These gluten-free bites from executive chef Becky Windels are made up of kale, fresh corn, and sweet onion coated in a chickpea batter with crushed fennel seed and turmeric and fried crisp in rice oil. Plated with a roasted yellow pepper aïoli and a sweet hot Serrano garlic glaze, Martha Stewart loved these so much that so much she asked, "How is this made?"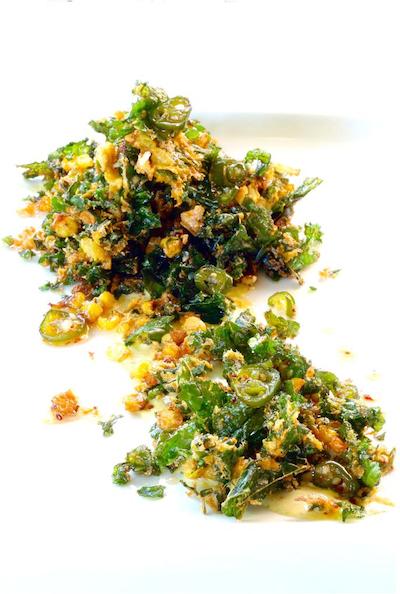 Savoy Cabbage at Natural Selection, Portland, Oregon
Stuffed cabbage finally gets the filling it deserves. Emerald Savoy cabbage envelopes a harmonious trio of quinoa, sweet peppers, and sultanas in chef Aaron Woo's exquisite version.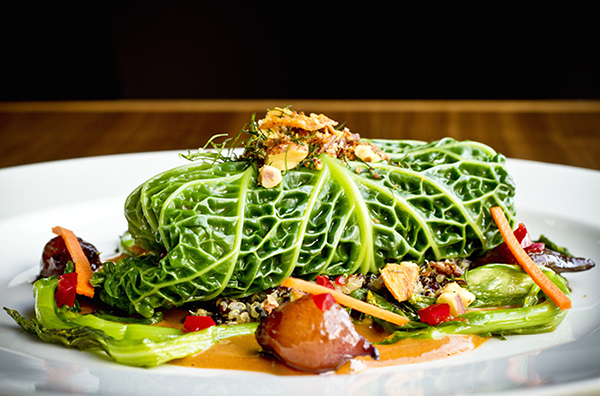 Deviled Turnips at Encantada, Baltimore, Maryland
Who needs eggs when you've got turnips bedeviled by tofu, chickpeas, Dijon mustard, turmeric, and other savory spices from executive chef Melanie Molinaro? These are fun enough for a picnic and still sophisticated enough to accompany an ice-cold martini.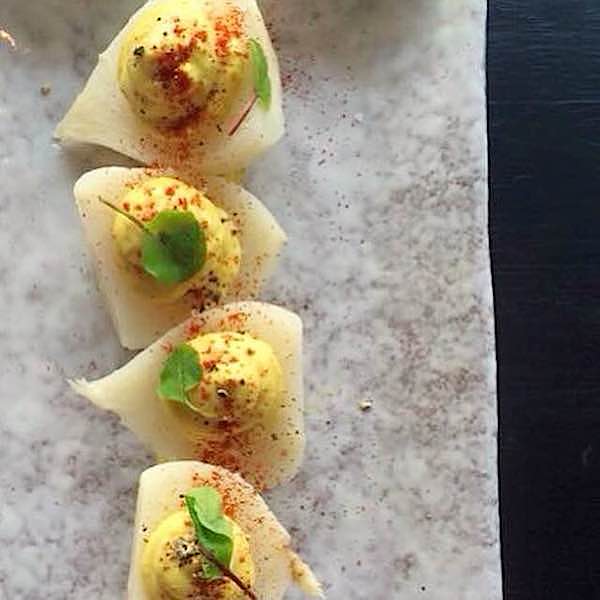 Papillote at Equinox, Washington, D.C.
Chef Todd Gray's papillote expertly combines cauliflower mushroom and Brussels petals with curried kabocha squash, artichoke hearts, and gently sweet quince vinegar. It's almost too beautiful to eat. Almost.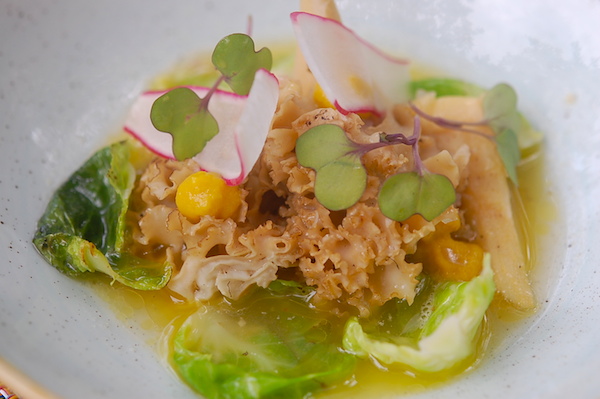 Zen Salad at French Meadow Café & Bluestem Bar, Minneapolis, Minnesota
Power up with this goodness-on-a-plate salad. Steamed organic brown rice is covered with organic blanched kale and fresh housemade hummus and guacamole. It is appointed with crispy radish, cucumber, scallion, and organic micro greens, and then studded with roasted tomatoes, kalamata olives, and toasted sunflower seeds. A roasty Harissa vinaigrette brings it all together.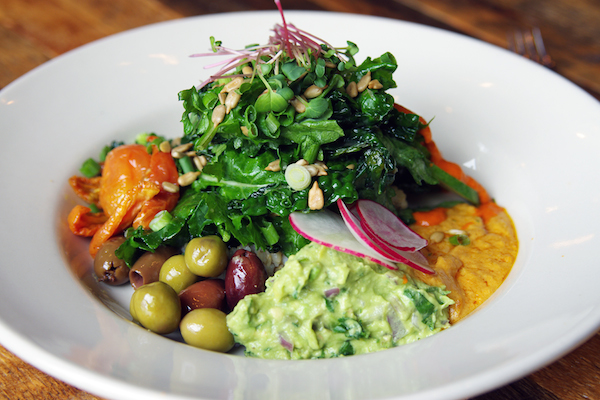 Tomato. Parsley. Onion. at The Gadarene Swine, Studio City, California
Chef Phillip Frankland Lee keeps it simple when tomatoes take the plate. This seasonal stunner stars marinated raw tomato, parsley, and onion. They sit atop a throne of sweet corn pudding and are crowned with crispy tomato, parsley, and onion.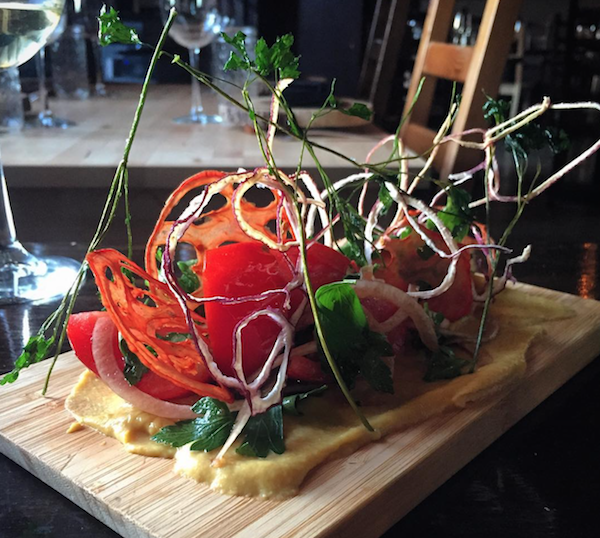 Seitan Marsala at Blind Faith Café, Evanston, Illinois
Meat, schmeat. You won't miss it at all with these medallions of homemade seitan served sautéed with button mushrooms and onions in a sweet Marsala wine. It comes with fall-friendly roasted squash and sweet potato, along with green beans and jasmine rice at this Certified Green restaurant.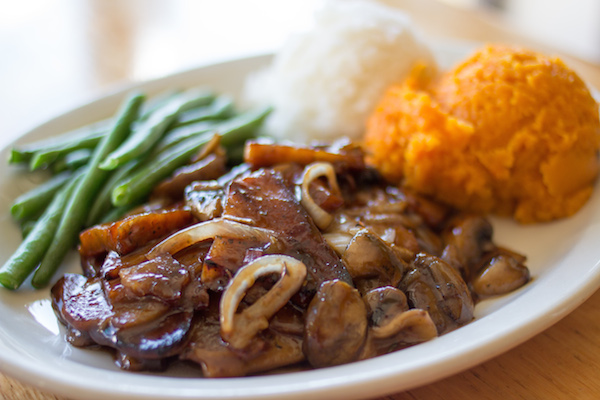 Grilled Shiitake Roll at Departure Restaurant and Lounge, Portland, Oregon
There's no need to go fish when you want superb sushi, thanks to this satisfying twist on a traditional Japanese dish at Departure. Bonus: You can add some superfood to your diet with super-good-for-you shiitake 'shrooms.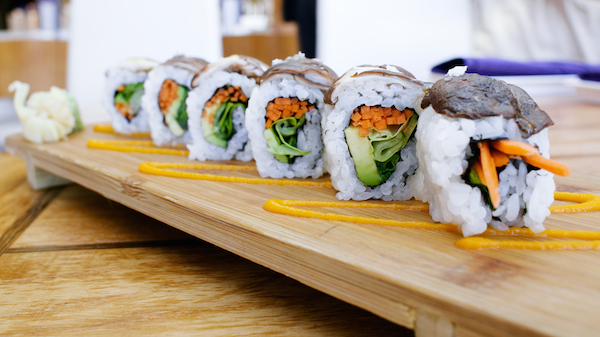 Cucumber and Melon Salad, Wassail, New York, New York
In this refreshing presentation, fragrant cucumber is tossed with olive oil and sherry vinegar, and accompanied by cucumber cured with sugar and Meyer lemon and rolled with dulse flakes, honeydew, cantaloupe, sorrel, and macadamia. The macadamia milk is garnished with borage oil. Borage flower, mint, stonecrop, and burnt macadamia shavings bejewel this stunning dish.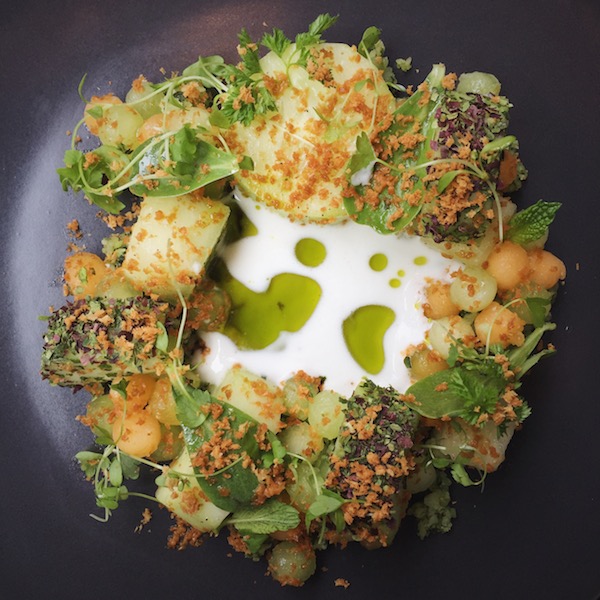 Imomeigetsu (seasonal assortment for moon viewing) at Kajitsu, New York, New York
A delicate bento box overflowing with autumnal colors and flavors, this Shojin dish from chef Hiroki Odo highlights the bounties of a late summer harvest collected and presented as if freshly fallen from a tree. It includes mountain yam, cucumber, tomato, okura, shiso, spinach, chrysanthemum petal, myoga, grape, Japanese taro, royal fern, shiitake, corn, edamame, zucchini flower, sweet potato, green bean, and lotus root.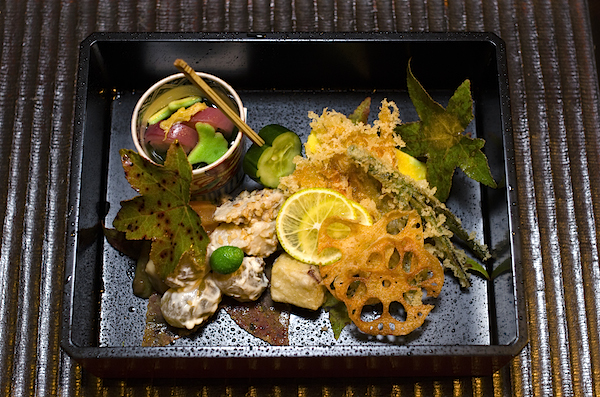 Nacho Salad at The Springs, Los Angeles, California
Say 'Si!' to this hearty, crisp spin on Mexican flavors and textures. Executive chef Michael Falso tumbles romaine hearts, nacho "cheese" sauce, taco crumble, pico de gallo, cashew sour cream, guacamole, pickled jalapeños, and tortilla crisps for a salad to remember.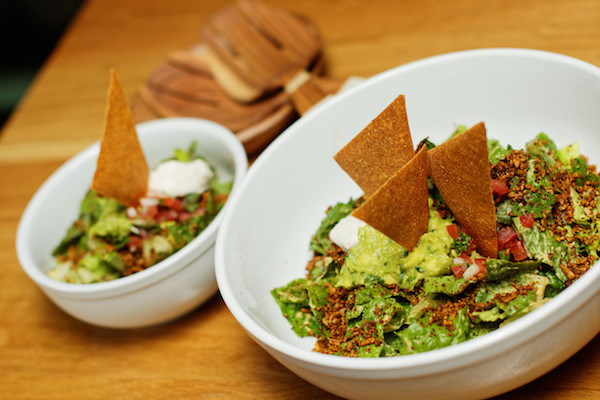 Stuffed Avocado at Vedge, Philadelphia, Pennsylvania
The humble avocado is elevated to new heights, literally and figuratively, thanks to chef Rich Landau's deft hand. Bedecked by pickled cauliflower, it is perched high atop a 'fried rice' crisp, on a shallow pool of romesco, and dusted with black salt.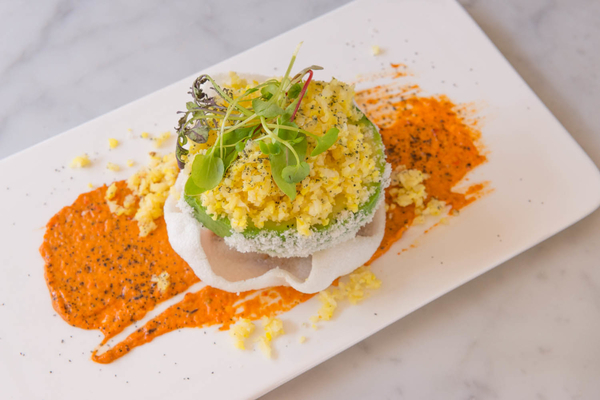 Stuffed Acorn Squash at Irregardless Café, Raleigh, North Carolina
Half of an acorn squash is topped and filled with an earthy blend of wild rice pilaf, lentils, pumpkin seeds, and a splash of molasses. It is set on refried black beans with roasted beets and white beans with roasted pineapple and served topped with roasted corn salsa. Pro tip: It's not just vegan; it's also gluten-free.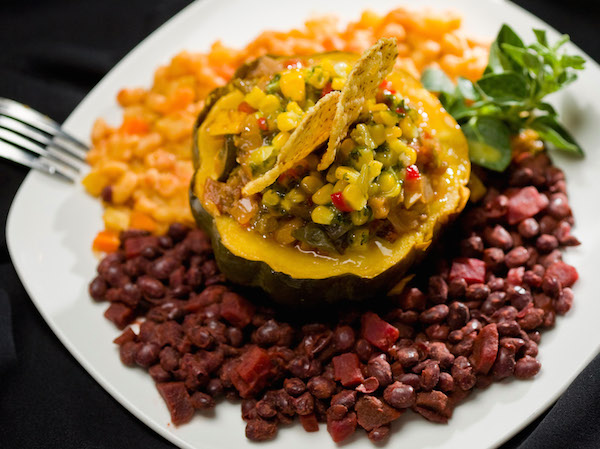 Eggplant Mashi at Saha, San Francisco, California
If you're not like Chandler Bing, and you can't actually go to Yemen, you can enjoy lively Yemenese stuffed baby eggplant. Mingled with fennel and garbanzo in a bright tomato sauce, chef Mohamed Aboghanem will transport you with this creation.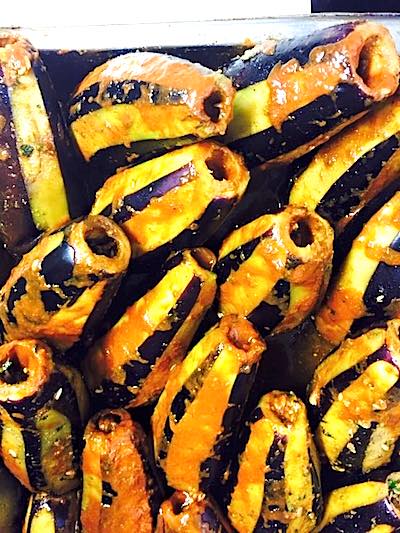 Vegan Ravioli at Civico 1845, San Diego, California
Chefs Alfonso Pisacane and Pietro Gallo serve made-by-hand ravioli stuffed with spinach and creamy vegan ricotta. They are topped with soulful San Marzano tomato sauce for a dish that's sure to evoke your nonna's kitchen.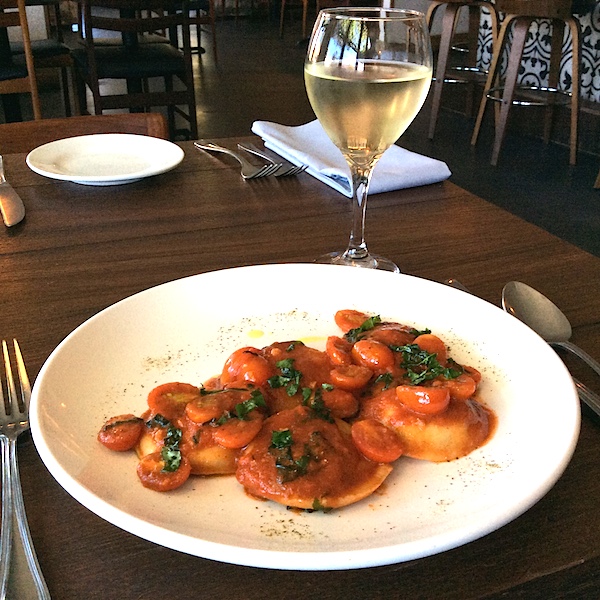 What's the best #vegforward dish you've eaten? Share it here. And, be sure to follow us here and on Facebook, G+, Instagram, Pinterest, or Twitter for delicious #vegforward posts and pictures as we celebrate all delicious month long.