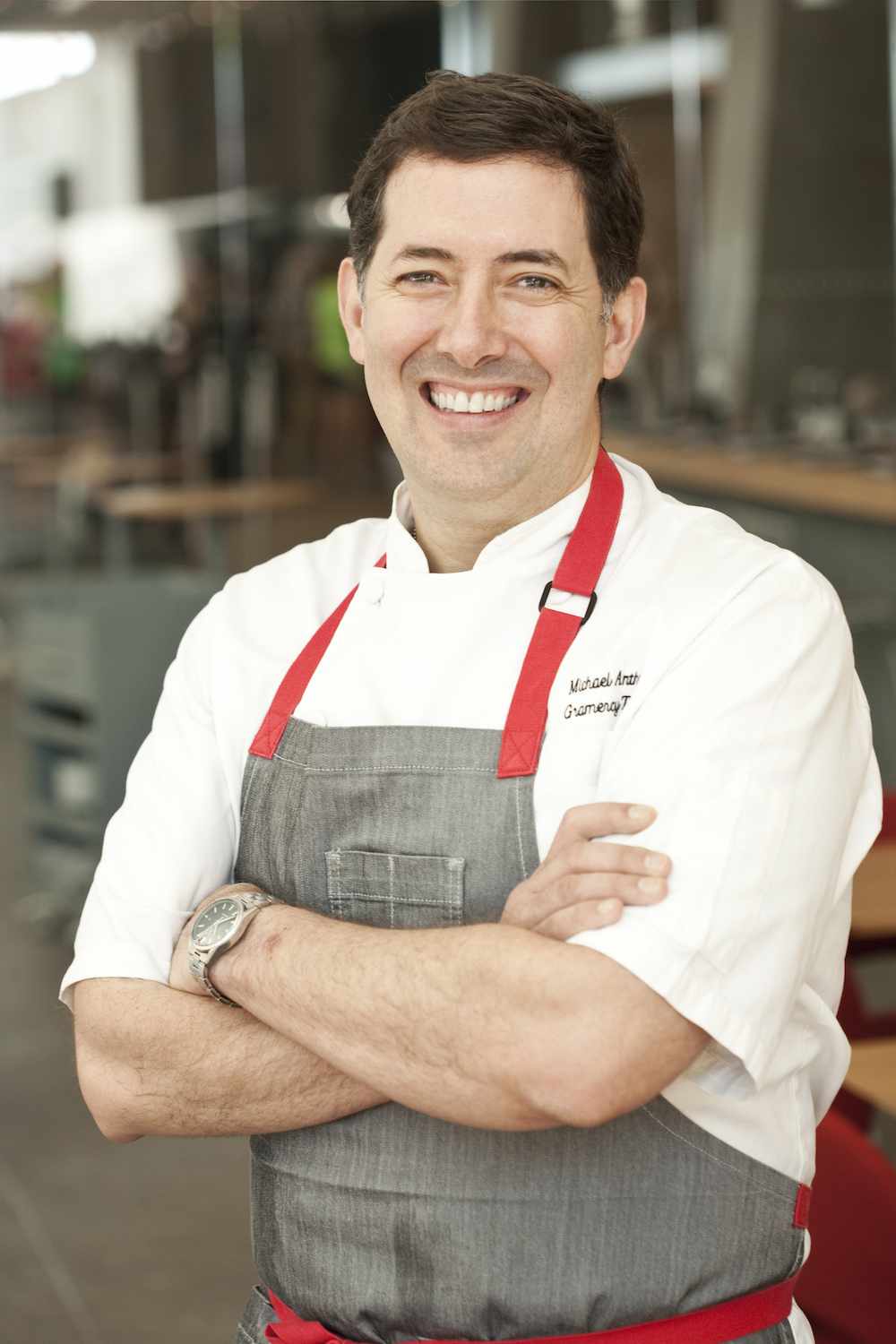 Chef Michael Anthony is the driving force behind two of Manhattan's best restaurants, Gramercy Tavern and Untitled at the Whitney Museum. As a young cook, he followed a love of food and cooking to Japan and France and eventually landed in New York City, where he worked under Chef Daniel Boulud. Currently, as the executive chef at two restaurants, he's responsible for leading his teams to create dishes that fit the menu while also helping young cooks develop their own personal cooking style.
Below, he shares his own journey from cook to chef and what he hopes to see in the restaurant industry in the future.
Tell me about your background and how you got into cooking.
I didn't grow up in restaurants and in truth, I was a terrible eater growing up. After I graduated from college I started traveling and fell in love with the enjoyment of cooking and eating in France. I came back to the United States with a degree in French and had no clue what I was going to do. I moved to Japan to work and travel and met an inspired chef and worked with him for a while, then I went back to France and worked in restaurants. When I came back home to the U.S., I moved to New York City and started working for Daniel Boulud.
I always thought my travels would define my cooking, but really my cooking is done through my lens of being American and having these different experiences. I consider myself a student of food.
The USHG team is known for building culture. How do you do that?
One of the interesting things about Gramercy Tavern is that we talk about providing "enlightened hospitality." That creates pressure to grow that while growing our restaurant family. Every new restaurant we open has a new story and new forces pushing and pulling in different and new directions. So, Danny [Meyer, founder of Union Square Hospitality Group] has to distill his thinking. We're all trying to leave these jobs better than how we found it. We attract people with those skills and we work on how we can support people moving up within our company.
What role does mentorship play in how you run your kitchen, and how do you approach being a mentor?
In a nutshell, mentorship is really just a commitment to sharing. It requires a lot of energy, and you have to cultivate it and think about how to share it. There's a lot of creative ideas and ambition in young cooks, but as a team we have to make sure we're all moving in the same direction — otherwise it's destructive and chaotic.
I like to mentor in a more informal way. Funny enough, I was always very skeptical of recipes because I didn't want to be bound to always doing something the same way. I think about mentorship in a similar way. I like to use my intuition to change things, but as we got bigger that became hard to do. So that means things have to be documented but we also rely a lot on our staff to add to things. We ask our managers to forecast trends, document what they do, and ask a lot of questions. I think that helps.
The hardest thing about being a mentor is that you have to answer the question "why." It's like being a dad. We have to make sure we're providing the avenues to produce something excellent. There isn't one way to do something, and along the way we have to make sure not to lose each other on the way to our goal. We're all working towards the same thing. As a leader, the decisions that I make leave a wake, like in the ocean. As you move, you create these wakes or ripples behind you and you have to make sure that your team is along with you.
I've always encouraged people to feel empowered about being in this industry. Sometimes this industry creates more roadblocks than avenues, and I'm trying to help people stay in this business and use solidarity to create hopeful outcomes. Working with an organization like C-CAP we get to mentor young chefs and show them there are opportunities in this industry. I think the American restaurant industry is in its infancy and it's taking steps to become more mature. There are economic and social justice issues that are difficult to navigate, but there's also tremendous opportunities. A mentor is ultimately someone who teaches their mentee why they fell in love with this work in the first place.
What advice would you give young cooks?
My strongest suggestion would be to be patient. No one can instill a sense of ambition more than yourself. You have to dig down deep and find that, and it comes when you do work you love. Pick jobs for more than superficial qualities and always be trying to learn as much as possible. Constantly learn from yourself and what makes you unique and happy. At the end of the day, it's emotional training. That's how you identify and create an expression of yourself in cooking. Ultimately, you have to create your own style and hopefully it's something people can relate to and enjoy.
Is there a distinct moment that you can remember where you honed your distinct cooking style?
I really started developing a style when I was a sous chef at Blue Hill at Stone Barns. It's still developing, and I hope it will never stop. As a chef, you have to create the right environment and make sure you have room to be creative. That can be tough because you have to serve things that people want. I'm lucky that where I am, I can cook from my imagination.
How would you describe the food at Untitled to someone who has never been there?
The birth of Untitled is really about Gramercy Tavern and an extension of that: our connection to seasonal ingredients and our principles using the key points of the space. The style of the dining room mimics that philosophy, It's minimalist and looks out onto nature and the Hudson River and The High Line. All of that creeps its way into the cooking at Untitled.
We recognize that we're a luxurious restaurant, but we don't rely on typical luxurious ingredients like foie gras and truffles. There's a layering of flavor and texture and an attempt to make it more approachable when thinking about the people that might be coming in. It's an interesting neighborhood and we're trying to be a part of it. We want to be approachable but still have a distinct point of view.
What's the biggest difference between New York dining when you first moved here and New York dining today?
The biggest evolution for me, personally, is that after I worked in Japan and France and moved back here there was a heavy French influence. I think now, as a whole, we've seen the end of the dominance of the French restaurant. I was kind of sad to see that "casting out of tradition" because in fine dining we owe a lot of cooking techniques to the groundwork laid by French cuisine and chefs.
Now, I think we're seeing the French food come back with restaurants like Le Coucou. I saw an intense amount of training that came out of those kitchens. We saw that some of those French restaurants became new again. Daniel Boulud does an incredible job of keeping that fountain of youth, and his company does a great job. He brilliantly adapted himself to New York.
Another change is that great chefs are now doing the high-low thing. Great food doesn't have to come from a sit-down restaurant anymore. We've seen an awareness of thought about ingredients, and there are ways to tell our stories through local food and agriculture. We've seen the role of a chef change from artist to tastemaker, and chefs have had to take on more challenges to survive. We've seen the market move to as casual as possible. As Americans I think we've become numb to pricing and what it actually costs to create a meal. I'm hoping that our infatuation with sourcing will give way to discussions of social justice issues and farming equality. The reality is our industry wants to talk about these things.
What changes do you hope to see in the future?
I'm very proud of our company to have the courage to implement no tipping. It's not easy. Any change is hard and I'm convinced that it's the right move for our industry. What I really believe is that the economic change is a small part of a bigger industry changes that need to happen. We have our work cut out for us to look beyond daily profits and and see what our young chefs are thinking about and where they want to be in 15 years.