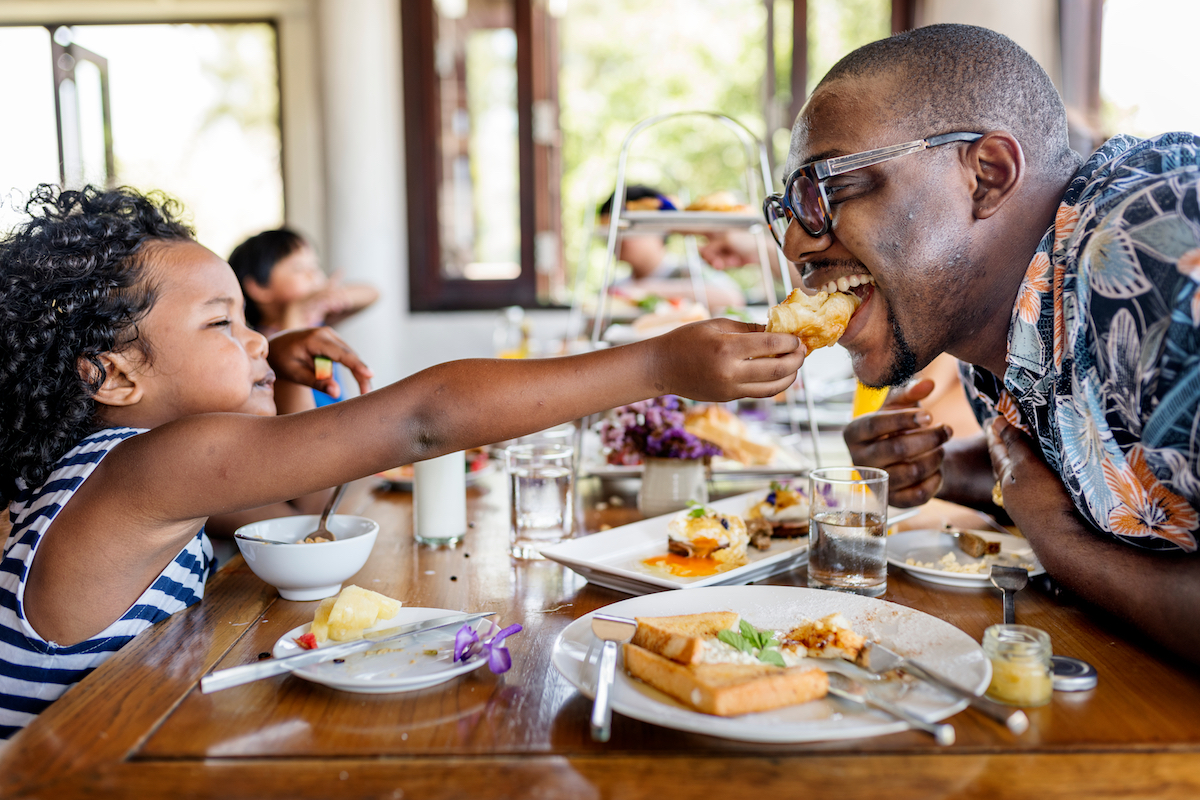 Whether you're raising a foodie-in-training in search of her next best bite or you're just looking for a relaxing weeknight meal with your family, finding the right restaurant starts with OpenTable. A good choice helps ensure no unnecessary stress for parents, an engaging experience for younger diners, and, just maybe, kids enjoying something more than a simple slider or hot dog. We've rounded up advice from industry pros on finding a family-friendly restaurant for your next outing. Read the tips and then browse through more than 51,000 restaurants on OpenTable to find the one that's right for you.
Find the best fit
Because you want to find the perfect spot for your family, you should do a little digging before you make your reservation. When searching for a family-friendly restaurant on OpenTable, filter your search results by clicking kid-friendly under the top rated column to surface restaurants that have been voted as such in verified diner reviews. We also have additional lists on OpenTable highlighting kid-friendly restaurants around the country, such as this. And, after you dine, be sure to leave a review to help inform other diners' choices.
Doing your due diligence ahead of time is key. "Not all restaurants welcome children," says Rich Falbo, executive chef of Firefly in Washington, D.C., which prides itself on its family-focused approach to hospitality. "Or perhaps they're welcomed, but the child may not be a fit, or ready, for the particular restaurant outing. If you know your toddler will not sit through a seven-course tasting menu without some hiccups, maybe wait until they're a little older, so everyone can enjoy themselves."
Research menus
While you're at it, take a peek at the menu online, and look at your child's choices. Most restaurants have their menus available on OpenTable, so you can easily view them while searching the site.
Look for the offerings that you know your child will enjoy, especially if they're not yet an adventurous eater. If you've got a child who is interested in exploring new foods, try to find one that will excite and delight. For example, Ype Von Hengst, executive chef and co-founder of Silver in Bethesda, Maryland, has a gourmet kids menu featuring teriyaki salmon and spaghetti with lamb meatballs alongside upgraded versions of classic comfort foods. (Bonus: every entrée comes with fresh fruit or a vegetable, along with the child's choice of milk or juice.).
Not having a specific menu for little ones isn't necessarily a deal breaker. Read all the selections, including appetizers and side dishes. "My kids often eat off the appetizer section," says Victoria Trummer, co-owner of Trummer's On Main in Clifton, Virginia, whose Petite Gourmand tasting menu allows pint-sized diners to experience a kid-friendly meal at the same pace as their parents. "I look for options — something with nutritional value, even meatballs or chicken skewers. Things we can share as a family are a plus."
Use OpenTable notes
If you know that a restaurant has a certain type of seating that is more accommodating for your family, make a request for it when completing your reservation. Fill in the notes area and ask for a roomy booth so you can spread out a bit or a table with a view if you've got little sightseers. [While restaurants will do their best to honor your request, it's not a guarantee, however.]
OpenTable notes are also a great opportunity to indicate that you'll be arriving with a stroller or car seat or that you'll need a high-chair or booster seat. Having this information ahead of time helps to ensure that a restaurant's staff will be able to seat your whole party seamlessly — and get food on the table quickly. With advanced notice, "Servers can help by removing or shifting problematic tabletop items from the kid zone ahead of time," adds Falbo.
Sleuth out the service
Servers are a key ingredient to a successful family-friendly dining experience, so read through OpenTable's verified reviews to see what previous guests say about the service with regard to kids. You can also look at our monthly local diners' choice lists by city for the top kid-friendly restaurants, such as this one in New York, for restaurants where servers and chefs alike deliver top-notch dining experiences for young guests.
When it comes to family dining, in particular, servers can have the biggest impact. "We always have our servers get the kids' orders in first, so they get their food as quickly as possible," says Von Hengst. Also, lean into your server's knowledge of the menu to guide your selections. Trummer notes, "I'll take any direction on the menu you can give me, so we don't accidentally order something that is surprisingly spicy that the kids won't like."
Investigate the amenities
Sometimes it's the little things that demonstrate a restaurant is conscientious of the unique needs of families. Some offer drinks in capped cups with straws, for example. But if you're uncertain about whether or not a restaurant has sippy cups and you know your child will need one, be sure to bring one with you.
Certain establishments will offer a ready supply of coloring pages and crayons or bendable Wikki Stix to help keep kids engaged if you forgot their toys or art supplies at home. Some eateries take it a step further. "During lunch and dinner services, we offer a cookie decorating kit with every kids' meal, says Falbo. "Each one comes with a cookie, sprinkles, and chocolate chips. We set everything up for the kid, let them be artistic, bake the cookie, and bring it back to the table when it's time for dessert."
If there are outdoor spaces or rooftop decks, where kids can explore with their parents while their meals are being prepared that's a definite plus. And fun components or over-the-top decor can be especially engaging for kids – think fish tanks, water features, or restaurants that boldly embrace a theme, like the 007-worthy SafeHouse Chicago, Illinois, or Ninja in New York City, New York, which looks like a Japanese mountain village and features ninja-styled servers doing magic tricks.
Let us know your favorite family-friendly restaurants here or over on Facebook, Instagram, Pinterest, or Twitter. And, remember to snap + share your #dishpics with us on Instagram for a chance to win in our weekly giveaway.
Nevin Martell is a Washington, D.C.-based food and travel writer and the author of several books, including Freak Show Without A Tent: Swimming with Piranhas, Getting Stoned in Fiji and Other Family Vacations. Find him on Twitter @nevinmartell and Instagram @nevinmartell.