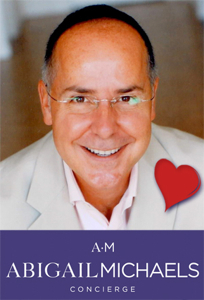 On Valentine's Day, more than most days, you've got to get romance right. And that starts with planning a seamless night. Michael Fazio, whose book Concierge Confidential will soon be published by St. Martin's Press, says, "Valentine's Day is one of the biggest restaurant nights of the year. The people who fare the best are the ones who know how to navigate the terrain like a pro and how to avoid some of the pitfalls encountered by the amateurs."
If you don't want to look like an amateur on this special night, use these exclusive tips from guest-blogger Fazio, cofounder of Abigail Michaels Concierge, providers of a vast repertoire of concierge services to nearly 40,000 New Yorkers.
1. Select the right spot.
A great date for your Valentine's Day starts with selecting the perfect restaurant. To find the perfect place for you and your date, answer these same questions I ask my clients when they seek my help in selecting a restaurant for them:
* Given the many definitions of what could be considered romantic, what do you visualize as the perfect setting for your date?
For some, the perfect restaurant is overflowing with luxury and opulence. For others, the perfect restaurant is a tiny little spot with checkered tablecloths and wicker-covered wine bottle candleholders. And for others, it might be the newest, hippest, and hardest to get reservation.
* How much time do you want to spend dining?
On Valentine's Day, many restaurants replace their regular menus with special multi-course, prix-fixe menus. On OpenTable, you can find this by looking under the "Valentine's Day/Romantic Dinners" tab on your city's start page or by looking under "Deals and Offers" on a restaurant's profile page. If you're a foodie who favors the prix-fixe menu, consider an earlier reservation as a multi-course, prix-fixe meal tends to take time.
* What's your budget?
The best way to ruin a nice evening out is to experience sticker shock. Review the menu on OpenTable, which you can view on a restaurant's profile page. The "$$$$" measurement is always a reliable base, but it doesn't hurt to consult the menu and wine list so you know before you go.
* Are you open to trying something different?
Take advantage of Valentine's Day as an opportunity to be daring and have a new culinary experience. You don't have to stretch your palate to the extreme, but exploring a new cuisine together can be quite fun. I still have amazing memories from my night dining on a floor pillow, under a tent in a Moroccan restaurant in the heart of NYC.
2. Get a little extra attention.
Make use of OpenTable's "Special Requests to the Maitre D'" section when booking your reservation for a little extra love from your hosts for the evening. Yes, the restaurants read the comments, and I love to use this space to send compliments and express how much my clients are looking forward to dining at their restaurant. Set yourself apart by establishing a profile as being a fan. No one wants to disappoint a fan!
3. Make it special with flowers.
You can order flowers to be sent to your table right on OpenTable when you book your reservation. Everyone may stare as your bouquet arrives, but they'll be wowed by the special gesture you made for your date. If flowers aren't in your budget, stop by the restaurant earlier in the day with a card and ask the staff if they can insert it into your date's menu when you arrive.
4. Couldn't get a reservation? Try, try again!
My newest "can't live without it" tool is the OpenTable Mobile App. The reason is simple. Restaurants' reservation inventory shifts on a regular basis due to changes and cancellations. Ironically, the premium reservation times are often the ones to change. With an OpenTable Mobile App, you can check and re-check availability several times a day, wherever you are. It's also a great tool for last minute reservations.  In my recent experience using this mobile app, I was originally unable to find availability at one of the city's new hot spots. Deciding to "wing it" about 30 minutes before I wanted to dine, I snagged a prime reservation that wasn't available the many times I tried previously.
5. Plan a pre- or après-dinner activity.
Before or after dinner, visit a museum or take a walk on a scenic street. Or, book a private car or limo to pick you up at the restaurant and take a drive down memory lane past your first home or the place that you first met.
Whatever your plans involve, just remember that the most important part of the date is spending time together. Have a sense of humor about it, and don't get intimidated by the pressure of a special night like Valentine's Day. Remember, if it all goes wrong, the best way to spin it into a positive is to laugh, knowing you'll have a memory to last a lifetime.
Finally, keep in mind that Valentine's Day dining can be a nice brunch, lunch, or even just a dessert date. Whether you start your celebration on Friday the 12th or Sunday the 14th, savor each flavor and enjoy the experience!
Visit Abigail Michaels to learn more about Michael Fazio and Abigail Michaels Concierge's services.