Winter, even with its sparse daylight and colder temperatures, has its upsides. For example, gathering with friends, warm beverage in hand, at a welcoming and cozy restaurant. Some restaurants really shine this time of year thanks to enticing settings, complete with candles, warming fireplaces or fire pits, or an intimate, tavern-like vibe. 
These 14 restaurants in the United States and Canada provide a blissful haven from the winter blues. Just be warned: After relaxing over your meal, you may not want to leave these comfy spaces and go back out into the cold.
This acclaimed Scottsdale restaurant welcomes you into an intimate, low-lit dining room, complete with a fireplace. The coziest spots, though, might actually be on the candle-lit heated patio, which is cloaked with ivy and criss-crossed with white lights strung overhead. The four-course menu changes frequently, but you can expect contemporary American fine dining inspired by seasonal ingredients. A vegetarian version of the menu is also available. The cocktails, many mixed with fresh house-made ingredients, also take a cue from the seasons.
The Dandelion
(Philadelphia, Pennsylvania)
This multi-room Philly restaurant has a decidedly English-pub feel with lots of dark wood and Anglophile-friendly decor. The fireplace is flanked by comfy lounge seating and is an especially cozy spot to sip a pint or a mug of hot tea. The menu leans into the English pub theme, as well: Try the Welsh rarebit or the bangers and mash if you want to eat like the Brits. American comfort food dishes, including burgers and mac and cheese, are also menu highlights.
An institution of coziness, New York City's Waverly Inn was founded more than 100 years ago in 1920. The restaurant spans two joined townhouses and features comfy red booths as well as fireplaces to fuel the cozy ambiance. Candles abound, washing the place in the perfect amount of warm, glowy light. The outdoor patio is particularly charming, with tiled floors, brick walls, and tons of ivy. The American menu is heavy on classics, including an iceberg wedge salad with blue cheese and bacon, steak tartare with cornichons and egg yolk, chicken pot pie, and a luxe tomahawk rib chop for two. For a cozy cocktail, try the white port toddy.
Firefly
(Los Angeles, California)
Inside and out, Los Angeles's Firefly sets a scene that's both romantic and cozy. Gauzy curtains partially conceal cabanas bathed in candlelight, the patio walls are covered in ivy, and a large fireplace dominates the atmosphere. The American menu offers dairy-free, vegan, and gluten-free options to please any dining companions. Try the mushroom pappardelle with truffle cream or the steak frites with haricots verts and brown butter. Before or after your meal, steal away to the library lounge for drinks.
This maximally cozy inn dates back to the 1700s — and it shows, with some of the building's original details still in place. The inn is so charming that it's been used as a set for many movies and television shows, including '60s soap opera Dark Shadows. Rich-toned wood paneling gives Griswold Inn the feel of a hideaway, and a roaring fireplace warms visitors after coming in from the cold Connecticut winter. The menu offers several New England classics, including Griswold's signature clam chowder. Other favorites include butternut squash ravioli and fish and chips.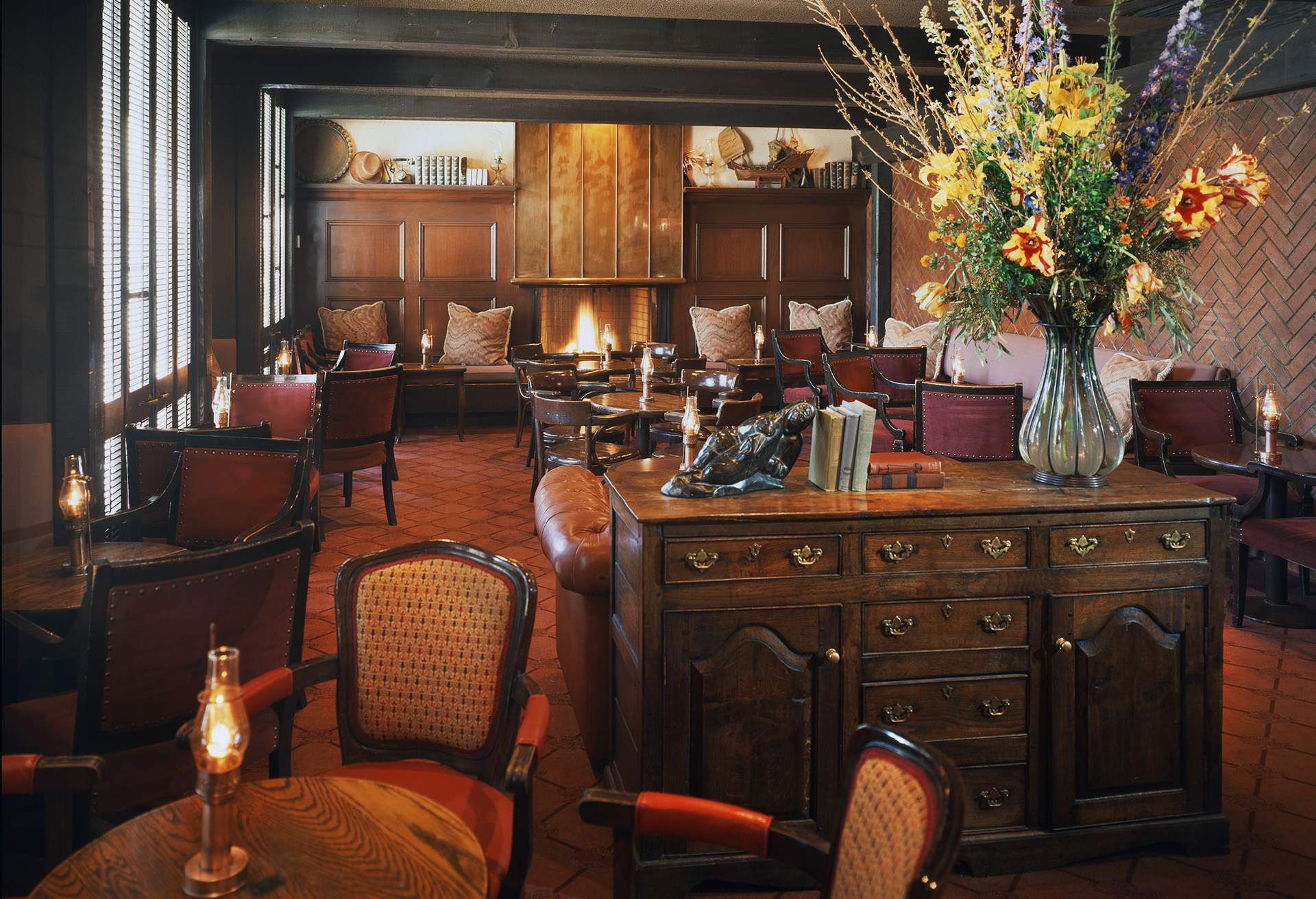 This San Francisco haven of meat and potatoes has a long history that dates back to the 1940s, and for many regulars, its storied past is a central part of its charm. Dark woods, a fireplace, big bottles of wine, walls of books, and tableside preparations also contribute to its reputation for coziness. Obviously, you'll be ordering prime rib (though there is one fish item on the brief meat-centric menu). Pair your prime rib with a salad prepared tableside or a supersized baked potato topped generously with butter and sour cream, and be sure to try a martini that includes a chilled second serving.
Iron Gate
 (Washington, D.C.)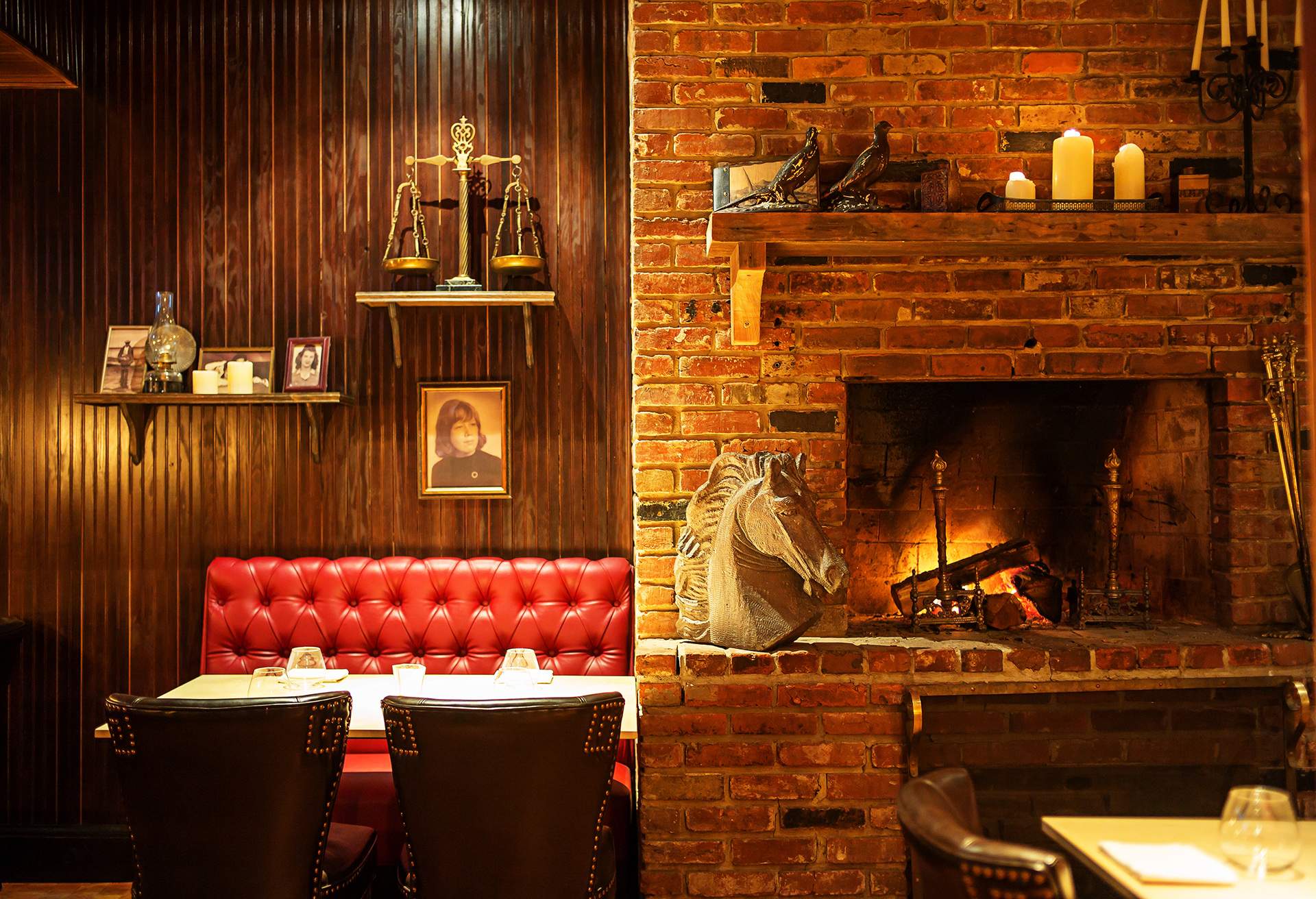 Inside, a brick wood-burning fireplace warms nearby banquette seating at this charming former carriage house. But the coziest spots at Iron Gate in Washington, D.C. may actually be around the firepit on the enchanting plant-canopied patio. The Mediterranean menu is also a draw. Start your meal with grilled scallops topped with Calabrian chiles, goat's milk butter, and breadcrumbs before moving on to a Sicilian-style seafood stew with five types of seafood or the duck leg with autumn squash and cranberry gastrique.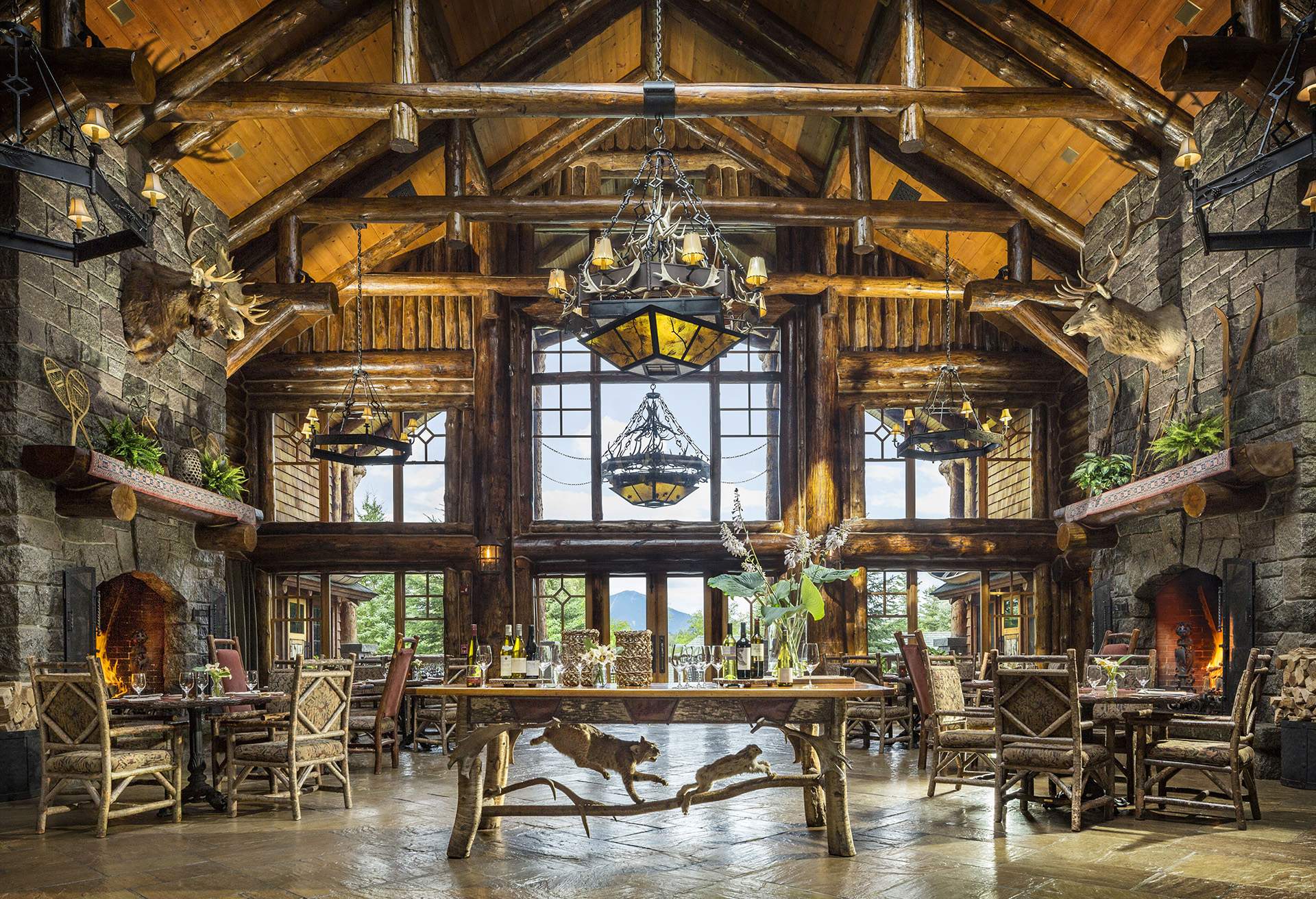 Soak up some cabin vibes at this Adirondack-inspired restaurant in upstate New York. Design elements such as hand-carved log beams and natural stone create an organic, rustic ambiance, and tall windows offer sweeping mountain views. A large granite fireplace casts a warm glow throughout the dining room. The food is sophisticated but comforting: think root vegetable soup, butternut squash ravioli, and chocolate pot de creme.
Hidden away inside the Fairmont Royal York hotel, this martini bar and lounge leans into its titular theme. Its design is based on the hotel's 1970s library, and leather-bound volumes line the many bookcases. The bar's relatively small size, flattering lighting, and dark wood motif are a few more attributes that make it a cozy escape from frigid Canadian winters. The menu is appropriately retro. Start with a platter of oysters Rockefeller or chicken liver pâté. More substantial plates include green goddess Cobb salad, prime rib, and chicken vol-au-vent. 
Meridian
(Indianapolis, Indiana) 
Constructed as a log cabin in the 1880s, this rustic oasis from Indiana winters retains an old-fashioned charm. Wood still looms large in the dining room; chandeliers cast soft candlelight, creating a dreamy atmosphere; a fireplace radiates warmth and deepens the cozy vibes. Warm up even more with a bowl of smoked corn or cream of mushroom soup. The entree portion of the menu offers many hearty choices, such as ribeye with spaetzle and stroganoff sauce and wild boar bolognese with house-made pasta and lemon ricotta. If you have room, try a house-made dessert like the pecan tart with vanilla ice cream.
Dating back to 1919, this venerable steakhouse revels in all things Old Hollywood. The decor is both cozy and retro, complete with dark wood paneling and moody red booths. The intimate setting has been beloved by generations of celebrities — director Quentin Tarantino even chose the restaurant as a location for his film Once Upon a Time in Hollywood. The menu also draws inspiration from the past. You'll find celery stuffed with blue cheese mousse and crab Louie. Then there are all the steaks and chops you'd expect at a classic steakhouse, plus a good selection of seafood.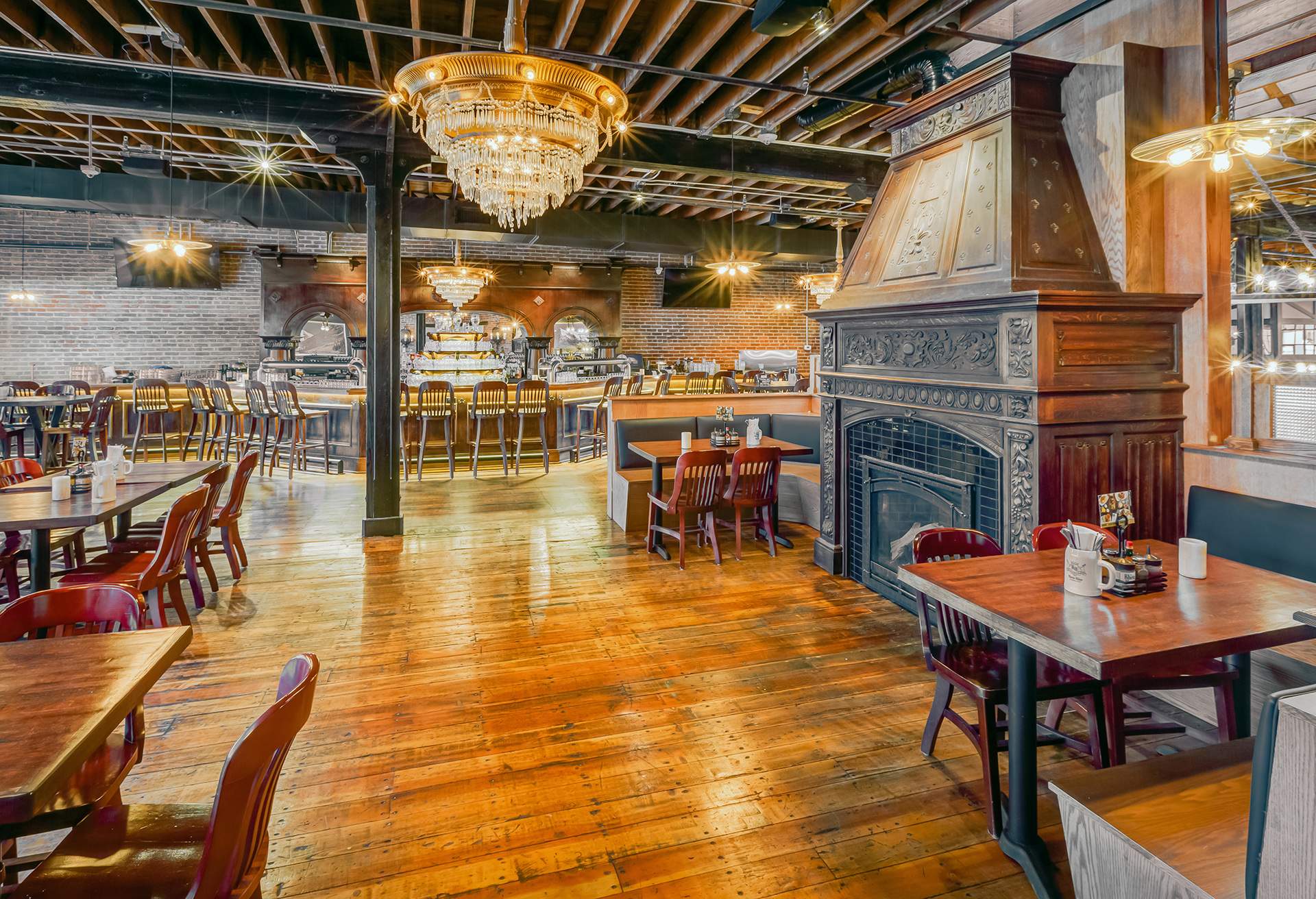 This Denver beer hall is a bit bigger than a typical cozy restaurant, but it still has an intimate feel thanks to plenty of candles, wood-clad walls, and multiple large mahogany fireplaces. The German menu is a festival of edible hugs. There's a giant house-made pretzel served with cheddar fondue, a variety of bratwursts, chicken schnitzel sliders, roast chicken, and a smorgasbord featuring three kinds of meat (roasted pork knuckle, pork schnitzel, and kielbasa) and three types of carbs (mashed potatoes, spaetzle, and parsnips). Drinks will also keep you warm. In addition to an excellent beer menu, you'll also find more than a half dozen schnapps. 
Distinct seating areas make this spacious one-time Nashville theater feel comfortable and intimate. The clubby lobby sports a curved staircase, exposed brick, and cushy velvet booths. The upstairs lounge is dark-hued and built for relaxation with its pillow-strewn and softly tufted banquette seating. The menu offers many comfort-food dishes that will make you want to stay awhile. There's pasta in arrabbiata tomato sauce with mozzarella and Italian sausage, pan-roasted chicken with mushrooms and cream sauce, and short rib served with buttermilk whipped potatoes. For dessert, don't miss the stuffed skillet cookie — a large chocolate chip and pretzel cookie filled with dulce de leche and topped with ice cream and hot fudge sauce.
Votive-dotted tables, an intimate townhouse atmosphere, and a wood-burning fireplace make this one of New York City's coziest places to come in from the cold. The restaurant and bar are situated in a building that dates back to the 1800s, and the decor is a mix of restored and new design elements heavy on organic materials like stone, copper, and brick. The exterior is painted bright pink — a giveaway of the charm within. The American menu is stacked with crowd-pleasers such as shrimp tacos, baked clams, ravioli, and a burger. Don't overlook the fried potatoes — order the garlic fries or Tiny's tater tots … or both.