2020 means looking differently at your own backyard. This is a year of road trips over international flights, of sidewalk happy hours over crowded dining rooms. For diners, the year's events have brought an awareness of how special, and how fragile, the small businesses that occupy neighborhood corners really are. And restaurants have shown they have the power and drive to affect real change in their communities by speaking up, providing resources, and leading by example.
Owning a restaurant has always been a path toward community engagement for Nigel Jones, the chef and owner of Oakland, California's Kingston 11, named for the Jamaican zip code where he grew up. 
Reservations for Kingston 11:
"I'm not interested in being a celebrity chef or writing a cookbook," Jones explains. "My focus has always been to try and make sure to represent my community."  
He sees Kingston 11 as a space of inclusion — for people of color, for families, and for the elderly. The restaurant's theme is "One Love," a Bob Marley-inspired phrase painted on the walls of the dining room among a gallery depicting dreadlocked citizens from diverse cultures. That image reflects Jones' global vision of the world, and Kingston 11's potential to serve that vision. Serving nourishing food to the people in his neighborhood builds everyone up as much as creating a safe and welcoming space for all does. 
Kingston 11 is one of many restaurants that has become a cultural necessity in its neighborhood. In this moment, chefs and restaurateurs like Jones have taken the initiative to give back to their communities in countless ways, even as their own businesses struggle to survive. Restaurants have proven this year that they are not just places to get food, but also vital community spaces that provide connection. Here's how restaurants are serving as invaluable spaces in their neighborhoods, showing time and again why these businesses are critical to sustain.
Feeding the hungry
This spring, restaurants were forced to pivot quickly due to the coronavirus pandemic, adapting their operations to continue to serve diners at home. Some, though, dedicated their entire kitchens to feeding vulnerable populations during the crisis. 
Take Nightbird, the boutique San Francisco restaurant led by chef Kim Alter. After closing down due to shutdown orders, Alter signed on with Frontline Foods, a hospitality worker-led organization collecting donations and connecting restaurants with hospitals in need. In partnership with Frontline Foods, she and her team began cooking hundreds of meals a week for medical workers — an arrangement that allowed her to both do good and keep a few employees working.
Reservations for Nightbird:
With schools and senior centers closed, local governments have struggled to provide meals to people who need them. Chefs have stepped in to help. Mary Sue Milliken, chef and owner of Los Angeles Mexican restaurants Border Grill and Socalo, rehired about 10 of her employees and began serving 3,000 meals a week out of a single kitchen to hungry students and seniors, paid for by the local government. She's exploring ways to feed LA county clinicians on the front lines and the city's growing homeless population, too. 
Reservations for Border Grill:
Reservations for Socalo:
Other chefs have focused on helping their peers in the hospitality industry. The LEE Initiative, an organization dedicated to fostering equality and diversity in the industry founded by acclaimed Louisville chef and restaurateur Edward Lee and industry veteran Lindsey Ofcacek, has helped restaurants convert into relief centers as part of the Restaurant Workers Relief Program. (Partners include award-winning chef Jessica Koslow and her all-day Los Angeles cafe Sqirl, as well as James Beard award winner Edouardo Jordan and his Seattle hotspot Salare.) The centers offer food and supplies, while teams pack hundreds of meals for out-of-work restaurant employees to take home.
Reservations for Salare: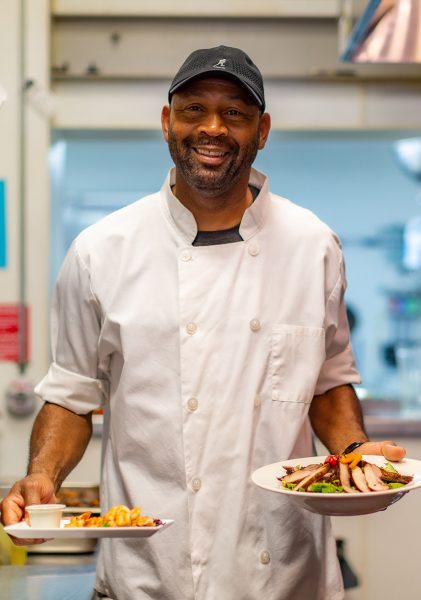 Nigel Jones | Credit: Bethanie HinesStanding for justice for all
Restaurants also sat at the center of public protests against racism and police brutality in the wake of George Floyd's murder. Many operators and teams stepped up to express their support for protestors, even following destruction to their buildings. 
"I'm in full support, in total solidarity, with the protesters. We need change, period," chef Josef Centeno told The New York Times after protests hit his Los Angeles restaurants Bar Amá and Bäco Mercat. He encouraged all well-wishers to donate to organizations such as Black Lives Matter and The Bail Project.
Reservations for Bar Amá:
Reservations for Bäco Mercat:
Other restaurateurs whose restaurants were impacted had similar reactions, with Tarik Fallous of New York's Au Za'atar telling Eater NY, "All this can be replaced. However, nothing can undo or fix what happened in Minneapolis." Dan Simons of Founding Farmers in Washington D.C. took to Twitter to support the protests despite the damage his restaurant sustained.
Reservations for Au Za'atar:
Reservations for Founding Farmers:
Kingston 11's location on Oakland's Telegraph Avenue put the restaurant at the nexus of protests, but there was no damage to the space — a blessing Jones attributes to the restaurant's enduring role in the neighborhood. 
"You gain credibility when you show up in the community every day," Jones says. "These are people who live in our community, who are trying to make ends meet. The protestors are our regular customers; they're strategizing, doing their thing, raising families. What can we do to push the needle forward?" 
Incorporating inclusion into the front- and back-of-house
For many restaurants, the ethos of welcome and uplift extends to the core of their business practices. Jones hires students, artists, dancers, writers, and people coming out of the criminal justice system to work at Kingston 11, not just those with hospitality experience. They come in as cooks, bussers, or dishwashers and work their way up, he says. 
Hiring outside the food and beverage pipeline is a key way that operators expand opportunities and nurture inclusive environments. At Dallas Vietnamese restaurant Sandwich Hag, run by chef-owner Reyna Duong, 30 to 40 percent of the part-time workforce comprises people with different abilities, including Down syndrome.
"We want to create hope for young children with Down syndrome, to see that Sang is working here," Duong told Bon Appétit. (Duong's brother Sang has Down syndrome.)
For Jones, providing job opportunities and offering professional development similarly sets an example of empowerment and leadership for his neighborhood. 
"That is one of the motivating factors as people of color who own a restaurant: a family can come in there with young kids and see a multicultural level of people eating together," he says. 
Jones is keenly aware of the impact his and Kingston 11's presence has on the community, beyond serving food. "They see that they, too, can get a job there or even own their own restaurant. That's powerful for our community."