Just when you think Chicago has enough Italian restaurants, along comes soulful Italian Monteverde, slinging some of the best handmade pastas the city's seen in years, and you're suddenly asking yourself how many portions per week of ragu alla napoletana is too many (answer: as many as your bank account will permit).
The creative force behind this four-month-old temple to pasta in Chicago's West Loop is Spiaggia vet and Top Chef season nine runner-up chef Sarah Grueneberg. She caught up with OpenTable on transitioning from executive chef to her first solo venture, the beauty of pasta made to order, and the importance of creating a strong culture at work.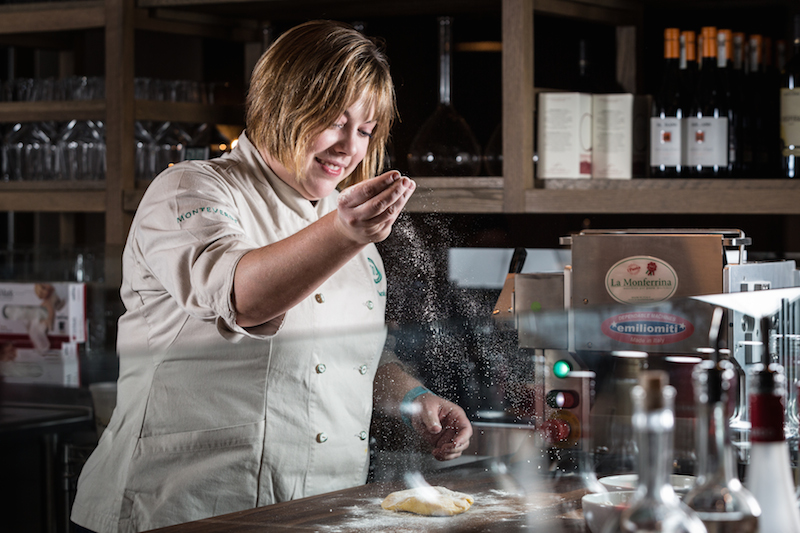 A native of Houston, Texas, Grueneberg has a fascination with food that started early. Because her mom traveled a lot for work, she'd spend her free time cooking chicken fried steak and making pickles with her grandmother or out fishing with her uncle before frying up the day's catch for dinner. She was about 13 when she decided she wanted to be a chef. "For me, it was always about my family and bringing people together around the table over food, and also realizing that I could actually be a chef," Grueneberg says. "I realized around that time that not everyone else liked to cook."
She finished culinary school in 2001, landing her first job as garde manger at the Houston outpost of beloved New Orleans restaurant Brennan's. There she cut her teeth on French-Creole classics like oyster stew and shrimp remoulade under then-chef Chris Shepherd (who now owns Houston contemporary American hotspot Underbelly). "Chris really took me under his wing; he had a huge impact on me," she says. Within four years, she'd worked her way up to becoming the restaurant's youngest (and first) female sous chef at age 22 before deciding it was time for a change.
Taking flight…
She took a job in Chicago as a line cook at Tony Mantuano's fine-dining Italian institution Spiaggia. But the move from the intensely rich sauces of Texas Creole to the minimalist handling of seasonal and regional Italian ingredients, coupled with her own preconceived notions of Italian cuisine as the red sauce- and mozzarella-laden dishes of her childhood, proved challenging. "I thought I knew what Italian food was, but I really had no idea," she admits. "It was a real struggle for me at first — the notion of finishing a simple dish with a bit of olive oil and lemon."
After briefly considering leaving it all to become a flight attendant, Grueneberg let herself fall in love with Italian cuisine — the peppery, fruity flavor of great olive oil, the beauty of al dente pasta made to order, an affair cultivated by annual trips to Italy with the Spiaggia team. It was also during that time that she met longtime friend and future business partner, Meg Sahs.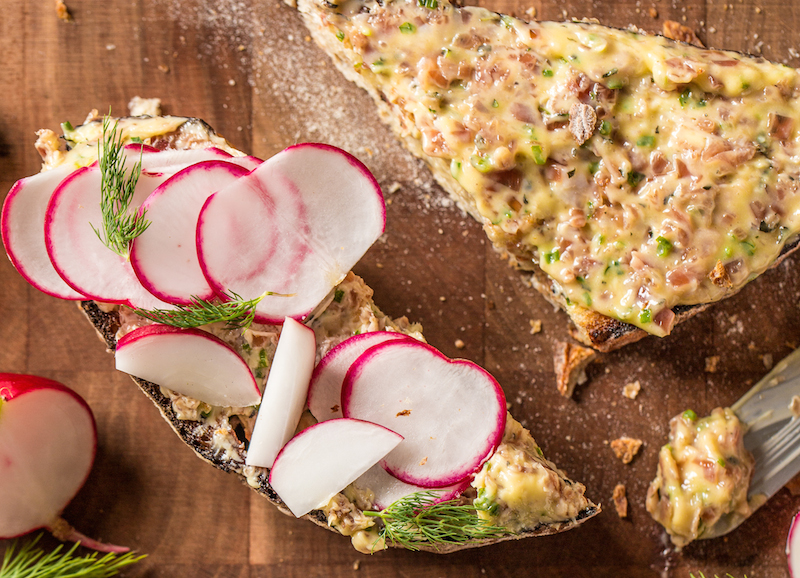 By 2010, she was named Spiaggia's executive chef. But the confidence she gained competing on Top Chef, on which she reached the finals, and increased conversations with Sahs about opening a restaurant together fueled a growing desire to strike out on her own, which she did in 2013. "Meg and I were having dinner together in California," she recalls. "It was like a movie moment. I looked at her, she looked at me, and we both said, 'Let's do this!' She started a writing business plan right away for a little pasta-centric concept."
Asking Grueneberg how she and Sahs came up with the name Monteverde elicits a long, nostalgic laugh followed by an admission that some ask if it's a Costa Rican restaurant (it shares the name of a mountainous town there). The name is the Italian translation of Grueneberg, or "green mountain", in German. "The first time I went to Italy, I was in the kitchen with my friend (balsamic vinegar producer) Andrea Bezzecchi. He said, 'Now in Italy you will be known as Sarah Monteverde,'" she says. "We thought of so many names, but in the end, it had to be Monteverde. Plus, you can take monte or verde lots of other places."
Pasta as theater
Monteverde's menu is a tantalizing amalgamation of soulful Italian dishes anchored by handmade fresh and dried pastas, plus a handful of dishes that showcase early influences on Grueneberg's culinary identity. The sleek, 95-seat space is anchored by a raised workstation behind the bar that quite literally elevates pasta making to theater. Perched at the L-shaped butcher-block bar, you can watch as a veritable army of pasta makers hand-roll ribbons of pappardelle, thumb oricchiette, and sheet, fill, and cut yards of ravioli.
These pastas shine in classic (tipica) dishes, such as pappardelle with meaty beef and lamb ragu and pecorino and nontraditional (atipica) dishes like cannelloni saltimbocca — pasta roulades filled with lamb, prosciutto and sage garnished with fried sage leaves and cauliflower — or cacio whey pepe, with tangy, cheesy ricotta whey standing in for pasta water.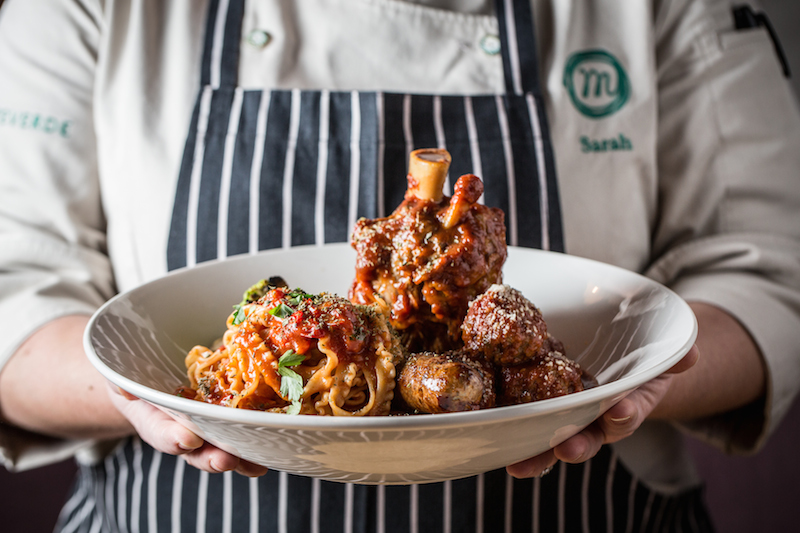 In simple tortellini in brodo, mortadella-stuffed pasta swims in rich, long-simmered housemade chicken stock. A refined yet invitingly shareable small plate of Broadbent country ham and mozzarella with local hydroponic tomatoes oozes with Emilia Romagna influence. In an ode to Grueneberg's grandma, comforting stuffed cabbage — filled with softened cabbage hearts, thyme, Parmesan, egg and Saltines — rests atop earthy porcini bolognese and creamy polenta.
In another homage, this time to the Italian Sunday supper, five-day ragu alla napoletana features fusilli tossed in a pork bone and roasted tomato sauce topped with a hulking red wine-brined, tomato-braised pork shank, housemade sausage, and fat pork and soppressata meatballs. "I wanted to showcase food the way it is classically, but also push the boundaries of an American who studied pasta for years with worldly ingredients and techniques," Grueneberg says.
Hospitality extends to employees, too.
Being first-time restaurant owners is hard, particularly in a changing industry that's seeing a growing gap between brand-new and experienced cooks, as more experienced cooks get promoted to the executive level and more big-name chefs grow multi-unit, fine-dining empires. "My stresses here are much different than at Spiaggia," she reveals. "Now running my own restaurant, I realize that I am the leader. I try to push people to be their best but also reward them and be that mentor that Chris Shepherd was for me."
That's why creating a supportive, fun culture is a big deal to Sahs and Grueneberg. They host staff meals before service and offer shift beers at the end of each night. "When you work in the hospitality industry, where people come to dine every day, you want to come work in a place you feel welcome," she says. "The restaurant industry can be so high-stress it's easy to forget that." A few minutes later, she yelled: "Someone check that shepherd's pie — it's going crazy!" She'd made it for staff meal that day.
Grueneberg is often asked if she's content now that her long-awaited restaurant is open and thriving, but she admits that reflection is hard when she's in the thick of it daily. "Yeah, I am happy, but it's really effing hard," she says. "We took a lot of risks … and I reflect on things that could have gone bad. More than that I think about where we're going and where to be pushing next. But I'm happy we're serving some of the most delicious pasta in Chicago." So are we.
Maggie Hennessy is a freelance food + drink writer and chef based in Chicago. Follow her on Twitter @edible_words and read her other published works at maggiehennessy.com.
Photo credit: Galdones Photography.