Neckties, barbecue tools, and Hallmark card platitudes have become de rigueur around about the third Sunday in June. Most dads, like most moms, will agree that any recognition of their parental dedication is more than welcome. Nevertheless, the true essence of Father's Day is to simply celebrate the contributions of fathers, and father figures, to their children's lives. With some fathers trading briefcases for diaper bags, a modern dad struggles as much as a mother to maintain a healthy work/life balance. Enter the chef and/or chef/restaurateur; much like parenting, this is a daily round-the-clock commitment. When the buck stops with you, there are no days off. Working evenings, weekends, and holidays renders family time even more precious. Much like balancing flavors, harmonizing work life and family life can be delectable and rewarding. We rounded up three chef fathers to talk about Father's Day and what being a dad means to them.
Martin Rios, executive chef + proprietor, Restaurant Martin, Santa Fe, New Mexico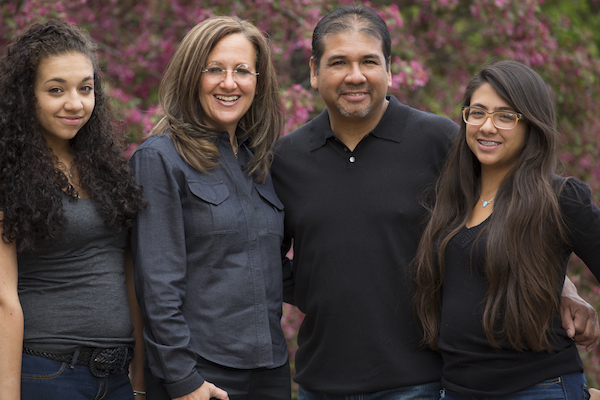 Martin Rios of Restaurant Martin in Santa Fe seems to have struck a copacetic balance between work and family. A James Beard nominee for Best Chef in the Southwest, Rios and his wife, Jennifer, who is also his business partner, are doing more than preparing outstanding progressive American cuisine; they are raising two teenage daughters. Emma and Annaliese, 17 and 14 respectively, have spent many an hour back-of-the-house with their parents. Does Rios see them following in his footsteps? "No, I am not encouraging them to follow in my footsteps. If this is the path they choose, I will, of course, support them, but whatever they choose to do is what I will encourage. They do help in the kitchen at home and at work, but we are hardly at home since we are owned by a restaurant!"
With culinary arts taking center stage in this family, the proverbial apple might not have fallen far from the tree. Rios, who is also his own pastry chef, is proud of his oldest daughter Emma's baking prowess. "Emma, has become an inspired baker and always has an eye on a beautiful presentation," explains Rios. Conversely, Rios' younger daughter, Anneliese "has become as close to a vegan as she can get!"
How is the Rios family going to celebrate Father's Day? "By working! Our restaurant is always open on holidays and Father's Day is no exception. We will work and then eat together as a family at the restaurant."
Michael Schwartz, chef + founder, Michael's Genuine Food & Drink, Miami, Florida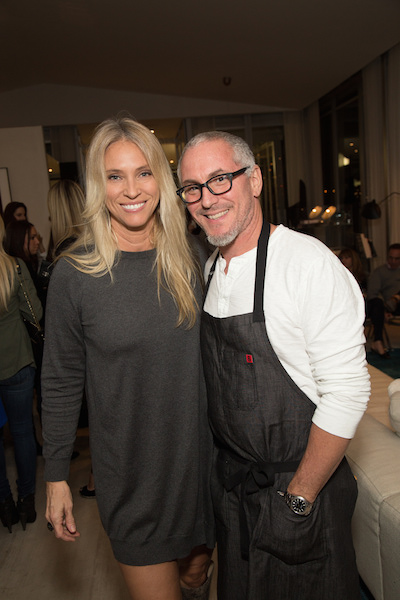 James Beard Award-winning chef/restaurateur Michael Schwartz of Miami's Genuine Hospitality Group, which includes Schwartz's flagship, Michael's Genuine Food & Drink, is the father of "the three best kids on earth; Harry is 12, Lulu is 15, and Ella, my eldest is 18." Schwartz hails from a family where neither parent did any cooking. "Dad did encourage me to get that first restaurant job. I started out as a busser, and the kitchen lured me in pretty quickly. Today, Schwartz's children are intricately involved in everything he does, both at home and in his career. Ella and Harry have namesake eateries: ella, a casual pop-up cafe serving breakfast and lunch in Palm Court, in Miami's Design District, and Harry's Pizzeria, also in the Design District. Lulu might not have a restaurant named after her, but she does have bottles of wine. Lua Rossa is a California red that is blended annually with Jim Clendenen of Au Bon Climat winery in Santa Barbara. Lulu is not only the inspiration, but the designer of the label.
How is the Schwartz family going to celebrate Father's Day? "This year my father and sister are flying down to Miami. It's been too long since the three of us have spent Father's Day together. When I cook, I spend most of the time in the kitchen instead of at the table. So, we're going out this year to one of my dad's favorite spots in Miami, Michael's Genuine Food and Drink. This way, I get to spend the holiday with my restaurant family, too."
Andrew Zimmerman, executive chef, Sepia, Chicago, Illinois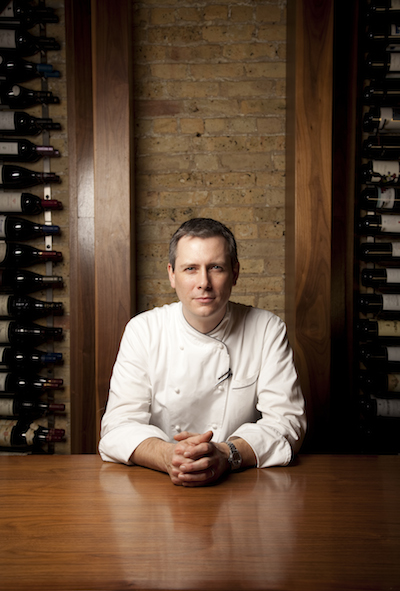 Another James Beard-nominated chef, Andrew Zimmerman of Chicago's Sepia, is relatively new to fatherhood. With two children under the age of five, his work-life balancing act is more of a juggling act. His own father introduced him "to a wide range of cuisines from Japanese to Indian to Thai to classic Jewish deli to a perfect slice of pizza from Brooklyn." Zimmerman and his wife, Lindsey, are trying to encourage their offspring to eat like they do. Right now their favorites are "hot cakes or crepes with blueberries, quesadillas, and green beans with butter. They'll come around, eventually." While still working on helping them master skills like potty training, Zimmerman is ambiguous about seeing his children follow in his footsteps. "We'll see if it is something that they are interested in and go from there. I hope they are smarter than that, but you never know. They do some very basic stuff with me now. I need to train them to wash dishes, really."
As for the Zimmerman family, how are they going to celebrate Father's Day? "I haven't been a father for that long, so we haven't established any special traditions yet. I imagine I will be cooking for my family, including my father-in-law. We enjoy hanging around the house with a cocktail and many tasty things to munch on."
View specials and offers for Father's Day on OpenTable, and make a reservation to feast with your favorite father on June 21st!
Freelance writer Betsy Davidson is the editor-at-large of Edible Long Island magazine and a regular contributor to Edible East End magazine.