When temperatures start to dip and the days stay darker longer, there is nothing we crave more than grilled cheese sandwiches. They're a welcome throwback to the days when mom would griddle one for us as a snack on chilly school day afternoons. But the sandwiches of today go way beyond the two slices of Wonderbread and preternaturally orange American cheese of yesteryear. Chefs are transforming the humble sandwich by using fantastic fromage and A+ add-ons. Here are 11 epic grilled cheese sandwiches.
Ripple, Washington, D.C.
Any sandwich called the Quack Attack is automatically cool in our book. This beyond epic concoction is rich with Cambozola, an indulgent combination of French soft-ripened triple cream cheese, and Gorgonzola. As if that wasn't enough for quack addicts, there's also duck prosciutto and a sunny side up duck egg. Make a reservation at Ripple.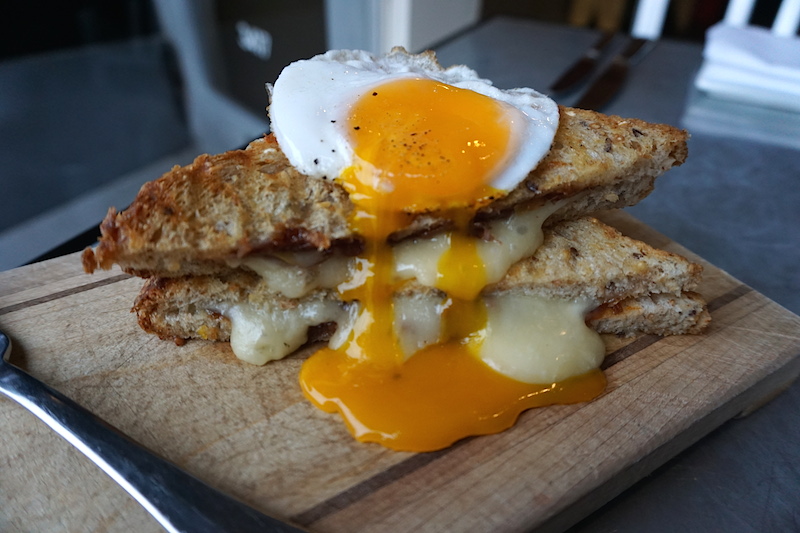 Murray's Cheese, New York, New York
There's only one word to describe this grilled cheese: amazeballs. Yes, that's really a word. Look it up. The Spaniard oozes with Idiazabal, a smoky, nutty sheep milk cheese from Spain (duh!), which is complemented by Serrano ham, spicy chorizo, roasted red peppers, and romesco sauce. Make a reservation at Murray's Cheese.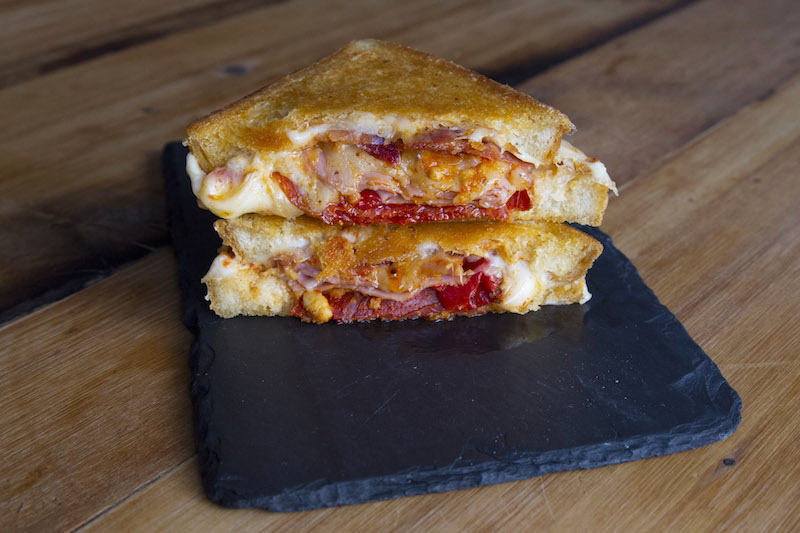 Big City Tavern, Fort Lauderdale, Florida
Better bring your appetite if you want to take down this bad boy. A shroud of melted Provolone is draped over a mound of shaved ribeye perked up with zingy horseradish mayo and sweet caramelized onions. A bib isn't required, but it is encouraged. Make a reservation at Big City Tavern.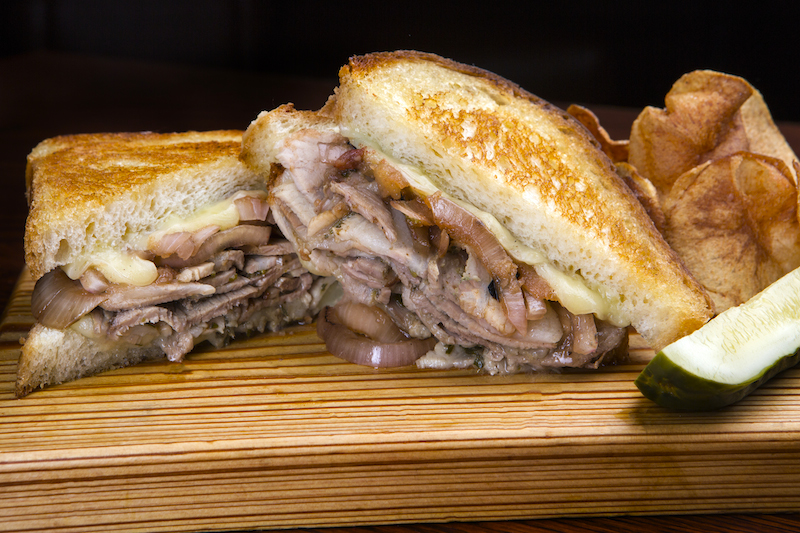 Buddy V's, Las Vegas, Nevada
You can eat this Italian grilled cheese with a fork and knife. Not that we're recommending you do that; we're all about getting our hands dirty. Cake Boss Buddy Valastro's sandwich features fried mozzarella and sits in a pool of tomato ragu and Genovese pesto that's perfect for dipping. Make a reservation at Buddy V's.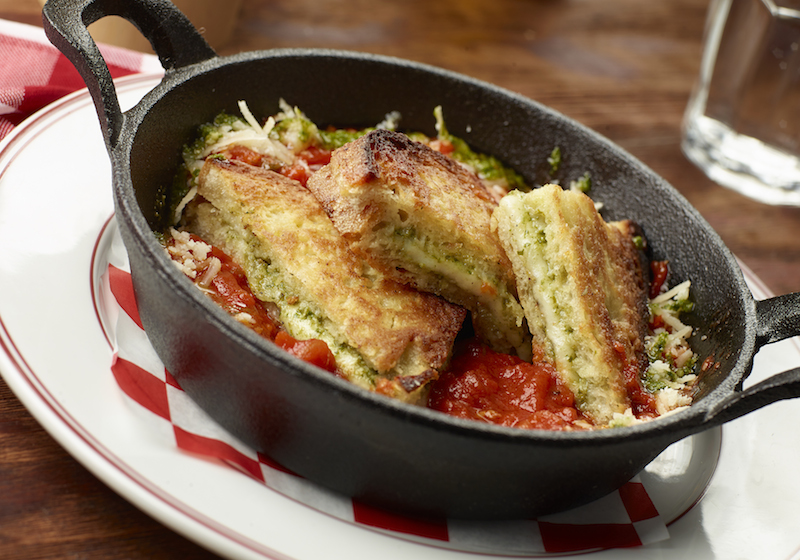 Delicatessen, New York, New York
Chef Michael Ferraro didn't want to simply use a few hole-y slices of Swiss for his Reuben riffing grilled cheese, so he substituted in four cheese mac 'n' cheese. Yes, you read that correctly. Of course, there's also braised corned beef, sauerkraut, and pickles. It might not be what your zeyde (grandfather) grew up eating, but it's a sandwich worthy of a new generation of deli-goers. Make a reservation at Delicatessen.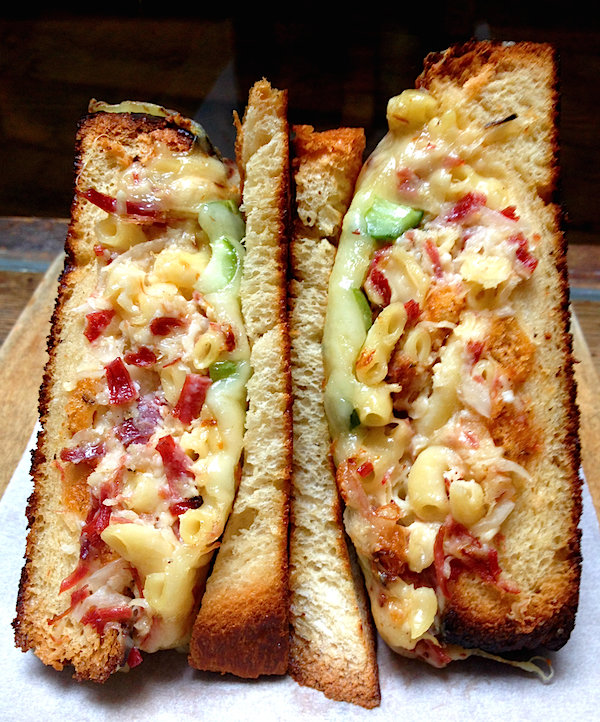 Brick & Mortar Kitchen, Richmond, Texas
Get a little bit of the South in your mouth. Plump with pimento cheese, this sandwich epitomizes everything we love about comfort food from below the Mason-Dixon line. And, it comes with a bowl of tomato basil soup, which is a million times better than anything you ever got out of a Campbell's can. Make a reservation at Brick & Mortar Kitchen.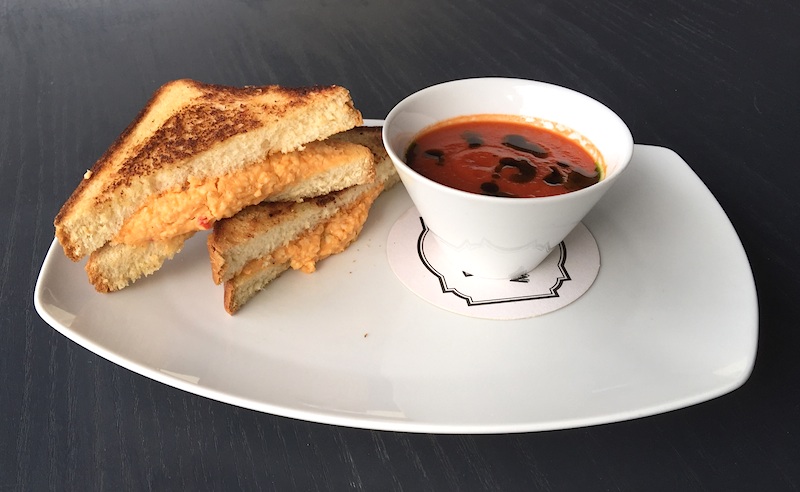 Bin 14, Hoboken, New Jersey
Chef Anthony Pino doesn't go the conventional route for his grilled cheese. Served on Jewish rye, it's packed with aged Provolone, broccoli rabe, and shredded rabbit. Maybe you should skip the part when you tell your kid what happened to Peter Cottontail if they decide to order it. Make a reservation at Bin 14.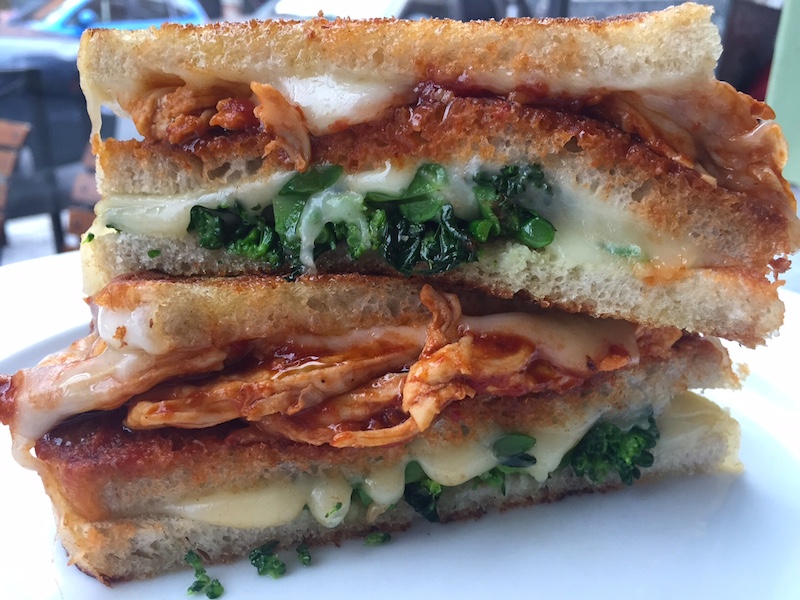 Gather Restaurant, Berkeley, California
Here's one for vegetarian charcuterie fans. No, that's not an oxymoron. Mushroom pâté complements the slightly tangy, creamy Wagon Wheel cheese, caramelized onions, and Dijon mustard served between crunchy slices of seared sourdough bâtard. If your dining philosophy is more carnivorous, you can add bacon. Make a reservation at Gather Restaurant.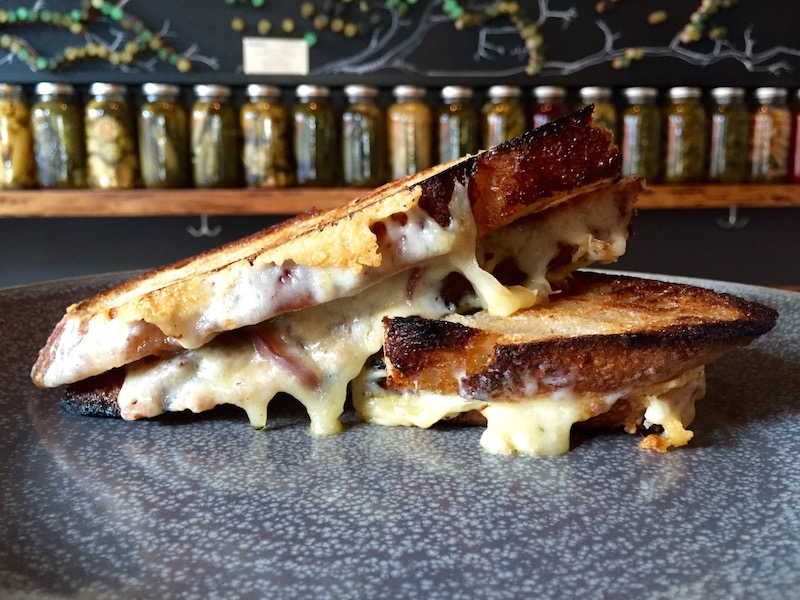 Urban Solace, San Diego, California
One cheese is good, but four are better. Mozzarella, white cheddar, Fontina, and Cambozola unite in this gooey goody amped up with fresh basil and rounds of juicy tomato. It arrives with a steaming bowl of creamy tomato-fennel soup well suited for dunking. Make a reservation at Urban Solace.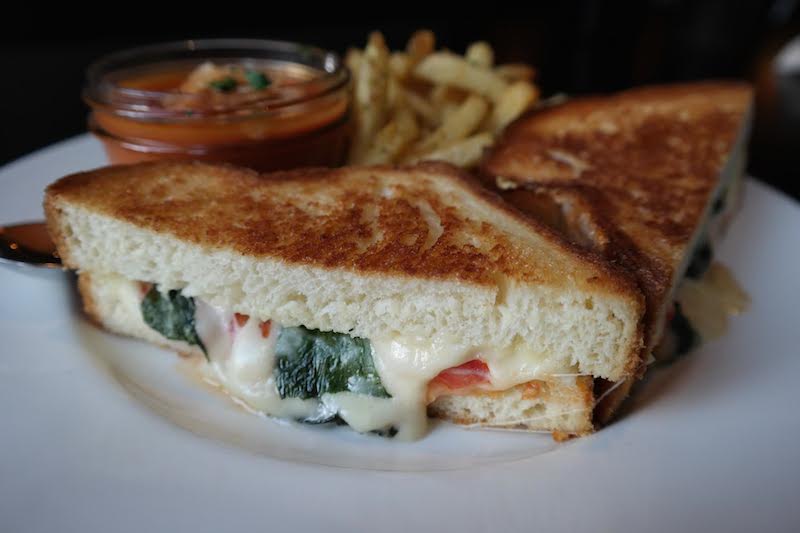 Peter's Clam Bar & Seafood Restaurant, Island Park, New York
And the award for the most decadent grilled cheese goes to this lobster packed version. Six ounces of clawboys are blanketed in Gruyere and bookended by buttery challah slices. Oh, yeah, and there's bacon involved, because bacon makes everything better. Make a reservation at Peter's Clam Bar & Seafood Restaurant.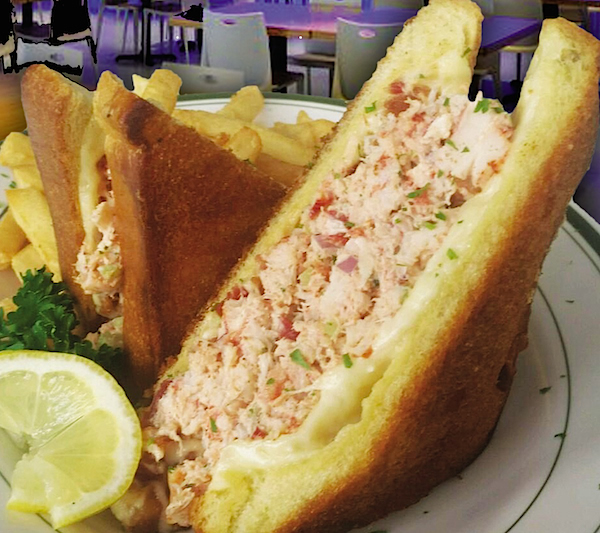 Station 4, Washington, D.C.
This sando is guaranteed stick to your stomach. A layer of tangy, funky goat cheese and a hearty brushstroke of sweet onion marmalade help cut through the short ribs at the core of this calories-be-damned 'wich. Since you've already abandoned your diet at this point, you shouldn't feel bad about also enjoying the golden passel of fries accompanying it. Make a reservation at Station 4.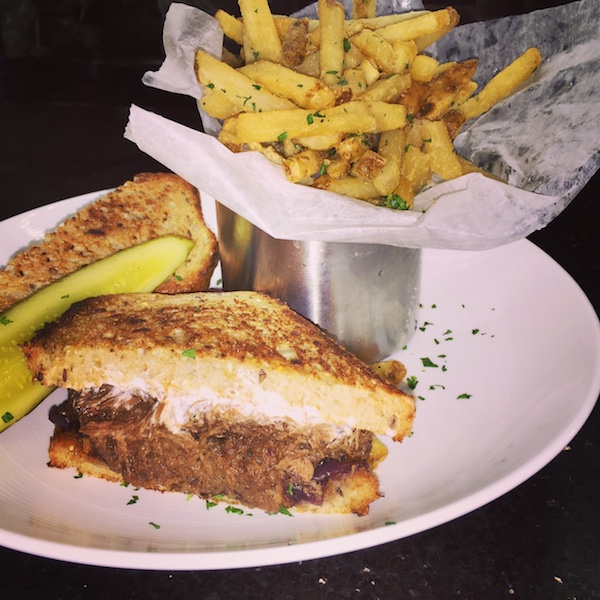 Are you embracing the delicious comfort of epic grilled cheese sandwiches this month? Let us know here or over on Facebook, G+, Instagram, Pinterest, or Twitter.
Nevin Martell is a Washington, D.C.-based food and travel writer and the author of several books, including Freak Show Without A Tent: Swimming with Piranhas, Getting Stoned in Fiji and Other Family Vacations. Find him on Twitter @nevinmartell.