"It's a great time to come back to Times Square." That's the declaration of Jeffrey Banks, CEO of Alicart Restaurant Group, which owns Carmine's — the top-grossing independent restaurant in the U.S. and a beloved Italian destination known for its overflowing portions of red-sauce favorites. After an 18-month closure due to COVID, Carmine's is throwing open its doors on September 14.
"It's an exciting time with Broadway and Carmine's reopening," Banks says. "It's another step forward in this crazy couple of years we've all had."
Though many neighborhoods of New York City have sprung back from COVID closures, Times Square has taken a little longer to revive. In the early days of the pandemic, foot traffic in Times Square dropped ten-fold from an astounding 331,062 pedestrians in February 2020 to 33,320 in April 2020. Businesses took a huge hit, and many closed permanently.
But gone are the days of the almost-eerily empty streets around the five-block vicinity of 7th Avenue in the heart of New York City. Things are starting to look up as daily visitors to Times Square are back up to 211,931 in July 2021 — a 208 percent increase from the same time one year ago, according to the Times Square Alliance, a nonprofit dedicated to improving and promoting Times Square.
It's official. Times Square is back and better than ever.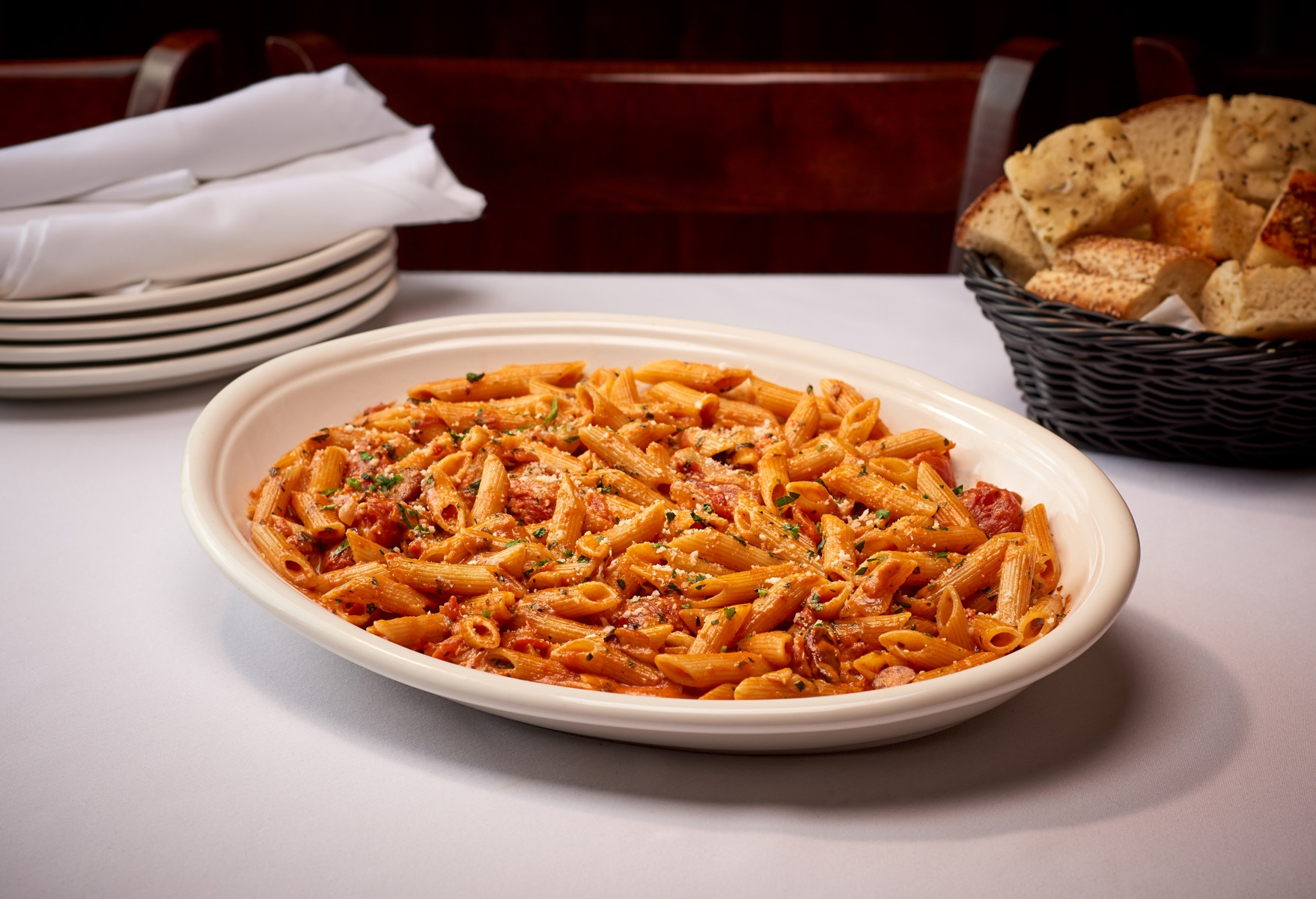 Restaurant reopenings have contributed to revitalizing the bustling neon-lit city center to its peak. Carmine's is soon to be one of them, having seated 3,000 diners on average per day pre-COVID, according to Banks, who is also a board member of Times Square Alliance. The iconic Italian restaurant's Times Square reopening is slated for the same day that acclaimed Broadway shows Hamilton, Wicked, and The Lion King return to theaters. 
"Everyone's owed a party. Everybody had an [occasion] that was not celebrated the way they wanted," Banks says. "That's what Carmine's can help with — made-to-order quality food at a reasonable price in large, abundant portions."
Returning diners will see that nothing has changed at Carmine's. Open in Times Square since 1992, Carmine's serves huge portions of pastas, seafood, 45-ounce porterhouse steaks, and veal — meant to be shared among family and friends. The interior mirrors that of its first location on the Upper West Side, with framed photographs, classy white tablecloths, and chandeliers, channeling quintessential New York character as intended by its late founder, restaurateur Arthur "Artie" Cutler. "[Diners] can expect the same great experience they had pre-COVID," Banks says. "This reopening is re-unlocking the door."
What is new are stringent safety precautions such as vaccine requirements implemented as part of the city's vaccine mandate for indoor dining, ample spacing between tables, sanitized tables, and an upgraded HVAC system. OpenTable has made it easier for diners to verify vaccination status with a partnership with CLEAR, as well as see a rundown of restaurants' safety precautions on their individual profile pages. Plus, Carmine's is adding an outdoor dining area starting October 1.
A lot has been happening in Times Square to get to this moment, courtesy of the Times Square Alliance. There's the return of Taste of Times Square's prix fixe meals at neighborhood restaurants such as Barbetta, Gallaghers Steakhouse, and Havana Central. A 110-foot-tall Ferris wheel popped up from August 25 to September 12 that received a lot of visitors and attention. Live performances have always been a part of Times Square's attraction, with a Broadway Buskers concert series every Friday at 6pm until October 1. But the biggest signifier of Times Square's return is the reopening of Broadway, which saw an all-time high of 14.8 million attendees during the 2018-2019 season, according to The Broadway League.
"Get your tickets to Hamilton that you could never get before, get a reservation at Carmine's that was always tough to score," Banks says. "Times Square was one of the first areas to close and the one of the last areas to open. And this might be the last part of us all moving forward, getting our lives back."