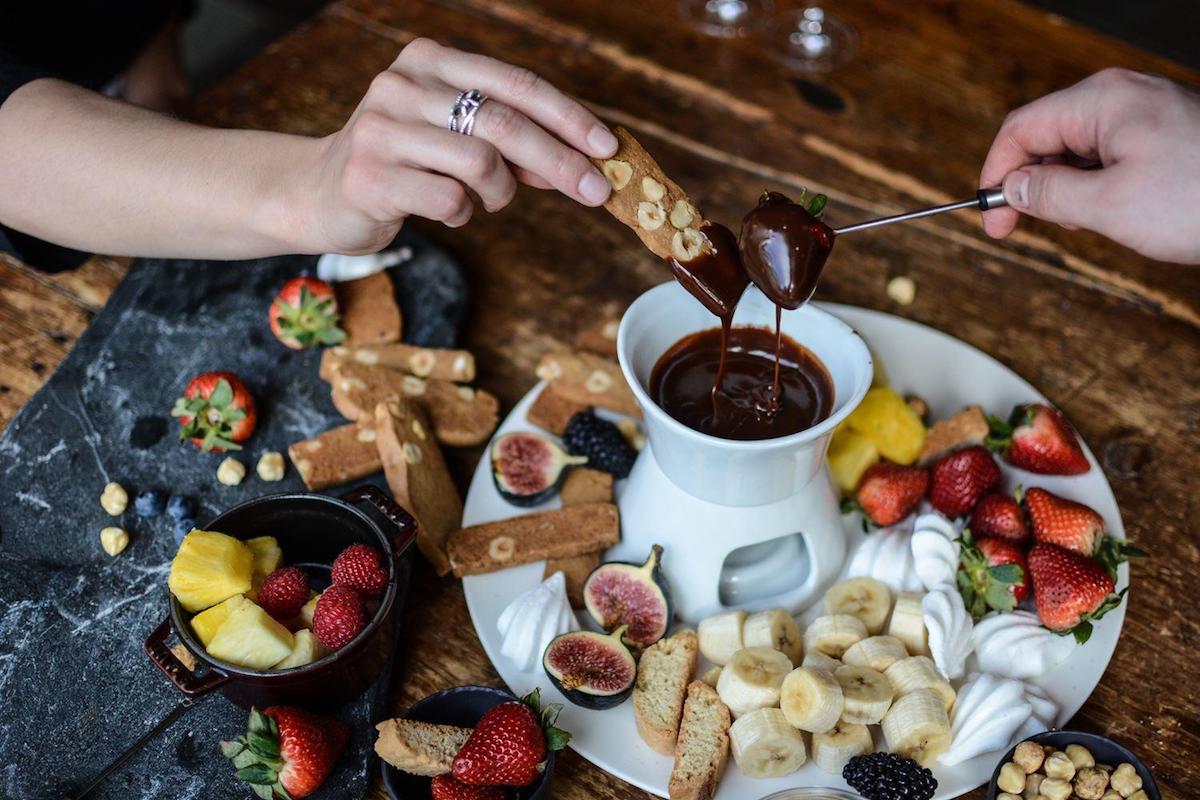 Fondue is the ultimate sharing dish. Debuting in the 18th century in Switzerland, this is a special experience, often enjoyed as part of a romantical celebration. But you don't need to wait for your anniversary; fondue is a fun-loving, fork-twirling dish any day of the week, whether you're banishing the winter blues with your boo or looking for an interactive meal to take the awkward out of a first date. At these top restaurants for fondue, you'll find everything from the classic to those with an Asian influence, and a chocolate version on steroids. Even if you're not near one of these spots, OpenTable can help you find a restaurant to satisfy your craving for romance.
The Chalet and Clubhouse at the Fairmont Golf Course, Whistler, British Columbia
Fondue with a view. The Chalet and Clubhouse is the quintessential ski (and golf!) destination — a cozy spot with a crackling log fire and an alpine-inspired menu, including fondue. Go for the three-course fondue dinner: cheese fondue with vegetables, followed by the broth-based fondue Chinoise served with beef tenderloin, prawns, and salmon and keep that snowball rolling with a rich chocolate fondue for dessert (pictured above and below). Make a reservation at The Chalet and Clubhouse at the Fairmont Golf Course.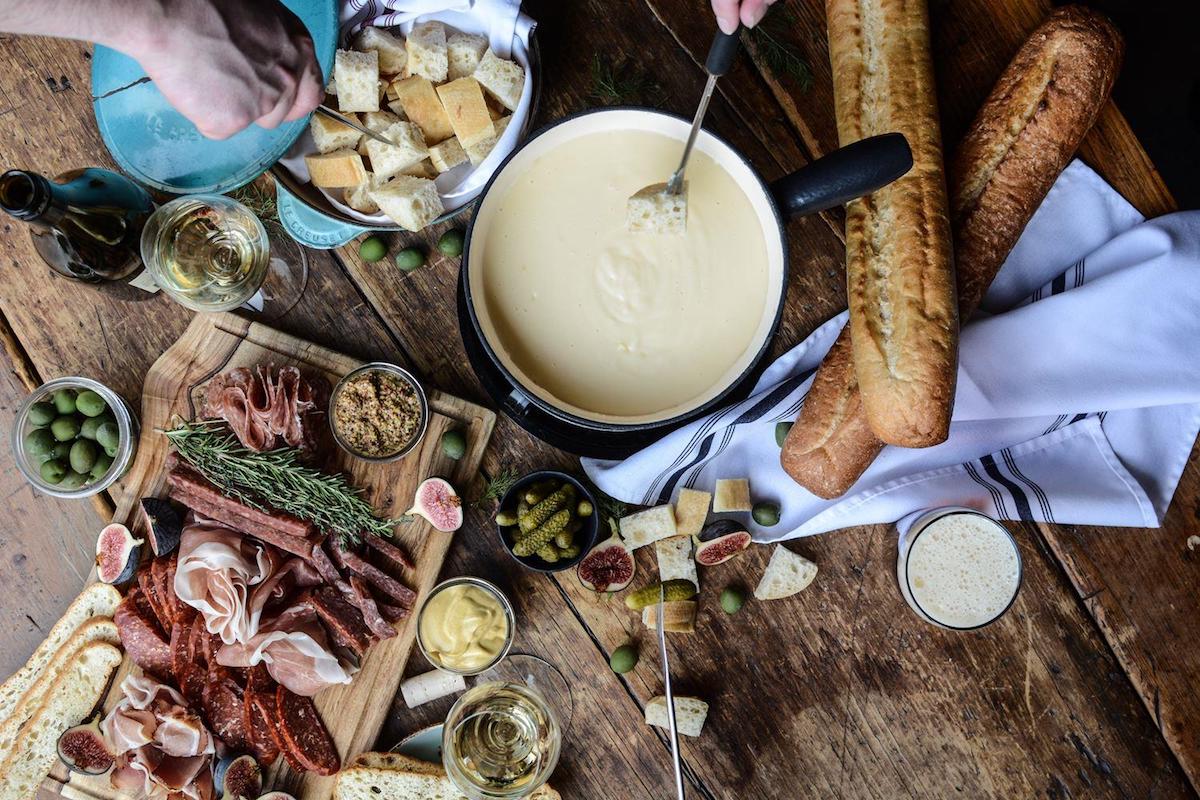 KAIDO, Miami, Florida
Located in Miami's fashionable Design District, this Tokyo-lounge-inspired-restaurant is known for its Uni fondue, a stylish dish and a looker. Expect a warm velvety sauce, thanks to the blend of uni and aged Parmesan as well as herbs and spices. It's accompanied by seafood and vegetables. You can also go fashion-forward and put designs on your own fondue by adding caviar or King crab. Make a reservation at KAIDO.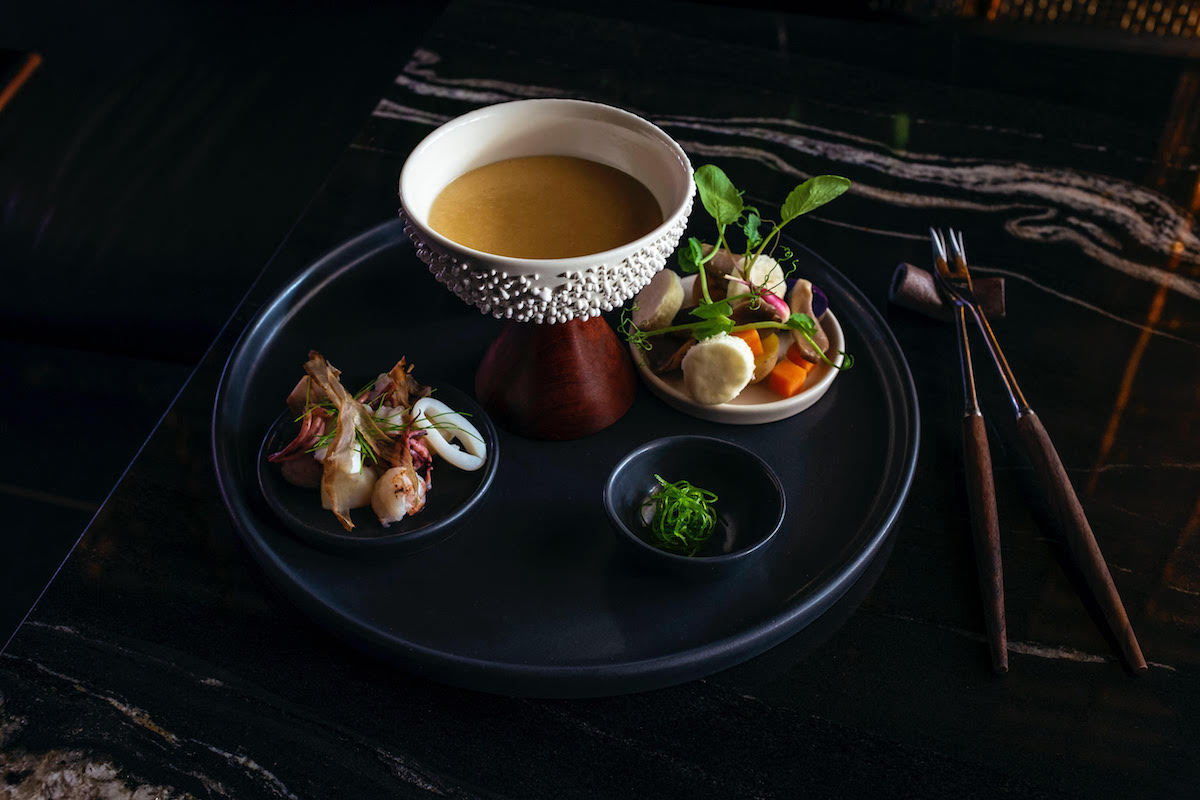 Sugar Factory, New York, New York
The chocolate gold fondue is so elaborate it demands a 48-hours-in-advance request. We're talking gold-coated dark chocolate truffle with dark chocolate melted tableside and served with a platter of gold chocolate nuggets and gold-dusted gummy bears — and more. Also: Dom Pérignon and Hardy Noces d'Or 50 year cognac. Cost: $1,000, serves six. Or, "slum" it with the less-pricey chocolate silver fondue (silver-coated dark chocolate truffle and dessert wine). Available at additional locations, too. Make a reservation at Sugar Factory.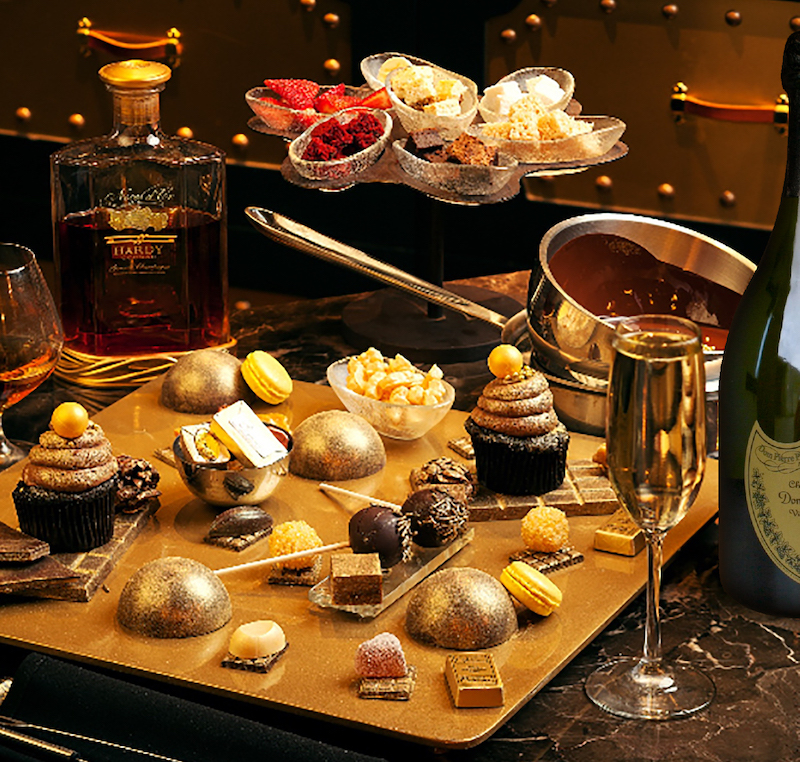 Blue Ribbon, Las Vegas, Nevada
The classic cheese fondue here is a solid pot of gold with melted cheesy goodness (Gruyere, Swiss, Parmesan, and cheddar) and a supporting cast of cheese-clinging characters that include breadsticks, potato skins, fresh green apples, and, that classic fondue favorite sidekick, toasted bread. A good bet in Vegas for a winner.  Make a reservation at Blue Ribbon.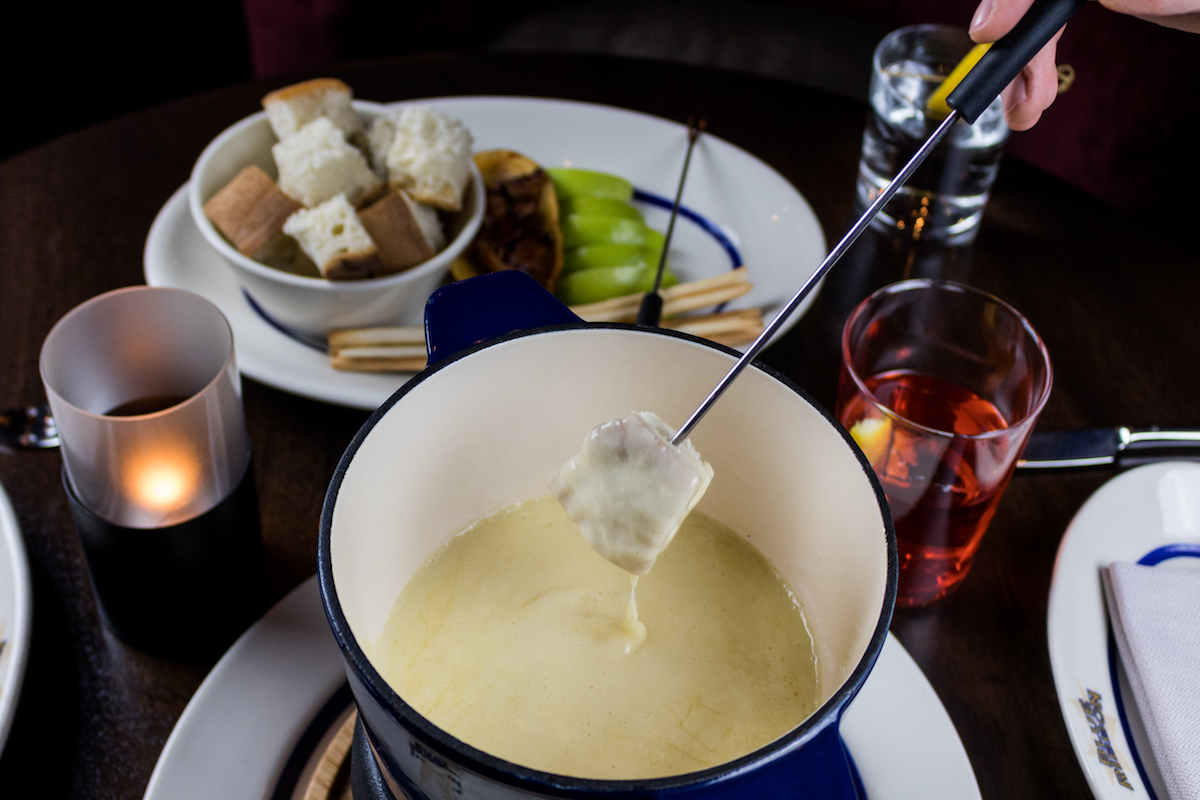 King's Dining & Entertainment-Miami Doral, Doral, Florida
You say tomato, we say tomato fondue, a new take on the classic. The vegetarian tomato bisque fondue served here is all about a warm, creamy tomato fondue served with housemade focaccia, fried mac & cheese, grilled cheese, and housemade mozzarella sticks for dipping into the tomatoey goodness. Grilled cheese and warm tomato bisque? Contemporary comfort food just got an upgrade. Make a reservation at King's Dining & Entertainment-Miami Doral.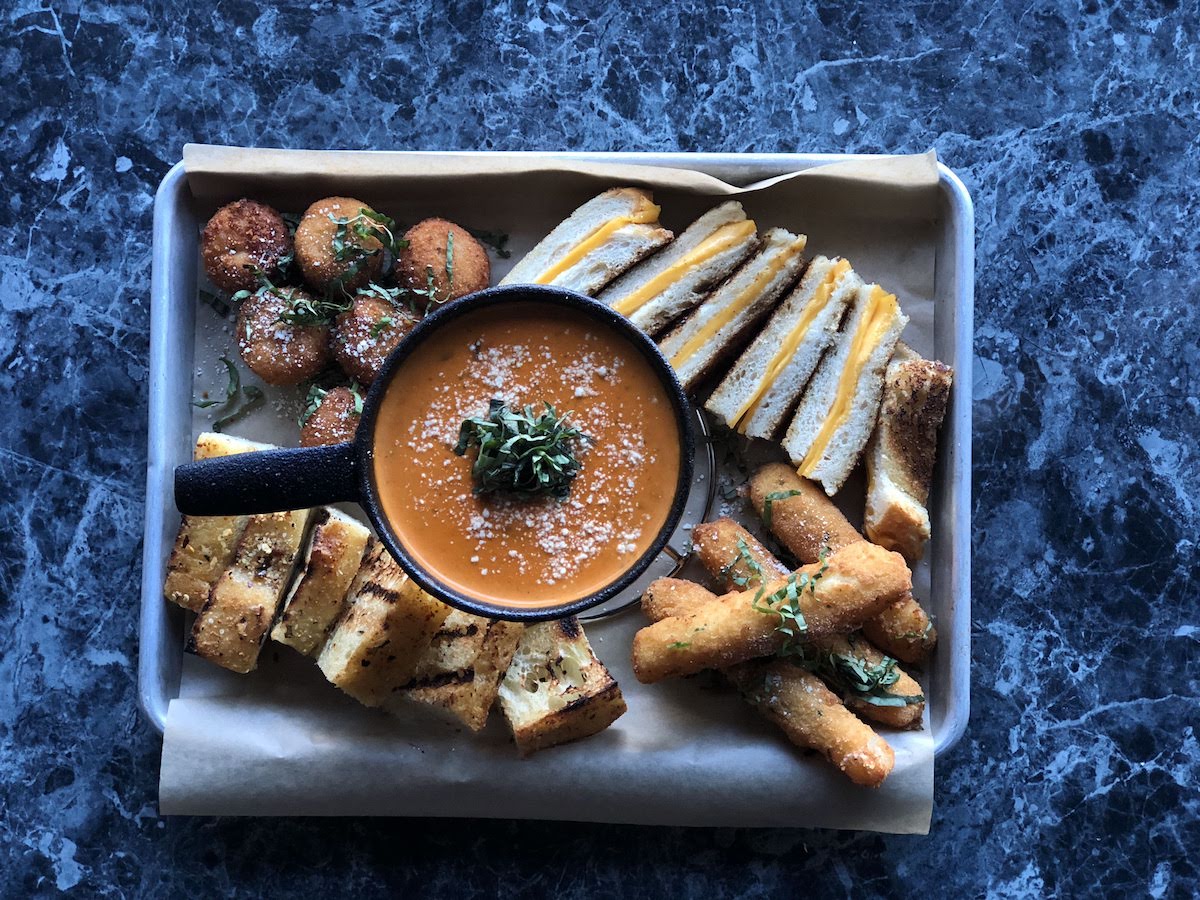 The Woods at Big White Ski Resort, Kelowna, British Columbia  
Celebrated for its outdoor patio — even in winter — executive chef Rob Walker helms over a mountain-inspired menu that will have you yodeling. The Woods fondue for two is a blend of Raclette, Gruyere, and Emmental cheeses and is served with fresh market vegetables, orchard fruits, nugget potatoes, a baguette, and an optional woodsy local farmer sausage. Make a reservation at The Woods at Big White Ski Resort.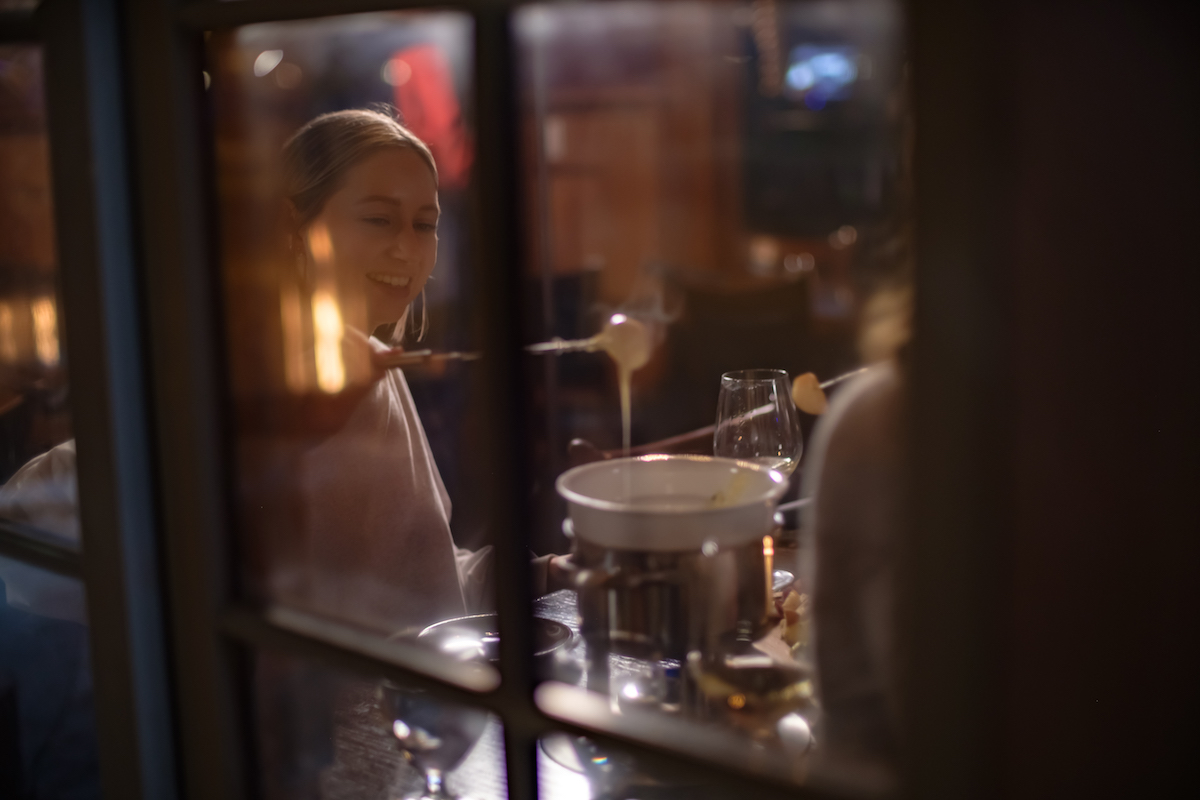 La Fondue, Saratoga, California
How do you fondue? There are more than 50 types of fondue at this Silicon Valley spot, from classic to extravagant. Order a la carte or fondue-out with the four-course tasting menu that includes salad; cheese fondue like the Swiss, Emmental, and Gruyere; meat, veggie, or seafood fondue like the surf and turf (Pacific white shrimp, Kobe flat iron, lobster tails, and snow crab), and chocolate fondue like the Chocotastic (dark chocolate, hazelnut mousse, and mascarpone). Make a reservation at La Fondue.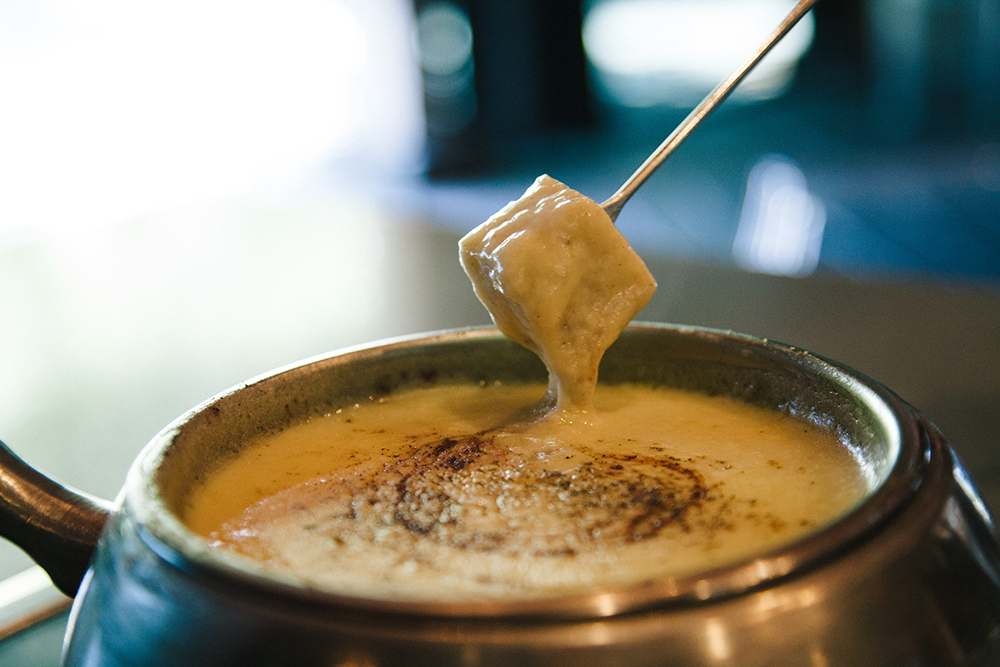 Table Nineteen Lakeside Eatery, Whistler, British Columbia
After a day on the slopes, tuck inside for the signature three-course fondue feast. The meal begins with a salad, moves on to a classic cheese fondue (Emmental, Gruyere, and aged cheddar served with a French baguette, crudités, and Yukon gold potatoes) and culminates with a Lindt dark chocolate fondue — banana bread, marshmallows, strawberries, and pineapple accompany it for dunking. Make a reservation at Table Nineteen Lakeside Eatery.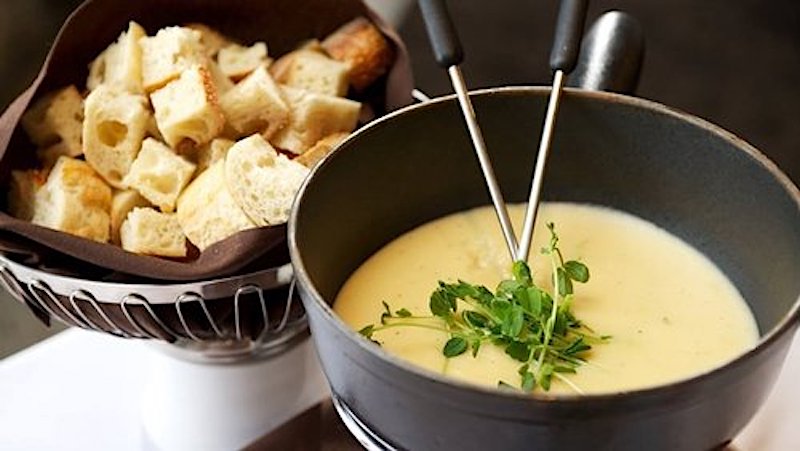 What are your picks for top restaurants for fondue? Tell us here or over on Facebook, Instagram, Pinterest, or Twitter. And, remember to snap + share your #dishpics with us on Instagram for a chance to win in our weekly giveaway.
Laurie Bain Wilson is a Boston-based journalist, author, and essayist who writes often about travel, food, and baseball. Find her on Twitter @laurieheather.
Photo credits: All photos courtesy of the featured restaurants.