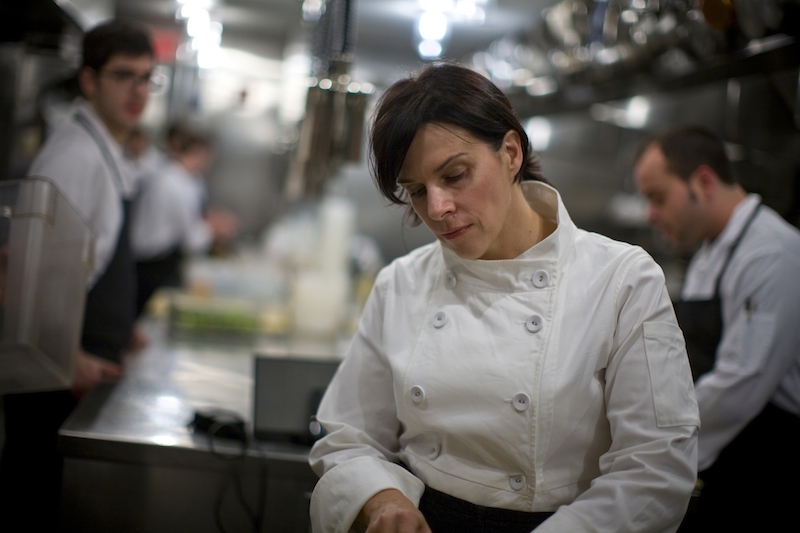 Those who've enjoyed the unforgettable white tablecloth experience at Menton or toasted with a craft cocktail at Drink may be surprised with the New England specialty that Boston chef Barbara Lynch kicks back with—anyone not from Boston, that is. The James Beard Award winner and sole female Relais & Châteaux grand chef in North America has stayed true to her humble roots while creating an empire for fine-dining and imbibing just a few miles down the road from where she grew up as one of seven kids and entered the hospitality industry as a waitress. Today, she has three kids of her own, six restaurants, the demonstration kitchen Stir, and a legacy that makes her a household name in one of the country's most historic cities.
So a chef can't eat four-course dinners every night. What's your typical meal or favorite indulgence?
If I make something for myself quickly, it's probably spicy hummus and cucumbers and lettuce. But I love fried clams and French fries.
Sounds like a true Bostonian! You were one of the first people to take the step and invest in the Seaport District and now it's booming. But why take a chance when you did?
I just love being part of a community. A community strengthens your success in a way, and you're always part of it. Fort Point had soul. Those old warehouses still had bones in them even though they were empty. It was desolate but I even knew as a kid that I wanted to be there. … I'm so glad I did three restaurants [Menton, Sportello, and Drink] instead of one at the same time. That would have been a $@*&ing temple sticking out down there, and you need the support and diversity. Now every two seconds there's another building going up and it's different than I envisioned—I thought it would be more of an urban environment with a school or a grocery store. But I'm still glad.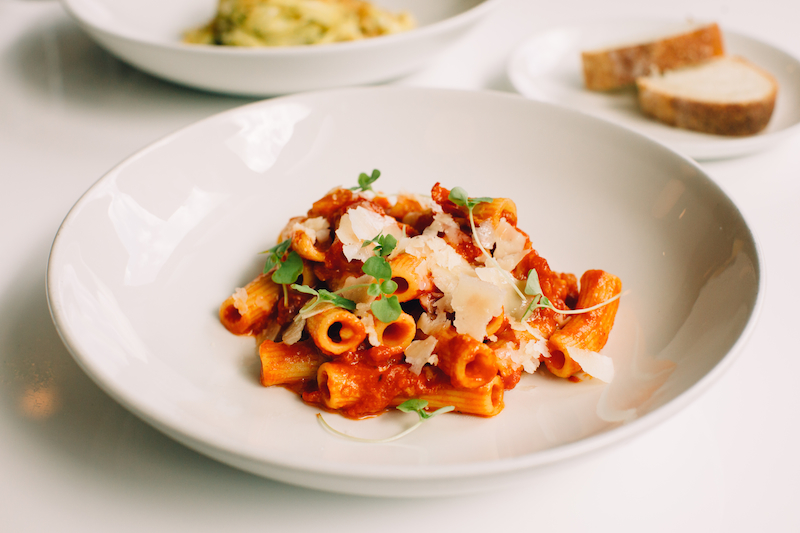 Why not branch out of Boston, and lend your name to like, a hotel restaurant in Vegas or something?
I don't have partners, so I don't just go in and do a turnkey. I don't want to go in and sell a name. Not to say I wouldn't with the right deal and that I feel my team is ready to move with me. It's like giving birth and saying, 'Oh, okay, I didn't really like this kid, I'll just give it away,' and walk away. I can't do it. It's not me.
Did you know as a kid that you wanted to be a chef?
I was definitely around 12 or 13, and I was talking myself into 'I'm a chef. I want to be a chef.' I literally thought I was going to own a sub shop, though, not be where I am now. My pivotal moment was my first job on a boat [a Martha's Vineyard dinner cruise]. It was a huge success, and I said, 'Wow, this is fun!' That's the difference between our company and others. We're here 90-plus hours a week, so you've got to just have fun with it. It's going to be hard sometimes, but, most of all, it should be a great place to work.
You were been pretty vocal [in The New York Times] about the fact that women may be catching up to men in the boardroom, but not in the kitchen. Your daughter is around the age you were when you thought you'd like to be a chef. What if she tells you she wants to be a chef as well?
Whatever she wants to be happy, it's important for her to do that. She's 12 and loves to cook with her friends. They use the Vitamix and she takes videos. She knows her $h!t, though, and will say 'Mom, ugh, this is not good,' or, 'Mine is better than yours.' At that age, you're just learning what excites you and what your passion is, and you need to follow it. Being a chef is doable. So doable.
So how do you feel about taking videos and having iPhones at the table?
Oh, I love it, I do it. I'm always on Instagram taking food photos and saying, 'Wow, look at this!'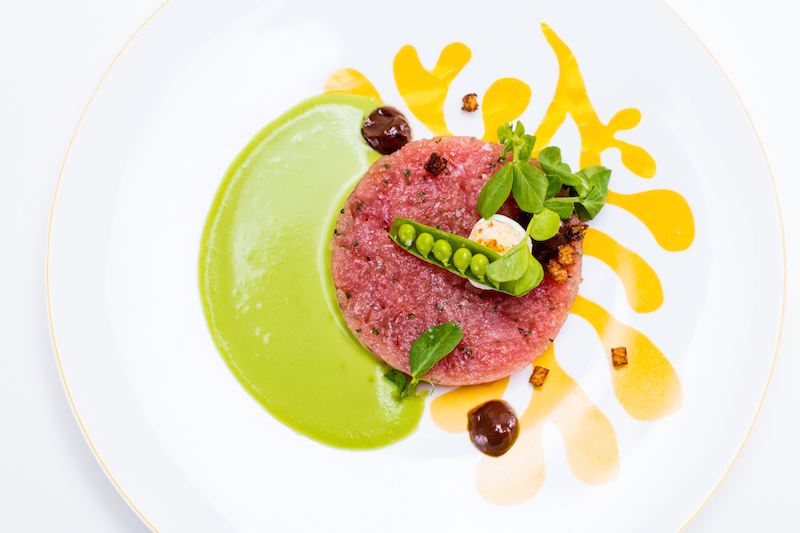 What was the last experience you shot that blew you away?
I was a judge at the (USA) Bocuse D'Or; it's a young chef's competition. I was so proud of them. It's a hard competition [Ed. note: They are often called the "culinary Olympics."], and there's a lot of pressure, God love them.
Are you into competition… or competing with yourself?
Oh, I'm not into competing, but I'm competing with myself all the time.
That's probably a difficult battle to win, especially when your seven restaurants are so different from each other! As you've grown, what have you learned?
The tricky part of going from a chef to a restaurant owner is you have to remove yourself from the physical part of the line. I've been cooking for 40 years; it's hard to remove yourself. You have to force yourself to learn the business—but I'm involved. I still tweak all of the restaurants and change the menus. I keep the staff inspired. My job is basically fixing everything, and then once everything is working we start moving people up. You lead a team in different ways and you want them to succeed. You have to delegate well.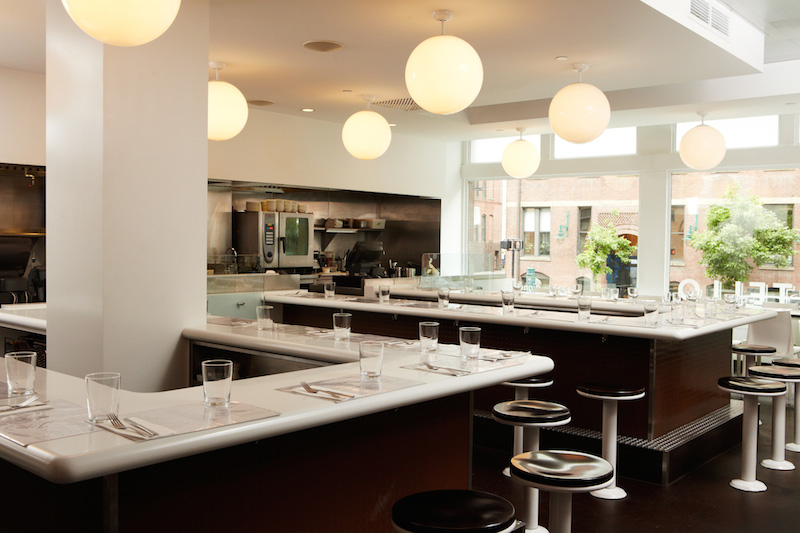 Did you ever feel pressured to change your personality or who you are?
[Laughs heartily.] It's too late now! No, maybe I'm a little out of line more than I should be, but I haven't changed who I am, really. I have a gang of like, 28 friends in Southie [South Boston]. They're just normal. They work for the city or whatever. They're moms. We just go to the local pub.
Do you have a dish you'd like to add that's not ready for prime-time? Any sneak peeks?
I'm into pig bladders. Fish and potatoes steamed in a pig bladder, tableside, with truffle cream.
Ummm… from a marketing perspective do you think "pig bladder" will turn anyone off?
[Laughs.] No, I'll call it something else. Something French. En vessie. I'm not going to call it 'Fish steamed in pig bladder.' I gave Lydia [Shire, of Scampo, James Beard Award winner] 'bladdahs' [affected Boston accent, for embellishment] for Christmas presents since I had to borrow some, I didn't have enough. If anybody ever saw our emails back and forth, you'd be dying.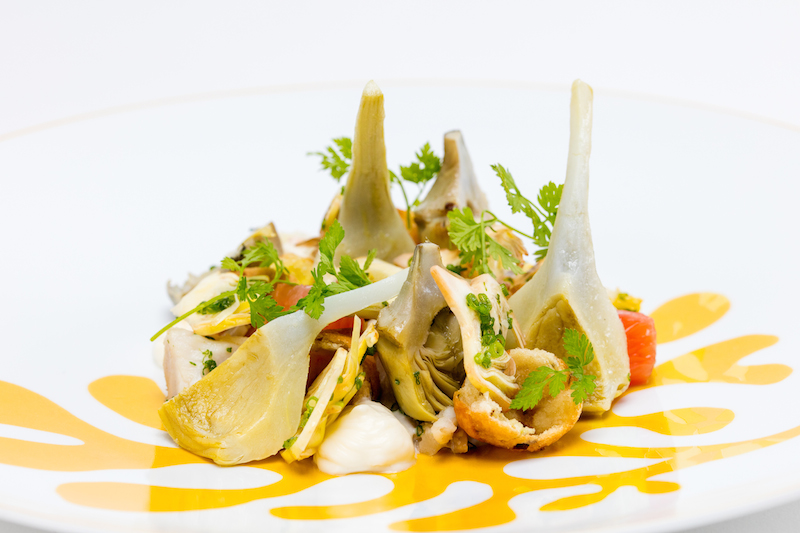 So what else is next?
Stir on the Road. I'm taking people on the road for a tutorial. In October, it'll probably be in the Piedmont region, truffle-hunting, fooling around. It's one of my favorites for winemaking, and my truffle guy is there. It's good to share these experiences and give people down time as well as cooking classes. It's a chance to cook with each other. Or we might go to France. We haven't firmed it up yet, but either place is good. [Details are expected to be announced soon on Stir's website.]
If you weren't the empress of Barbara Lynch Gruppo, what would you be doing?
I'd probably be a painter or something. I paint and sculpt. I have more art books than you'd ever need. I think in cookbooks, you know it, you can see what's missing. In art when you're learning, you don't really know … painting is really a practice.
Barbara Lynch Gruppo also includes No. 9 Park, The Butcher Shop, and B&G Oysters.
Have you dined at any of chef Lynch's restaurants? Share your experiences with us here or over on Facebook, Instagram, or Twitter.
Carley Thornell is a travel writer whose experiences eating street food in Japan, English peas in the UK, free-range steak in Argentina, and Brussels sprouts at Estragon tapas in her hometown of Boston have provided unforgettable culinary inspiration. Shout out at carleythornell@gmail.com.
Photo credit: Brian Samuels (Sportell0); Boston Gourmet Photography (Menton).