We love going out to celebrate New Year's Eve, but the Bacchanalian celebrations come at a high price the next morning. When we wake up – usually cuddling with an empty bottle of Champagne and wearing a glittered covered top hat – our heads feel like they're going to pop off our shoulders and explode like a well-struck piñata [Ed. note: or like someone in Scanners]. If you're like us, you will, too, be in need of some solid sustenance and vivifying drinks – stat. Here are 11 delicious hangover cures guaranteed to help you start off the new year in the right frame of mind.
Holsteins Shakes and Buns, Costa Mesa, California
The French word for hangover remedy is poutine. Okay, that's not true, but it should be. This take on the classic Canadian comfort food is built on a base of golden frites, which are piled high with stout gravy, melted cheese curds, shredded short rib. And a sunny side up egg. Yes. Just, yes.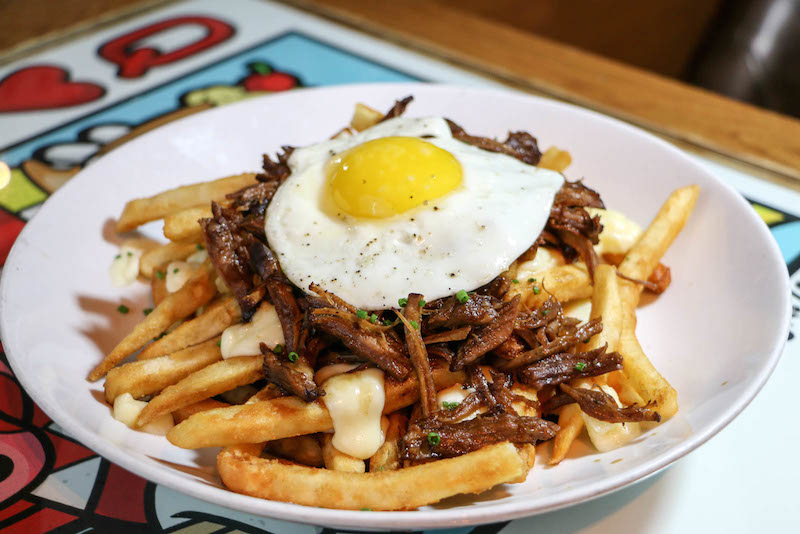 URBN Coal Fired Pizza, San Diego, California
After a long night of endless stems of bubbles, we crave one thing: carbs. And lots of them. That's why we love this mashed potato-topped pizza. As if that weren't enough, the buttery peaks of the whipped spuds are crested with bacon and fresh mozzarella. Down one of these, and you'll be ready for another magnum of Veuve Clicquot.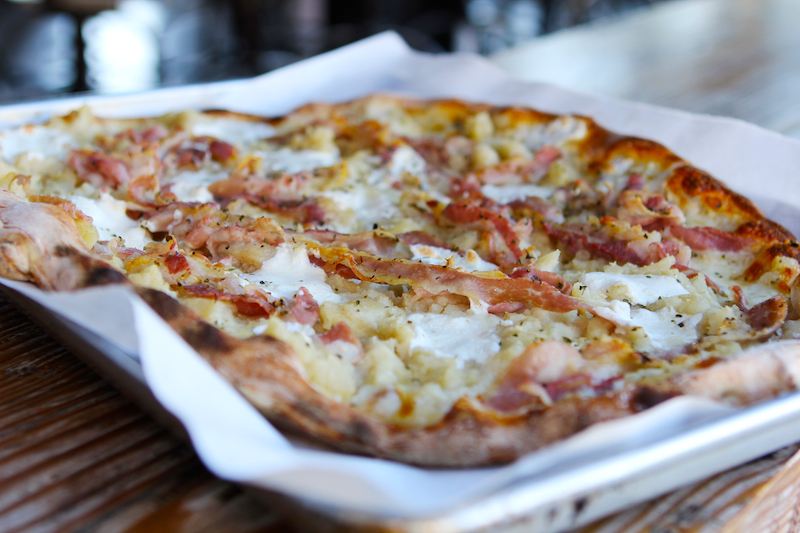 Summer House, North Bethesda, Maryland
On the day after the last great bender of the year, you might be in the mood for a distinctly non-alcoholic tipple. Enter these zero-proof cocktails: the Malibu Cooler, Pineapple Paradise, Açai Basil Smash, Kale Lemonade, and Cucumber Cooler. Guaranteed to put the pep back in your step. [Photo by Anjali Pinto]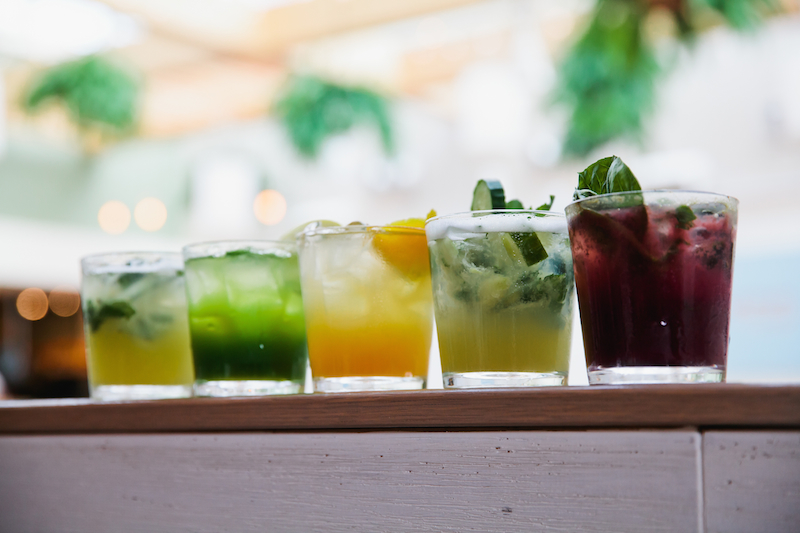 Myriad Gastro Pub, San Francisco, California
There's something comforting to the core about shakshuka, a Tunisian breakfast standard featuring eggs poached in tomato sauce. Served in a skillet, it arrives with several pieces of griddle-grilled green onion socca (savory chickpea pancakes), which are perfect for sopping up the last bits. And absorbing alcohol.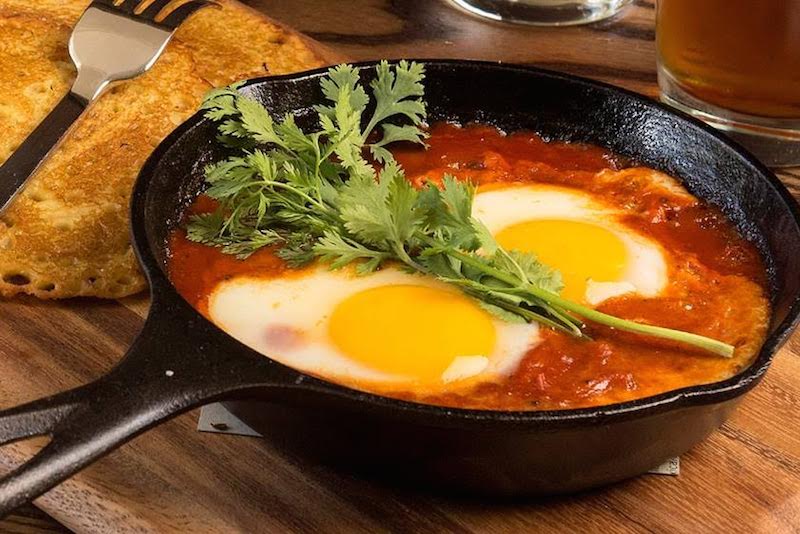 Messhall Kitchen, Los Angeles, California
Nick Offerman would surely approve of the Royal American omelet. It's made with six eggs and comes atop a Belgian waffle. Then it's bedecked with Tasso ham, bacon, onions, and a gooey shroud of melted Vermont cheddar. A truly manly breakfast.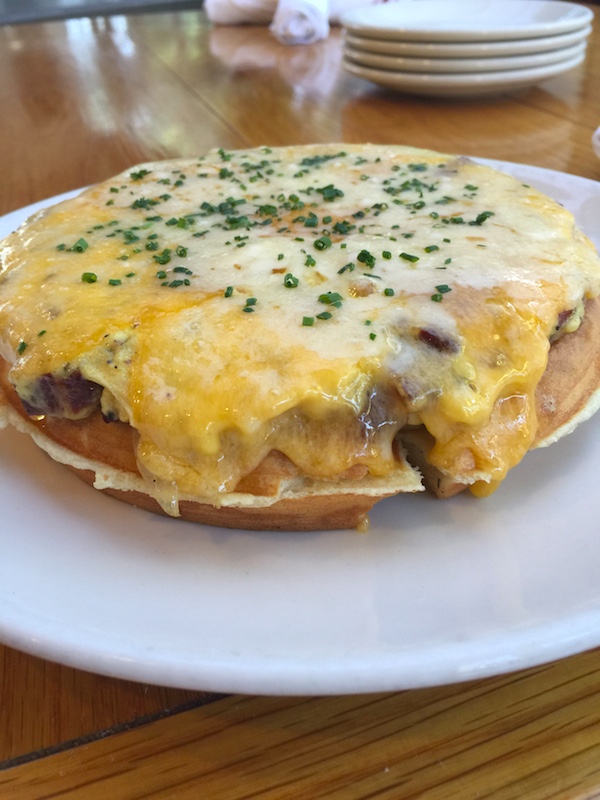 Roofers Union, Washington, D.C.
Executive chef Marjorie Meek-Bradley, an early standout on this season of Top Chef, has the perfect breakfast sandwich for the morning after. A fried chicken thigh smothered in honey-sriracha sauce arrives on a ciabatta bun with a slather of mayo and a few crunchy iceberg leaves. Goes down well with a pint. Or six.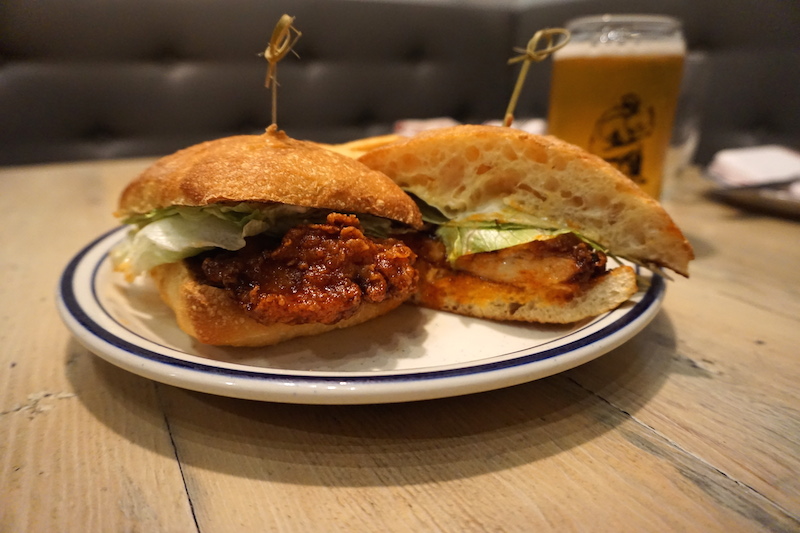 BH Burger Bar, Bal Harbour, Florida
A burger always hits the spot when our heads are pounding and our stomach is crying out for some sustenance. But this isn't your average burger. The seven-ounce patty is topped with luxe black truffles, grilled foie gras, and tomato jam. It's paired with your choice of duck fat fries or truffled parmesan tots. Not included: a reasonable excuse for all the mistakes you made the night before.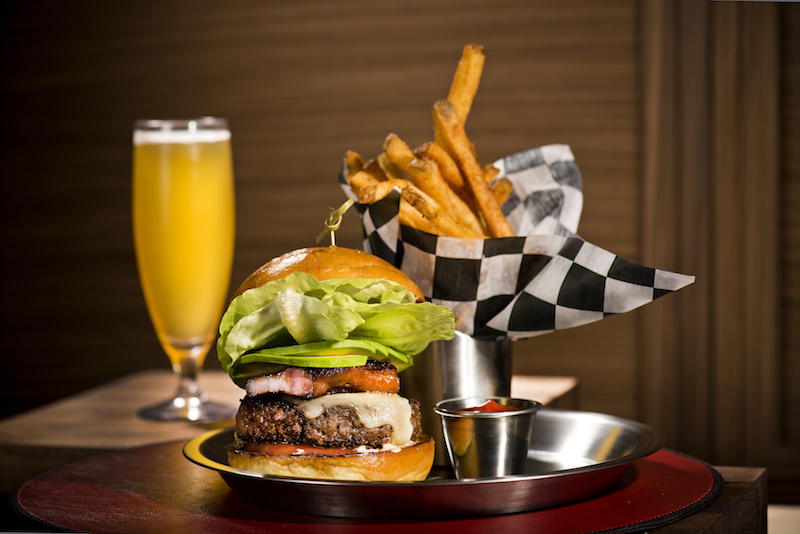 Easy Bistro, Chattanooga, Tennessee
We're always torn at breakfast time. Do we order something savory or something sweet? Lucky for us, this dish offers both components. To help us get our sugar fix, the skillet cornmeal pancake comes with candied pecans and peach sorghum and sassafras syrup. For the flipside's flavor, there's smoked pork belly and a poached egg. Indecision solved!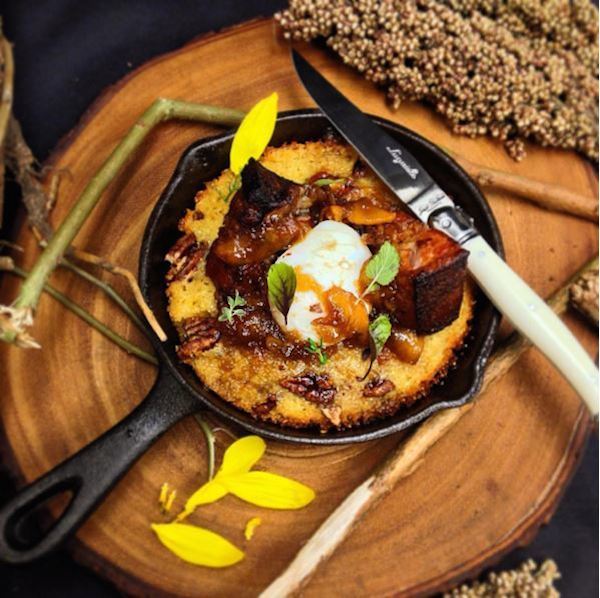 Stella Barra Pizzeria, Chicago, Illinois
Breakfast, finally in pizza form. The eye-opening round comes with bacon and eggs, plus chilies, caramelized onions, arugula, Pecorino, and Gruyère. The perfect complement to your discussions with your tablemates about why streaking through the bar on New Year's Eve was a completely reasonable course of action. [Photo by Anjali Pinto]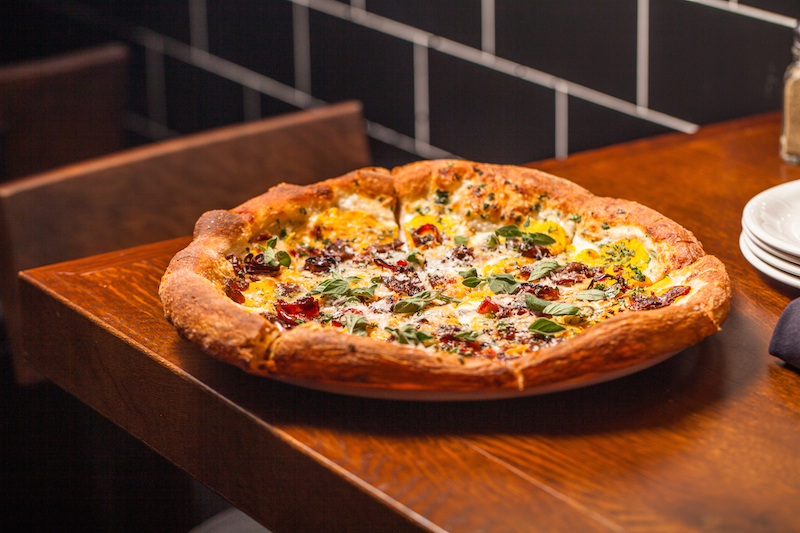 Bar Pilar, Washington, D.C.
They should call this dish Umami in a Bowl. It all starts with a couple of ladles full of bacon porridge, a most glorious of inventions. On top of that go two eggs baked in savory-sweet-spicy-tangy Korean gochujang sauce, bonito flakes, and scallion pancakes. By the time your spoon scrapes up the last scraps, your hangover will be nothing more than a distant memory. Guess that means it's time to start drinking again.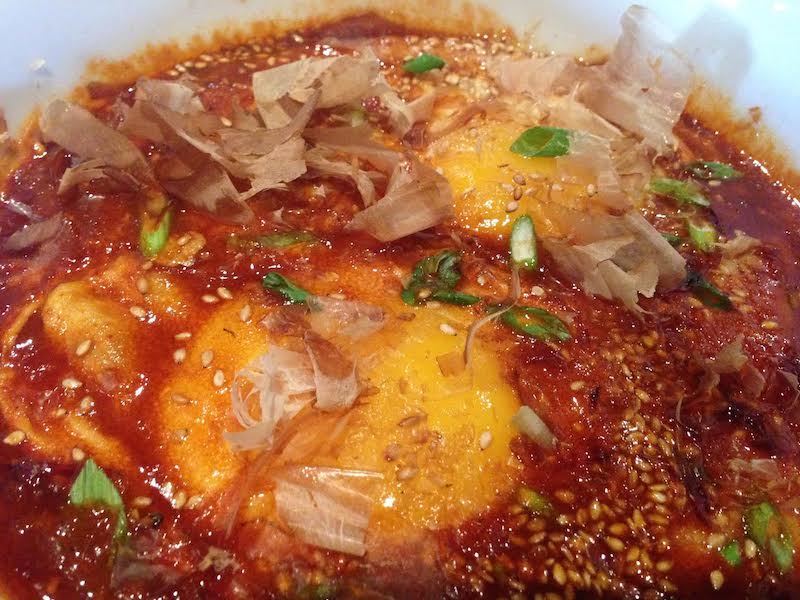 Bar Toma, Chicago, Illinois
Sorry, Leaning Tower of Pisa and Eiffel Tower, but we've got a new favorite. This beyond epic Bloody Mary Tower is designed to help four friends collectively combat their hangovers. To boost the cocktail's flavor, the bar team slips a slice of pepperoni pizza into its ruddy depths.
What are your favorite foods to soak up the remains of a decadent day and night? Share your surefire hangover cures and craves here or on Facebook, G+, Instagram, Pinterest, or Twitter.
Nevin Martell is a Washington, D.C.-based food and travel writer and the author of several books, including Freak Show Without A Tent: Swimming with Piranhas, Getting Stoned in Fiji and Other Family Vacations. Find him on Twitter @nevinmartell.