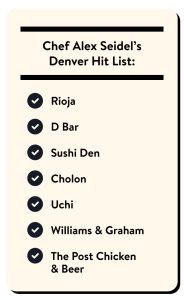 Prolific Denver chef Alex Seidel currently oversees four restaurants in his mini culinary empire: farm-to-table spot Fruition, Union Station's Mercantile Dining & Provision, small-batch bakery Füdmill, and the fast-casual chicken restaurant Chook. The James Beard Award-winning chef still makes it a point to check out new establishments in the city, and revisit old favorites. 
A seafood aficionado, Seidel particularly enjoys sushi establishments, and counts the 38-year-old Sushi Den among his most frequented spots. There's a cocktail institution, a fried chicken destination, a swanky Southeast Asian restaurant, and more on Seidel's list of Denver restaurants to visit. Read on for everywhere Seidel frequents when he's not at one of his restaurants.

What to expect: An upscale Mediterranean restaurant in downtown Denver with a focus on local ingredients.
What Seidel says: "It's one of those restaurants that has stood the test of time. I had a great meal there last week. I had one of the original signature dishes, the pork chop, which was super tasty. Their artichoke tortellini with truffle brodo has been a mainstay on the menu, and those dishes are still really good."

What to expect: A celebrity chef-helmed restaurant that's known for its desserts and sleek ambiance. 
What Seidel says: "I have always been a big fan of Lisa Bailey [the pastry chef and co-owner]. It's my favorite place to enjoy an after-dinner dessert. The menu is seasonal and changing and super creative."

What to expect: A longstanding, beloved Denver institution where fish is flown in daily from Tokyo. 
What Seidel says: "This is bar none my favorite restaurant in Denver; it's the restaurant I eat at most consistently. I have a huge amount of respect for Toshi [Kizaki, the chef] and the way he thinks about cooking."

What to expect: A wide selection of Southeast Asian fare in a swanky setting near Denver's Union Station.
What Seidel says: "The chef [Lon Symensma] came to Denver over ten years ago, and helped change the outlook of Denver dining. ChoLon continues to shine. The soup dumplings are a mainstay and just as good as ever if not better than when they opened."

What to expect: Unconventional Japanese food from James Beard Award-winning chef Tyson Cole
What Seidel says: "Uchi is new to Denver, but you can tell that I like sushi and eat a lot of seafood. Uchi delivers a unique approach to sushi-making, and they have great sourcing."

What to expect: One of the top bars in the city with more than 60 cocktails on the menu.
What Seidel says: "Sean Kenyon [the owner] has been a legend in this town as a hospitality professional. Williams & Graham put Denver on the map for cocktail bars. I typically go there for the mezcal-inspired cocktails."

What to expect: A casual, comfort food destination with plenty of outdoor seating.
What Seidel says: "Who doesn't love fried chicken and a cold beer in the summer? This is a fun and whimsical place, and Dave [Query, a co-founder] sets up a restaurant to have an experience."