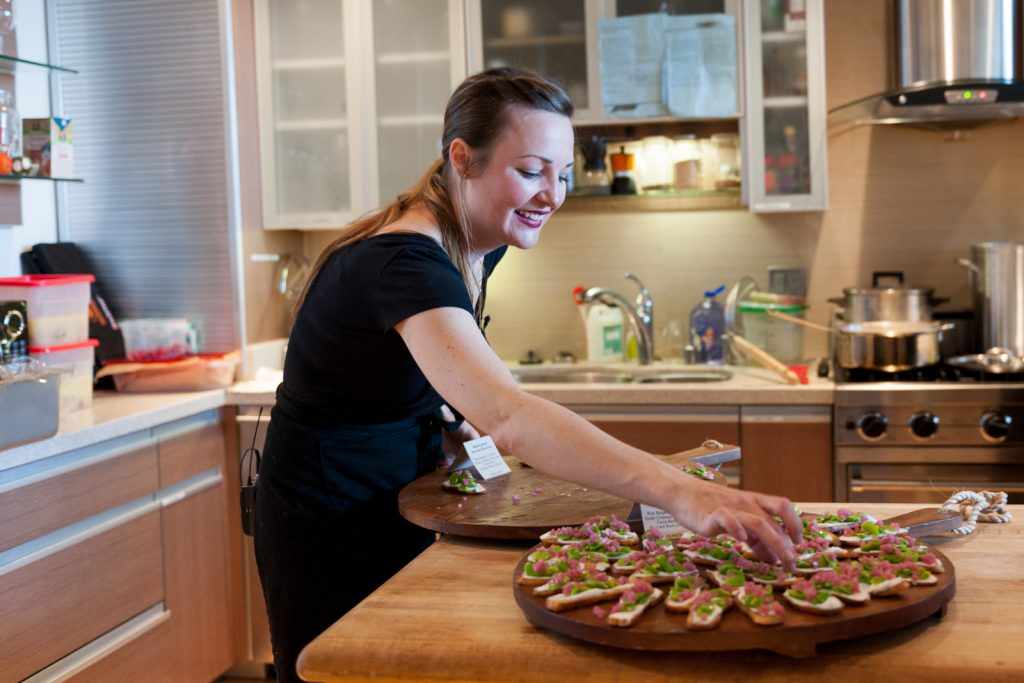 Dining as we know it is changing rapidly. Costs for proprietors are higher than ever, between real estate and staffing, leading chefs to explore pop-ups and other creative concepts in lieu of opening new restaurants.
And at the same time, adventurous guests are craving new, innovative dining experiences they can't find anywhere else.
In San Francisco OpenTable recently welcomed "home restaurants" to our network via startups Feastly and EatWith. These are dining experiences hosted by a chef or home cook, some in the cook's own home but occasionally in other communal spaces. While EatWith has listed three experiences on OpenTable — two home restaurants and one Test Kitchen, which rotates different chefs and concepts — Feastly has opened up their space The Lab for a range of pop-up and supper club experiences.
To learn more about these concepts, we talked to Naama Shefi, Communication Director at EatWith, and Noah Karesh, Co-founder of Feastly. Both companies empower home cooks and chefs by giving them a platform to reach guests looking for new dining experiences — without having to raise funds for a brick-and-mortar. Here's how they're changing the way we dine.
1. Authentic dining experiences are within reach.
The origins of EatWith and Feastly are similar stories. EatWith Co-founder and CEO Guy Michlin was invited to eat dinner with a local family while traveling in Crete, and in addition to the best moussaka he ever had he enjoyed an incredible cultural experience that changed his entire trip.
Noah was inspired to start Feastly after traveling to Guatemala and failing to find a single Guatemalan restaurant. He asked a local avocado seller where to go, and with a wide smile he replied, "My mom's house!" Again, the in-home experience with a local family left an impact. He explains:
"A few thoughts came to my mind: Why was it so hard for me to find? Why couldn't she do what she loved to do and be able to share that with people and maybe make extra income doing it? That was really the genesis of Feastly: we built out this platform that allows for any chefs to be able to offer and serve food to anyone whenever they want."
Now EatWith is active in 100+ cities across the world, and Feastly is live in San Francisco, Chicago, New York and Washington D.C. As it turns out, it's not only travelers who are looking for authentic dining experiences — it's everyone. And they can find them in their own backyards.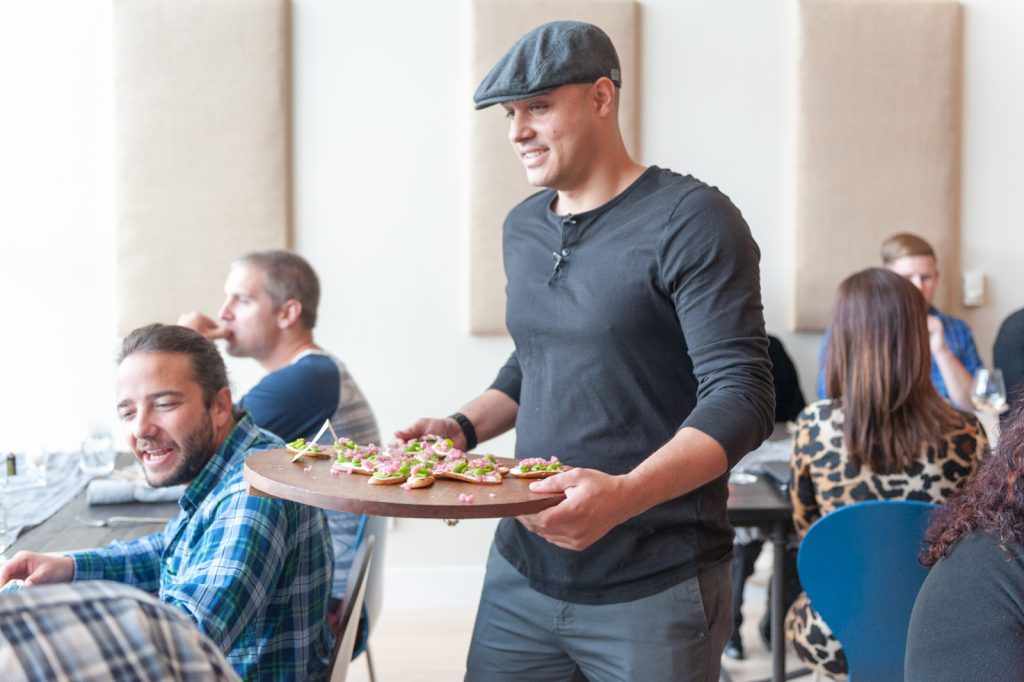 2. The chef calls the shots.
Chefs on EatWith and Feastly run the gamut. On EatWith, there are home cooks and chefs from Michelin-star restaurants. On Feastly, there's a 65-year-old Burmese grandmother making recipes native to her culture and Robin Song, the former chef of Hog & Rocks in San Francisco. There are sous chefs who host dinners on their days off. (Naama says EatWith receives thousands of applications from people wanting to become chefs, but they only accept about five percent.)
It's also up to the cooks to decide what they want to serve, though the companies work closely with them to create a menu they can execute successfully. Naama notes a five-course Japanese tasting menu hosted by a cook in Brooklyn who grows her own food, and Noah calls out a fisherman creating  menus all around seafood. Cooks can host dinners as often as they'd like, though Naama says most chefs on EatWith prefer to host at least once a week.
"Most of the time the menus that chefs are creating are things you cannot find anywhere else, even in New York," says Naama. "People are cooking their passion and their family recipes."
3. Strangers dine as friends.
Guests can book a few different experiences at home restaurants. They can reserve seats at the dedicated pop-up restaurant spaces, book private parties with cooks, or join a communal table at an open party. Most guests choose the latter, meaning they're sitting side by side with other people — strangers — who have also booked on EatWith or Feastly.
"We look at the dining room as the original social network," says Noah. "In most traditional dining establishments we're in these pods at these tables, sitting a few inches from someone and all you're trying to do is not interact with them. That's a weird thing. Instead, let's create a place where it's ok, where you should be interacting with other people."
Naama adds than oftentimes the open dinner parties are just the beginning of a guest's relationship with a cook. After a great experience in someone's home, many guests come back and book private events with their friends.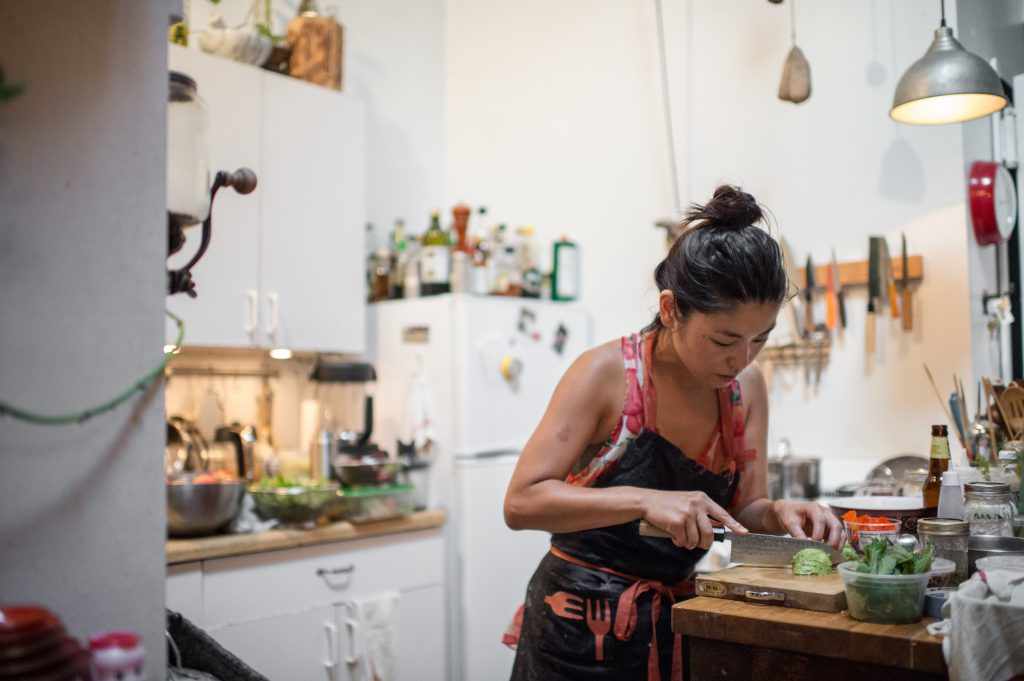 4. Chefs can test out new concepts.
The home restaurant platform provides cooks the opportunity to experiment with making new dishes and menus for an enthusiastic audience. Throughout November, EatWith is using their Test Kitchen in San Francisco to preview upcoming local restaurants, including Uma Casa and Nightbird.
Similarly, the chef behind Farmhand, opening soon in northern California, used Feastly as a way to test out the operation before buying her own restaurant. Home restaurants allow cooks to develop a word-of-mouth following early on, so if they decide to open a restaurant they already have a loyal fan base.
Naama has also collaborated with known chefs to execute menus outside their normal repertoire. She worked with Sara Jenkins, owner of New York's Porchetta, to host a Moroccan dinner at home (her husband is Moroccan, and she loves the cuisine). Since her restaurants specialize in Italian food, these are dishes she could never make there.
"From the chef's point of view, it's this playground, this platform for them to explore product and new menus and see how their audience reacts in real time," says Naama.
5. Guests have direct access to the people making their food.
Both Naama and Noah agree that these days guests are eager for more than a good meal. They want to know more — more about the dishes they're eating, more about the chef's personal story, and more about the sources of the ingredients.
That presents a unique opportunity for chefs, who have access via home restaurants to people who love food and seek out new, interesting, interactive experiences hosted by chefs.
"This is their creativity outlet — they can explore what they really love to cook and connect with their audience," Naama says of the cooks. "Most chefs in restaurants are just hiding in the kitchen, and here they are the stars of the evening."
For Noah, it's also about how people connect around the dining table and the community that is built around food. He adds: "We've gotten to such a heightened spot right now of where food has been taken, from a gastronomic point of view, that I think people still feel a disconnect to some of the other elements around what makes food and eating special."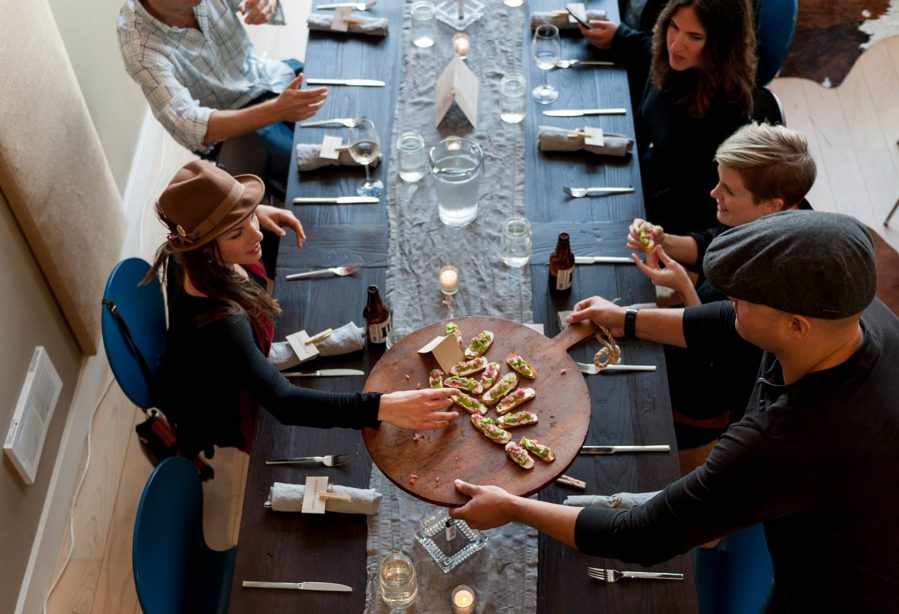 Photos taken in the EatWith Test Kitchen; courtesy of EatWith.