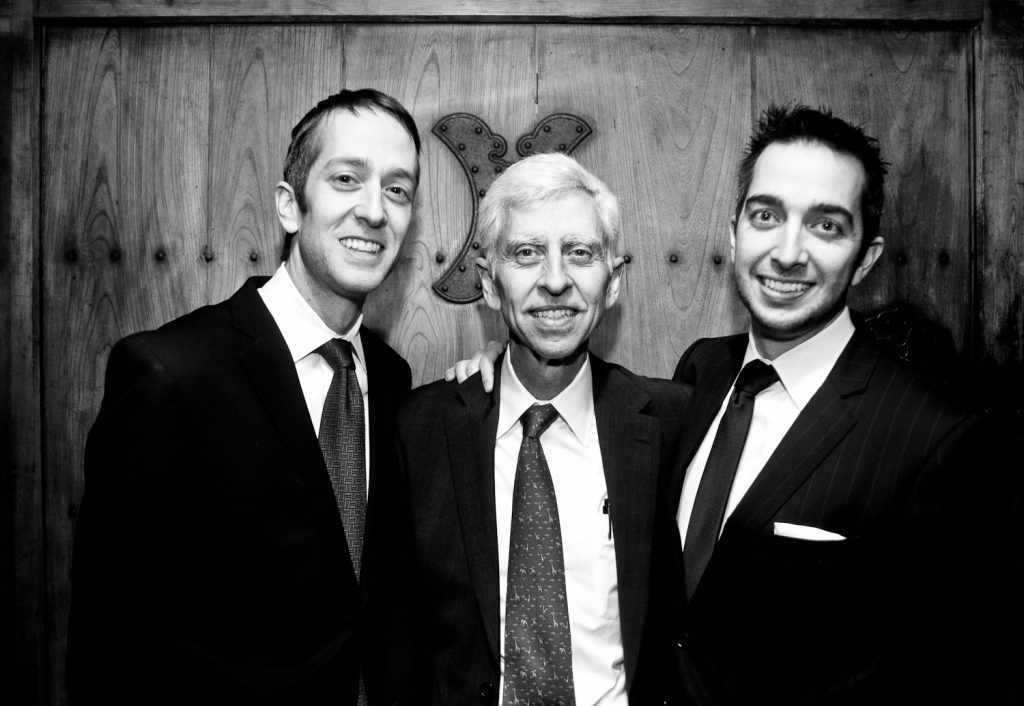 It's impossible to talk about Canlis, Seattle's fine-dining institution, without talking about the family behind it. Since it opened in 1950, the restaurant has become known for being one of the best dining experiences in the Pacific Northwest and has won dozens of awards for their food, wine, and service.
But Canlis is more than a restaurant to the family that bears the same last name. It has been owned and run by three generations of the Canlis family: first, Peter Canlis; then his son Chris, who ran the restaurant for 30 years with his wife Alice; and today, Mark and Brian Canlis, sons of Chris and Alice, are the third generation of owners.
"There is no Canlis without family," Mark says. "It's three generations of one family taking care of thousands of other families."
Over the years he's learned some important lessons about leadership and hospitality from his father and grandfathers that he uses to run Canlis today.
Respect is earned
"Technically, my first time working here was when we were kids," Mark says. On New Year's Eve, he and his siblings would spend the night at the restaurant, building forts under desks in the office to take naps until they were woken up to help with service. "Around midnight my Mom and Dad would wake us up and we'd pass out party favors in the dining room," he remembers.
That history is off the books though. "Officially, on paper, my first job was as a dishwasher when I was 13," Mark laughs. Even though he grew up in the restaurant and had an intimate knowledge of operations, he still had to start at the bottom when he wanted to be a manager.
"My Dad said, 'If you want a job here you can apply.'" After his application was accepted he had to work the same training shifts and take the same introductory pay as anyone else. "I was the lowest paid and lowest on the totem pole when I started here."
In retrospect, Mark says that he finds his Dad's methods to be the best way to bring him and his brother into the business. "I'm happy about it. It's one of the ways that I respect him and I have a lot of respect for how they handled the situation."
Starting at the bottom made Mark and Brian grateful for the opportunity to work and lead at Canlis. "We earned it and it made us humble. That was one of the reasons that I came back to the restaurant."
Welcome guests into the dining room as if it's your home
Canlis is known for having exceptional hospitality, and for Mark it's a testament to his grandfather. "We learned from my grandfather on my Mom's side about hospitality," Mark says. "They grew up poor and he always welcomed people into their home, even if there wasn't enough food around the table for their six children."
Today, Mark and Brian adapt that same mentality when welcoming guests into the Canlis dining room. "The biggest lesson was if someone knocks on the door, you open it, embrace them, and welcome them in." To him, this has been the secret sauce of Canlis' success.
"In this country, fine dining didn't do that for a long time. It was about perfection, and both of my grandfathers didn't agree with that." Mark and Brian teach their team to treat the Canlis dining room as their home, where they're welcoming guests in every night.
Hospitality is a relationship — you have to care
Still, welcoming guests as if they're in your home isn't enough. You also have to remember that you're entering into a relationship with them, says Mark.
His father, Chris, insisted that Mark and Brian remember that in the dining room, care is one of the most important aspects of service. "Hospitality is a relationship, and in any relationship you have to care. If you don't care the other person will find out eventually."
Once, at the host stand, Chris asked Mark the names of a couple of regulars who were walking in. "I said, 'I don't know' and my Dad said, 'You can't remember their name because you don't care about them."
Chris then challenged Mark to remember their names for $1 million. "I said 'Yeah, I would remember their name for $1 million!'," he laughs. His Dad was trying to prove a point about motivation. "If you're motivated to care then you'll always remember," Mark says.
Hospitality is a way of life, not an act
Chris and Alice Canlis may be retired, but they still have that same sense of hospitality that has made Canlis famous. Even if Chris is in the restaurant having dinner, he's taking inventory of how many guests are waiting for a table, Mark says.
"When they come in to dine they often get distracted and are found wondering the dining room, talking to guests, checking in on them, ordering them extra food, etc. It's like, Mom, Dad, go sit down, your entrees are coming." They don't. They still want to make sure that every person coming into the restaurant is taken care of.
"When the restaurant gets super busy, Dad can't take it and wanders away from his own dinner to stand at the front desk and ponder with the maitre d' how we'll ever have enough tables," Mark continues. "Invariably, they give up their own and go sit in the bar."
Chris even acts as a pinch hitter when Canlis gets busy. "He hasn't been on the schedule for some time now, but when my brother and I get in a pinch, we call him in," Mark says of his Dad. "He pretends to be rusty and not know all the modern systems, but the bottom line is he's still got it."
Years out of the dining room haven't slowed him down, and he still carries the signature hospitality that has made Canlis famous. "It's like watching a master go to work. It's super fun for us."
Mark says that hospitality will always be a part of his father. "Once it's in you, it never leaves because at the end of the day, you're not working, you are hosting. It's what you do; it's what brings you joy. They are no exception."