In honor of Earth Day, we've rounded up 10 restaurants that take the farm-to-table concept to another level — they have their very own farms. Talk about private stock. Celebrate Earth Day and sustainability with a reservation at one of these eateries that takes locavorism to a hyper local level!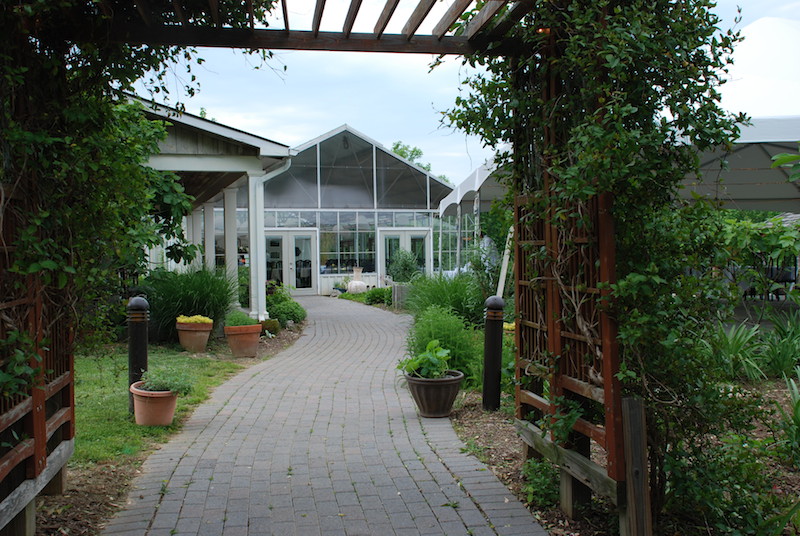 1. Black Cat Farm Table, Boulder, Colorado + Black Cat Farm, Boulder, Colorado.
Chef Eric Skokan wasn't a trained farmer when he started Black Cat Farm, but he likely qualifies as one now. After trial and error and advice from fellow farmers, he is now a skilled self-taught tractor driver and producer of American Mulefoot pigs and grower of sublime heirloom tomatoes, both of which you'll find on the menus at Black Cat Farm Table and gastropub Bramble & Hare.
2. Blue Hill at Stone Barns, Pocantico Hills, New York + Stone Barns Center for Food & Agriculture, Pocantico Hills, New York.
Dan Barber was inspired by the past to forge the future in establishing one of the nation's most important restaurant-farm partnerships. Blue Hill opened on Stone Barns' 80 acres in 2004, and the farm and the restaurant serve as a model for sustainable agriculture and cuisine.
3. JG Domestic, Philadelphia, Pennsylvania + Luna Farm, Ottsville, Pennsylvania.
Jose Garces and his family purchased an all-organic 40-acre farm not just as a family getaway; the farm, named for the Garces's dog and the region's breathtaking harvest moons, Luna Farms provides freshly grown produce for chef Garces's east coast restaurants, including Amada, Tinto, and Volver.
4. L'Espalier, Boston, Massachusetts + Apple Street Farm, Essex, Massachusetts.
Apple Street Farm was founded in 2009 by L'Espalier chef McClelland, and its 14 acres serve as the primary source of organic harvests of everything from artichokes to zucchini, free-range poultry and pork, egg-laying hens, honey, and more for L'Espalier. The restaurant is 26 miles away, and chef McClelland is known to hand-deliver just-picked product to his team of chefs.
5. The Mulefoot Gastropub, Imlay, Michigan + Romine Family Farm, Imlay, Michigan.
The Mulefoot's namesake comes from the heritage breed of pork that is served at the gastropub and raised at their local family farm located about eight miles from the restaurant. Chefs and twin brothers Matt and Mike Romine look after the pigs when they're not working in the kitchen of their restaurant, but father Joe primarily tends to the heritage hogs, first procured from local Toad Hall Farm in Emmet.
6. PRESS, St. Helena, California + Rudd Farms, St. Helena, California.
Rudd Farms exclusively serves PRESS restaurant, along with Oakville grocery, and grows the produce carefully selected by chef Trevor Kunk. Kunk's affection for the crops may well be a reflection of his time at Blue Hill. Nestled high above Napa Valley in the Mayacamas Mountains, Rudd Farms grows primarily heirloom, open-pollinated varietals, including apples, pears, tomatoes, beets, and more, is also home to olive groves, chickens, ducks, goats, sheep, turkeys, and bees
7. Primo Restaurant, Rockland, Maine + Primo Farm, Rockland, Maine.
James Beard Award-winning chef Melissa Kelly had a vision for the four and half acres that surround her acclaimed Primo restaurant. She began with a greenhouse, two acres of organic gardens, and two pigs — and today, the farm produces broiler and layer chickens, ducks, guinea hens, and boasts nine pigs. At peak growing season, about 80% of the ingredients used in the Primo Kitchen are sourced from the restaurant's farm.
8. Proof on Main, Louisville, Kentucky + Woodland Farm, Goshen, Kentucky.
Proof on Main, housed in 21c Museum Hotel in Louisville, uses a great deal of sustainable product from Woodland Farm. Owned by 21c Museum Hotel owners Laura Lee Brown and Steve Wilson, the 1,019 acre farm is home to many heritage breeds of livestock, including American Buffalo, and has several large gardens that use sustainable best practices, as well as a heated greenhouse that ensures diners will enjoy greens, carrots, and onions all year long.
9. The Restaurant at Pawtomack Farm, Lovettsville, Virginia + Pawtomack Farm, Lovettsville, Virginia.
Pictured above, and established in 1986, Pawtomack Farm is the area's first certified organic farm (now certified naturally grown). The Restaurant, started first in 1997 and refurbished in 2004, is helmed by revered chef Tarver King and makes the most of the hyper local bounty from the restaurant's 40 acres. Found, grown, and raised menus reflect the farm's philosophies.
10. Stonehouse at Stirling Ridge, Warren, New Jersey + Dancing Goat Farm, Warren, New Jersey.
Spearheaded by Stone House's executive chef Jerry Villa, the bounty from Dancing Goat Farm provides Stonehouse with the very finest just-harvested Jersey tomatoes and more local delights throughout the growing season – and beyond. Chef Villa and his team tend to the cooperative farm with the same care they put into each delicious dish.