Danny Meyer, legendary founder and CEO of Union Square Hospitality Group, is the visionary behind and the creator of a multitude of restaurants, including Union Square Cafe, Gramercy Tavern, The Modern, Maialino, Untitled at the Whitney, and, of course, Shake Shack, among many others. He's also the author of the hospitality bible Setting the Table. Having inspired so many chefs, restaurateurs and industry leaders over the years (including us!), we were delighted for the opportunity to talk to him all about his secrets to success. 
Here, we're sharing just a few of the insights gleaned during a day of knowledge sharing, inspiration, and celebration in L.A.
1. Maintain an entrepreneurial spirit.
"I get very excited in our culture when people come up with a fresh way of thinking about something that I wish I'd thought of," Danny said, adding that an entrepreneurial spirit is one of the four values everyone at USHG is expected to uphold. Once the company grows larger, steering the boat in the right direction is that much more difficult, and you need people on your team to guide the way. "I get to decide where we're going, but I don't know the best way of getting there."
2. Don't lose sight of "surprise and delight."
When Christa asked Danny about the last time he was surprised in a restaurant, he laughed, "Last night, with you." When the two of them connected ahead of the Summit for a drink at Michael Voltaggio's ink., a server brought out two grapefruits, each filled with a frozen Mortoni—Danny's favorite cocktail named for his father. (His dad loved Negronis but Danny hated vermouth, so this is a twist on the classic.)
"There's the part of our business that does surprise and delight, and that's what motivates all of us," he said. "Too often, because the technical part is so hard, we lose sight of the joy that the surprise creates."
3. Ask: whoever wrote the rule?
Anyone familiar with Setting the Table will remember this question, in which Danny challenges himself and his team to think outside typical models and formats. He mentioned that Union Square Cafe was the only restaurant he's ever opened that started with a vision: to be his favorite restaurant. Since then, the others—Gramercy Tavern, Maialino, Untitled at the Whitney, Shake Shack —have started with a chef, or a space, or some other framework that he had to find the right concept for. 
His most recently announced restaurant, which will be located on the 60th floor of a Financial District building with 360-degree views, is no different. Usually, he says, "people will try to create a restaurant that lives up to the view—but I don't ever want to go to one of those restaurants." Instead, he aims to create a place people would go if it were on the ground floor, one they would visit three times a week.
4. Consider social media a gift.
Danny admitted that when Union Square Cafe first opened, he found it rude when tourists took photos of the food. And now? "Today, I'm offended if you're not taking pictures of the food!" Social media has been a boon to USHG because "no one is Instagramming something that they didn't like. They're saying to their friends and family, I wish you were here." And even on Twitter, where the dialogue can take a negative spin, he sees it as an opportunity to fix any problems immediately.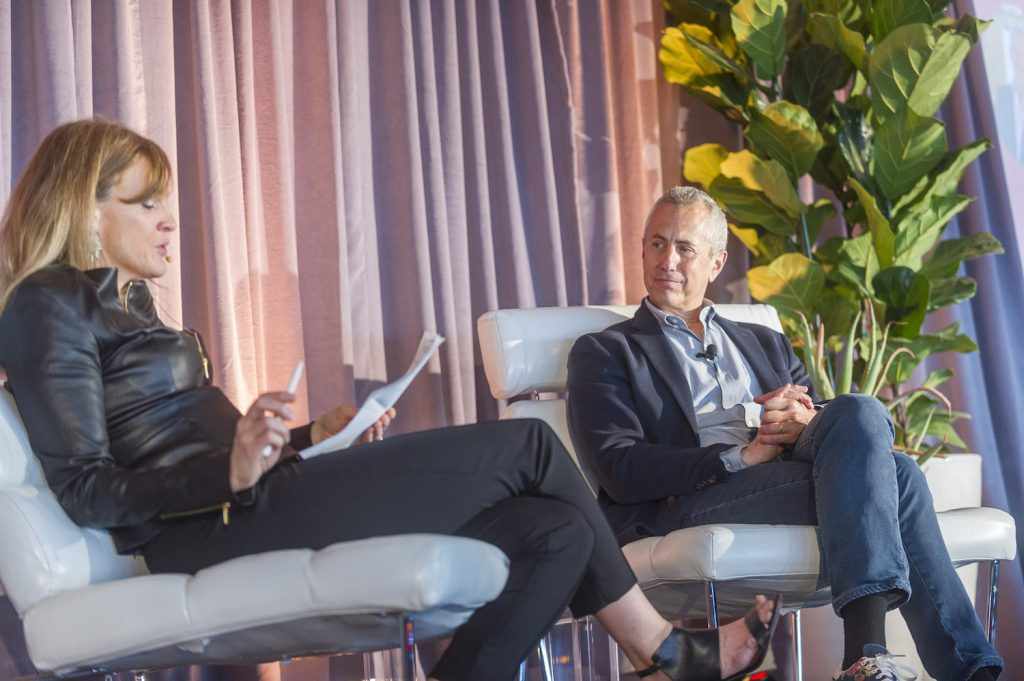 5. Customize the experience for each guest.
In Danny's view, hospitality isn't one size fits all, it's a customized experience each time—that's what allows for those moments of delight. He was an early investor in OpenTable and began working with us in 1998 in an effort to understand as many guest preferences as possible through our Guest Notes. "It's like Cheers—people want to go to the place where everybody knows their name. Everybody wants to belong."
Christa agreed, noting that building on our personalized recommendations is a "passion project" for her at OpenTable. She joked that she had recently spoken with a restaurateur in L.A. who had received a recommendation to dine at her own restaurant, even though she never booked online there. "By virtue of seeing someone's dining history, you can make guesses."
6. Charge what it costs for people to dine in your restaurant.
USHG has been vocal about the group's decision to eliminate tipping across their restaurants, primarily because of the pressure from rising costs, including labor and rent. When Christa asked Danny about the split between fine and casual dining and whether the middle sector is disappearing altogether, he called on his peers to help change the tide.
"We are our own worst enemy," he said. "I see everyone putting themselves in pretzels: should we add an admin fee, a service charge, an extra line here, wink wink? I wish we would just be businesspeople. It's a cost, and it's a cost we should be proud of paying. Twenty years ago many of us in this room encouraged people to pay more for vegetables grown locally and possibly organically. Then we asked them to do the same for animals. I don't understand why we're afraid of saying we're charging more money because human beings are as important as animals and plants."
7. For a successful opening, put yourself in the guests' shoes.
One question that came from the audience was this: what's the most important item missed by restaurateurs during an opening? Danny replied immediately, "Practicing." When a new USHG restaurant opens, the team invites staff members from restaurants inside the group to dine during friends and family events instead of their actual friends and family. "We have enough USHG employees so we have our own team come in from different restaurants, which makes them become more knowledgeable advocates."
In short, you need to have the experience the guest will have. When the hot chocolate with whipped cream and homemade peppermint marshmallows at Daily Provisions came with a flat, not domed, lid, the entire experience was ruined. "There are so many things, even when we're giving it our best shot, that you don't think about. We often miss by not giving enough time to practice."
8. Look to cover counts for signs.
Above all, Danny and his team measure change in cover counts to determine whether the restaurants need a refresh. "If more people vote to eat there than they did last year, that's a good sign," he said. If not, it's a bad sign.
Another bad sign? When check average goes up, but cover counts are going down. "That's not sustainable."
9. Mobile payments will get to restaurants—eventually.
"I'm dying for the opportunity for guests just to leave when they want to leave and not have to ask for the check," said Danny, making comparisons to Uber and Lyft. As he and Christa discussed, OpenTable has the mobile pay product; guest adoption needs to come next. "I've got to think that we could shave at least 10 minutes off every guest experience if they could get up and leave when they wanted to instead of this guessing game."
Christa predicted that in seven or eight years, we'll get there as an industry. She added, "I've been to a Pay with OpenTable restaurant, and it truly is magic."
10. "Service is a monologue, and hospitality is a dialogue."
When Christa asked Danny about the biggest value he's gained from his relationship with OpenTable over the years, he circled back to hospitality with the quote above. "We an't have a dialogue with anyone unless we know who that person is. OpenTable has such a rich amount of information that can help us customize an experience." 
Photo Credit: Andrew Herrold